Finally, Osinbajo Reveals What Will Happen if Nigeria Breaks Up
Yemi Osinbajo has called on Nigerians to forget the idea of a breaking up the country because of its negative impacts
According to the vice president, the consequences of a break up will affect mostly the people because it will come as a disadvantage
Meanwhile, Osinbajo called on the elites and the rich to help the poor by making things better in the country
A strong message has been sent to Nigerians by Vice-President Yemi Osinbajo. He declared that the people of the country will be at a disadvantage if thee is a break up.
Osinbajo disclosed when he received the national executive of the Nigeria Union of Journalists (NUJ), at the presidential villa in Abuja, The Cable reports.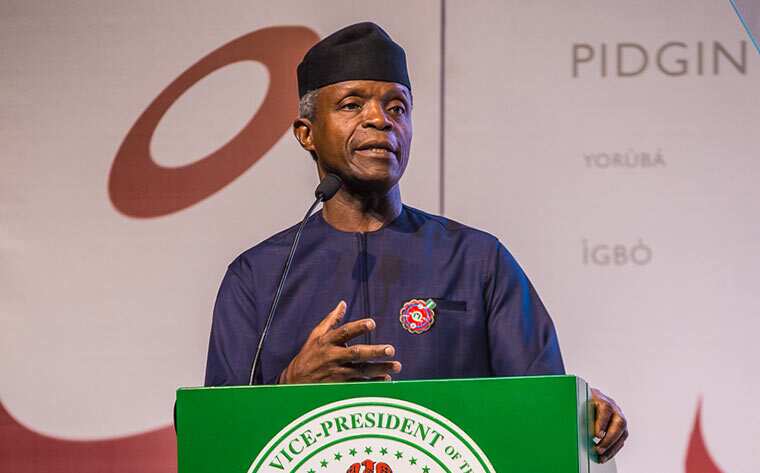 The vice president said there is a need to promote the message of unity in the country. He also advised journalists to be professional in the discharge of their duties, Daily Trust added.
"As I keep saying, the elite in our country, those of us who have had the benefit of education, positions and all of that, we owe millions of our people who are poor, who have no access and have no voice, a duty to ensure that we don't let things become worse for them.
"It is important for us to continue to emphasise that the unity of this country is crucial, because if this country breaks up in any way or becomes the subject of what some people will like it to be, all of us will lose out. Obviously, the elite will survive in any way but the vast majority of our people will not."
Even opposition governors commend Osinbajo's excellent leadership, says El-Rufai
Meanwhile, Governor El-Rufai of Kaduna state has commended the leadership qualities of Vice President Yemi Osinbajo, SAN.
During an interview on Thursday, September 23 with the anchors of Channels TV, the Kaduna state governor described the vice president in glowing terms.
The TV station was interviewing the governor as part of their special coverage of the 6th edition of the Kaduna Investment and Economic Summit.
When asked about the collaboration between the federal government and states, especially how issues are resolved at the National Economic Council, El-Rufai said:
Osinbajo Lauded by State Attorneys-General Implementing Justice Sector Reforms
Recall that six Attorneys-General from the southwest states visited Osinbajo on Tuesday, September 21 at the Presidential Villa, briefing him on the progress of justice reforms in their various states.
According to them, they were inspired by the successes recorded during the vice president's stint as Lagos state Attorney-General.
The vice president who expressed delight at the visit commended the Attorneys-General for the "great work" that has been done in the states, observing the wide range of areas being covered by the justice sector reforms.
Osinbajo calls for national unity, healing
Meanwhile, VP Osinbajo has submitted that despite the nation's current challenges, Nigerians must avoid drifting towards voices that appeal to darker impulses.
He said citizens must instead counter fear, despair, and division with inspiring faith, creative optimism, and solidarity.
The VP specifically called on the elites to act in solidarity and build a consensus to settle contending issues in the nation and enlarge the circle of opportunity, especially for young people.
Source: Legit.ng