Breaking: Nigeria is Presently Dripping Bitterness, Sadness, Obasanjo Laments
- The situation in Nigeria is getting out of hand, according to a former president, Olusegun Obasanjo
- In a recent statement, Obasanjo said the country was destined to be a great land but bad leadership has become a great hindrance to it
- Meanwhile, the former leader said there is a need to change the narrative when it comes to the situation in Nigeria
PAY ATTENTION: Join Legit.ng Telegram channel! Never miss important updates!
Some Nigerians will not be happy with the description of Nigeria by a former president, Olusegun Obasanjo. The former leader described Nigeria as a country dripping in bitterness and sadness.
According to him, the country is destined to be a land flowing with milk and honey, but bad leadership has made it unachievable.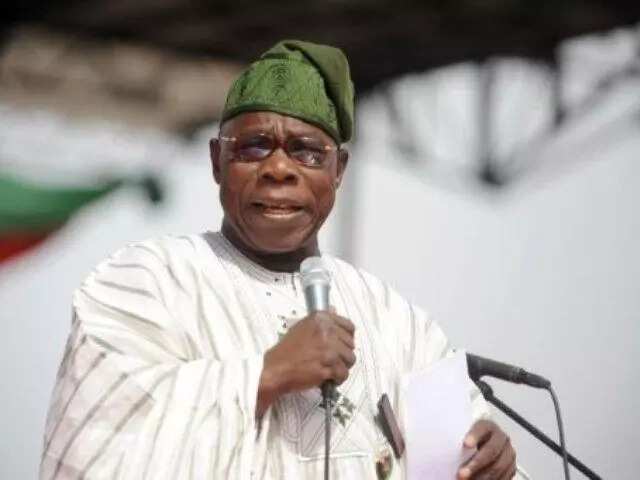 He disclosed this on Thursday, June 3, while getting presented with a book titled, 'The Man, The General and The President,' authored by Femmy Carrena, at the Olusegun Obasanjo Presidential Library in Abeokuta, Ogun state capital.
Obasanjo said:
"We must change the narrative, we must talk to ourselves in the civilised language. There is nowhere you go in this country that you will not see geniuses in any section of the country. So, why should we look down on ourselves?"
Obasanjo offers solution
Legit.ng had reported that the former Nigerian president has suggested what the leadership must embark on now to get the country out of the grip of terrorism in all of its forms.
Speaking at the commissioning of the Professor Abayomi Oluwatosin Jiboku Building and Entrepreneurship Centre in Lariken International College in Ibadan, Obasanjo on Friday, May 21, pointed at quality education for Nigerian children and youths as one of the best solutions to the menacing problem.
Obasanjo stressed that unless the federal government prioritises sustained quality training and education for citizens, the nation will continue to suffer the painful consequences of criminality which have exhibited itself in banditry, terrorism, and most recent of all, kidnapping.
Nigeria must not divide
In another report, Obasanjo condemned the calls for the nation's breakup by some ethnic advocates.
The former president described calls for Nigeria's break-up as unmindful and insensitive to the plight of the minority groups in the country, a statement sent on Wednesday, May 5, to Legit.ng by his media aide, Kehinde Akinyemi, indicated.
Legit.ng gathers that Obasanjo made the observation when he received the Tiv Professional Group from Benue state who paid him a courtesy visit in Abeokuta. The former president expressed worry over what would become of the minority groups if the major tribes such as Hausa, Yoruba and Igbo decided to secede and begin to operate as separate countries.
Source: Legit