Ijaw Group Criticises Akeredolu For 'Imposing' Oodua Anthem in Ondo State Secondary Schools
- Governor Akeredolu has been blasted for imposing Oodua antHem on some minority in Ondo state
- According to the Ijaw ethnic group in Ondo state, the governor has no right to do such
- The group said they have their own language and will not accept Yoruba anthem
PAY ATTENTION: Join Legit.ng Telegram channel! Never miss important updates!
Ijaw people in Ondo are not happy with Governor Rotimi Akeredolu, their reason is the adoption of the Oodua anthem across secondary schools in the state.
Specifically, the Arogbo Ijaw Patriots, a body of the Ijaw minority in Ondo lambasted the governor over the development, Premium Times reports.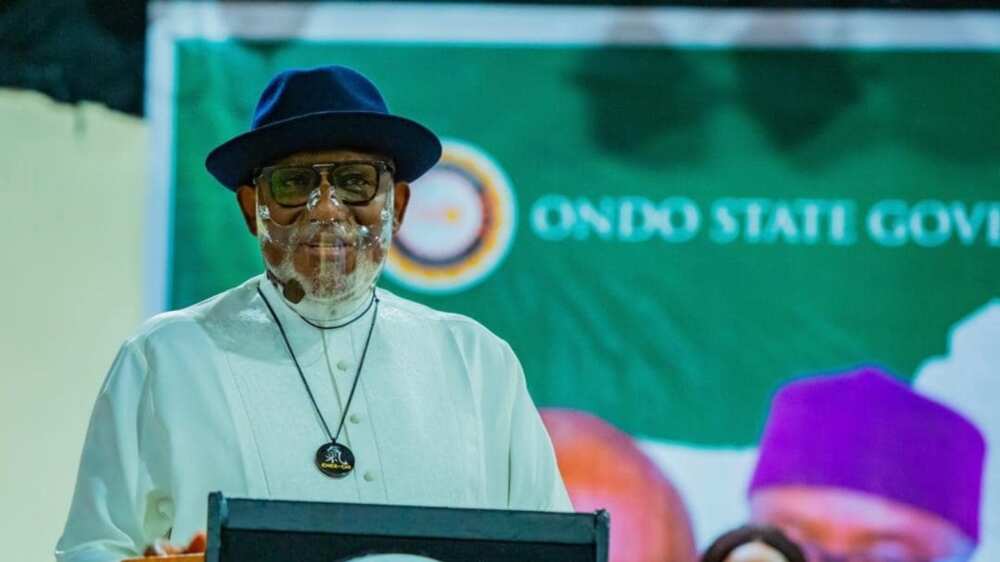 The group even alleged that the governor imposed Yoruba anthem for the conduct of a promotion examination for senior civil servants.
It added that this was done with little or no consideration for the diversity of the people in the state, Vanguard added.
The group in a statement signed by its coordinator and secretary, Fidelis Soriwei and Bibisa Kekemeke, said:
"It was absurd and rather disturbing that the Governor would make it compulsory for Oodua or 'Ondo anthem' (in Yoruba) to be sung in all secondary schools in the Ondo State where there are indigenous Ijaws."
The duo admitted Ijaw minority status in the state but opined that they do not deserve inclusion in such a step since they 'speak their own language in consonance with their distinct ethnicity as an Ijaw minority and would like to keep that identity.'
Meanwhile, Legit.ng had reported that as many Nigerians continue to call for unity in the country, Prof. Wole Soyinka revealed that achieving that will be impossible under the current administration of President Muhammadu Buhari.
He attributed this to the country's systemic failure. He disclosed this in Abuja at the reading and signing of two of his books titled 'Trumpism in Academe' and 'Chronicles of the Happiest People on Earth' organised.
He was responding to a question by former governor Rochas Okorocha of Imo state who asked him if he could write a Nigerian story where the country is united.
In another report, Soyinka advised Nigerian governors to shun timidity and push for greater autonomy.
Legit.ng reported that he re-echoed the call for restructuring while speaking at the virtual Obafemi Awolowo lecture with the theme, 'Whither Nigeria?' on Saturday, March 6.
Challenging the governors to take charge of the welfare of their people, he said if they study the constitution carefully, just as he has done with his lawyers, they will realise that a lot can be done at this moment.
According to him, the governors have too much centralised mentality embedded in their minds and are afraid to come out of their cocoons.
Legit.ng had also reported that former presidential candidate, Dr. Oby Ezekwesili, joined the calls for restructuring, stating that every geopolitical region dislikes the way the nation is presently constituted.
She stated that Nigeria had failed in the practice of democracy, federalism, and constitutionalism, noting that restructuring was the only way to save the nation.
Source: Legit.ng