Abuja is safe as China says rocket debris crashed into Indian Ocean
- The remains of a Chinese rocket have crashed into the Indian Ocean
- Many people were afraid that the remains of the crash would hit some top cities
- According to report, the Long March 5B rocket re-entered the atmosphere at 10:24am Beijing time
PAY ATTENTION: Join Legit.ng Telegram channel! Never miss important updates!
Nigerians and the world can now sleep with their eyes closed following the safe reentry of remains of a Chinese rocket.
According to China's space agency, the remains have crashed into the Indian Ocean, BBC reports.
Recall that Legit.ng reported that there is a slight chance that the scattered pieces of the rocket could hit Abuja, Beijing, New York, Los Angeles, Madrid, or Rio de Janeiro.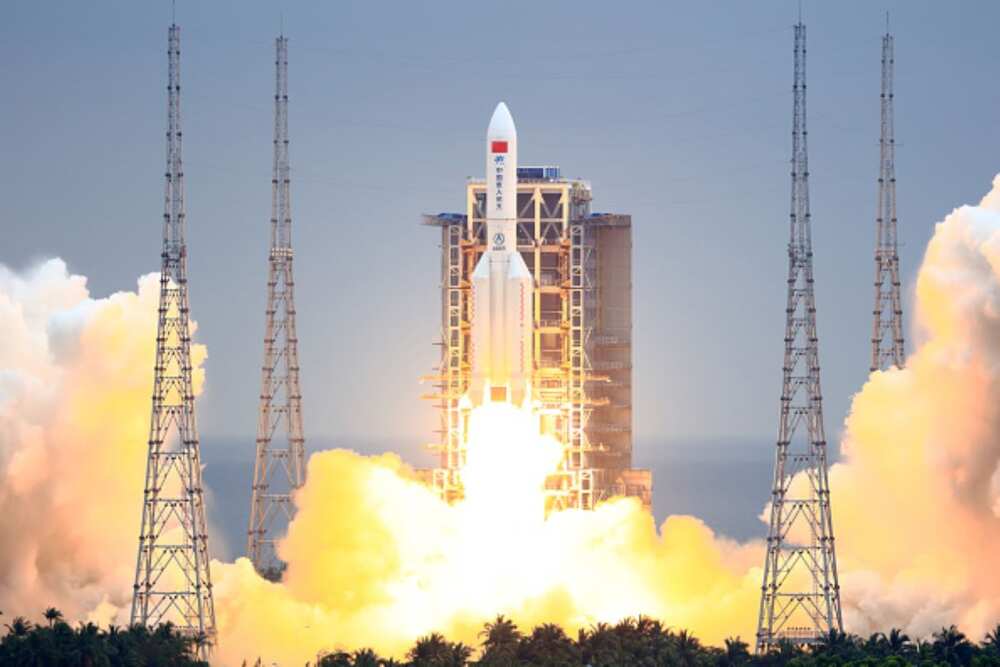 Speaking on the reentry, China Manned Space Agency (CMSA), in a statement, said the Long March 5B rocket re-entered the atmosphere at 10:24am Beijing time (02:24 am GMT).
The coordinates given by Chinese state media put the point of impact in the Indian Ocean near the Maldives, Washington Post added.
It said:
"The vast majority of the device burned up during the reentry, and the landing area of the debris is around a sea area with the center at 2.65 degrees north latitude and 72.47 degrees east longitude."
Meanwhile, reactions have trailed the development with many people calling for accountability over the rocket.
@Stasis119 wrote on Twitter:
"It's still bullshit that this even happened. Any accountability for this event that could've ended in a much worse way?"
@XerxesEmperor also said:
"As expected. It was never a big deal. Lots of uncontrolled re-entries have happened over the years."
@XerxesEmperor added:
"All the America's uncontrolled space rocket reentry were announced by America. Why should someone else announce China's own?"
@Razorsmack1 also added:
"Nobody held China accountable for Covid-19 and amazingly enough, one of their rockets is falling to Earth in a bizarre uncontrolled decent that won't fall in China. Is the World going to just smile and pat them on the back?"
In another report, Nigeria's Defence Space Administration (DSA), a while ago, revealed that the country will adopt the use of space science technology in fighting insurgency.
The DSA noted that in contemporary times, science is required to effectively engage in warfare.
Meanwhile, Mad Mike Hughes, a scientist known for amateur crewed rocketry, died while attempting to launch his homemade rocket in Barstow, California last year.
Mad Mike crashlanded his rocket few seconds after takeoff in the presence of Science Channel production crew that was on-site documenting the launch.
Source: Legit.ng