Experts Say a Rocket Launched by China May Land in Abuja, Other Cities
- A rocket launched by China is set to crash back to earth this weekend
- Experts say they are not sure where or when the rocket launched in April 2021 will land
- The Federal Capital Territory, Abuja has been listed as one of the cities where the rocket by berth
PAY ATTENTION: Join Legit.ng Telegram channel! Never miss important updates!
A report by NBC news indicates that a piece of a rocket launched by China in April 2021 is expected to re-enter the earth's atmosphere late Saturday, May 8, or early Sunday, May 9 according to experts and officials.
According to the report, the 98-foot-long 5B rocket is tumbling through space in an uncontrolled orbit at 18,000 miles per hour after blasting off last month carrying part of the country's new space station.
And while it's common for pieces of rockets to fall back to earth, this particular section has drawn concern because its lack of control means experts aren't sure where it will come down.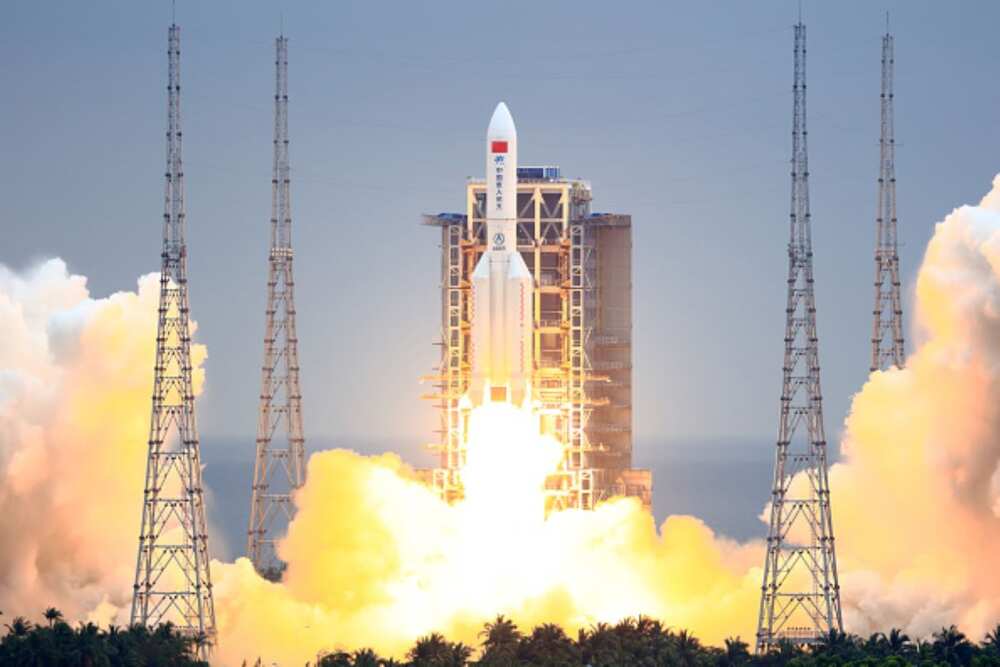 PAY ATTENTION: Install our latest app for Android, read the best news on Nigeria's #1 news app
Scientists say the risk of it killing anyone after it re-enters the planet's atmosphere is small but not impossible.
Also, there is a tiny chance the debris could hit New York, Los Angeles, Madrid, Rio de Janeiro, Beijing, or the Federal Capital Territory, Abuja.
The experts, however, noted that it will more likely land in an ocean or the wilderness.
Some Nigerians have been commenting on the news via social media. The conversations are also ongoing on Legit.ng Facebook page.
Ikenna Azike wrote:
"Same China that made us start wearing facemasks and keep washing hands. Are we now going to start wearing helmets around???"
Abubakar M Kareto wrote:
"I just hope it lands on either Boko Haram, IPOB, ESN, or Bandits training ground!"
Flora Henny wrote:
"I think we need to drop our facemask and start wearing helmets on our heads in case."
Recall that Nigeria's Defence Space Administration (DSA), a while ago, revealed that the country will adopt the use of space science technology in fighting insurgency.
The DSA noted that in contemporary times, science is required to effectively engage in warfare.
Meanwhile, Mad Mike Hughes, a scientist known for amateur crewed rocketry, died while attempting to launch his homemade rocket in Barstow, California last year.
Mad Mike crashlanded his rocket few seconds after takeoff in the presence of Science Channel production crew that was on-site documenting the launch.
Source: Legit.ng