Unemployment: Zamfara deputy governor asks Nigerian youths to embrace motorsport
- The Nigerian government has been advised to embrace motorsport as an avenue to address the issue of unemployment
- The advice was given to the government by the deputy governor of Zamfara state, Madi Aliyu Gusau
- Gusau, a former motorsport champion, gave the advice at the unveiling ceremony of the Nigeria motorsport games in Abuja
PAY ATTENTION: Join Legit.ng Telegram channel! Never miss important updates!
The deputy governor of Zamfara state, Madi Aliyu Gusau has called on the federal government to take interest in motorsport as an avenue to reduce unemployment in Nigeria.
Gusau made the call on Friday, May 7 at the unveiling ceremony of the Nigeria motorsport games in Abuja.
Speaking to journalists including a Legit.ng reporter on the sidelines of the event, Gusau, who was the guest of honour at the ceremony, stated that motor racing can help the government address the challenges of unemployment in the country.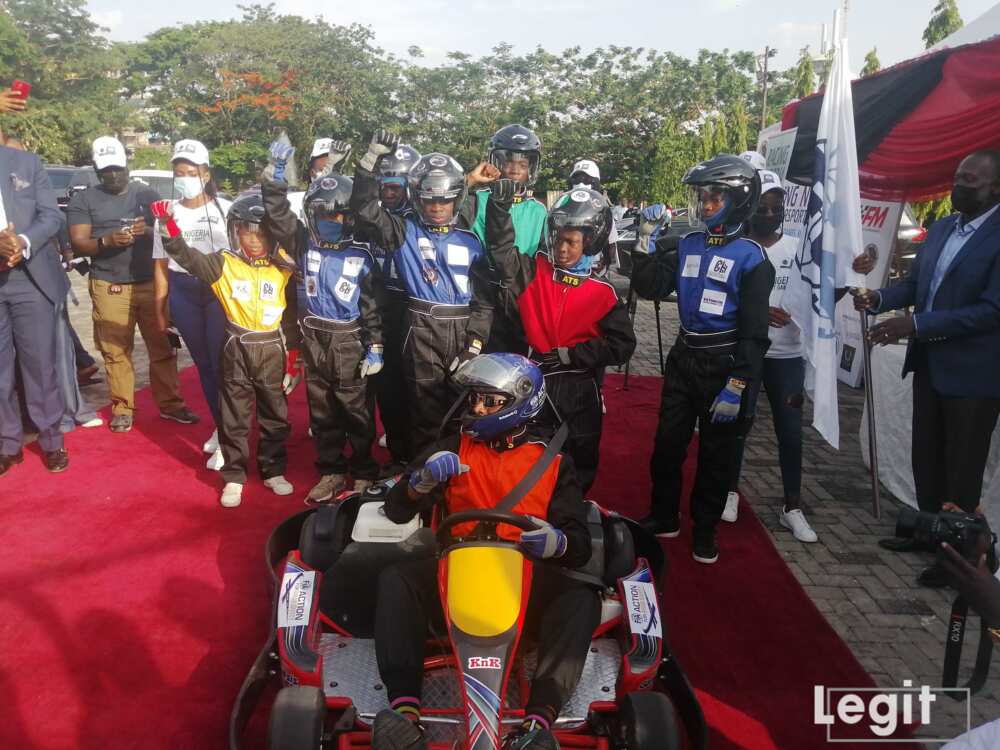 PAY ATTENTION: Install our latest app for Android, read the best news on Nigeria's #1 news app
His words:
"You don't have to go to school to learn how to drive a fast car or racing. This will help the government.
"If we harness their talent. Every sport Nigerians are in, they are always the best. With motorsport, there is no much difference."
Gusau who has an interest in the sport won a 'Motor Treasure Hunt' in 2014 as a youth.
At the event, Nigerian artiste, Oladipo Daniel Oyebanjo, popularly known as D'banj, was unveiled as captain of the Racing Nigeria Motorsport Team.
The appointment of D'banj is in preparation for the Federation International de l' Automobile (FIA) World Championships in October which Nigeria is expected to participate in.
Reacting to his appointment as the team captain, D'banj said:
"Being the first time this is happening in Nigeria, I am super thankful and excited and I look forward to us winning.
"This is a different but beneficial platform for Nigerian youths and we all should support this because this is actually creating jobs for us."
Ishaku Bamaiyi, president of Automobile and Touring Club of Nigeria (ATCN), said the unveiling was the first step towards preparing the country's representatives for the world championships scheduled for Marseille, France.
His words:
"The first FIA Motorsport Games held in Rome, Italy, in 2019, saw the participation of about 46 countries in the championship.
"The next event was scheduled for October 2020 but due to the coronavirus pandemic, it was postponed and rescheduled for October 2021, thereby creating room to increase the motorsports disciplines from six to 18.
"The FIA having reviewed our plans for the development of motorsports in Nigeria asked that the ATCN puts together a team that will participate in the FIA Motorsport Games in 2021.
"This gave birth to Festival of Motorsport which will serve as our qualifying series for the FIA Motorsport Games to give everyone the opportunity to try out his or her skills.
"We intend to compete in the following disciplines – Karting junior and senior, Karting endurance, Karting Slalom, Auto Slalom, Digital Games, Drifting and Rally 2."
Also speaking to journalists at the event, the director-general, National Automotive Design, and Development Council, Mr. Jelani Aliyu said:
"I believe there is a huge potential for Nigeria in motorsport. As we all know, we have a lot of talented youths across the country.
"This is another avenue for them to really showcase how good they are. One very important thing about motorsport is that it promotes innovation.
"We believe that this will also promote a research and development platform in Nigeria for us to continue to develop race cars that we will design and produce here that will be competitive with other cars around the world."
Meanwhile, the federal government through its National Micro, Small, and Medium Enterprise (MSME) clinics initiative is set to reward the most excellent, hard-working, and innovative MSMEs across the country, in tandem to mark the 2021 United Nations World MSME Day.
Speaking on the agenda during a press briefing attended by Legit.ng on Friday, May 7 in Abuja, Tola Adekunle-Johnson, special adviser to the president on MSMEs noted that for year's event, there is an increase in prizes to be won for successful participants.
Source: Legit