How Governor Sanwo-olu's Anti-tech Policy Denies Lagos Residents Employment Opportunities
- Sanwo-olu's tech policies have been more of bad news than good news for the state residents and startups
- His policy is costing residents in the state millions in revenue, and causing them to lose jobs to Ibadan residents
- Recently, it was revealed by Kenya's Safeboda, that it decided to operate within Ibadan because Sanwo-olu said they don't want them
PAY ATTENTION: Join a community of CEOs, founders and decision-makers: subscribe for a free monthly business newsletter Digital Talks and succeed BIG!
Lagos State government continues to deny Lagosians employment opportunities with its masterplan policy which is driving investors to Ibadan, Oyo State, a South-West region in the country.
Since the emergence of Babajide Sanwo-olu as governor of Lagos State, the administration has been tough on tech startups, dismantling an entire market or digging its claws into their revenue.
This destroy or weaken policy of Sanwo-olu has been frightening investors, painting Lagos State, which is the commercial hub of Nigeria, as anti-tech environment, while traditional businesses continue to operate with less hindrance compared to what tech startups have been facing.
Sanwo-olu and his anti-tech policy
Sanwo-olu had boasted during The Platform show in 2019, that as governor, his administration will work hand in hand with tech companies operating bike-hailing business within the state to create an enabling working environment for Okada riders.
But fast forward to January 2020, the governor banned these bike-hailing firms, leaving the traditional riders to continue operation. This policy became unpopular within Lagosians, as about 2000 residents lost their livelihood due to the ban.
From the ride-hailing startups, the government released a policy taxing both car-hailing firms and their drivers, reducing the company and individual earnings - this led to the believe that Sanwo-olu is trying to tax the state into financial stability without creating jobs.
The state, in company with the Nigerian Postal Office, had also eyed the logistics market before retreating after criticism trailed it. The tech policy of state government had left a pattern, showing tech companies that were not shutdown are seen as cash cow by the government.
So if the state government is not costing Lagosians work by dismantling a whole market, it is suffocating tech startups from growing as a faster rate by taxing them without a business-friendly policy that act as catalyst for growth.
As Sanwo-olu continues to over regulate the tech space in the state, breathing down their neck, Oyo State has been opening its arms to businesses that's trying to avoid Sanwo-olu's high-handedness or nor accepted in Nigeria's commercial hub.
A recent revelation from Kenya's ride-hailing startup, Safeboda, has proven how Lagos state government is causing job opportunities to migrate to Ibadan, the new city for tech companies, especially ride-hailing.
Safeboda's country Manager, Babajide Duroshola, had revealed during an interview with Nairametrics that they had chosen to establish their tech company in Oyo State due to the stance of Sanwo-olu.
During a discussion with the governor, before setting shop in Ibadan, the company was made to know that Lagos has no plan for bike-hailing within its megacity even though traditional okada riders are allowed to ply the state roads.
"They didn't seem too interested in the conversation and as a business, we then took a decision to move instead to Ibadan." Duroshola said, referring to Lagos State government.
His indifference to the success of the tech space in Lagos rare its ugly head when he made no attempt to stand with the techies following a ban from the Central Bank on cryptocurrency exchanges and foreign securities startups, even though this ban will hurt Lagos residents more, as the startups are domiciled in the state.
The ban discourages investors and is bound to negatively impact investment into the state which was once the hub for investment before Sanwo-olu became governor of Lagos.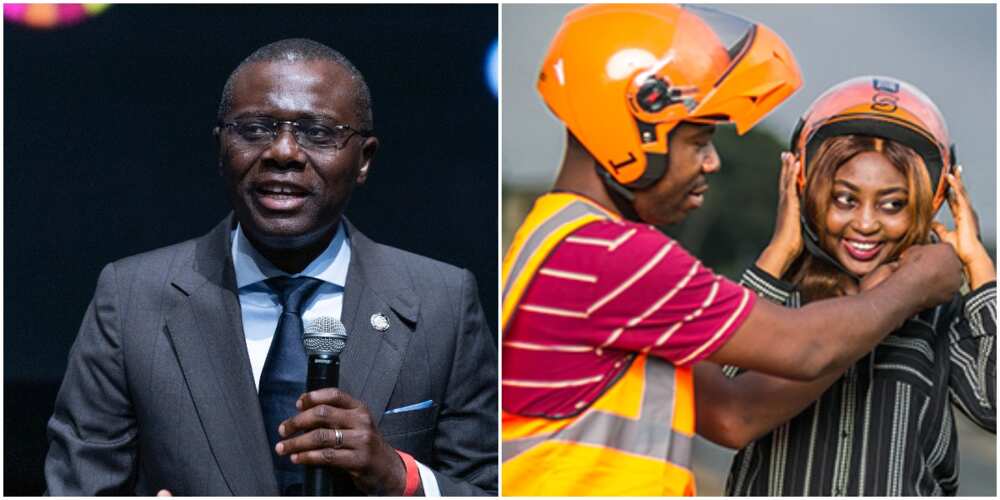 Lagos State residents, government losing millions to Oyo
Today, Safeboda has empowered hundreds of residents in Oyo State. Within the first three months, Duroshola told Techcabal last year that twenty drivers earned N4.4 million - an investment that could have been more if the rides were in Lagos, and which the state government could have benefited from.
In three months, rides grew to 100,000 after debuting in March 2020, two months after the likes of Gokada, OPay and Maxng were banned in Lagos. Today, the company has responded to over 1 million rides, recording only 14 road accidents.
It's tech-enabled platform has recorded over one million downloads, reflecting the success of Safeboda in Nigeria's largest city. Duroshola recounted that many thought the company couldn't survive in Ibadan.
He said the move to enter Oyo after Lagos rejection was seen as insane as at the time:
"Many people did not think it would be successful. It was not easy convincing the board on why we were leaving a commercial city like Lagos for a city like Ibadan," Duroshola said. Safeboda has not just created employment opportunities for Oyo residents, it turned the okada industry in the state to a professional one by equipping riders and training them on road safety, same thing that is missing in the okada riders in Lagos.
Max.ng and Safeboda are now operating in Ibadan, with the jobs created going to the state residents and revenue shared with Seyi Makinde's government.
Sanwo-olu favours informal okada operation to professional system
Sanwo-olu has continued to show that it prefers the informal okada market to the coordinated and professional bike-hailing firms. After banning Gokada, ORide, and Max.ng, the state government left traditional okada riders to continue operation despite being unsafe.
His administration had blamed rising accidents among okada riders for the ban, but instead of supporting bike-hailing firms who have invested to make riding safe, he chose to ban them and left the unsafe ones on the road.
Sanwo-olu's preference for unsafe transportation could also be linked to the state's decision to allow the National Union of Road Transport Workers to regulate ride-hailing firms before they were banned and also empowered them to check bike-powered logistics' adherence to state tax.
In one of the state government's infamous responses to criticism for banning ride-hailing, it was stated that the state is famous for producer bricklayers, tailors and other artisan jobs, so those who lost jobs to the ban should become artisans - this shows the thinking of the administration in a technology-driven world.
Founder of WeMove, Celestine Ezeokoye, had tweeted in August 2020 that::
"Lagos state should go and ask Internet Explorer what happened to it as it started to feel too important. Hint: it became a pipeline just for downloading Chrome.
"Everyone very soon: "sure we have a Lagos office but our HQ is at Ibadan/Jos/Enugu/Abuja."
Aside from Ibadan, the likes of ULesson, an edu-tech startup also based its operation in Jos, ignoring the high-cost state of Lagos, where the cost of doing business can make startups unprofitable or delay their growth and weigh heavily on their revenue.
As Sanwo-olu continues to push tech-startups to the wall, they are gradually drilling a whole to migrate to Ibadan, and they are taking the jobs to the largest city as well; gradually leaving Lagos State residents empty-handed.
Meanwhile, Legit.ng had previously reported that the Speaker of the house of Representatives, Femi Gbajabiamila, accused Nigerian banks of taking advantage of Nigerians.
He stated that customers of banks are being exploited by the lenders through deceit, while also slamming high charges on loans given to customers. He said these activities have to be looked into.
Gbajabiamila also condemned the treatment of marketers working for banks. He said Nigerian lenders have to adopt international standards in managing the marketers.
Source: Legit.ng