Buhari is overwhelmed: Okorocha discloses causes of insecurity, gives solutions as FG faces pressure
- All and sundry must unite to collectively tackle the security crisis in the country
- Rochas Okorocha gave this admonition amid mounting pressure and unrest in Nigeria
- According to the former governor, people should not fail where the government is failing to provide security
PAY ATTENTION: Join Legit.ng Telegram channel! Never miss important updates!
Rochas Okorocha, former governor of Imo state and current senator representing Imo West, disclosed that the security crisis in the country has reached a stage where the federal government is helpless.
Okorocha made this disclosure on Sunday, March 7, in an interview with the Sunday Sun in Abuja, with the former governor adding that the Muhammadu Buhari-led government is confused on how to put a stop to the spreading wildfire.
The lawmaker, who noted that security is a "major challenge" in Nigeria, further maintained that it is "as a result of accumulative issues" which the government ignored in the past.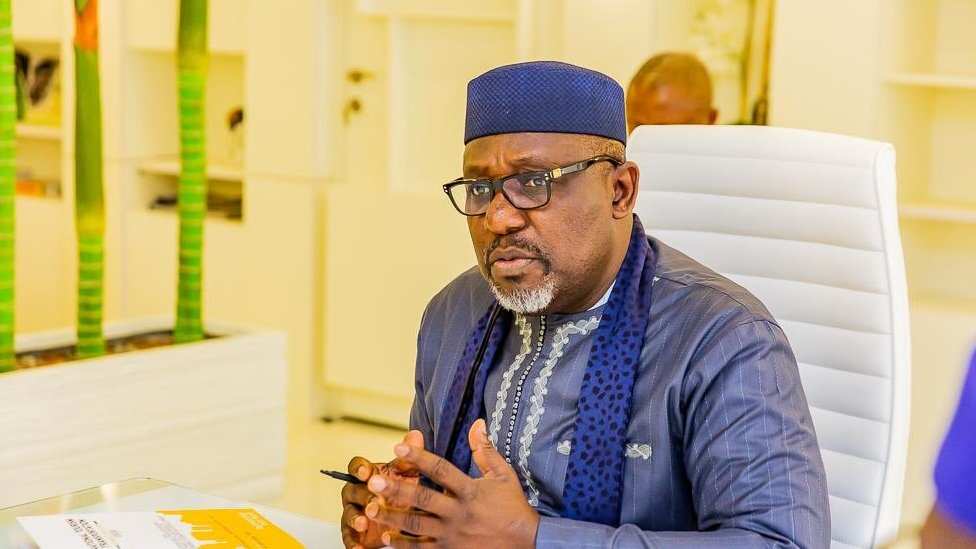 Okorocha called for complete decentralisation of the security architecture, saying that the security crisis buffeting the country has proven stubborn beyond a reasonable doubt.
He said all and sundry must put their hands on the deck to collectively tackle the mounting insecurity challenge which has made the government to be completely overwhelmed.
"What we can do right now is to call all and sundry and make it our issue and not just government's issue so that where government is failing, the people themselves should not fail," Okorocha said.
"In other words, we have our traditional rulers; we have our communities; we have our leaders at various levels, even in Chibok.
"We have youths; we have people because it has gotten to a point where we have to look inwards on how we can help ourselves, while still looking up to government for support because if the government had had the final solution to this, they would have solved it."
PAY ATTENTION: Install our latest app for Android, read best news on Nigeria's #1 news app
Meanwhile, Okorocha submitted that the escalation of the EndSARS protest into violence and wanton destruction of properties is because of "unfair leadership for a long time."
Addressing newsmen in Abuja on Friday, October 23, he noted that the government has been "selfish in handling the affairs of this country."
While noting that the protest is a wakeup call to the Nigerian leaders, the senior lawmaker stated that people in the position of authority must rise to their responsibilities to ensure that such future occurrences never happen again.
*******
Rahaman Abiola is a result-oriented journalist and content writer with a firm grip of over 5-year corporate experience stranding diverse roles in digital & traditional media and social media communication.
A published literary writer, freelancer and public commentator, he has written over 100 essays covering diverse issues on economy, politics and current affairs, entertainment and leadership published in virtually all notable Nigerian national dailies and digital media in Nigeria.
He is a graduate of English Literature, Obafemi Awolowo University, Ile-Ife. Follow him on Twitter via @ShugabanR.
Source: Legit Newspaper