See what cultists did to this man 13 years ago that he can never forget
- A Nigerian man has got social media talking after he shared his first experience with cultists
- Oyindamola shared how his shirt earned him a 'hot' slap when he paid a friend a visit
- According to him, the 13-year-old incident taught him some hard 'street' lessons and woke him to from his slumber of ignorance
PAY ATTENTION: Join Legit.ng Telegram channel! Never miss important updates!
We all have experiences we have had to go through that have undoubtedly left a mark on us. Some good and some unfortunate but that of Oyindamola may take the form of the later.
Oyindamola's experience is one that will live with him throughout his sojourn on planet earth. According to him, his experience with cultists 13 years ago gave him his first 'street' orientation.
In a post he shared on his Twitter handle @dammiedammie35, and seen by Legit.ng, the Nigerian man narrated how he had gone to see his friend some times in 2008 and how he was accosted by guys suspected to be cultists.
Two guys approached him to identify himself as the shirt he wore had an imprint of a big bird in front of it. Oblivious of why he was being approached or told to identify himself, he had responded that his name is 'Oyinda'.
His response got him a slap on the face from one of the men who ordered him to take to his heels.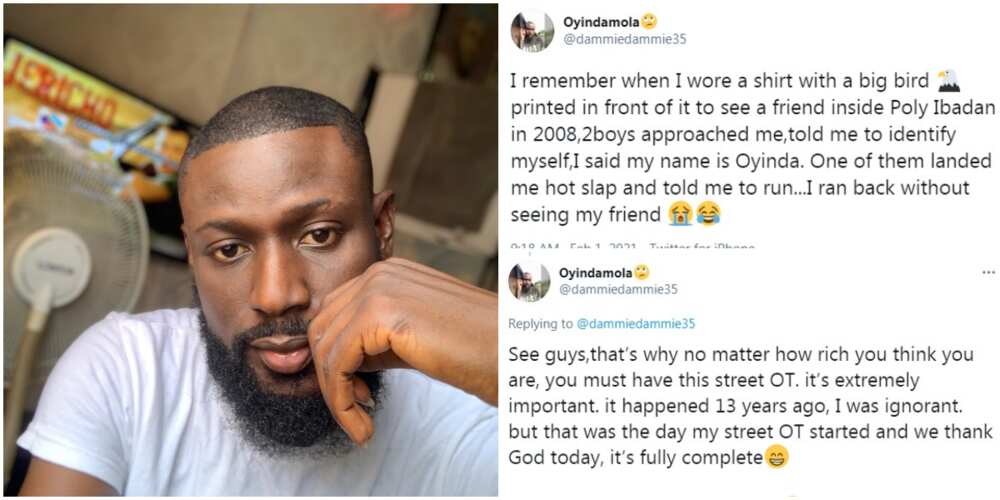 He would eventually disappear without seeing his friend that day.
"I remember when I wore a shirt with a big bird printed in front of it to see a friend inside Poly Ibadan in 2008, 2 boys approached me,told me to identify myself,I said my name is Oyinda. One of them landed me hot slap and told me to run...I ran back without seeing my friend.
"See guys,that's why no matter how rich you think you are, you must have this street OT. it's extremely important. it happened 13 years ago, I was ignorant. but that was the day my street OT started and we thank God today, it's fully complete."
Nigerians who came across the post have reacted, while some found humour with how his response was followed with a slap, others gave different opinions.
@Yhormite01 said:
"Pls take this down. I know you mean something else but this will be seen by people in the wider world as anti-Semitism and it's a crime in some countries. You can be denied opportunities like visa l, scholarships and admission because of this tweet."
@lollypeezle commented:
"That same Poly Ibadan in 2008 was the hottest back then. I remember behind my department, cultists killed one guy then. Ti mo ri admission si Futa lasan, mo japa."
@omokehinde_ said:
"Sheybe 'Identify yourself' is straightforward atleast. In Port Harcourt, the question will be 'Who goes you."
PAY ATTENTION: Click "See First" under the "Following" tab to see Legit.ng News on your Facebook News Feed!
Meanwhile, Legit.ng earlier reported about nine cult groups in Nigeria and their colours.
Cultists share common ideologies and they are known as a secret society with obvious leaders or a leader. Their intentions are mostly unknown to people who are outside their circle.
Source: Legit.ng