Cult groups in Nigeria and their colours (with infographic)
Cultism in Nigeria is very popular among the youth in the country. Cult groups in Nigeria still have power and recruit more and more followers to their ranks each day. How many cult groups are in Nigeria? What do they want? And what do they believe in? Here is all you need to know about cultism in Nigeria and their symbols.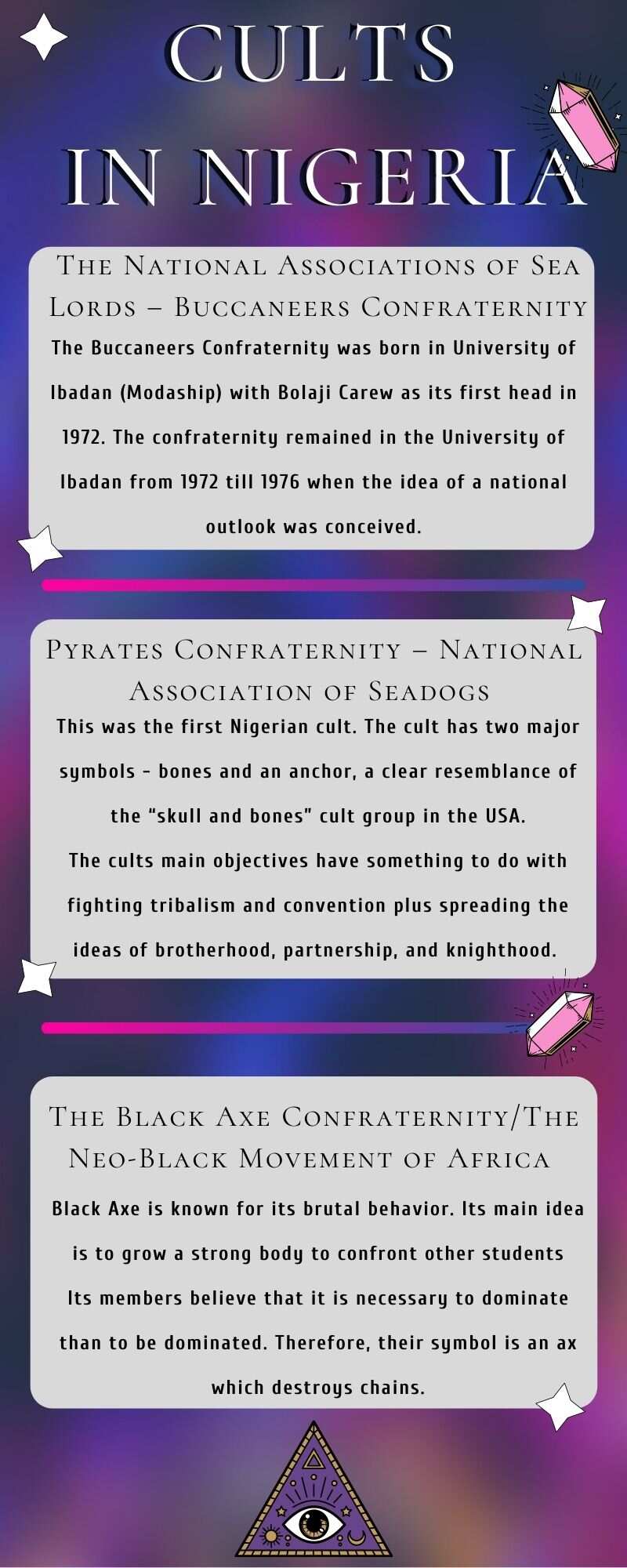 What is a cult? A cult is referred to as a dangerous and deadly group that believes in secret, esoteric, mystic and violent practices.
Cultists share common ideologies and they are known as a secret society with obvious leaders or a leader. Their intentions are mostly unknown to people who are outside their circle.
Cults have some common characteristics:
They use secret practices
Their policies are unknown to people who are not in the cult
They have an impact on people's lives
They share common values
They are spiritual
The first university cult group was created in 1952. This first group was called "Pyrates." The first Nigerian Nobel Prize winner Wole Soyinka was behind the creation of this group in Nigeria.
Later, this group was renamed to The Sea Dogs.
Nonetheless, it was the first time in Nigerian history when a secret university group started to influence the lives of students.
Top 9 cult groups in Nigeria
Here are the top 9 cults in Nigeria:
1. The National Associations of Sea Lords – Buccaneers Confraternity
The Buccaneers Confraternity was born in University of Ibadan (Modaship) with Bolaji Carew as its first head in 1972. The confraternity remained in the University of Ibadan from 1972 till 1976 when the idea of a national outlook was conceived.
The confraternity is a worldwide organisation with a presence in most parts of the world including the United Kingdom (UK), United States of America (USA), Canada, South Africa, Malaysia and Mainland Europe.
2. Pyrates Confraternity – National Association of Seadogs
This was the first Nigerian cult. The cult has two major symbols - bones and an anchor, a clear resemblance of the "skull and bones" cult group in the USA.
The cults main objectives have something to do with fighting tribalism and convention plus spreading the ideas of brotherhood, partnership, and knighthood.
The cult's mission is:
To uphold human dignity and maintaining a just and progressive society shorn of discriminatory and unmeritorious considerations
Its colours are red, yellow, and black.
The confraternity is located in all the southern states in Nigeria and also has branches in some parts of the world including the United Kingdom, Republic of Ireland, South Africa, the Netherlands, Japan, Australia, Canada, and the United States of America.
3. The Black Axe Confraternity/The Neo-Black Movement of Africa
Black Axe is known for its brutal behavior. Its main idea is to grow a strong body to confront other students
Its members believe that it is necessary to dominate than to be dominated. Therefore, their symbol is an ax which destroys chains. This cult has its rules:
Do not betray;
Do not forgive;
Do not condemn;
If you break one of the above-mentioned rules – you will pay for it with blood.
Some of their beliefs and saying includes:
The Blackman will be freed with an axe
No f*ck ups
Forgiveness is a sin
Don't betray your brother in the hood
Obey before complain or Abeyance
He who price must pay
As members of a confraternity or cult, they are recognizable by their clothing: They wear black pants, a long-sleeved white shirt, black coat with the axe insignia on the front and back, and a black beret with a yellow ribbon tied around it.
Members are also known to use charms and what Offiong calls "fetish rituals" to gain supernatural power and protection from rival members and police (ibid.), a practice that, Offiong alleges, has led to their ostracism by other fraternities.
4. Aro Mates
Aro Mates, also known as The Vikings, was created by three students who were once a part of the Pyrates. Its main ideas are connected with the condemnation of any retreat and weakness. Its motto is "Blood in the Sea,".
Its main symbols are axes crossed behind a boat. This boat resembles the Viking's ship.
Their beliefs and sayings include:
Blood on the high sea
Singing songs of Hojas
Never to hang a leg
Even in the face of death.
5. Air Lords, also known as The Supreme Eiye Confraternity
The Supreme Eiye Confraternity was created by students who followed the ideas of the self-perfection; their main values are discipline.
Its members believe that there are no enemies and friends, but the confraternity. Their main symbols are a skull and crossbones.
Their beliefs and sayings are:
Secrecy
Autocracy
Discipline
Brotherhood
No Friend No Foe
6. Dedy Na Debt
This cult is a very serious organization whose structure is a complete mystery. According to rumors, its members worship demons.
They believe that their ideas put them way above other people. All members of the group must perform an oath which proves their loyalty to the common cause.
People who break their oath will are severely punished.
7. Ciao Sons
This is one of the most cruel occult groups in Nigeria. Its main principles are borrowed from The Mafia, and its members believe in revenge against the oppression.
In this cult, punishment for disobedience and treachery can be deadly.
The cult's members invented the following rules: parties, secrets, and revenge against oppression.
Some of their belief and sayings include:
It is better for a bastard (non-initiate) to chance/provoke a member than for a numbered bastard (members of another cult group)
Retaliation after oppression
Secrecy is where our power lies
They believe in gambling, partying, and dating girls, etc.
8. Black Bra Confraternity
Black Bra Confraternity is a ladies' cult group that was founded by female students. The cult also follows and copies the main principles of cultism in Nigeria which includes dedication to the goal, secrecy and special objects.
Members of the Black Bra Confraternity wear black clothing. Their bras and underpants are usually black as well.
Confraternity members seek ways to protect themselves. It is not uncommon to see them in possession of guns, knives or axes. They may also fortify themselves with amulets or charms.
One of the conditions prior to joining the Black Bra cult is being deflowered or a sex romp on the day of initiation. This occurs in the presence of other members of the cult.
Also, the newbie will be expected to make a cut in her thumb. After which, she will cook a special kind of soup with this blood which she will drink along with her clan.
As it is with other cults, once an individual has been confirmed as a Black Bra member, she cannot leave until death. However, the individual can leave to another clan as long she is sure of protection by this clan.
Members also tend to live a life of heavy drug and alcohol use, which can be seen from their speech and mannerisms.
9. Daughters of Jezebel
Among the Jezebels, new entrants may be forced to undergo six rounds of rigorous sexual intercourse in quick successions. They may also be made to fight with other girls or strong boys. They may also be subjected to thorough flogging.
New entrants are expected to move around in groups of four or five as a means of protecting themselves against possible sexual harassment. During the initiation, new members are taught to communicate with other members in coded language.
Having been recruited and initiated, cult members are expected to engage in many activities, which form parts of the group norm.
Factors that explain the rise of cultism
Why is cultism on the rise? These factors explain why:
A general atmosphere of frustration, deprivation, hopelessness, hardship, and injustice brought upon the people by the socio-economic system.
Admission of unqualified persons into tertiary institutions, who cannot cope with the intellectual demands of the academic system.
Uncoordinated university administrations which make it possible for non-students and expelled students to co-exist with bonafide students.
The employment of cult members by some institutional administrators and politicians to combat their perceived enemies within and outside the school system.
Lack of committed teaching and learning, as well as a scarcity of infrastructural resources, which has led to overcrowding in classrooms, residences, libraries and so on.
The decay of national morality and social values.
Poor upbringings as most homes have lost the required peace as divorce, separation, large family sizes, and financial hardship have become the orders of the day.
There are many cult groups in Nigeria, and all of them have special beliefs that they hold dear.
READ ALSO: Wiccan holidays: Important dates you should add to your calendar
Legit.ng recently reported about Wiccan holidays and how they are celebrated. According to the post, these holidays celebrate the earth's journey around the sun, also called the Wiccan Wheel of the Year.
There are eight Wiccan holidays in total, and all of them have special rituals and ceremonial rites associated with them.
Source: Legit.ng