This Nigerian secondary school leaver works as a cleaner to raise money to further her education
- Onwuegbunam Sandra Nneoma is everything a young determined individual should possess
- The young lady offers cleaning services to customers just so she could raise enough money for higher education studies
- Despite being acrophobic, her academic dreams seems to be bigger than any obstacle including her phobia
PAY ATTENTION: Join Legit.ng Telegram channel! Never miss important updates!
The most certain way to succeed, according to great inventor Thomas Edison, is always to try just one more time as our greatest weakness lies in giving up and this is evident in Onwuegbunam Sandra Nneoma's life.
The young Nigerian lady is not backing down from her quest for acquiring higher education. Sandra who completed her secondary school education in 2016 has been working as an industrial cleaner ever since.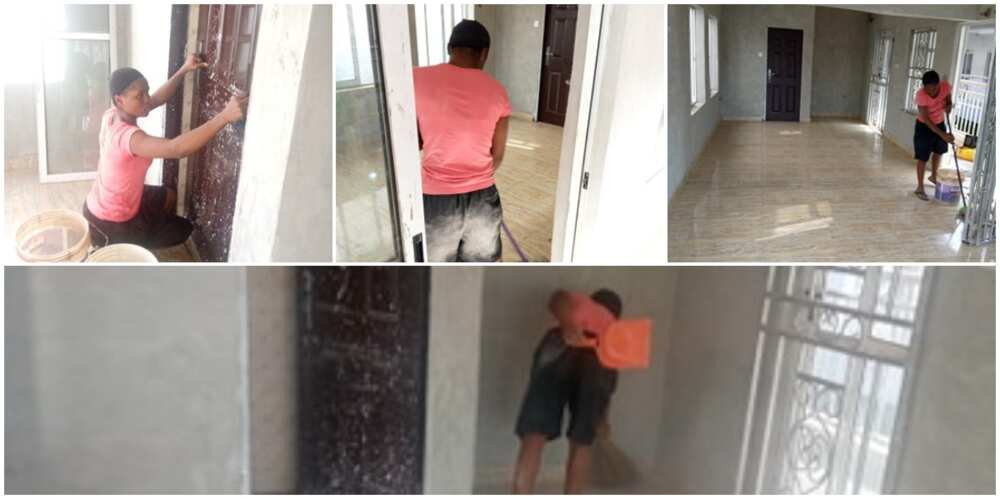 This is as she is trying to save up enough money to enrol in a polytechnic. According to her, in an interview with Legit.ng on Saturday, January 30, her parents are not well to do and buoyant to cater to her academic financial needs.
Her dad worked as a welder until recently when he had to quit as his eyes got bad in the course of the work.
This left her mum, who is a local trader, to shoulder most of the family's responsibilities and deputize as the breadwinner while they continue to treat her dad's eyes.
But, her mum's business suffered a setback and this had implications on the family as they struggled to get basic human needs. Consequently, they couldn't afford to send her to university.
Not leaving her fate to chance, the 21-year-old had taken the bull by the horn - she ventured into cleaning homes and buildings as a job.
Sandra who hails from Umunomo Ihettiaforukwu, Ahiazu Mbaise in Imo state told Legit.ng that aside from wanting to amass money to continue her education, her love for seeing a dirty environment transformed into something neat, conducive and sparkling informed her choice of offering cleaning services.
"The fact that I get to work in a variety different locations, meet different kinds of people and mostly I really love the effects of cleaning in both new and old houses and other establishments."
She said her decision didn't quite sit well with her parents at first but with time, they got used to it and she is able to contribute to the family's upkeep with money she makes from the cleaning job.
While admitting that it is a well-paying job, she said her major challenge has been that she is acrophobic - she is scared of heights.
The Federal Polytechnic Unwana hopeful who is looking to establish her own cleaning organization along with a baking institute says the job keeps her busy and really focused.
Five years on, since she left secondary school, she still dreams of being a psychologist in the future.
PAY ATTENTION: Click "See First" under the "Following" tab to see Legit.ng News on your Facebook News Feed!
Meanwhile, Legit.ng earlier reported how a young lady became a beacon of hope, a source of inspiration to many and a light in her family.
The young Nigerian makes an honest living from being an electrician.
Legit.ng recently caught up with the industrious lady and she unearthed interesting facts as to how she ended up an electrician.
Source: Legit.ng