Over 500k pageviews,12m social media followers, Legit.ng celebrates gigantic growth in 2020
The audience in Nigeria 2012 named Naij.com as the #1 News and Entertainment platform and the news site has continued to live up to their expectations, having at the back of our minds the popular saying, "to whom much is given, much is expected".
Since Naij.com upgraded to Legit.ng to serve our numerous readers better, the #1 digital media and news site in Nigeria started leading the way by keeping Nigerians informed about major events and developments in the country in a timely manner and we are not resting on our oars as we tend to beat our previous achievements.
PAY ATTENTION: Join Legit.ng Telegram channel! Never miss important updates!
Despite the COVID-19 pandemic that affected all spheres of lives across the globe, Legit.ng still had the course to celebrate as we recorded some tremendous milestone achievements.
Records of the year
We created content that enriches Nigerians' lives while we focus on fast delivery, careful fact-check, expert opinion, and analysis of every article published on our site.
Our fans read articles 500 million times in 2020
In the year 2020, Legit.ng recorded over half a billion page views, precisely 594,928,758 from January 1, to December 31, 2020. This is a very impressive outing because of the COVID-19 pandemic that affected all spheres of lives, finances, and businesses.
Legit.ng boasts of 12 million followers on social media!
Legit.ng has quite a large following on social media who find it really interesting reading and interacting with every post made. On Facebook alone, Legit.ng has over nine million followers across its six active pages.
On Legit.ng main page, we have 4,839,015 followers, on Legit.ng Breaking News we have 1,604,715 followers, Legit.ng Buzz we have 858,690 followers, and on Gossip we have 854,390 followers. On Legit.ng Daily which has a concentration of the female gender who are more interested in reading female, family related stories we have 634,202 followers. On our Legit Sports page on Facebook, we have a concentration of male and some female sports enthusiasts following the page and interacting under articles shared on the page.
We had an impressive outing on Facebook in 2020 as we were featured among the top Facebook publishers of November 2020, by Newswhip.com. Legit.ng was #12 in the world, above CBSnews, BBC.com, and Forbes.com. Also, we are the only African publisher on the list!
"Overall, there was a mix of publications, with mainstream mixing with non-mainstream and some local publications featuring in the count. The top 25 also extended beyond America with some British publications and one Nigerian publication featuring."
See the chart below: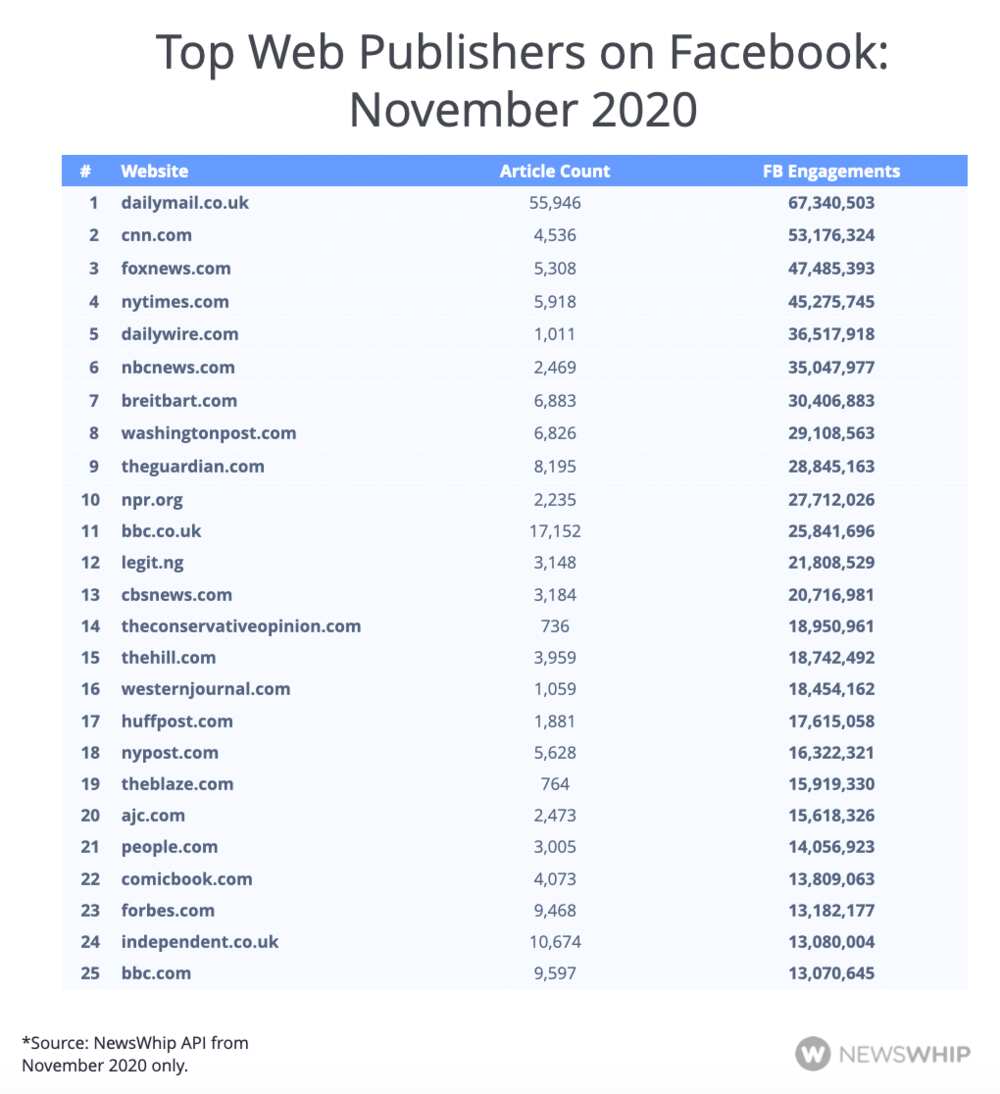 Also in 2020, between October and December, Legit.ng got into three ratings of Q4 by NewsWhip Analytics:
i) Number of stories in Top 10,000 by publisher. See the chart below: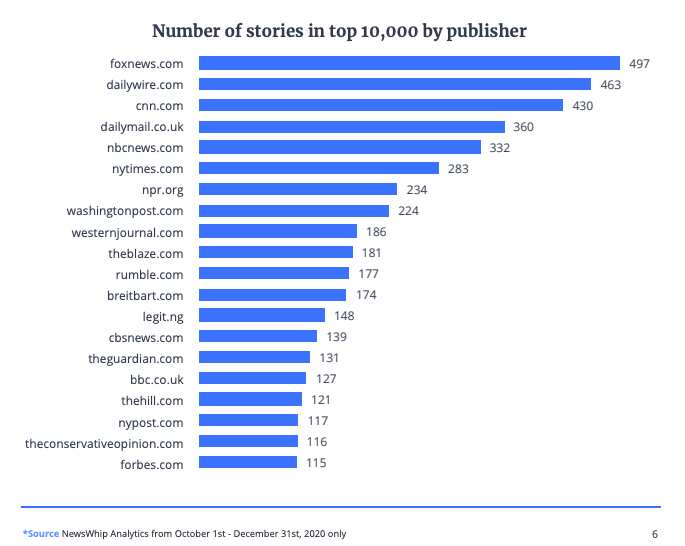 PAY ATTENTION: Click "See First" under the "Following" tab to see Legit.ng News on your Facebook News Feed!
ii) Top web-publishers of Facebook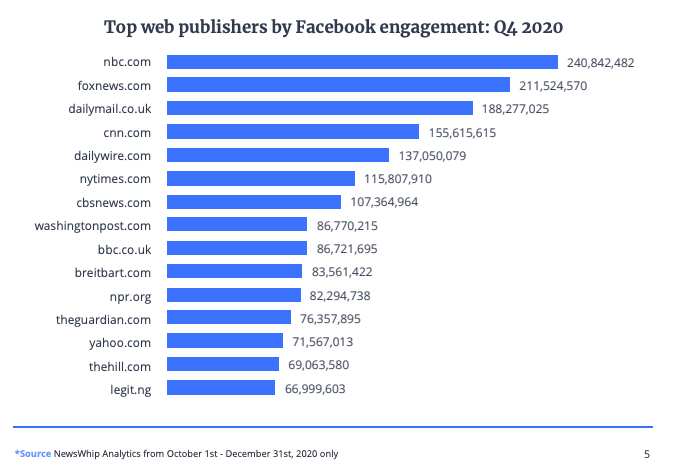 iii) The most engaged pages.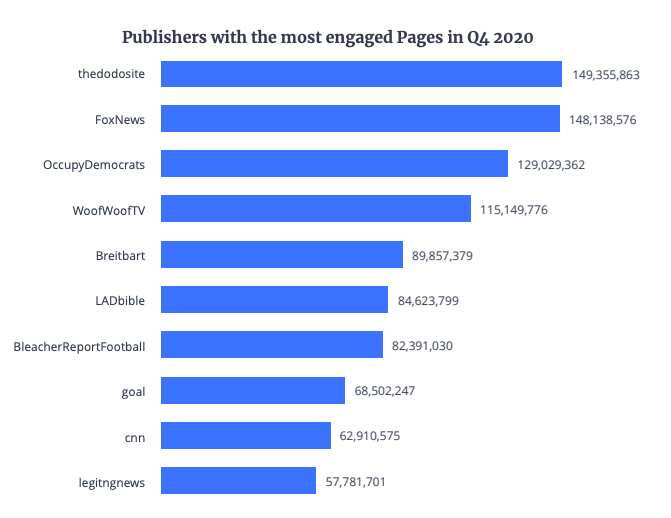 Aside from Facebook, Legit.ng has 347,198 followers on Instagram, 794,865 on Twitter.
Our most popular articles in 2020:
Legit.ng recorded a lot of stories that got readers' attention across the globe thus making the stories our bestsellers for 2020.
In the gold category, we had: Young boy who went viral dancing in the rain gets another scholarship. This article recorded 1,022,709 page views.
In the silver category is the story with 878,132 pageviews: Young boy shows off melodic voice, gains online fame, and bronze category is the article: Toddler goes viral after mother filmed her dancing to lullaby
Amazing human interest one-on-one videos in 2020:
In 2020, we continued creating content that enriches Nigerians' lives. Our video team had stories that touched on human interest, Nigerian returnees from Libya, and other interesting topics that our amazing followers found interesting and relatable. The new content created helped the growth of our Youtube channel to over 186,000 subscribers.
Here are some of the new areas we experimented with in 2020 which eventually turned out to be a success.
i) My Migration Story
ii) Touching Human Angle videos
iii) Expose interviews
We also recorded success with our Special Independence Day video:
Nigeria at 60: 32-yr-old Nigerian man Oluwatobi Ajayi produces stunning cars | Legit TV
The human interest desk was launched to tell more stories about outstanding Nigerians both at home and in the diaspora. It is a desk created to show the other side of human beings aside from politics, sport, and entertainment.
Legit.ng gives back to society:
In celebrating Nigeria's 60th Independence anniversary and the month of the rebirth of the #1 online news and entertainment platform by the audience in Nigeria, Legit.ng, we organised a Big Naija Independence contest for prominent students across the country. Three winners emerged and won cash prizes which they are expected to invest in their studies and professional growth.
The winners are Ojuade Oluwapelumi Mosinmileoluwa, a student of Olabisi Onabanjo University in Ogun state who won the contest and received the star prize of N115,000. Other winners are Peace Oghogho Eke-efeme who got ₦75,000 and Victor Femi-Lawal - ₦38,000.
And we celebrate, reward staff excellence:
While celebrating its success in 2020, Legit.ng also rewarded and celebrated its editors who performed extremely well in the year under review. The editors were given a certificate of commendation for their tremendous performance.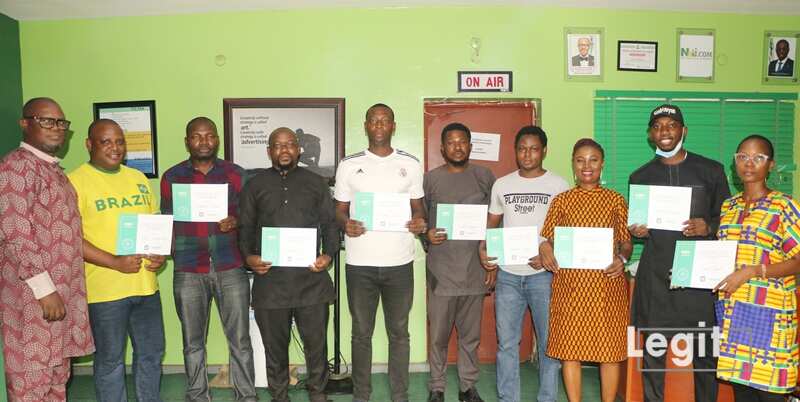 PAY ATTENTION: Do you have news to share? Contact Legit.ng instantly
Source: Legit.ng