Nigeria@60: Legit.ng Releases Results Of Big Naija Independence Essay Competition
As part of its contributions to the progress of Nigeria and its 60th independence anniversary, Legit.ng has finally released the results of its essay competition.
PAY ATTENTION: Click "See First" under the "Following" tab to see Legit.ng News on your Facebook News Feed!
The winners, according to the media house, are: Ojuade Oluwapelumi Mosinmileoluwa, Peace Oghogho Eke-efeme, Victor Femi-Lawal.
The essays were evaluated by a professional jury. The team of judges includes Legit.ng's Managing Director Goke Olaegbe and experienced journalists Akinyemi Akinrujomu, Eromosele Ebhomele, Nomso Obiajuru, Sola Sanusi.
A total of 650 students across over 50 tertiary institutions and colleges participated in the competition which came in three categories with the most attempted being the Big Naija Independence: Role Of Women.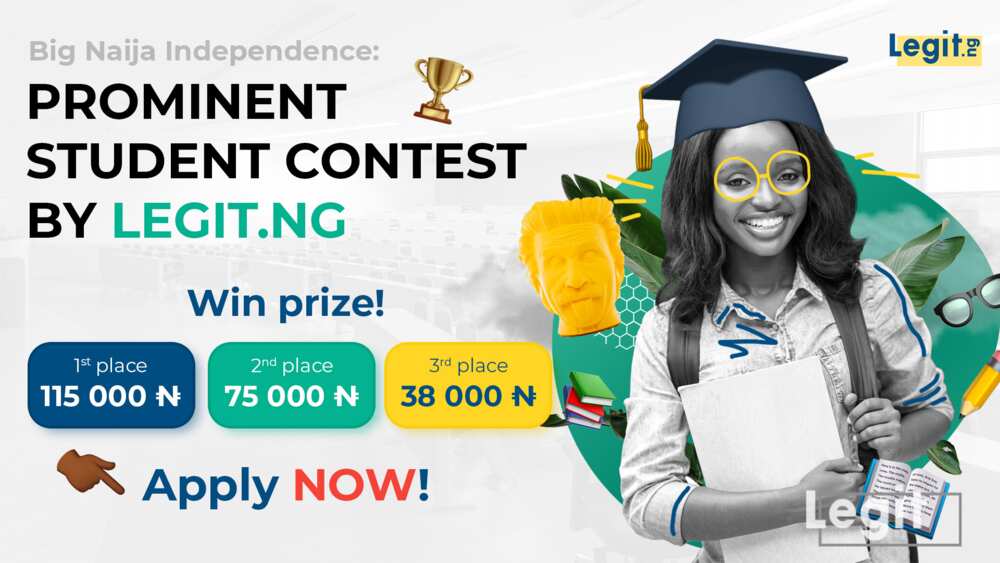 Legit.ng, the number one online news and entertainment platform by the audience in Nigeria, said its goal is to make the contest an opportunity to encourage writing skills among the youth and boost a passion for news gathering and reporting.
It said:
"The contest by Legit.ng was aimed at spotting young talented students passionate about journalism and writing.
The winners will get a prize to invest in their studies and professional growth."
Apart from the grand prizes for the winners, the organisation says the best essays among the hundreds of attempts would be published in the medium.
The winners will also have the opportunity to visit Legit.ng office, meet the team and hold a conversation or have a Zoom call with the organisation's Managing Director Goke Olaegbe.
Speaking about the competition, Mr. Goke Olaegbe explained that Legit.ng basically wants to ensure a better tomorrow for the future leaders.
Quoting Jean-Jacques Rousseau, a foremost Genevan philosopher, Olaegbe asked: "If man is born free, why is he everywhere in chains."
He also encouraged the participants:
"Unleash your potential via journalism as the pen is mightier than a sword."
On his part, contest jury member Akinyemi Akinrujomu noted:
"It was surprising that many contestants chose to write about the role of women in Nigeria since 1960, even male writers. I consider that as a big win for the ladies."
PAY ATTENTION: Install our latest app for Android, read best news on Nigeria's #1 news app
While contest jury member Eromosele Ebhomele noted that the competition has helped to broaden the minds of the students and encouraged them to understand the country's journey so far, Nomso Obiajuru added:
"I like the fact the contest gave participating students the opportunity to research and find out more about Nigeria's Independence."
Nigerians surprise Libya Returnee with cash gifts| Legit TV
Source: Legit.ng