Top 10 highly profitable business ideas to explore in Nigeria in 2021
With a population of about N200 million people and the Gross Domestic Product (GDP) of over $400 billion, Nigeria is undoubtedly one of the best places to do business in Africa.
PAY ATTENTION: Join Legit.ng Telegram channel! Never miss important updates!
Also in 2019, the World Bank listed Nigeria as one of the top 20 countries that improved in the ease of doing business
According to the bank, starting a business in Nigeria has now become easier.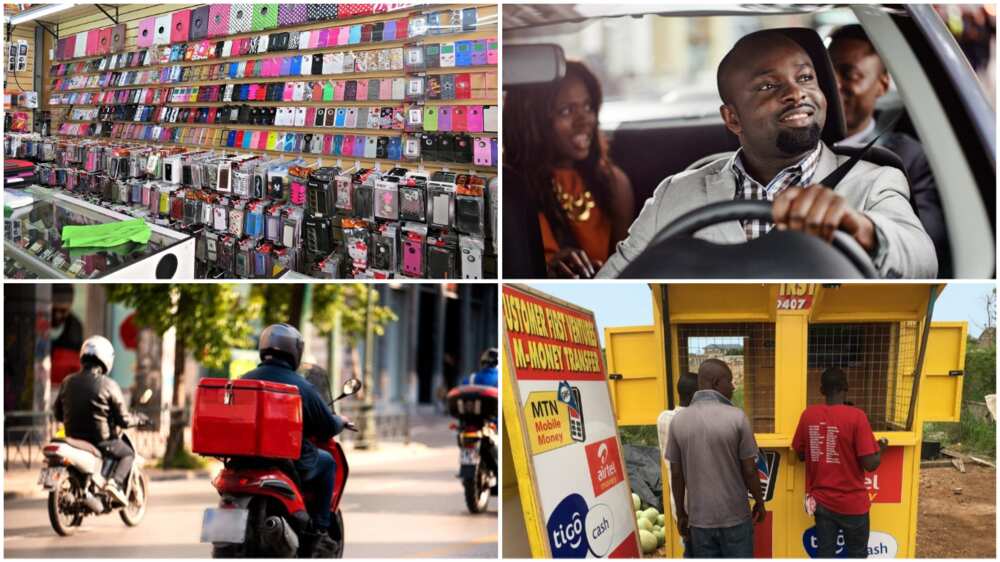 In this piece, Legit.ng highlights top 10 business ideas Nigerians and other legal residents in the country can do which will yield high returns.
1. Ride-hailing business
Though it has its challenges just as many other businesses, ride-hailing business is one of the most lucrative among the small businesses that can be explored in Nigeria.
As a driver with any of the major ride-hailing companies in the country, you can earn up to N35,000/40,000 a week, according to a Quora response.
2. Delivery business
Like the ride-hailing business, this also falls under the transportation sector. With many social media/online sellers spouting up, coupled with the rising increase in the establishment of startups, the demands for products delivery has also risen.
A report by Stears Business, for instance, captures the rising trend, and profitability, of food delivery business in Nigeria's economic nerve centre, Lagos.
3. Information products marketing
Recently, some young Nigerian lawyers took to social media to lament the peanuts they are being as monthly salaries and some inhumane treatments they are subjected to.
Responding to their tales, Akin Alabi, a federal lawmaker and business mogul, advised them to "sell information products".
His words:
"If you are a struggling lawyer, pick a niche and share loads of information on it. Position yourself as an expert on it.
"It could be properties law, gambling law, tax laws, copyright laws etc. Build social media following. Build an email list. Sell information products."
4. Exporting locally available agricultural products
One of the top economic strategies is making good use of comparative cost advantage; that is, an economy's ability to produce a particular good or service at a lower opportunity cost than its trading partners.
There are some agricultural products widely available in Nigeria which fetch thousands of dollars when exported.
In a recent report, Stears Business profiled one of such products, Sesame seeds, as Nigeria's largest agricultural export.
Another one of such products is Ugu' leaves.
A Facebook user, Olakunle Allison, recently narrated his encounter with a Nigerian gynaecologist making millions of Naira by exporting this to the United Kingdom.
5. Livestock farming
Livestock farming is another profitable business venture to explore. The edge this business has is that it can be started with very little capital.
And if you want to do it at a large scale level, with the right measures put in place, you can get investors through platforms such as Piggyvest.
Some of the niche areas that can be considered are catfish farming, poultry farming, cattle grazing, goat rearing, snail farming, among others.
6. Selling baby products
Professor Yomi Fawehinmi, a former lecturer at the University of Lagos, recently recommended venturing to businesses about baby products.
His valid argument is that the fact that Nigerians will always give birth to children presents an endless opportunity for entrepreneurs in this sector.
Thus, selling baby products like pampers, children's clothes, baby foods, etc. is a worthy venture.
7. Selling cement in new sites
Without a doubt, cement is one of the most important "ingredient" in building construction. Many construction engineers or firms handing building projects will very likely prefer buying from sellers close to the construction sites to avoid delays and other hassles related to logistics.
8. Mobile money agents
This is a fast-growing business in Nigeria with many people patronising it because of its relative ease.
Instead of going to banks for simple banking transactions involving small money, many Nigerians now prefer patronising mobile money agents on their streets.
9. Sales of mobile phone accessories
Nigeria has the 7th highest number of mobile phone users in the world; 172 million in 2019.
This undoubtedly makes sales of phone accessories a good business venture with consistent rising demands.
10. Solar installation business
With the never-ending challenges of stable electricity in Nigeria, the pollution and unhealthy noise of power generators, many people now opt for solar inverters.
With a growing demand for inverters by middle-class Nigerians, Solar installation business is a worthy venture to consider.
PAY ATTENTION: Install our latest app for Android, read best news on Nigeria's #1 news app
In a previous report, Legit.ng highlighted some Nigerian startups that made significant impacts in Nigeria in the year 2020.
These startups provide solutions ranging from education to health, online payment, savings and financial literacy, among others.
The startups did not only provide employment but also help boost the economy by attracting foreign investments.
Source: Legit.ng