Another round of applause as Legit.ng wins 3 more prestigious Facebook publishers awards
After taking over the Nigerian media and content landscape, and indeed Africa's in the past few years, Legit.ng has entered the international stage in grand style, winning recognitions and laurels.
Legit.ng's high standard among its peers in Africa earned it some much-deserved recognition in the last quarter of 2020 when the number one news and entertainment media in Nigeria was named among prestigious world-class publishers.
According to data provided by Newswhip Analytics for October 1 to December 31, 2020, Legit.ng did excellently in three prestigious categories among international Facebook web publishers.
Award for huge Facebook engagement
One of the categories in which Legit.ng excelled greatly was in user engagement where we ranked 15th on the list.
Available statistics showed that Legit.ng garnered impressive 66.9m engagements in the three months under review to make into the class of international publishers like NBC, Fox News, CNN, Daily Mail, BBC, Breitbart, Yahoo and The Guardian UK to name a few.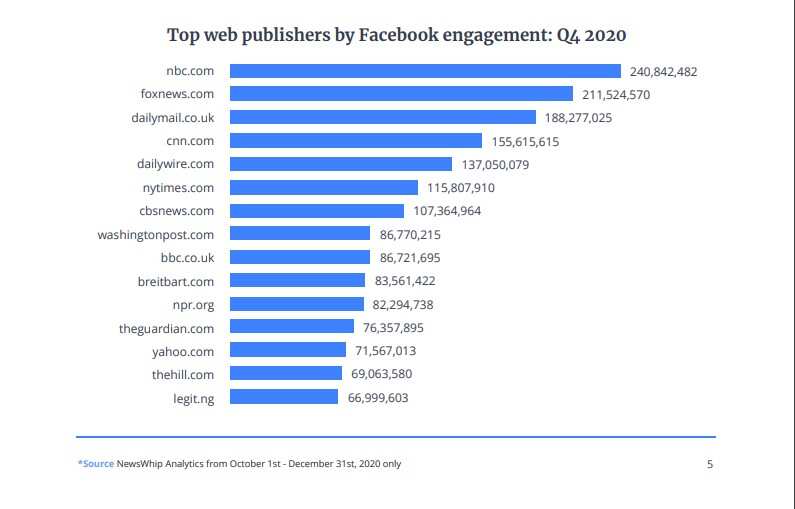 Award for the impressive number of stories in Facebook's Top 10,000
Legit.ng also brushed shoulders with the 'big guns' in the global media by picking a slot among the leading 20 web publishers who had the most number of stories Facebook's Top 10,000.
We had an astounding total of 148 of our stories that made the Top 10,000 produced by web publishers on Facebook.
This ranked us 13th on the list of Top 20 web publishers with plenty of stories in the Top 10,000. We came in on the list ahead of A-list media houses like CBS News, The Guardian UK, BBC, The Hill, New York Post and even Forbes.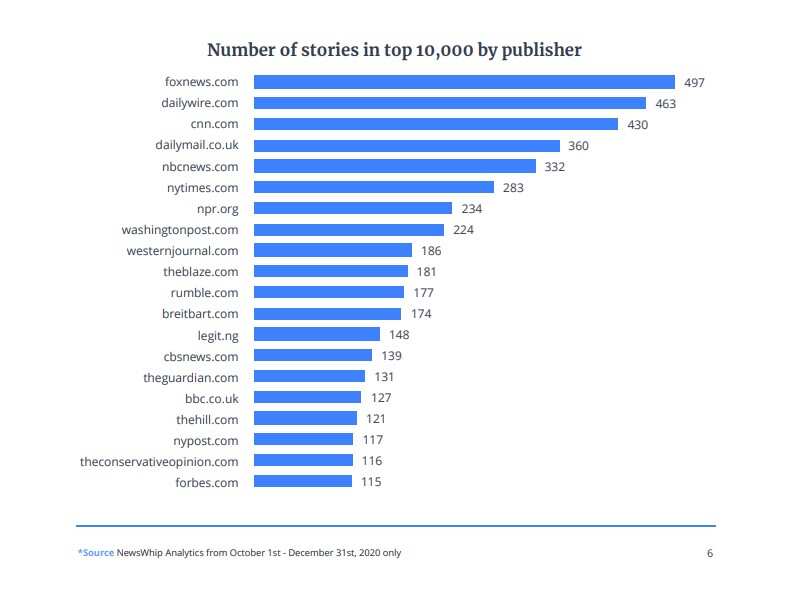 Award as one of Facebook publishers with most engaged pages
Legit.ng also got international recognition for having one of the most engaged pages on Facebook in the last quarter of 2020.
Among the Top 10 Facebook publishers in this category which included CNN, Breitbart, Goal, Fox News and Bleacher Report Football, Legit.ng found a slot on the list with our 57.8m-strong engagement.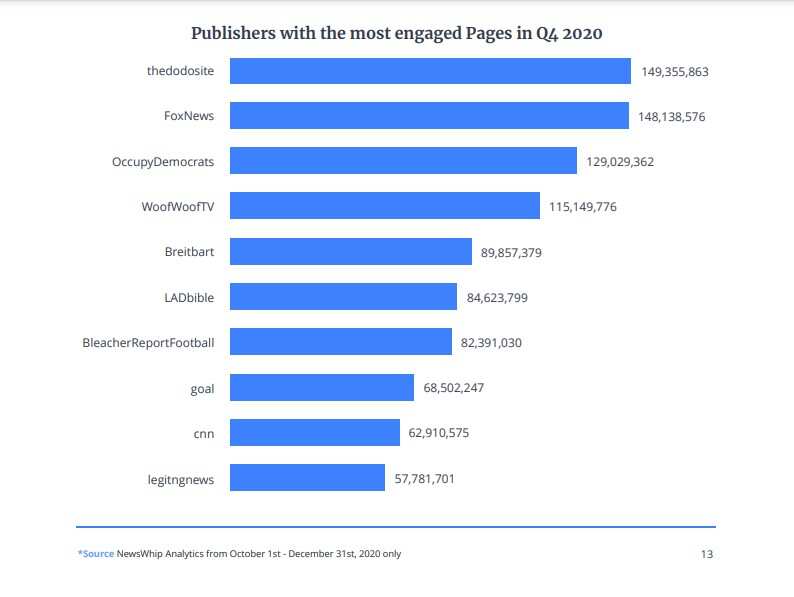 Also in the last quarter of last year, Legit.ng was deservingly listed as one of the Top 25 web publishers on Facebook for November 2020.
This group of publishers is so prestigious that only top media houses across the world ever make their way into it and we earned that recognition as well.
For so many organizations across the world, the year 2020 was quite a challenging one but Legit.ng's team of forever-determined professionals found a delightful way to round of the year with outstanding awards, of course.
To reap some of the awesome benefits of this huge recognitions Legit.ng is getting globally, reach out to our marketing team for advert placements and you are guaranteed to smile to the bank.
Source: Legit.ng