- Unlike most countries of the world, Ethiopians mark their Christmas celebration differently
- Ethiopia believes that Jesus Christ, the spiritual leader of Christians, was born on January 7
- This is as the Coptic Christians use the Julian calendar of the Coptic Orthodox Church as against the Gregorian calendar
PAY ATTENTION: Click "See First" under the "Following" tab to see Legit.ng News on your Facebook News Feed!
Face2face Africa reports that for Ethiopian Christians, it wasn't a case of not wanting to join the bandwagon, it is only a matter of keeping to the dictates of the Coptic Orthodox Church that follows a different calendar entirely.
This is because, according to the Julian calendar Christians in Ethiopia follow, Christmas day celebration is on January 7, every year, as against the largely celebrated December 25, by most people around the world.
Christmas day celebration is a day Christians mark the birth of their spiritual leader, Jesus Christ.
Interestingly, Ethiopia is not the only country that uses the Julian calendar to celebrate Christmas on January 7, Egyptian and Eritrean Christians who are ardent followers of the Coptic Orthodox church also keep that same date.
While Christmas celebration on the Gregorian calendar begins with a special service night on December 24 (Christmas Eve) before the D-day, Coptic Christians precede their Christmas day celebration with a 43-day fast.
During the period of fasting, known as The Holy Nativity Fast or Fast of the Prophets', each Coptic Christian becomes a vegan.
Consequently, they abstain from taking dairy products such as milk and fish and are mandated to break their fast with a vegan meal. The fast ends on the eve of Christmas.
On Christmas day, most Coptic Christians would rather mark their celebrations in Lalibela in the northern part of the country while others have their celebrations in church.
They are adorned in white with a candle in hand. Male folks are separated from their female counterparts just as the priest administers the 'Holy Communion' at the centre of the circle they would form.
It is believed that one of the Three Wise Men, as recounted in the Christian Holy Bible, that followed the star to where baby Jesus was born was an Ethiopian.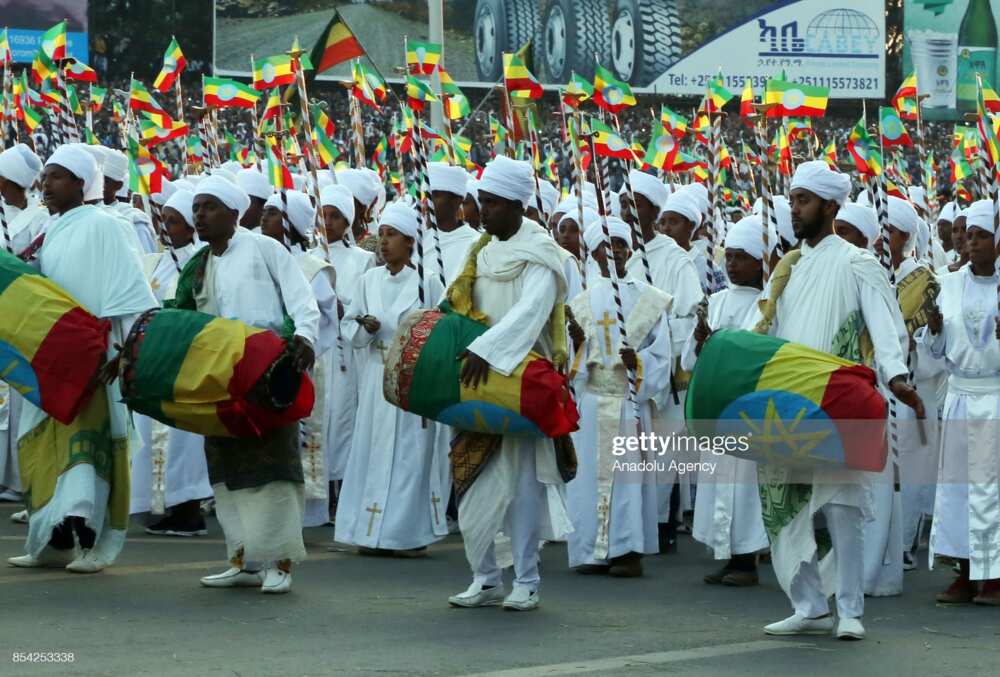 PAY ATTENTION: Install our latest app for Android, read best news on Nigeria's #1 news app
In other news, Legit.ng earlier reported 7 interesting Christmas traditions from around the world.
Christmas is celebrated in many countries around the world. Despite the mode of celebration, the dates and the traditions vary, the spirit remains the same everywhere.
COVID-19: How Nigerians plan to spend Christmas during a pandemic | Legit TV