Thank you for the birthday wishes: 50+ creative ways to respond
There is almost nothing as fun as getting wishes, messages, and texts from relatives and friends during your special day. Through Twitter, Facebook, Instagram, and texting, you hear from almost everybody you know, and this makes the day unique and exciting. This collection of thank you for the birthday wishes messages will show you creative ways to respond to your friend's messages.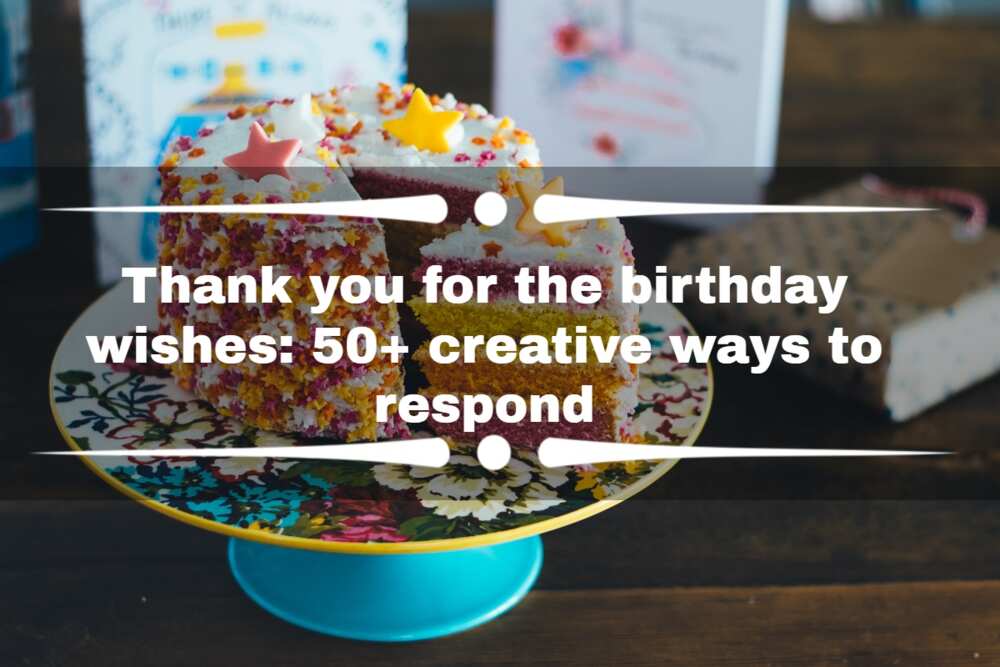 A simple response is a gesture of giving back respect and value to the person who made your special day fun and memorable. Unfortunately, while well-wishes and greetings are always pleasant to receive, many people find themselves at a loss as to how to respond.
How to say thank you for the birthday wishes?
Nothing beats gratitude that is expressed personally. People like to feel acknowledged for their efforts. If someone reached out to you during your special day, you need to get back to them and show how grateful you are.
Luckily, there are various creative ways of expressing gratitude to your friends and relatives who sent you messages of goodwill. Here is a compilation of many ways to say thank you for birthday wishes.
Cute and straightforward thank you for the birthday wishes
Wondering how to be brief and cute in your reply? Use some of these excellent and creative messages to express gratitude to all the people who sent you amazing messages on your special day.
It feels so good and extraordinary for someone to do special things for you on your special day. I am so excited about the turn-up, gifts, and warm blessings. You are the best.
Special regards to all the warm wishes! You made a great day even more remarkable!
Thanks for the fabulous texts. Hearing from you slightly lessened my despair at turning a year older.
I am so grateful to have friends like you in my life to share these beautiful memories with. I am truly blessed to be here.
I am much obliged for your messages on this special day. It was a day to remember.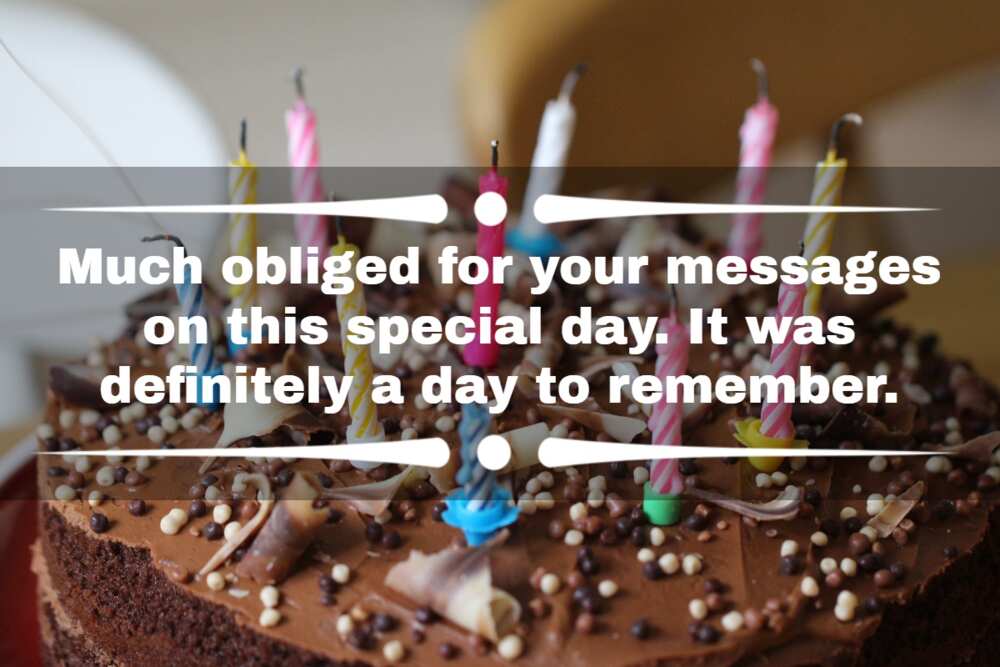 Actions speak louder than words, but both of them show me how much you care. The goodwill messages humble me!
Your words mean so much to me. They make me so happy. Much obliged for the amazing blessings!
Your heart and your love is always true and welcomed. Thanks for the birthday blessings!
Love taste great with wine. It tastes even better with loved ones who I know truly care for me unconditionally.
You are always there for me and this time was not any different - special regards for your incredible wishes.
Waking up to well-wishing text made my heart so full. I appreciate it so much!
I am much obliged for the birthday wishes and for being a part of my world.
Happiness is a choice. Friendships are choices. Both cost nothing more than a smile and a warm greeting. I am much obliged.
Here is my obligatory appreciation for your incredible wishes. Merci!
Your kindness is beyond compare. I am much obliged for always being there for me & your warm wishes.
I will carry your message of blessings with me throughout the year ahead. Merci!
I am much obliged for the incredible message of blessings and for being a friend until the end!
Hilarious thank you birthday wishes responses
Some of your friends will poke fun at you with humorous birthday messages. A great way to respond is to give them a chuckle too. Here are the hilarious messages you can use.
Thank you for wishing me a day before my birthday. It shows your eagerness for a treat.
A special "Thank you" goes out to those who remembered this day without using Facebook.
Seeing all these fantastic wishes, and messages overwhelm me. Not only because they are heartwarming but because you have improved your writing skills. Regards!
Special appreciation to all those who sent me a well-wishing message on my special day. You turned my pity party to a party.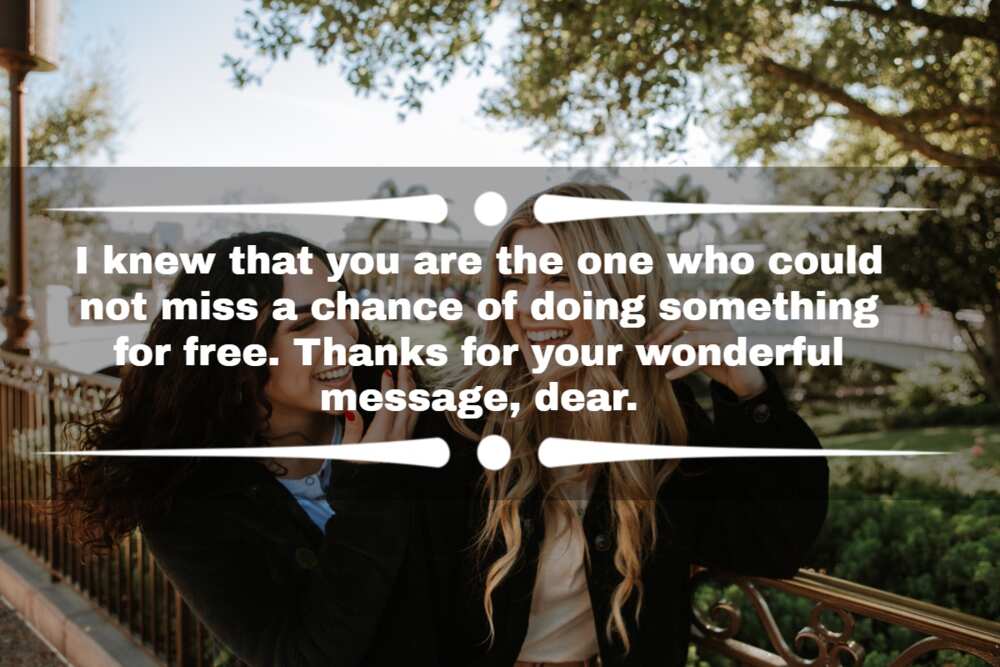 I knew that you are the one who couldn't miss a chance of doing something for free. Thanks for your wonderful message, dear.
Thank you for your wishes. It is a special day for me when I accept donations as well. I feel special and loved by all of you.
Am grateful for your wishes. No fun party this year. Just celebrate me in your mind!
I appreciate your efforts in copying and pasting your wishes from Pinterest!
If I did not text you back immediately, it is because I am out partying. I am much obliged for the birthday messages!
How did you know that today was my birthday? You are a real stalker! Anyway, thank you for celebrating my birthday with me.
Your fabulous wishes and greetings just lifted me to cloud nine!
I know you are laughing at me getting older. It's okay! You are next. Thanks for celebrating my birthday.
You can start showering me with gifts any time. Go on; I am waiting.
True friends are people who travel for over 10 miles to get free cake, food and drinks. Thank you for your efforts.
Thank you so much for your wishes. My lifetime friendship is the only treat you will get from me.
Hey everyone, your birthday wishes really meant a lot to me. Not as much as a present or cash, but a lot.
Emotional thank you messages for birthday wishes
A birthday thank you message can arouse emotions and create memories. You can achieve this by telling your friends how their messages made you feel. Here are some messages that will evoke feelings.
The most beautiful detail that I have received today is that affection so great and sincere that you have shown me demonstrated since always and to date. I have reserved appreciations for all your love and affection, rest assured that this is reciprocated.
Thank you all for making me feel like a queen on this day. Every single message was special and a blessing to me.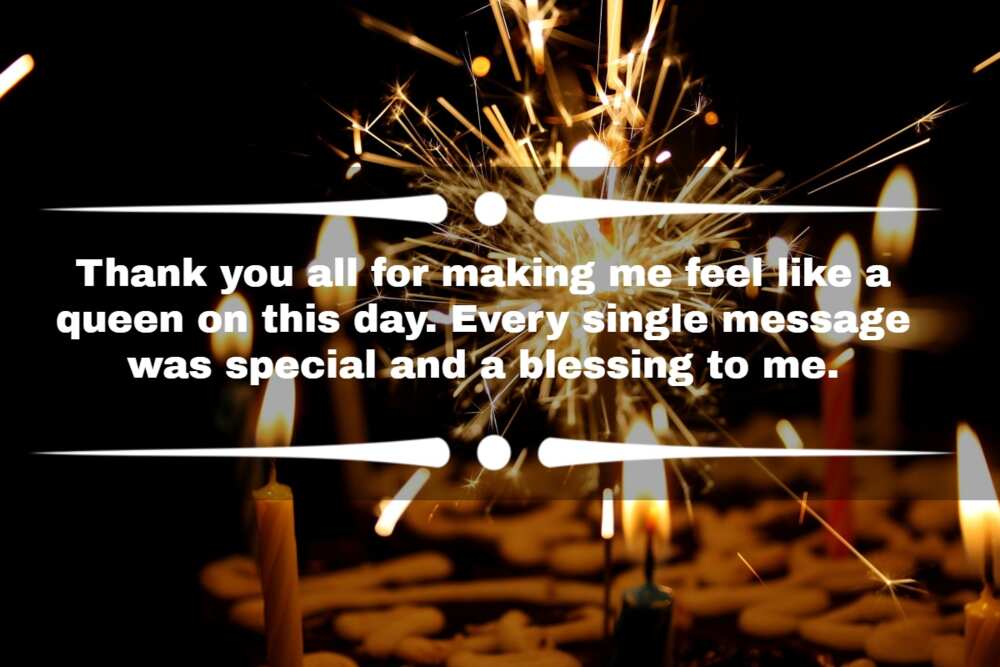 From the depth of my heart, I'd like to express my gratitude for everyone who took the time to wish me a happy birthday and for showing me so much love. Merci!
I could never say thank you enough for the joy you have all brought me on my special day. You are a constant reminder that true friends do exist. Let's all keep showering each other with such support and love.
The birthday wishes from my coworkers remind me just how lucky I am. Thank you so much for brightening my day.
Birthdays come and go, but good friends will always remain. Thanks for the wishes and gifts! I feel like the luckiest person in the world.
Thank you so much for your wishes. Hearing from so many family members and friends makes me feel grateful for all the wonderful people in my life.
I never stop thanking and praising God for giving me friends like you. Whenever I am down, you are with me. Much obliged for your wishes.
Even though this day will only last for 24 hours, your messages will stay forever in my heart.
I am much obliged, brethren, for the prayers. Another year means another life full of challenges and excitement. But I am never afraid because I know you guys will be with me.
Thanks for celebrating my birthday. Your lovely prayers and the generosity of your hearts is ethereal. I appreciate your love and blessings.
I appreciate you all for the love and support you have shown me, not only on my special days but throughout the year.
Fascinating ways to say thanks for the birthday wishes on social media
A reasonable amount of these messages tend to come from your social media friends. Whether it is on Facebook, Twitter, or Instagram, you can decide to reach out to your friends individually or give a generalized response. Here are the best responses to use.
Thank you, everyone, for the birthday wishes. You guys are simply the best!
My birthday was awesome, and that's thanks to all the awesome people who took the time to send me your wishes. It would not have been so, without your warm messages.
To all my social media family and friends, I am very blessed to have all of you sending the beautiful and thoughtful messages full of love on my special day.
Wow! So many goodwill wishes and not a one said, "Have a crummy day." I have the best friends! Merci!
I really appreciate all the amazing posts and messages. You are pure and noble friends. Even though you are far; you never forget my special day.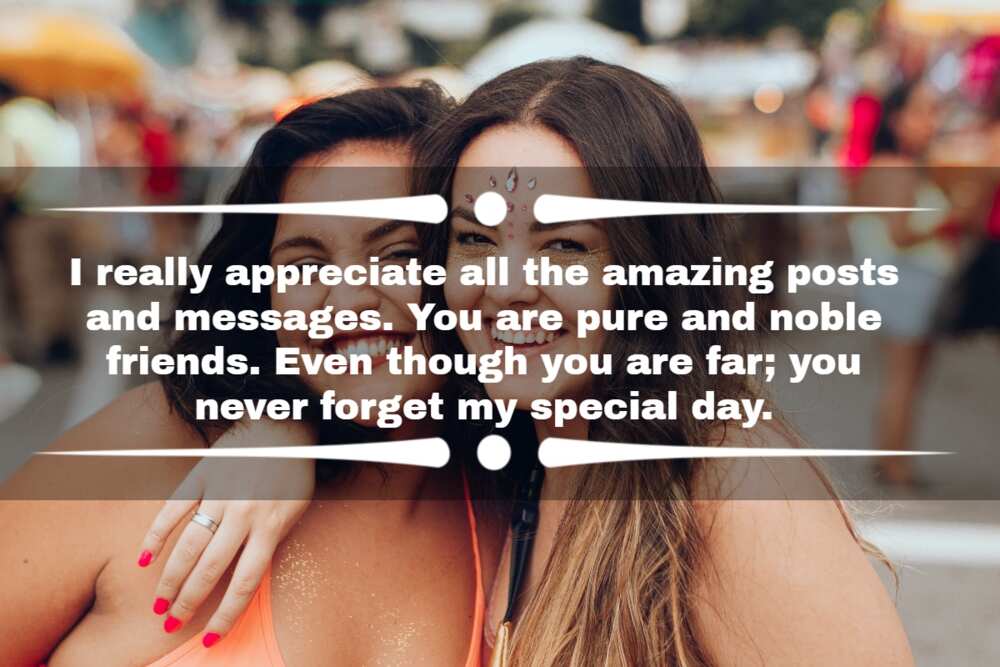 Thank you all for reading your Facebook notifications and realizing that yesterday was my birthday.
Am much obliged for making my every birthday unique. It is a symbol of love, and I can't take it for granted.
A very big thank you to everyone who dedicated a few seconds of their time to wish me a happy birthday! It means a lot to me.
In all honesty, the best gift I received on this special day was the love and support from you, friends. I am much obliged for thinking of me and all your wonderful wishes. You are such a blessing in my life.
Special regards to everyone for all the wonderful wishes you sent to me. They almost made me forget that I am speeding toward the grave.
There you have them. These are some of the ways to say thank you for the birthday wishes from your friends and family members. Remember, it is a kind gesture to respond to well-wishing texts, messages or posts sent to you by your loved ones.
READ ALSO: 50 romantic crush quotes to help you express your secret love
Legit.ng also published an article on romantic crush quotes to help you express your secret love. Most people have feelings they want to express to their crush but cannot do so for lack of better words.
Expressing yourself right to your crush is essential to make sure that you capture his or her attention. You can as well use funny pick up lines to show your sense of humour and confidence.
Source: Legit.ng