Tanner Fox bio: Age, height, brother, net worth, girlfriend
Tanner Fox is a YouTube vlog star, actor, and famous stunt scooter rider who began making YouTube videos at ten years old. Now, his stunt videos and vlogs are some of the most-watched videos on YouTube. Here is everything you need to know about the famous vlogger.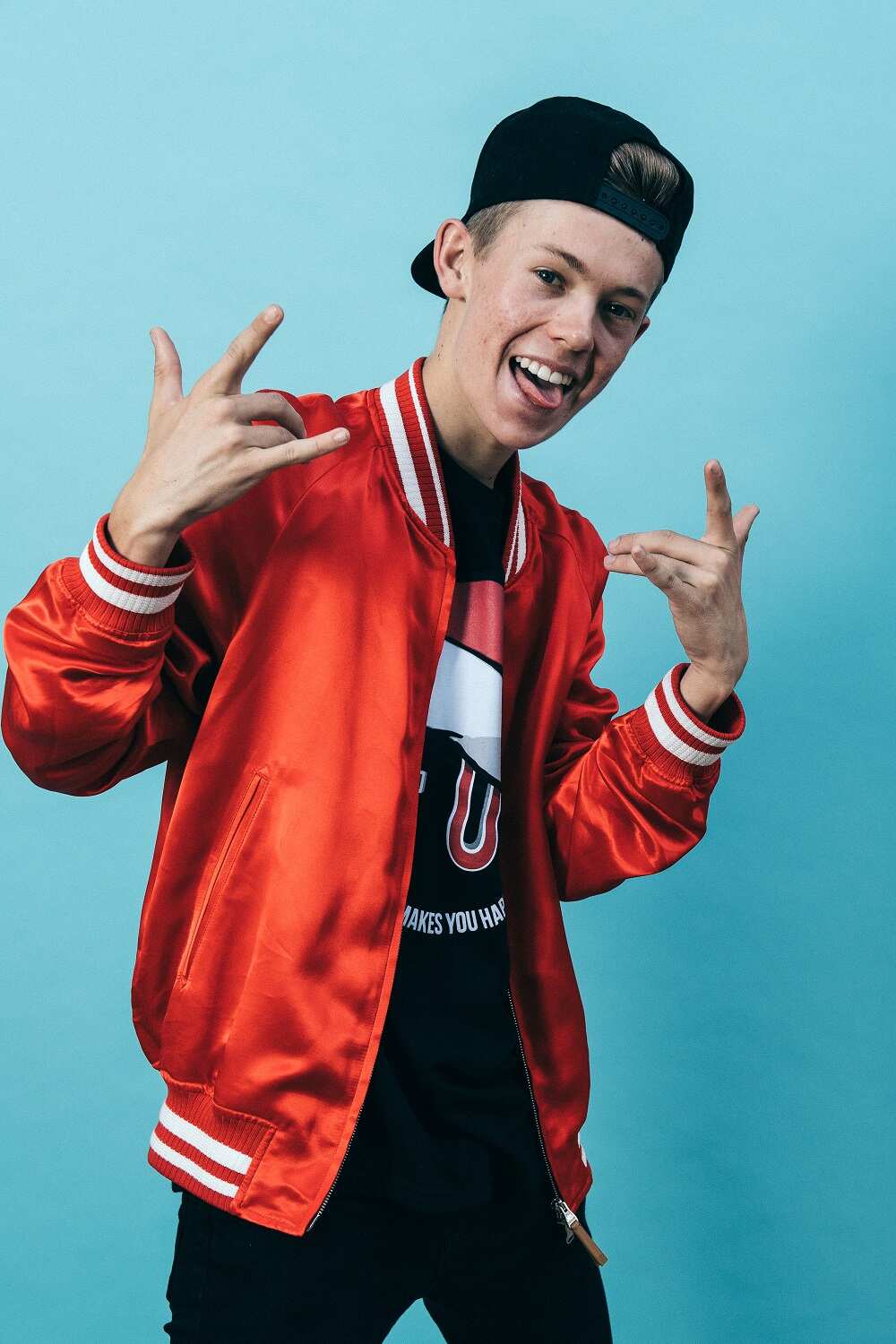 What is Tanner Fox known for? Fox is famous for being a YouTube vlogger and stunt scooter rider. He posts videos on YouTube almost on a daily basis, with his channel getting around 2 million views daily.
Profile summary
Name: Tanner Fox
Birthday: December 22, 1999
Age: 21 years (as of 2020)
Place of birth: California, United States
Nationality: American
Ethnicity: White
Sun sign: Capricorn
Occupation: Professional stunt scooter rider, YouTuber
Net worth: $6 million
Who is Tanner Fox?
Tanner Fox was born in San Diego, California. His mother's name is Ronda Fox, while his father's name is Billy, and he has a sister named Lindsay. His parents divorced when he was nine years old.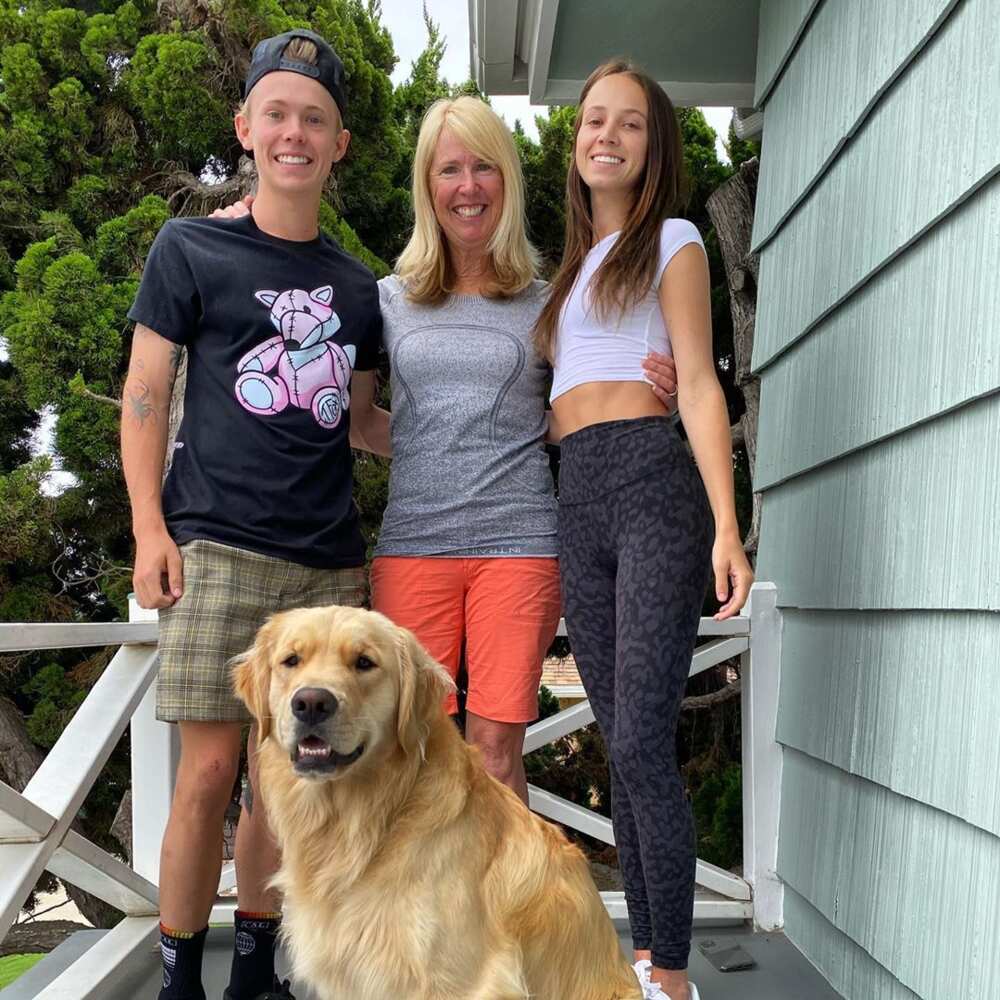 He had a dog named Kirby, who had his own Instagram account. The dog died in 2018.
How old is Tanner Fox?
He was born on December 22, 1999; this means that Tanner Fox age as of 2020 is 21 years.
How tall is Tanner Fox?
The YouTuber is 5 feet 6 inches tall, and his weight is 60kg. He has blues eyes and blonde hair.
Education
After leaving elementary school, Fox attended Sacred Heart School in San Diego for a year and a half before the school expelled him for filming his classmate.
His father then enrolled him in a charter school. By the time he was enrolled in the charter school, his popularity had grown so much that he could not get enough time for his studies.
He left the charter school after two years. Tanner took the GED Test in 2015.
Career
Tanner Fox started skateboarding at five years old. He began shooting and uploading videos on YouTube from a very young age. He started by posting videos of him doing random stuff before he began posting stunt videos.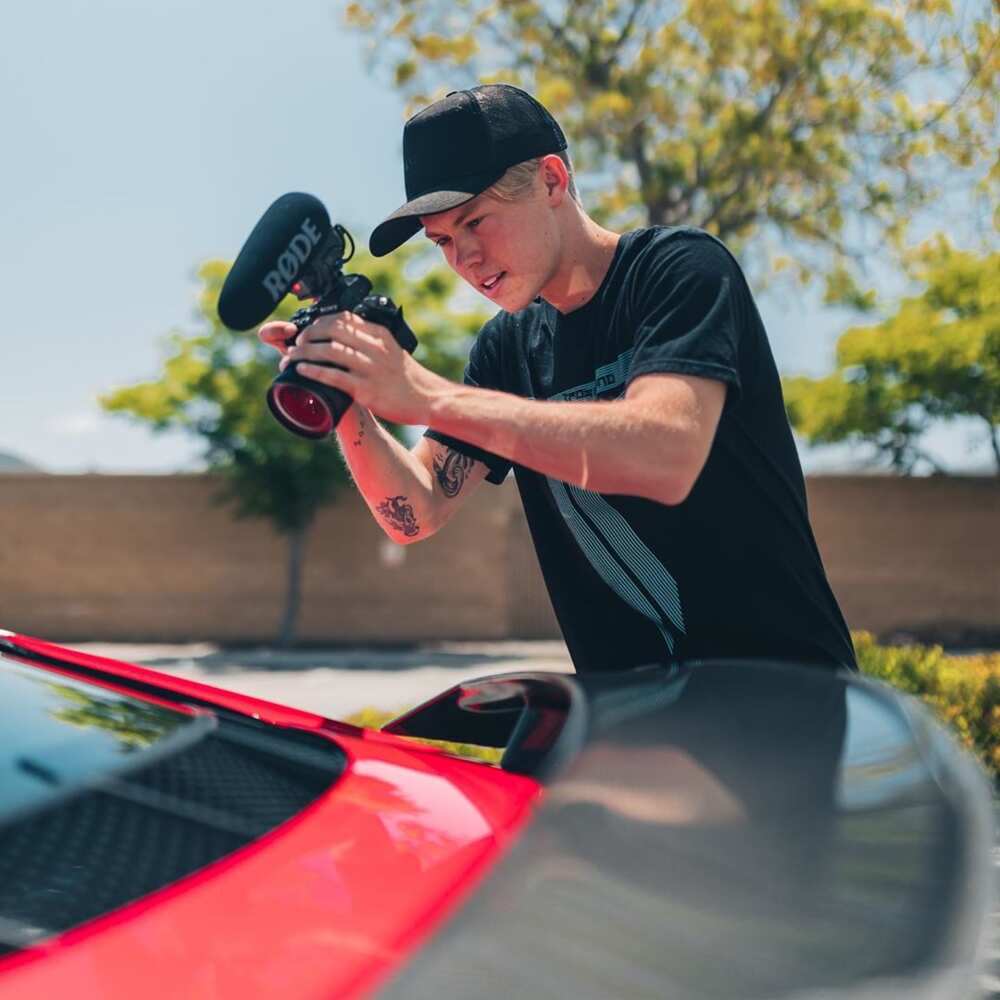 Tanner Fox is currently one of the most famous freestyle scooter riders online, with millions of subscribers on YouTube.
He created his YouTube channel, which he named MT films, in September 2011. The channel is now called Tanner Fox.
The channel has grown to become one of the most popular YouTube channels. It was named the fastest-growing channel on YouTube in 2016.
One of the reasons for Tanner's channel's popularity is that he has diverse content, including stunt videos and vlogs, challenge videos, and pranks.
Fox also often posts videos about his car collection. He owns a Porsche 911 GT3 RS and a Nissan GT-R. The Nissan GTR is nicknamed guaczilla for its colorful wrap and was modified to be a wide boy with 1000 horsepower.
Many of Tanner's videos focus on thrilling skateboard and scooter stunts, with flairs being his favourite scooter trick.
Tanner has collaborated with many brands such as Lucky Scooters, Root Industries, and the Grind Shop.
His most popular video is a diss track towards RiceGum that he released in 2017. The song is titled We Do It Best, and it features Dylan Mathew and Taylor Alesia. The music video currently has over 58 million views.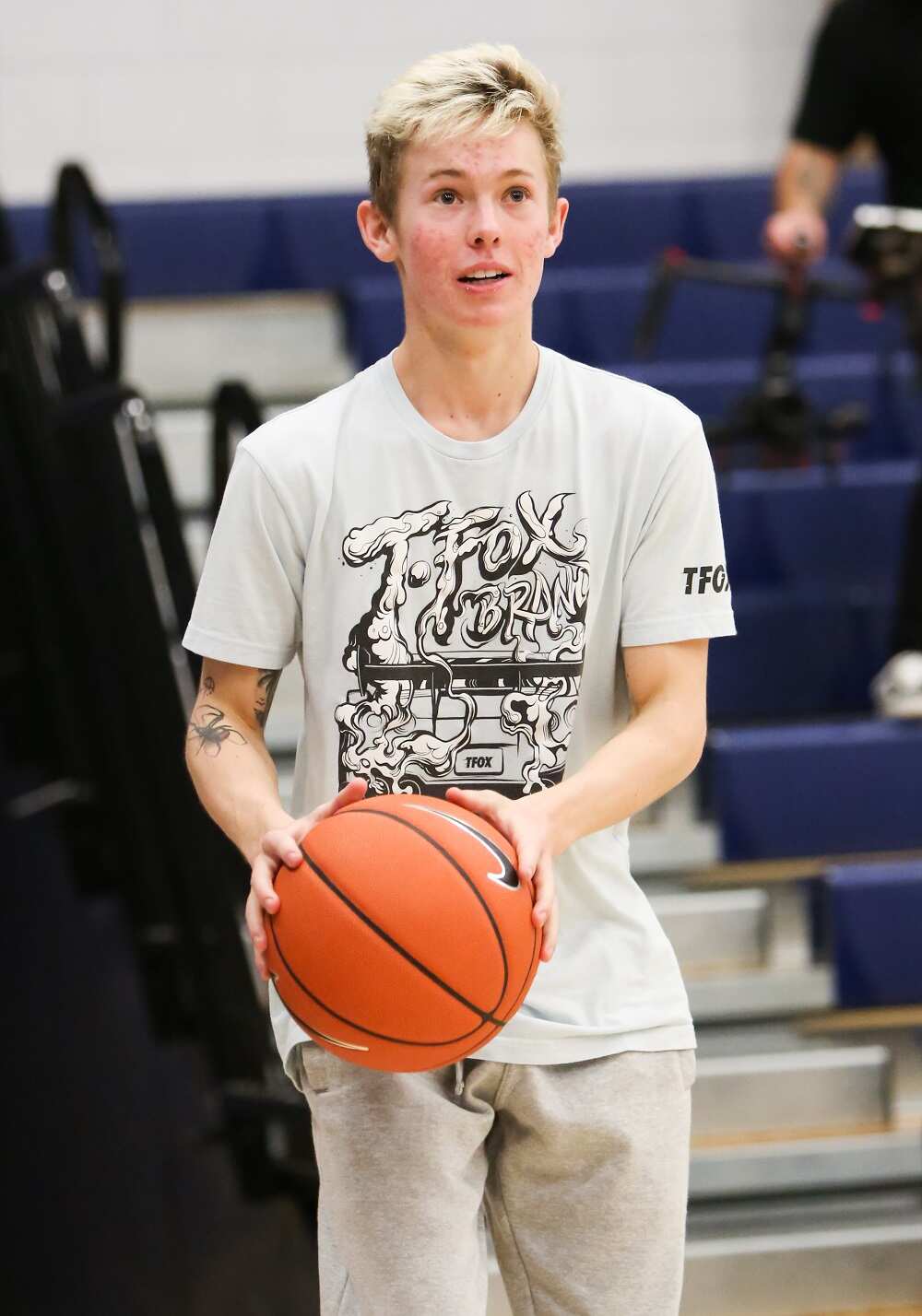 On June 30, 2018, Fox participated in the ACE Family Charity Basketball Event with several other YouTube celebrities, including Austin from The ACE Family, Ryan Swayze, Landon (L&S Gang), and JC Caylen.
Tanner is also a businessman; he is the CEO TFOX brand. TFOX produces various types of goods, from clothing items to water bottles, telephone accessories, and more.
Fox is also an actor. In 2016, he played Wyatt in the TV series titled Charmed. He was also featured in the mini TV series, Exy Trickstartr Stunt Scooter Commercial.
In 2019, he played DJ Fox in the horror film Be Our Guests.
What happened to Tanner Fox?
On July 15, 2020, Tanner posted a video when he found out he had tested positive for COVID-19. Tanner Fox says he was with YouTube star Jake Paul two days before getting tested in the vlog.
On camera, Fox calls his mom, Jake Paul, and some other people he had been in contact with to inform them and advised them to get tested too.
On July 30, 2020, Fox posted a video of him getting tested after his 14-day quarantine; thankfully, the test came back negative.
How much is Tanner Fox net worth?
The YouTube celebrity has an estimated net worth of $6 million. He makes money from his YouTube videos' views, endorsements, and sponsorship from different brands. He also makes money from the sale of his merchandise.
Fox earns around $3000 per day and $1.1 million per year from his YouTube videos views. He bought his dream car, Nissan GT-R, which costs almost $100,000 at 16 years old. He also got his mother a BMW.
Dating history
Tanner confirmed in April 2017 that he was dating Taylor Alesia, whom he met on Instagram. After he and Taylor broke up, Avalon Nadfalusi became Tanner Fox girlfriend in 2019, but they broke up in 2020.
Social media
Millions of fans follow the famous YouTuber on social media. On YouTube, he has 10.3 million subscribers and over 2 billion views as of 2020.
While he has 4.4m followers on Instagram, Fox is on Twitter as @tannerfox, and he has 577.2k followers on his page. His Facebook page has over 400,000 followers.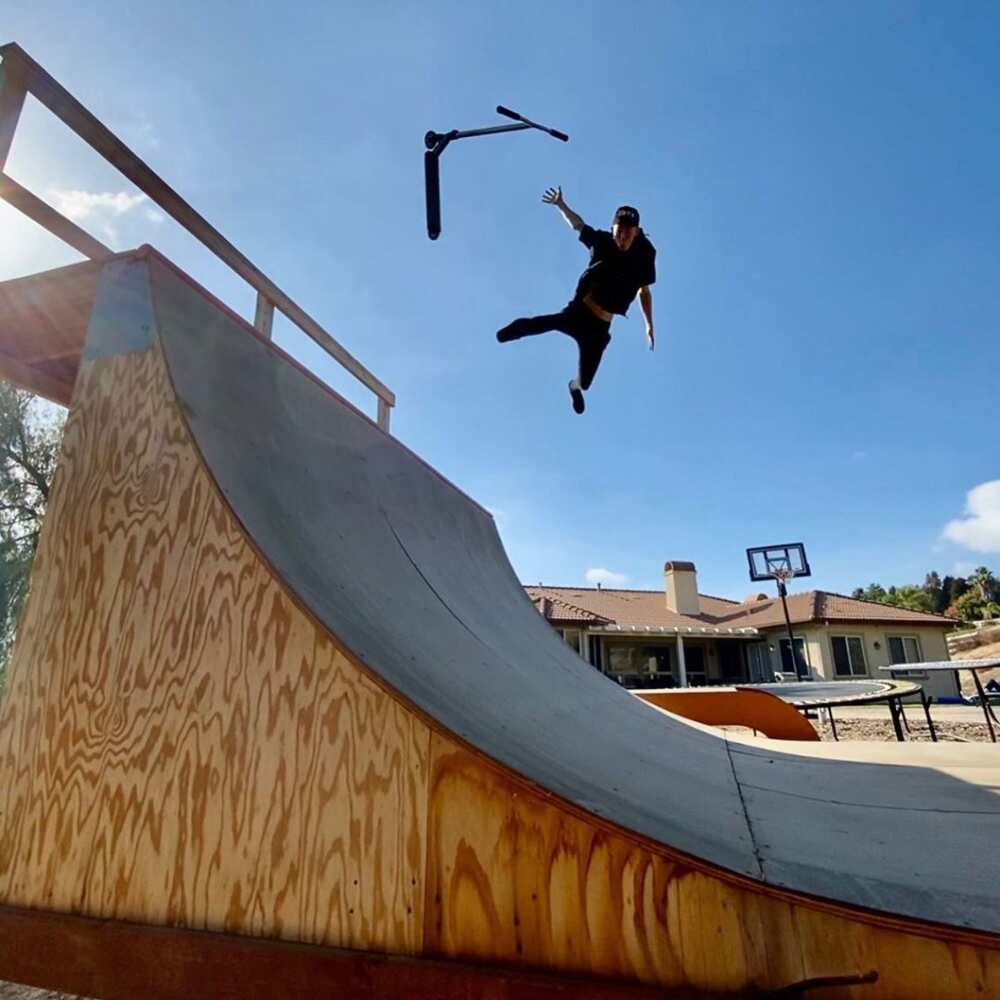 Tanner Fox is a professional scooter rider, YouTube vlogger, actor, and entrepreneur. There is no doubt that he is an inspiration to many young people who want to make a living from creating YouTube content.
READ ALSO: Amalia Williamson biography: Who is the beautiful Canadian actress? 
Legit.ng recently covered the story of Canadian actress, writer, director, and producer Amalia Williamson. Amalia became famous for her recurring role as Maddie West on the Netflix TV series Northern Rescue.
Despite joining the industry not so long ago, Amalia has proven that she is one of the most hardworking and most talented actresses and filmmakers in the industry.
Source: Legit.ng