Teresa Terry's bio: What do we know about Todd Chrisley's first wife?
Teresa Terry is Todd Chrisley's first wife, and they got two children in their marriage of seven years. The real estate tycoon showcases his affluent Christian family's lifestyle on Chrisley Knows Best. The family reality show debuted on the USA Network in 2014. Teresa's children have featured on the show for some time, but she has never been part of it.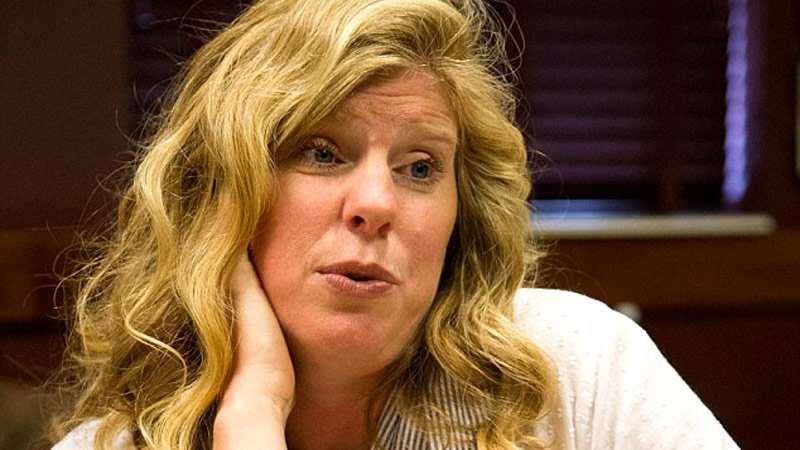 Teresa Terry was a high school student when she got pregnant and married Chrisley. The couple divorced a few years after having a son. He married Julie and got three more children. Fans speculate the Chrisley Knows Best show might end if Todd and Julie end up behind bars for 30 years over federal fraud convictions. The case put Todd Chrisley's first wife in the limelight even though she had nothing to do with it.
Teresa Terry's biography
| | |
| --- | --- |
| Full name | Teresa Terry |
| Famous as | Todd Chrisley's ex |
| Year of birth | 1971 |
| Place of birth | South Carolina, USA |
| Current residence | Oklahoma |
| Age | 40/41 years (as of June 2022) |
| Nationality | American |
| Ethnicity | White |
| Height (feet and inches) | 5'4" |
| Height (cm) | 162.5 |
| Weight (lb) | 130 |
| Weight (kg) | 59 |
| Eye colour | Brown |
| Hair colour | Blonde |
| Marital status | Married (Current spouse's name is unknown) |
| Children | Kyle, Lindsie, and two more |
Who is Teresa Terry?
Teresa Terry's age is 40/41 years as of June 2022. The reality TV show star was born in 1971 in South Carolina, USA, where she grew up. She is a 5'4" tall Caucasian American lady and weighs 59 kg.
Teresa Terry and Todd Chrisley's story
She was 17, and Todd was 19 when they first met. Teresa became pregnant with Todd's baby, Lindsie, two years later, and he proposed to her as soon as she broke the news.
Lindsie Chrisley was born in 1989, and her parents married because they thought it was the right thing to do under the circumstances. They welcomed son Kyle two years later.
Why did Todd Chrisley and Teresa Terry divorce?
Todd became a controlling, vindictive, and abusive husband. As a result, Teresa left his house shortly after filing a domestic violence case against him in November 1994.
She left with her son and intended to collect her daughter from her paternal grandparents' house. Teresa later filed a criminal complaint against Todd alleging an unlawful abduction when he would not let her take Lindsie.
The couple separated and reunited multiple times throughout their 7-year-old marriage. She shared various instances of his physical abuse and claimed he even battered her mum. However, Todd denied all domestic violence allegations.
Todd and Teresa fought over child custody for several years until 1996, when their divorce was finalized. Eventually, the court granted them joint custody of their children.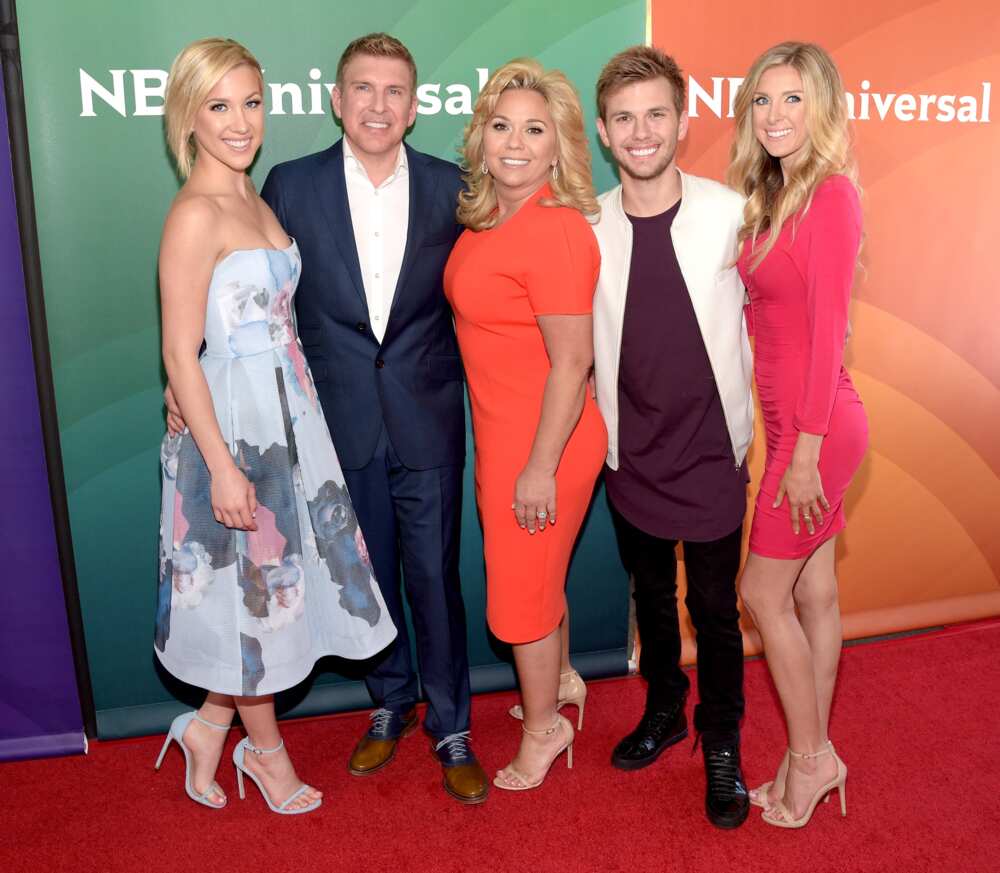 The former couple was involved in another custody battle in 2000. Todd sued her for $1 million in child support in 2012 but lost the case.
Where is Teresa Terry now?
Teresa met a new partner and had two more children. They moved to Atlanta and later settled in Oklahoma with the two other children from her previous marriage. She avoids the limelight surrounding her ex-husband.
Teresa and Todd Chrisley's children
Lindsie appeared in Chrisley Knows Best's five seasons. She had a rocky relationship with Will Campbell. Lindsie was five months pregnant when she eloped with him in 2012 and gave birth to their son Jackson in 2013.
She cut ties with her father in 2017 and left the TV show after an off-camera disagreement with her stepmother. Lindsie and Campbell's marriage ended in 2021, and they share joint custody of their son. She is close to her mum and occasionally visits her maternal grandparents.
Kyle has bipolar disorder and appeared on Chrisley Knows Best's first season. He was fired from the show in 2014 after threatening to kill his dad while under the influence of drugs.
Kyle cut the ties with the family but was able to overcome the addiction in 2019 and reconciled with his dad. He has supported his father throughout the tax evasion and fraud case.
How many wives has Todd Chrisley had?
Todd has married twice his entire life. He married Julie in 1996 after parting ways with Teresa. They have a daughter called Savannah (born 1997) and two sons Chase (born 1996) and Grayson (born 2006).
Todd Chrisley's wife, Julie Chrisley, and her children have featured in the family Chrisley Knows Best reality show. However, Lindsie and Kyle are no longer part of it.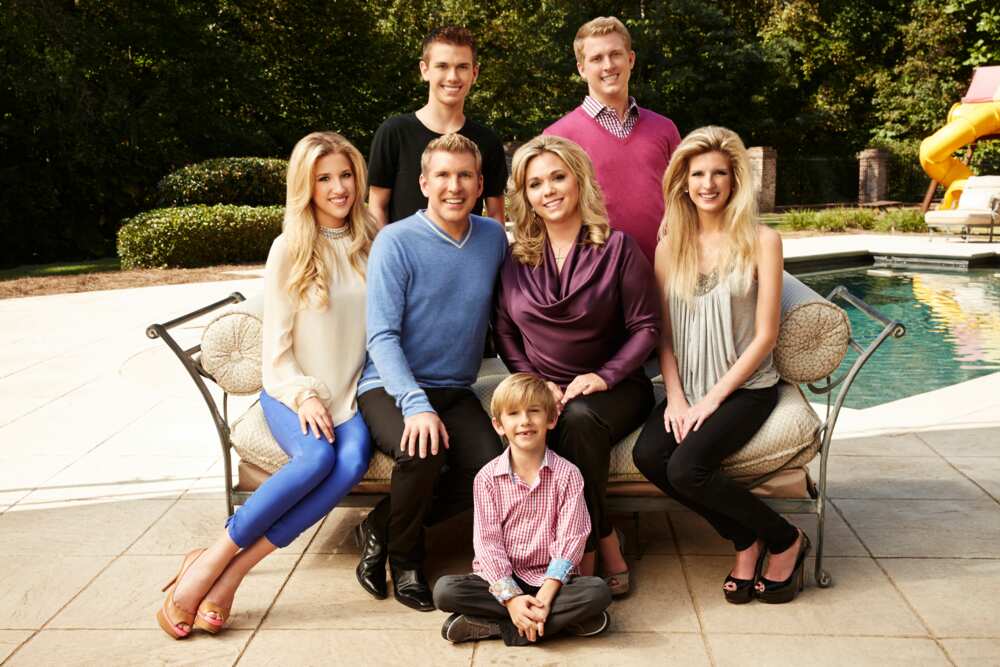 Who is Teresa Terry Todd Chrisley?
People often Google "Teresa Terry Todd Chrisley" as one name while referring to two different people. Todd was Teresa's high school sweetheart. They ended their marriage after a long battle with domestic abuse and court cases.
Who was Todd Chrisley's first wife?
Teresa Terry is Todd Chrisley's first wife. Her name is always in the spotlight because Todd is a famous American reality TV star.
Are the Chrisleys still married?
Todd and Teresa were married from 1990 to 1996. He married Julie in 1996, and the celebrity couple runs the Chrisleys Knows Best reality show and podcast. Julie and Todd have been trending for years due to a trial for tax evasion and bank fraud.
The reality TV couple conspired to defraud banks of over $30 million. They face 30 years in jail after being found guilty of 12 counts of bank and wire fraud, tax evasion and conspiracy.
Who is Teresa Terry's new husband?
Teresa has two more kids with her new husband. The family lives in the shadows, away from prying eyes. Therefore, his name is yet to surface in the public domain.
Since Teresa Terry is popularly known as Todd Chrisley's first wife, anything viral about him brings her name to the spotlight. She is also the mother of the reality TV stars Kyle and Lindsie Chrisley.
READ ALSO: Tamiko Bolton's biography: what is known about George Soros' wife?
Legit.ng also published Tamiko Bolton's biography. Tamiko is an entrepreneur, pharmacist, and the wife of American billionaire George Soros.
She came into the limelight after she married the famous baron and the public is always interested in knowing the latest details about her personal life.
Source: Legit.ng