Tamiko Bolton bio: age, ethnicity, net worth, marriage with George Soros
Tamiko Bolton is a purposeful woman who has excelled in both her career life and marriage. She exudes confidence, style and contentment in the character she is. Before all the fame she enjoys today, she still thrived in the different facets of life. She serves as an inspiration to many women globally that everyone can work hard to attain their goals and be happy at the same time.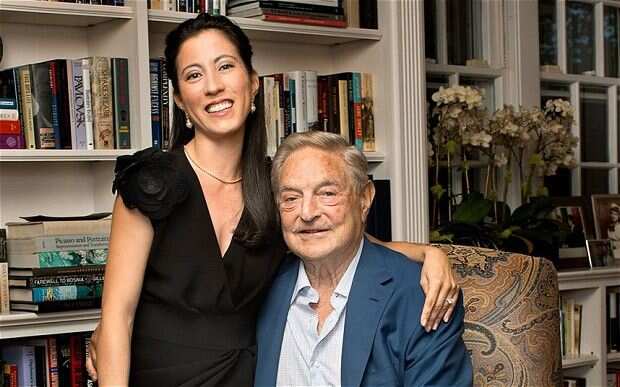 Who is Tamiko Bolton? This industrious lady came into the limelight after she married baron George Soros, an American billionaire. Before then, she led a quiet but fulfilling life as she conducted entrepreneurial ventures, held an education consultancy office and also practised as a pharmacist. This iron lady is multi-gifted and focused. Despite being married to the baron and being extremely wealthy, she still tries to maintain a quiet life. The ability to continue working on her goals even when she is married to a wealthy business mogul is inspiring.
READ ALSO: Aisha Atkins biography and facts
Tamiko Bolton bio
The successful career woman was born in 1971 to Japanese and American parents. Her birth took place in California, USA. She is, therefore, an American citizen by birth, and Tamiko Bolton ethnicity is Japanese-American. You can seldom find details of her parents because she is yet to discuss them on a public forum. What is well-known is that her father was a naval commander before his retirement and the mother was an employed nurse. There has been no mention of any siblings, so it is assumed that she was brought up as an only child. Although her exact date of birth is unknown, Tamiko Bolton age is 48.
Body size measurements
In her adulthood, Tamiko remains a petite woman as she was in her earlier years. She stands at 5 feet and 5 inches tall. Her weight is 60 kg. She was born with beautiful black hair and dark brown eyes. She is an attractive woman with a desirable body. Her exact body measurements and the size of clothes and shoes that she wears are nor publicly known. She is shorter than her husband who measures 5 feet 10 inches in height. The lady maintains her body size by being physically active and choosing healthy meal options over the foods that provide empty calories. Being a yoga teacher, it is also apparent that yoga assists in maintaining her youthful look.
Education background
Details regarding the high school that Bolton attended are unavailable. Nonetheless, she graduated from high school with high grades that allowed her to pursue higher education at the University level. Bolton attended her higher education at the University of Utah where she graduated with a Bachelors degree. She was certified as a pharmacist after graduation. She later pursued an MBA at the University of Miami.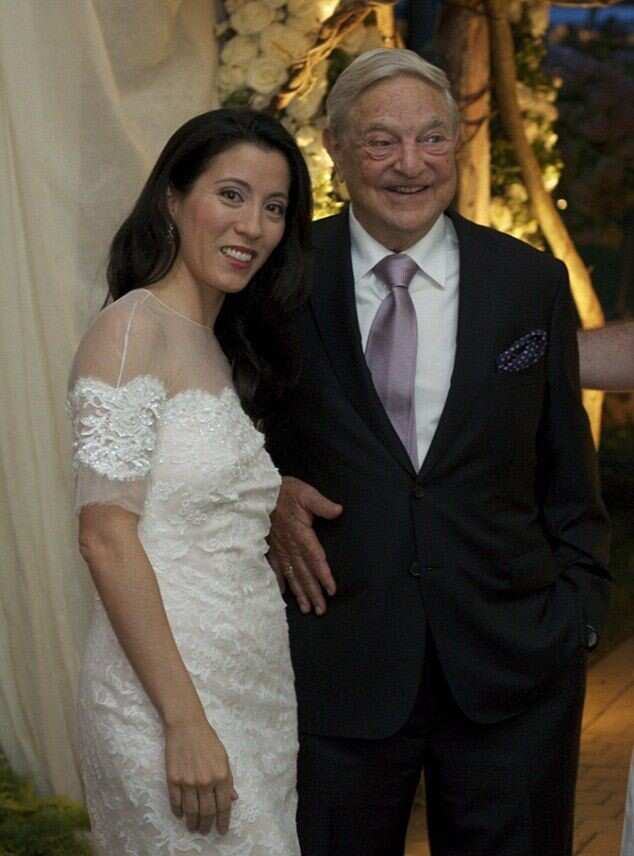 Career trajectory
Bolton's career began soon after she completed her higher education. She started practising as a pharmacist in a high-end health facility. While serving as a licensed pharmacist, she continued studying. After that, she doubled up as an education consultant. The experience she gained from the health institution enabled her to found and run an online business that sold vitamins and other dietary supplements. She also began providing online yoga education to anyone willing to learn.
Her business ventures thrived and earned her a good life. Today, she still engages in different business activities and also serves as a consultant in education. In addition to her businesses, she is a partner at the Soros Fund Management Company. The exact Tamiko Bolton net worth from her activities and career is not known. However, she is the spouse of baron George Soros, and the couple is estimated to have a net value of $8.3 billion.
Relationships, marriage and fame
Bolton is Baron George Soros wife, and together they make a very happy and content couple. She is the third wife of this business investor and philanthropist. Her Hungarian-American-British husband, baron Soros, is her second husband. Before the couple married, Bolton was not in the public eye.
This dynamic couple first met in 2008 at a dinner party. They entered into a relationship that lasted three and a half years after which they announced their engagement in August 2012. The baron had proposed to her a few weeks earlier during their weekend visit to the beach on Long Island in the Hamptons.
13 months after the news of her betrothal to him, the couple solemnised their marriage in September 2013 in an auspicious ceremony. They cited their promises in the presence of Kimba Wood, a federal judge, in a simple non-denominational ceremony. 500 guests attended the vows ceremony in the Soros Estate, Bedford. An after-party that was attended by about 300 guests was held at the Caramoor Center for Music and Arts, Manhattan. Bolton's wedding dress was designed by the infamous fashion designer Reem Accra who also made gowns for Jennifer Lopez and Angelina Jolie.
Soros gave her a Graff diamond designed on a gold band wedding ring. She was 42, and he was 82 at the time of their wedding on the 21st of September. One interesting occurrence during the wedding event was that the venue was used as a sneak peek for Rene Magritte's paintings. What a way of promoting someone else's business! In their 300 guest party, everyone was requested not to come bearing a gift. Instead, the guests made hefty monetary donations that were channelled into charity establishments such as the National Dance Institute, Roma Education Fund, Global Witness and Harlem Children's Zone.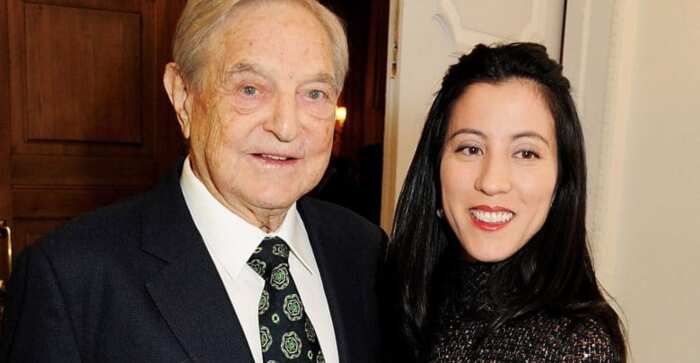 Since the 2013 wedding, the couple has lived happily and is often seen attending high-end events together. They are yet to have a George Soros Tamiko Bolton child. However, her billionaire husband was already a father of 5 before he married Tamiko. George Soros spouses, now ex-wives were Annaliese Witschalk and Susan Weber. Soros married Witschalk, an American immigrant from Germany in 1960. Their union bore three children, that is, Robert Daniel Soros, Jonathan Soros and Andrea Soros-Colombel. This couple got divorced in 1983. In the same year, Soros married Weber, and the union birthed Alexander and Gregory Soros before it ended in 2005.
Bolton has also been previously married and divorced. Details about her first marriage are not known. It is alleged that she got married to her first husband in 1990. Details about the divorce are also not known. She did not have any children in her first marriage. She now focuses on her marriage with Soros and has established a good relationship with his 5 children from earlier marriages. They all attended her wedding.
Controversies
Despite trying her best to maintain a quiet life, Bolton was incriminated in a controversial matter in 2011. She and her husband, then boyfriend, had been sued for $50 million by Adrianna Ferreyr, George's former girlfriend. Ferreyr claimed that Soros had given his Upper Manhattan apartment to Bolton yet he had promised to give it to her. The apartment's worth at the time was $1.9 million. To avoid further trouble, Soros transferred a significant amount of money to his second wife, Weber. In turn, she was asked to forego his 16 room duplex at 1060 Fifth Avenue for which she had expressed interest.
During the court hearing, Ferreyr went on a rampage and attacked Soros, Bolton and their lawyers. The dramatic event placed Bolton in an uncomfortable position. She was accused of being a gold-digger for dating a man who was almost twice her age. Eventually, the matter was settled, and Bolton still owns the apartment. Bolton has never been incriminated in any other controversy since the incident.
Tamiko Bolton's husband
You cannot mention Tamiko Bolton without George Soros being mentioned. Who exactly is Bolton's husband? He is the man who orchestrated the deflation of the British pound to make him an instant money bag. He is a renowned economist, financial analyst, investor and philanthropist. He openly supports politically liberal activities and often engages in world economic issues. He is also a published author. During his world economic tours, he regularly attends in the company of his wife.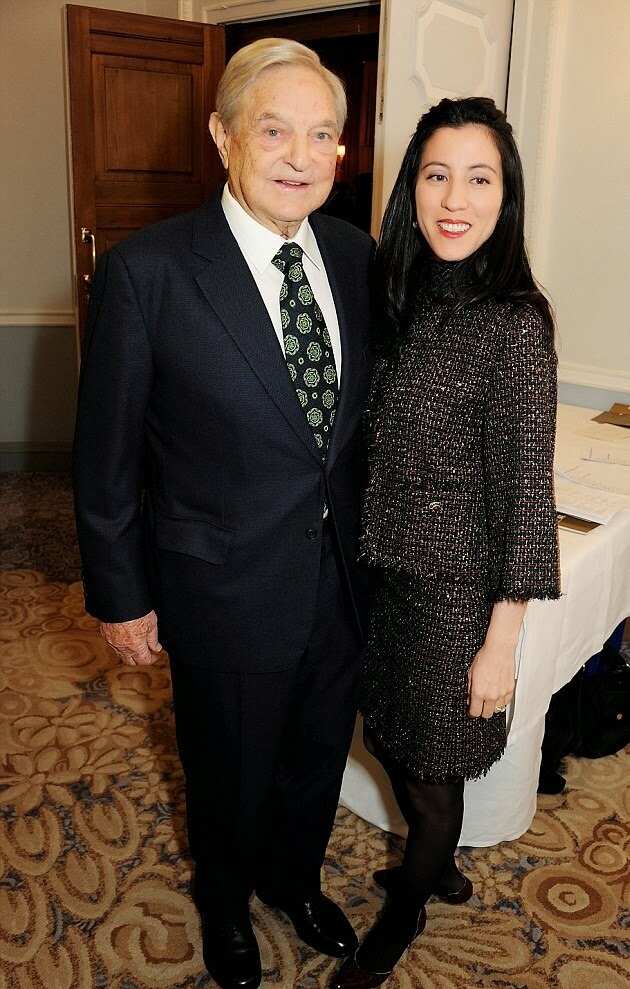 As a philanthropist, Soros founded the Open Society Foundation that has made considerable donations to charity. He also serves as the managing director of Soros Fund Management, his primary investment company. As a couple, Bolton and Soros have channelled money into philanthropy. One of the most notable donations was to assist the Syrian refugees. He made a $500 million donation. According to Forbes, their net worth has declined to $8.3 billion after donating most of their wealth to good causes. The couple also manages Soros Fund Management that is worth approximately $30 billion. Out of this sum, $25 billion is the worth of his assets.
Presence on social media
Bolton enjoys a quiet life even if she is now famous after becoming Soros' wife. She has managed to keep a low profile by being inactive in the online world. She does not own pages or accounts on Twitter, Instagram or Facebook. Doing so has enabled her to keep personal details such as her date of birth unearthed.
Interestingly, she is still a role model for many women even if she does not communicate via social media. The way she handles herself with grace is enough motivation for most females. Her most impressive trait is the continuation of her business even after getting married to a billionaire.
Tamiko Bolton is a quiet lady of Japanese-American heritage. She is a certified pharmacist, business mogul and a consultant in education. The lady is married to George Soros, a self-made billionaire who made her come into the limelight. Even so, this stunning lady tries her best to protect her private space, and she has successfully achieved this. She often attends events with her husband, but she remains active in her career as a female business mogul.
READ ALSO:
Perdita Weeks: age, height, husband and hot photos
Grace Randolph bio: birthday, age, husband and photos
Source: Legit.ng