Julie Chrisley bio: age, parents, net worth, husband, children
Julie Chrisley is an American reality television star. She is best known for her appearance on the TV show Chrisley Knows Best. How many children does she have?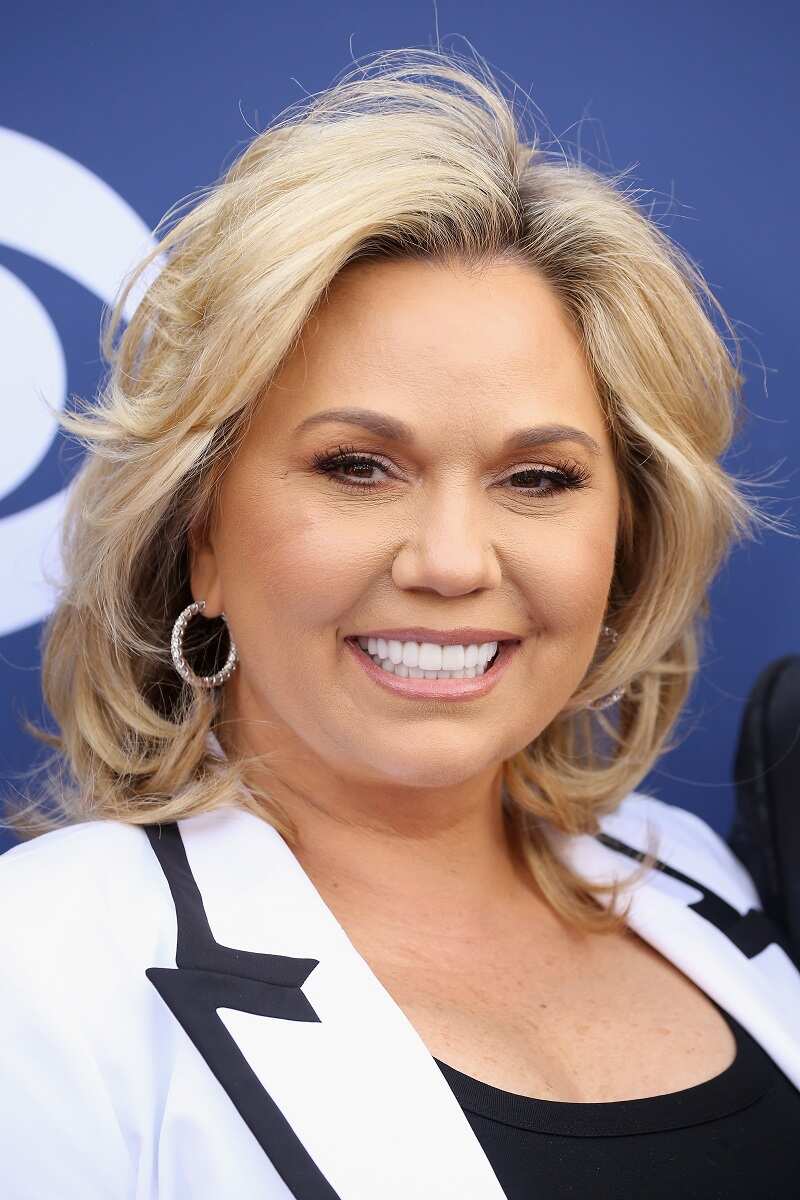 Her family is no stranger to the public. Which of their secrets have you already heard about? How many kids do Todd and Julie Chrisley have together?
Profile summary
Julie Chrisley date of birth: 9 January 1973
Age: 48 years (as of 2021)
Place of birth: Winchester, South Carolina, the USA
Height: 5 feet 6 inches (167 centimetres)
Weight: 61 kilograms
Marital status: Married
Net worth: $3 million
Julie Chrisley biography
She was born and raised in Winchester, South Carolina, the USA. She had a brother, Harvey. He committed suicide when he was 25 years old.
Julie Chrisley maiden name
Before her marriage, the reality show star was known as Julie Hughes.
How old is Julie Chrisley?
The actress was born on 9 January 1973. As of 2021, Julie Chrisley age is 48 years.
Julie Chrisley parents
When she was a kid, she lived with her family in a trailer. Her father was a Baptist minister. Her mother's name was Pam. She worked as a bank teller.
Career
The celebrity is known for her appearance on the reality TV show Chrisley Knows Best, which begun airing on the USA Network in 2014. In 2016, the show was nominated for the Critics' Choice Television Award for Best Structured Reality Show.
The star has appeared in many other reality shows.
What is Julie Chrisley net worth?
The reality show star has amassed a lot of fame and popularity. As of today, she has a net worth of $3 million.
How much do you know about Todd and Julie Chrisley kids?
How many kids do Todd and Julie Chrisley have?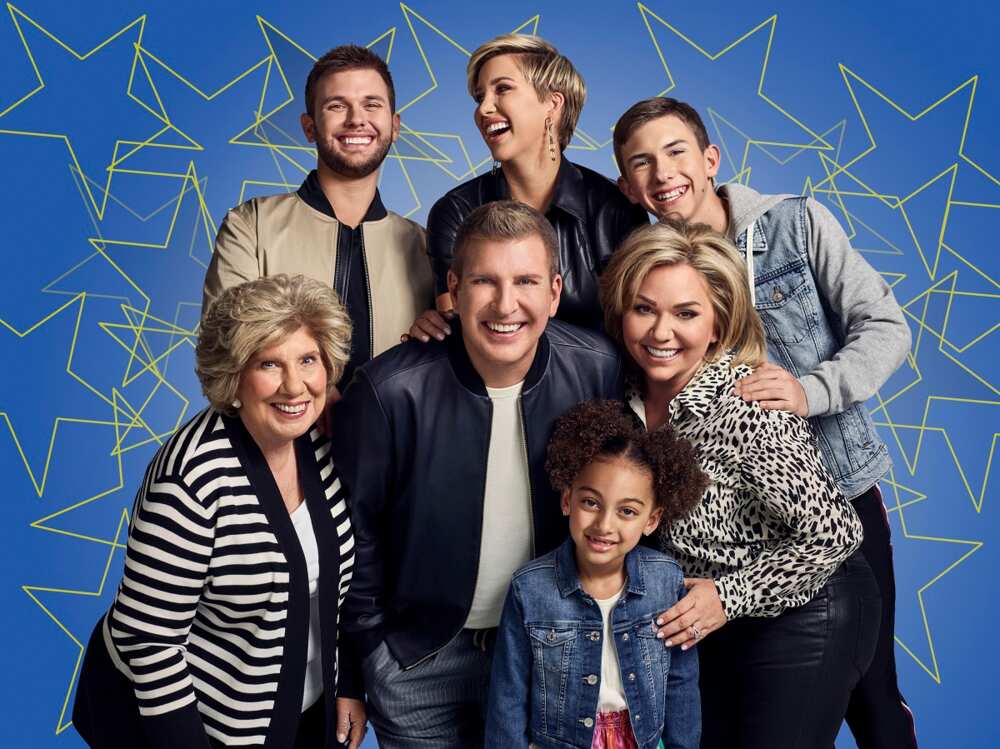 Until recently, people did not know anything about Julie's first marriage. Her ex-husband's sister was the one who revealed to the public whom she was married to.
Julie Chrisley before Todd was in a relationship with Kenneth Wayne Childress. They fell in love when they were high school students. Julie Chrisley first husband married her on 15 March 1991.
She then started dating Todd. He was a successful real estate broker at the time. That resulted in her divorce from Kenneth.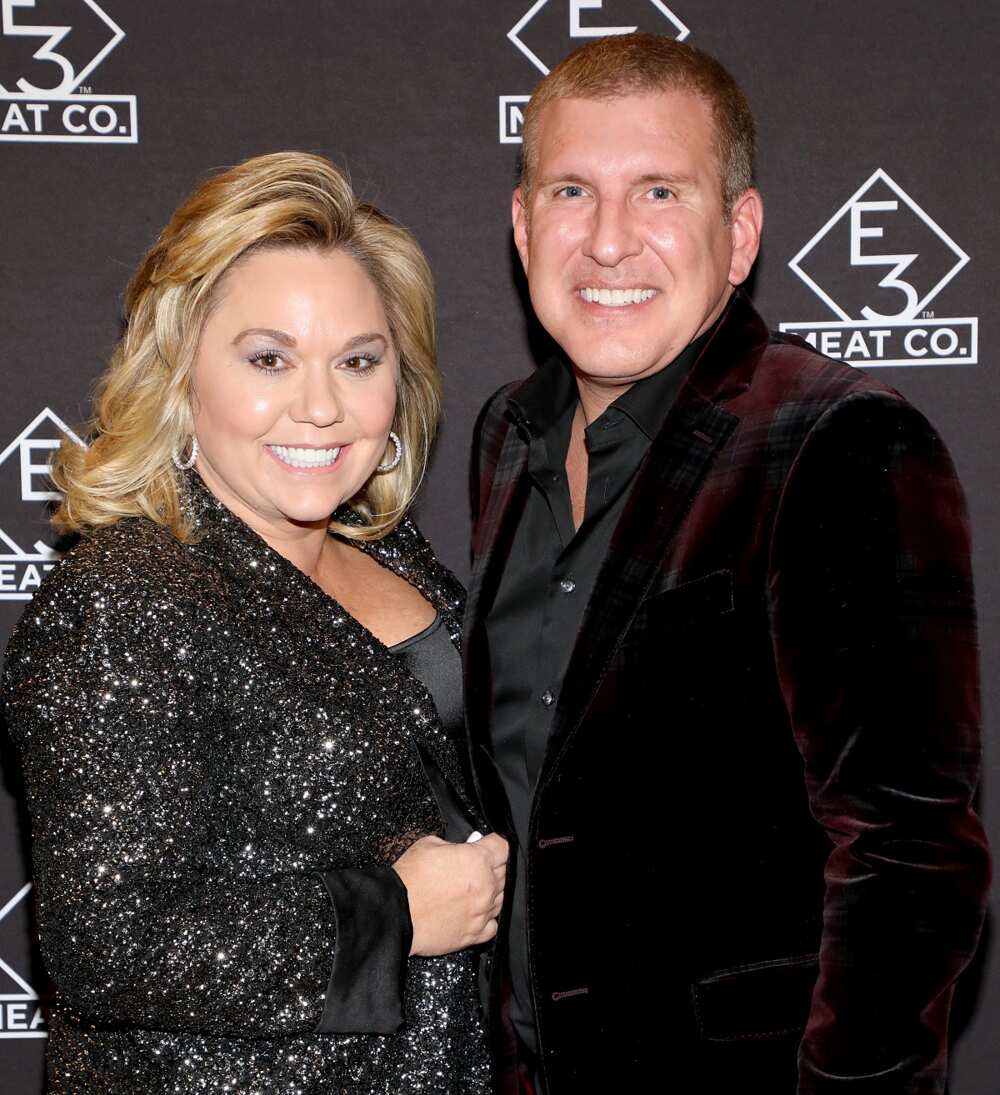 Todd and Julie Chrisley exchanged their wedding vows on 25 May 1996. Todd and Julie Chrisley kids together are:
Speaking of Julie Chrisley kids, it is worth mentioning that she became the stepmother of Todd's children from his previous relationship with Teresa Terry:
She legally adopted Lindsie at the girl's request.
Arrest
In August 2019, the media reported Julie Chrisley hot news about her arrest. She and her husband were arrested in Atlanta on multiple charges.
The charges included tax evasion, bank fraud, wire transfer fraud, and conspiracy. According to the charge sheet, the couple allegedly conspired to defraud several banks by providing the banks with false information, such as personal financial statements containing false information.
The couple reported on social media that the illegal acts were committed by a former employee who also stole money from their family. They said they were unaware of his actions.
The couple appeared in court and the judge released them on a $100,000 unsecured bond. They were also required to surrender their passports and were not allowed to travel outside of parts of Georgia and Tennessee without letting their probation officers know their whereabouts.
Rumours about her marriage
In 2017, a USA Network employee revealed that when the cameras were not running, Todd and Julie led completely separate lives:
It is hard for anyone who works with Todd or Julie to believe that their marriage is authentic. It's made for TV. They do not display the same level of affection and love towards each other off-camera as they do when they are filming.
The source also mentioned that Todd
"is always running around trying to be Mr. Hollywood, while Julie is the one at home with the kids making sure everything with the family goes smoothly."
Rumours about her husband's sexuality
In 2014 Todd's son Kyle said that his father was gay.
Nevertheless, in 2016, Todd and Julie celebrated their 20th marriage anniversary.
Cancer diagnosis
Julie was diagnosed with breast cancer in 2012. She underwent a double mastectomy to get rid of the cancer.
Restaurant
The star and her family are reportedly digging their Nashville roots a bit deeper by opening a restaurant there soon. The restaurant will offer a great variety of Southern dishes which she has perfected over the years of living and cooking in the South.
Julie Chrisley hairstyles
The reality TV star is well known for her full and wavy hair. However, in November 2020, she was seen rocking a new stylish short hair cut. Julie Chrisley short hair gave off Savannah-inspired vibes.
Julie Chrisley has done an excellent job in building and protecting her family's happiness. Despite the many challenges they have faced, she and Todd's marriage is still strong.
READ ALSO: Cooper Manning biography: Age, height, family, job, net worth
Legit.ng recently reported about the life of Cooper Manning. He became popular for being the host of The Manning Hour. He is known to many people as the son of football legend, Archie Manning.
His brothers were famous quarterbacks before they retired. Is Cooper Manning married? How many kids does he have?
Source: Legit.ng