12-year-old girl makes app that connects parents in prison to their kids
- A 12-year-old girl named Jay'Aina Patton has created a mobile application that connects incarcerated parents to their children back home
- The adorable Black girl was moved to undertake the initiative after she experienced separation with her dad who was in prison for 7 years
- The app named "Photo Patch" has about 2,000 users and has been downloaded over 10,000 times since its launch.
PAY ATTENTION: Click "See First" under the "Following" tab to see Legit.ng News on your Facebook News Feed!
Jay'Aina Patton, an adorable 12-year-old black girl has developed a mobile application that can help parents who have been incarcerated to connect to their children.
In a report sighted by Leit.ng on Libertywritersglobal.com, it is indicated that the young girl was motivated to undertake the project after she experienced a strain between herself and her imprisoned father.
Jay'Aina was reportedly three years old when her father, Antoine Patton broke the law and was incarcerated for gun possession where he would spend the next seven years.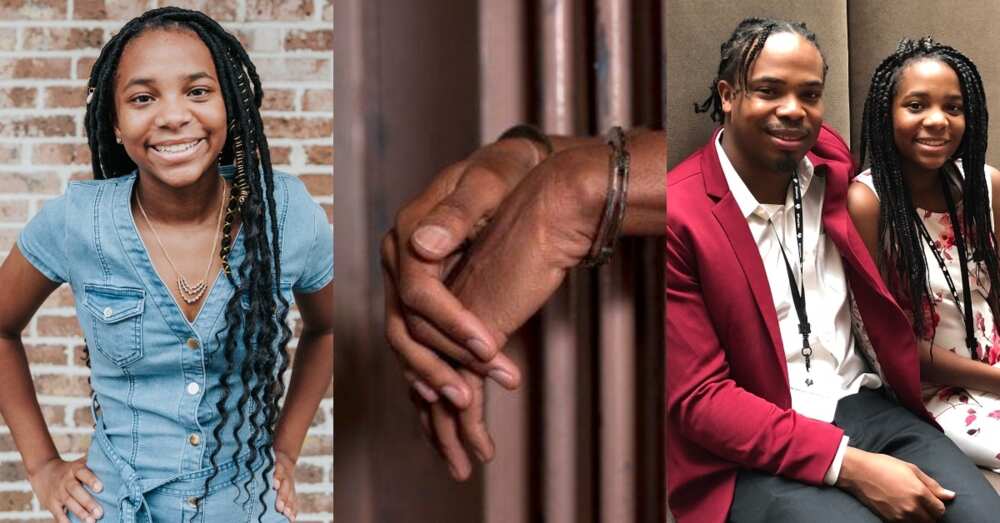 The young girl experienced frustrations in her bid to connect with her father who was incarcerated in a maximum-security New York State Correctional Facility just six hours away from her.
When he was finally released from prison, Jay'Aina's father decided to create a website that connected families with incarcerated family members.
Driven by her experience, Jay'Aina spent two years developing the mobile application, "Photo Patch" to compliment her dad's website.
It is indicated that the "Photo Patch" has gotten up to 2,000 users and has been downloaded over 10,000 times since its launch.
Legit.ng reports also that a nine-year-old Nigeria, Joshua Agboola joined the group of the country's geniuses when he developed a website for his school right from scratch.
Speaking with Vanguard, the young boy said he hopes technology is introduced into every school's curriculum. He also said that if he were given the opportunity to be the president, he would empower those that help people.
Legit.ng also has a report of Esther Okade, who, in 2015 and at age 10, became popular as a Maths genius.
PAY ATTENTION: Install our latest app for Android, read best news on Nigeria's #1 news app
Born of Nigerian parents, Esther who was living in Walsall, an industrial town in the UK, did not attend a formal school as she was homeschooled by her mother; Omonefe Okade simply called Efe, who happened to be a teacher and a mathematician.
Lagos school prepares isolation centre for Covid-19 emergency | Legit TV
Source: Legit.ng