Editor's note: New Media journalist, Jerrywright Ukwu, writes on the role of women in community development committees at the community level with an emphasis on how women can contribute to the upliftment of their communities.
PAY ATTENTION: Click "See First" under the "Following" tab to see Legit.ng News on your Facebook News Feed
Most rural communities in Nigeria are fraught with underdevelopment crises. Despite the huge deposits of natural resources in Nigeria, rural communities continue to grapple with the challenges of poverty and underdevelopment.
Efforts by the federal, state and local governments have been largely unsuccessful with rural communities lacking access to basic amenities such as potable drinking water, hospitals and motorable roads. This is where Community Development Committees (CDCs) come in.
CDCs consist of members within a community who are committed to facilitating development in that area. CDCs identify specific problems in the community, act as a channel through which their needs are communicated to the relevant authorities and also advise the government on how best to tackle same. In most cases, they carry out development programmes with the support of the government. Members of the CDCs are part of the decision-making process in a community.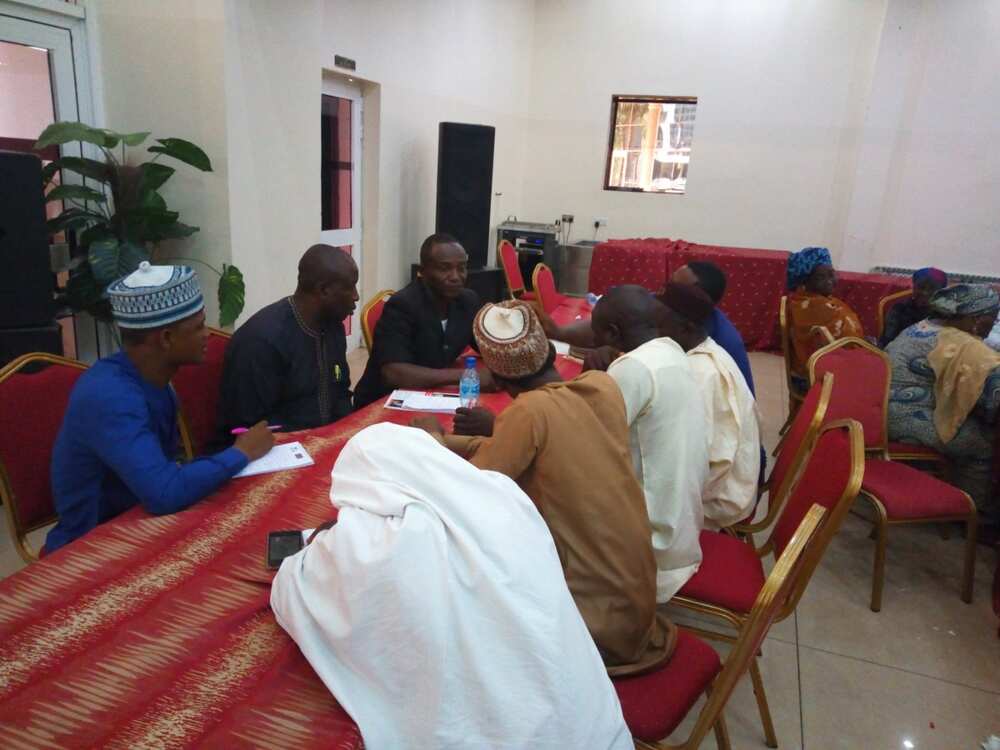 PAY ATTENTION: Download our mobile app to enjoy the latest news update
It has been observed, however, that men make up this important group. In most cases, women are not included in this important group in the community.
In a paper presented at a round table colloquium on gender inclusion in CDCs, which was organised by Connected Development (CODE) and OXFAM, Professor Frank Nwankwo blamed this gap in representation largely on religion and the cultural make-up of the society.
Women and children make up a percentage of any community. The non-inclusion of women in CDCs, especially at community levels, makes it difficult for their views and opinions to be heard. What this means is that, in most cases, the needs of women are not met. This may lead to the lack of critical infrastructure needed in the community.
Women are in the best position to articulate their needs in any given space. A community where young girls lack access to sanitary pads due to costs, female members of the CDC are in the best position to bring this problem to the front burner as means of ending the 'period poverty'. They can also advocate for the provision of boreholes in schools as part of efforts to improve the hygiene of their children.
Rural women who are members of CDCs can help identify needs within the community from their peers and children. They can also help advocate for the maintenance and protection of projects carried out in the community.
As members of CDCs, women are in the best position to rally support for the actualization of a particular community goal.
The women also act as change agents by inspiring other young girls in the community to take up positions that would help them contribute their quota to the development of the society.
Women who are members of CDCs can help promote peace in the community. CODE, at the end of its community outreach to some communities in Delta and Akwa-Ibom states in Nigeria's oil-rich Niger Delta region, observed that there has been some conflict in ObodoUgwa.
With the lack of a functional healthcare facilities in the area, members of the community, especially pregnant women and children, are denied access to healthcare thereby leading to loss of lives. Oil spillage and other forms of environmental pollution are a common sight.
According to the report by CODE and OXFAM, women in this community are not members of the CDC.
The inclusion of women in CDCs, especially at the community level, would promote the rights of women to be heard and also ensure that their needs are met.
It would enable women to have a sense of belonging to any of government projects or programmes, and see themselves as part and parcel of the development effort of their communities. Already, most of the government projects and programmes provided by government within the local government area are not properly maintained, thereby leading to the problem of sustainability.
It is mostly a top-down approach to community development and women, especially, are ignored, which makes projects and programmes unsustainable.
Indeed, to enable women to escape poverty, development policies should place more emphasis on their contributions to the economy. Even though women make up a significant proportion of the economically active population, their contribution is not fully recorded because they are mainly engaged in the informal sector. In other cases, what they do, such as household work, is not considered an economic activity.
In agriculture, sub-Saharan Africa's most vital economic sector, women contribute 60–80 per cent of labour in food production, both for household consumption and for sale. But while they do most of the work, they lack access to markets and credit.
Women in this part of the world, have been on the bottom rung of the ladder in terms of participation in the economic, social, and political life of the country. For many years black women have experienced triple oppression — discriminated against on the basis of their class, race and gender. Some practical challenges facing women because of these three forms of oppression relate to violence against and abuse of women, poverty and poor health status in general.
History of women as change agents
Community development is not a creation of modern times; it is as old as mankind when the family was the central focus of any activity. Community development is an age-long movement that has been in practice in various communities even before the advent of colonialism.
Before colonization, leadership was rooted in the culture and tradition of various people and decision making was part and parcel of rural development. Rural development has always been equated to community development from time immemorial to date and women have always played key roles.
In the past, women like Hajiya Gambo Sawaba and Funmilayo Ransome Kuti proved that females do not only "belong to the kitchen, living room and the other room", but can make indelible contributions to the advancement of their communities and society at large.
Despite being married off at age 13 to a World War II veteran, Abubakar Garba Bello, Hajiya Sawaba joined politics at 17. She became a women's rights activist, politician and philanthropist.
She served as deputy chairman of the Great Nigeria Peoples Party and was elected national leader of the Northern Element Progressive Union.
Born in 1933, Sawaba was a strong voice against underage marriages, forced labour and also advocated for western education in northern Nigeria. She was mentored by Funmilayo Ransom-Kuti.
Funmilayo was a women's rights activist, educator, political campaigner among others. Born on October 25, 1900, she established the Abeokuta Women's Union and fought for women's rights, demanded better representation of women in local governing bodies and an end to unfair taxes on markets for women.
In 1949, Funmilayo led a protest of over 10,000 women forcing the Alake of Egbaland to temporarily abdicate. She was also involved in movements that led to Nigeria's independence in 1960.
Described as the 'Lionesses of Lisabi', Funmilayo spearheaded the creation of the Nigerian Women's Union and the Federation of Nigerian Women's Societies, she advocated for Nigerian women's right to vote and became a noted member of international peace and women's rights movements until her death at age 77.
She was honoured with the national medal of Member of the Order of the Niger (MON) for her contributions to the growth of her community and national development.
Your own opinion articles are welcome at info@corp.legit.ng— drop an email telling us what you want to write about and why. More details in Legit.ng's step-by-step guide for guest contributors.
Contact us if you have any feedback, suggestions, complaints or compliments. We are also available on Twitter.
5 years after, Nigerians speak about Buhari's administration | Legit TV