Meet the Ijaiya family with 10 professors
- A family in Offa, Kwara state, called the Ijaiyas has a whopping number of 10 professors
- The professors are in virtually every field of academic study like law, medicine, finance
- Among the professors are people who have held top positions in Nigerian universities
PAY ATTENTION: Click "See First" under the "Following" tab to see Legit.ng News on your Facebook News Feed!
The Ijaiya family in Offa have not only achieved a great feat in academia but they have a rare thing not many families can boast of.
The family is home to 10 professors in different fields. It should be noted that among the professors are former deputy vice-chancellors, deans, and senior academics.
They are also in various Nigerian universities across the federation. One of them, Prof Bayo Lawal was said to have become a professor in his 40s.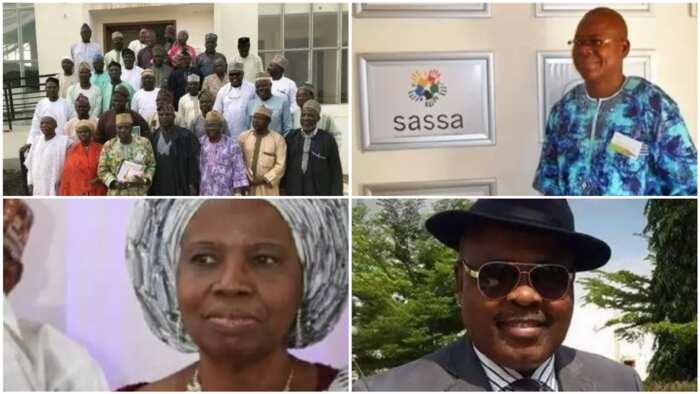 Below, therefore, is a list of the professors and their fields:
1. Prof. Gafar T. Ijaiya (Economics)
2. Prof. Sidikat Ijaiya(Mrs) (Education) (First Female DVC, University Of Ilorin)
3. Prof. Mufutau A. Ijaiya (Finance)
4. Prof. Munir. A. Ijaiya (Medicine)
5. Prof. Hakeem Ijaiya (Law), University of Ilorin
6. Prof. Waheed Olatinwo (Medicine)
7. Prof. Bayo Lawal (Applied Linguistic /English Education) all in the University of Ilorin)
8. Prof. Abdulmojeed T. Ijaiya 7(Animal Science/Nutrition): FUT MINNA
9. Prof. Najeem Ijaiya (Law) Crescent Uni. Abeokuta
10. Prof. Maruf. K. A Adeboye (Soil science and Land management)
Meanwhile, Legit.ng earlier reported that despite the fact that parenting could be a very hard task, some people still make it seem perfect in the way they go about it.
A Nigerian-American family has set a new standard in parenting as all their four children became doctors like their father.
This kind of thing could only have been achieved through dedication and a great parenting skill, without leaving out the place of the community that would allow such growth.
The children's uncle, Herbert Oye, also a doctor, left Nigeria in the 1970s in pursuit of dreams in the US.
He attended medical school and became a vascular surgeon before he moved back to Nigeria to open his hospital. The four Nigerian children who all became doctors are David, Monique, Michele, and Melissa Oye.
In other news, two young Nigerian sisters took over the internet as they celebrated each other, following the achievement of one of them who became a medical doctor.
On Wednesday, July 1, Onyi applauded herself for graduating from the University of Texas and becoming a doctor.
In an earlier tweet on Tuesday, July 2, Onyi's sister had shown her off as she posted cute pictures of them together.
How I graduated with a 6.0 CGPA - University of Ibadan best Geology student | Legit TV
Source: Legit