For weeks, the African Development Bank (AfDB) has been on the news as its president, Nigeria's Dr Akinwunmi Adesina, was accused of breaching the bank's ethics.
While Adesina was found innocent by the bank's Ethics Committee, the United States' call for an independent probe, against the bank's guidelines attracted heated reactions and anger from African leaders, including Nigeria's ex-president, Olusegun Obasanjo.
PAY ATTENTION: Click "See First" under the "Following" tab to see Legit.ng News on your Facebook News Feed
Africa's ex-presidents and the African Union have expressed support for the embattled Adesina who is due for re-election as AfDB's president, unopposed.
Adesina's first term ends on August 31, this year. An election should have held by now, if not for the coronavirus pandemic.
On Wednesday, June 3, the AfDB president visited President Muhammadu Buhari at the Presidential Villa. After the meeting, the presidency released a statement announcing the support of President Buhari for Adesina. It was a huge one as Nigeria is the AfDB's biggest shareholder.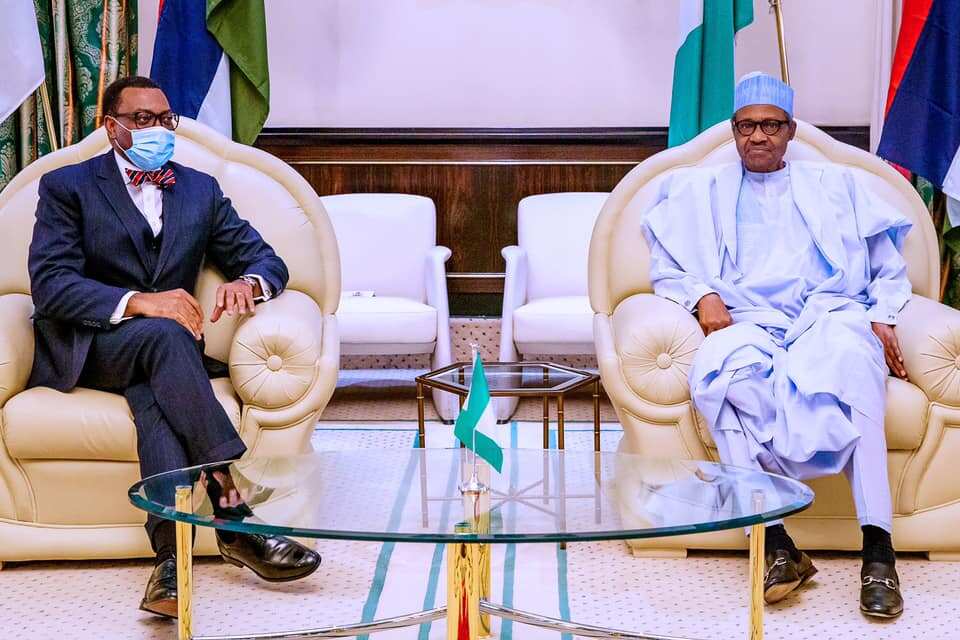 But what really happened behind the scene when Adesina met President Buhari?
The president's special adviser on media and publicity, Femi Adesina, shared some insights in a piece he titled Akinwunmi Adesina: The Inside Story.
Buhari took his time before reacting
Adesina said President Buhari watched developments, got briefings, and weighed his options on the development before taking action.
He also hailed the development when AfDB's Ethics Committee investigated and exculpated Adesina.
Zainab Ahmed, Nigeria's minister for finance, budget and national planning reacts on behalf of President Buhari
Adesina also revealed that Zainab Ahmed, Nigeria's finance minister who is also one of the governors of AfDB wrote a decisive letter on behalf of President Buhari when the US asked for reinvestigation, leaning on Adesina to step down while the process lasted.
In the letter, Ms Ahmed condemned and rejected the decision of the US.
How Buhari invited Adesina from Abidjan, the AfdB's headquarter
The aviation sector in both Nigeria and Abidjan, AfdB's headquarter, were still under lock and key.
President Buhari, however, reached out to the Ivorien authorities for a special landing permit, and despatched a presidential jet to fetch the AfDB president.
Adesina, the AfDB president speaks
The AfDB president thanked President Buhari for the invite and for the support he had always given him right from his first election in 2015.
He explained that the bank's Ethics Committee exonerated him of all 16 allegations against him.
"In all the 16 allegations against me, there were no facts, no evidence, no document," Adesina was quoted to have said.
President Buhari pledged support
President Buhari recalled how he supported Adesina to emerge the AfDB president in 2015, though he was a former minister of agriculture under the PDP-led Goodluck Jonathan government.
"I personally wrote all African leaders, supporting your candidature. I recommended you, though you were a Minister of the People's Democratic Party (PDP), and I was of the All Progressives Congress (APC). I didn't because of that withhold support from you. I'll remain consistent because no one has faulted the step I took on behalf of Nigeria," he said.
President Buhari pledged to work with all African leaders and stakeholders of the bank to mobilize support for Adesina's re-election. He said the man had done well, and one good term deserves another
Conclusion
The presidential spokesman who was also part of the meeting said if any fault had been found in Adesina, President Buhari would also have told him point blank that he wouldn't get support from Nigeria.
PAY ATTENTION: Download our mobile app to enjoy the latest news update
Earlier, Legit.ng reported that Obasanjo, Nigeria's former president, lambasted the US for insisting on "independent investigation" into allegations of favouritism and others against Adesina.
5 years after, Nigerians speak about Buhari's administration | Legit TV