Tyler Herro bio: age, height, stats, highlights, girlfriend
Not many basketball stars started performing well at an early age. At 20, Tyler Herro has achieved so much at every level of his growing career. Although the NBA is still under suspension due to the COVD- 19 pandemic, Herro recently made news after wooing a model on Twitter.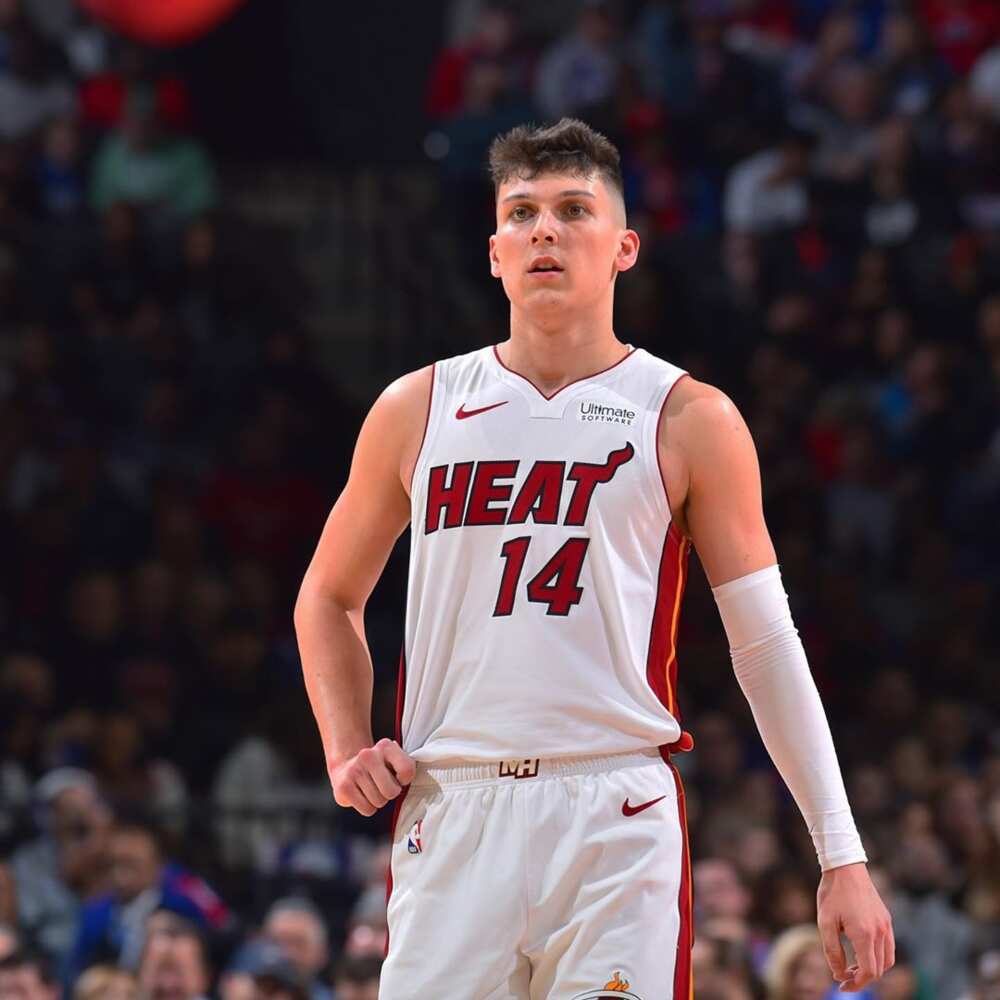 Who is Tyler Herro? He is a young basketball player from the US. He currently plays for top NBA team Miami Heat. Before he entered into the 2019 NBA draft class, he was famous as a college basketball star playing for the Kentucky Wildcats.
Profile summary
Birth name: Tyler Christopher Herro
Date of birth: January 20, 2000
Age: 20 years old
Nationality: American
Birthplace: Milwaukee, USA
Profession: American basketball player
Zodiac sign: Aquarius
Height: 6 feet and 5 inches
Weight: 88.5 kilograms
Background information
The basketball star was born in Milwaukee. He grew up with his parents, Christopher and Jennifer Herro. He has two siblings, Austin and Myles, who play basketball as well. He went to Whitnall High School, which was where his career began.
The 20-year old player has received different recognitions for his outstanding performance in the basketball court. Associated Press named him the Southeastern Conference Rookie of the Year in 2019. The same year, Basketball Times picked him among the All-Freshman First Team.
After his successful deal with Miami Heat, the player's spending propensities became apparent from his interview with GQ Sports. According to him, the first thing he did with his paycheck was to get a $5,000 Gucci purse for his mom. He also spent $200,000 on a Jeep and Mercedes car.
How old is Tyler Herro?
Tyler Herro age is 20 years. The Miami Heat shooting guard was born on January 20, 2000.
Body measurements
The young basketball star weighs 88.5 kilograms with 7.1% body fat. Also, Tyler Herro height is 6 feet 5 inches, while his wingspan is given at 6 feet 3 inches.
His career information
In his senior season at Whitney High School, Tyler was selected to the First Team All-State. At high school, Tyler Herro stats included 7.4 rebounds and 3.3 steals per game. He scored more than 50% from the court, scoring 32.9 points with 3.6 assists.
At the peak of his high school success, he declared his desire to play for the University of Wisconsin. However, he switched to the University of Kentucky on November 14, 2017.
There, he continued his brilliant display with the Kentucky Wildcats team. Tyler Herro college stats for the Kentucky Wildcats include 4.5 rebounds, 2.5 assists, and 14.0 points. He is the only player on the college team to play the entire 37 games.
He became famous during an NCAA game against Arkansas Razorbacks on February 27, 2019. That day, Tyler scored 29 points, hitting 9 of 10 field goals to lead his side to victory. In April, he joined the 2019 NBA draft despite having three years left for college eligibility.
On June 20, Miami Heat selected him with the No. 13 overall pick in the NBA draft for 2019. Also, his fellow rookies in the 2019 draft voted him the best shooter in the class. One month later, Miami Heat announced his official entry into the NBA team.
Tyler Herro NBA journey began on October 23, 2019, when he made his first appearance against Memphis Grizzlies. He ended his debut season with 14 points, two steals, eight rebounds, and one assist.
The best Tyler Herro highlights was in his fourth game with Miami Heat on October 29. On that day, the shooting guard scored 29 points against Atlanta Hawks.
How much does Tyler Herro make?
In July 2019, the player signed Miami Heat's rookie contract. According to this contract, Tyler Herro salary for his first year is more than $3 million. The four-year contract will earn him up to $16 million.
So, how much is Tyler Herro worth? Tyler Herro net worth is estimated at $1.7 million, according to Famous Net Worth.
Who is Tyler Herro dating?
Tyler Herro girlfriend is Katya Elise Henry. The couple started chatting on Twitter during the self-isolation period in March. They eventually made their relationship official on May 6, 2020.
The American social media celebrity Katya is best known as an online personal trainer and fitness model. With a rigorous fitness regimen and a healthy lifestyle, she maintains a gorgeous physique, which contributes to her natural beauty.
She was born on June 14, 1994, in Minneapolis, Minnesota. Katya has a blend of Swedish, African American, and Russian ancestry. She completed her high school education at Desert Mountain High School in Scottsdale, Arizona.
It is quite obvious that Tyler Herro has only begun his basketball career. With the opportunities before him at the moment, it is believed that he will become one of the best basketball players in the future.
Source: Legit.ng