Bobby Petrino bio: salary, wife, scandal, past teams coached
In the world of Rugby, Bobby Petrino is an excellent coach whose result and professionalism have seen him coach different college teams. He was once a quarterback as a student before he landed his first job as a graduate assistant with the Fighting Saints upon graduation. Unfortunately, in the spring of 2012, he was at the verge of losing his hard-earned accolades due to his extra-marital affair with Jessica Dorrell, his assistant.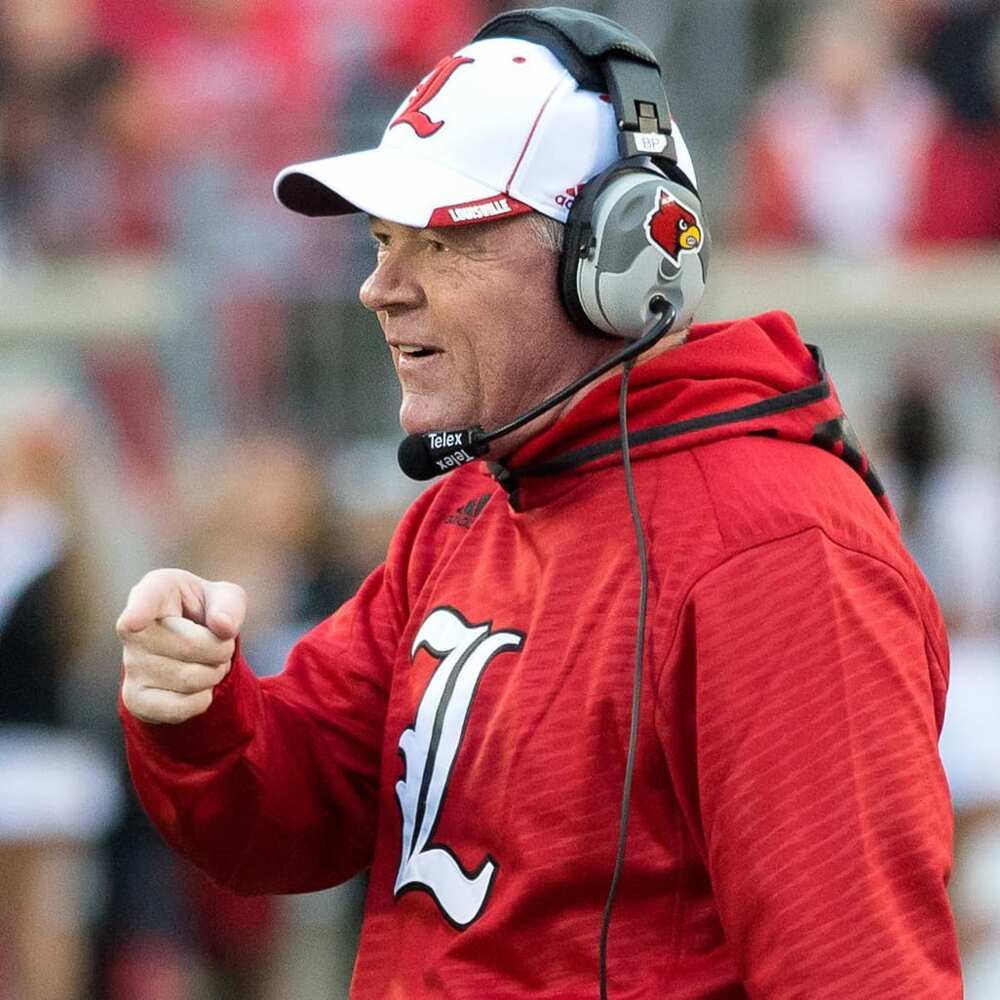 The world-class Rugby football coach Petrino was born Robert Patrick Petrino. He has a series of personal and coaching accomplishments to his credit. Currently heading the Missouri State University Rugby team, the competence of the former has seen him coach in different conferences of American football and the National Football League. Details about the teams he had coached, how much he earns and his previous scandal are discussed in the following paragraphs.
Profile summary of Bobby Petrino
Name: Robert Patrick Petrino
Nickname: Bobby Petrino
Birthplace: Lewis, Montana, United States of America
Nationality: American
Date of birth: 10th of March, 1961
Age: 59 years old
Birth sign: Pisces
Education: Carroll College
Qualification: Physical Education and Math minor
Profession: Football coach
Playing career: Fighting Saints
Position: Quarterback
Father: Bobby Snr
Sibling: Paul Petrino
Spouse: Becky
Children: Katie, Bobby Jr., Nick, and Kesley
Early life of Bobby
Bobby Petrino is the first child of his parents. He was born in Lewistown, Montana, on the 10th of March, 1961, but grew up in Helena. How old is Bobby Petrino? Currently, the coach is 59 years old. His father was an American football coach, and no doubt, this must have influenced Bobby's choice of career.
Bobby finished Carroll College in 1983 with physical education and a math minor. As a student in Carroll, he joined Fighting Saints team and played quarterback. During that time, the team was under the tutelage of Bobby Snr as head coach.
How much does Bobby Petrino make?
The former Arkansas and Louisville coach Bobby Petrino salary is expected to be $250,000 per year for the next five years based on his new job offer as head coach of Missouri State University, Rugby team. His new job opportunity came after he was fired in November 2018 as the leader of the Louisville team.
Before this time, he had enjoyed excellent contract deals in the past. For instance, he signed a $25.5 million worth of contract for ten years with Louisville before he left and picked up another offer which doubled his salary. He became Atlanta Falcons's head coach based on a $24 million contract deal expected to run for five years.
Who is Bobby Petrino married to?
Bobby Petrino wife is Becky Petrino. She is from Missoula, Montana. Becky and Bobby met when she was still in college in Montana, and since their union, she gave birth to four kids for the coach: two girls and two boys. Bobby Petrino wife enjoys playing tennis and golf.
In September 2011, she, alongside her husband, donated $250,000 to children's hospital in Arkansas. A remarkable thing about her is that she maintained her calm throughout the extramarital affair scandal of her husband. She was not recorded to have drawn herself to the media by using that as a motive.
Past teams coached
Bobby Petrino, after graduating from Carroll College, began his career as a graduate assistant with the Fighting Saints, where he had played as a student. He left the job for another one at Weber State College. He continued between these two teams until 1989 when he became a quarterback coach at the University of Idaho, who had just hired a new head coach. Bobby Petrino, who was aiming to one day become a head coach like his father, did not rest on his oars. He went on to coach at Arizona State University where his team played in the pac-10 conference.
He served as a mentor to Jack Plummer, who eventually became an all American Quarterback. Besides, in his early days as a coach, Petrino was either an offensive or a quarterback coach. He led the Louisville Cardinals. The team ranked top in the Division 1A for scoring and total fence. Interestingly, in 1999, he landed his first-ever National Football League coaching opportunity with Jacksonville Jaguars. He doubled as the coach of the Quarterbacks and as an offensive coordinator before he eventually left them 2001.
Bobby Petrino's dream of becoming a head coach was later achieved in 2003 when he returned to Louisville. He was there for four years and achieved unprecedented feats with the Cardinals. In 2007, the coach became the head coach of a new team, Atlanta Falcons, in the National Football League. He signed a five-year deal in the tune of $24 million and replaced Jim Mora. He, however, did not see out his contract as he left for Razorbacks Arkansas.
Like before, he did an excellent job with the team by winning several competitions, among which was the 2012 Cotton Bowl Classic in Dallas. The team ended the 2011 season with just two loses, which was significant in the club's history. After spending close to five years with Arkansas, Bobby Petrino felt the urge for a new challenge. Western Kentucky signed him as head coach. He spent over a year before returning to Louisville Cardinals on a seven-year contract valued at about $30.625 million.
The Cardinals initially enjoyed a good run of form under Bobby Petrino, but their performance dwindled in 2018 after the team's dominant quarterback decided to go for the National Football League. This led the team's Director of Athletics, Vince Tyra, to fire him. Bobby Petrino past teams coached have benefitted immensely from his wealth of knowledge about the game. His robust resumé testifies to this fact.
Bobby Petrino scandal
Bobby Petrino motorcycle accident on the Arkansas highway in April 2012 revealed his adulterous relationship with his assistant who served as the development coordinator. Bobby Petrino motorcycle was speeding on the highway with his mistress, Jessica Dorrell, when the incident happened.
Bobby Petrino neck brace pictures, which surfaced in the media the next day, attracted a lot of sympathy from sports lovers but it did not last long. When he gave a press statement, he lied that he was riding alone at the time, probably to hide his skeleton. On the reason for his action, he said:
My concern was to protect my family and a previous inappropriate relationship from becoming public. In hindsight, I showed a serious mistake in judgment when I chose not to be more specific about those details. Today, I've acknowledged this previous inappropriate relationship with my family and those within the athletic department administration
Bobby Petrino mistress, Jessica Dorrell, was formerly working with the team's fundraising committee. At some point, she became the coach's assistant after what has since been described as a questionable interview process. The affair started before she was hired as Bobby Petrino's assistant and suggested favouritism during the process of hiring her.
This incident and many others, which were revealed during the investigation of the coach by his employer, contravened the terms of his contract. Bobby Petrino affair and other following events caused the Arkansas razorbacks board of directors to review Bobby's contract. He was later sacked after being placed on paid leave for an indeterminate amount.
Bobby Petrino has moved on with his life since the scandal and has gone to be the head coach of various teams. He said he was working to earn back the trust of his family and friends. Many years after the illegal affair with his assistant, Bobby Petrino family remains a strong unit. Also, with his latest job offer, it is expected that his unique coaching skills would impact on the team and help them to scale new heights.
Source: Legit.ng