Maggie Haberman bio: net worth, salary, weight loss, husband
Maggie Haberman is one of the most respected journalists in this age. She has served as a bridge between people high in the political sphere and the common man on the street. She is a fearless journalist whose penchant for quality news birthed from a detailed investigation of any subject of interest is undisputed. Her work for the New York Times and CNN have received commendations.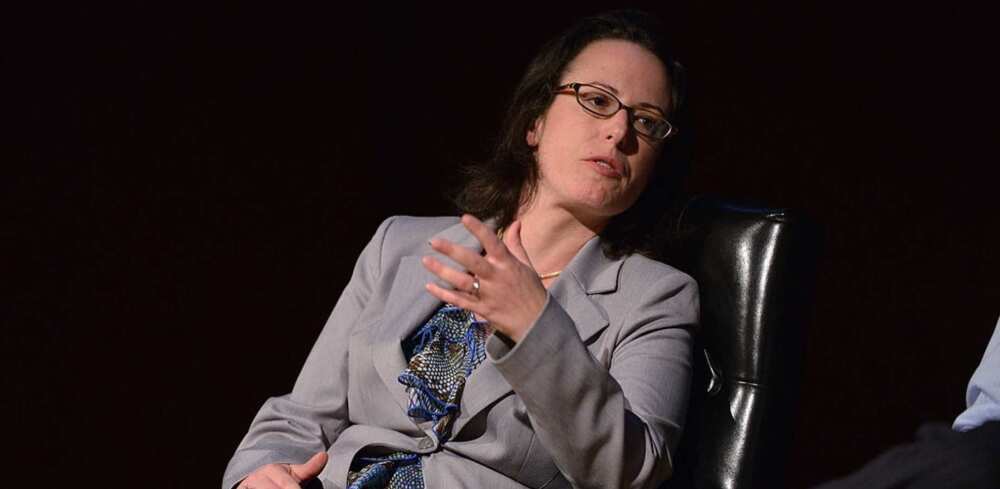 Maggie won a Pulitzer Prize in 2018 for her work on Trump's people and their relationship with the Russians. Funny enough, she is referred to as Trump's favorite enemy by some sections of the media because she tells her opinion without mincing words, praising the presidency for a job well done, and criticizing constructively when things are not done correctly.
Maggie Haberman profile summary
Full name: Maggie Lindsy Haberman
Date of birth: 30th of October, 1973
Age: 46 years old
Birthplace: New York City, New York, USA
Nationality: American
Profession: American journalist
Active: 1995 – present
Marital status: Married
Hair color: Blonde
Eye color: Hazel
Education: Ethical Culture Fieldstone School and Sarah Lawrence College
Husband: Dareh Ardashes Gregorian
Parents: Clyde (father) and Nancy (mother)
Sibling: Zach
Children: Max, Miri, and Dashiell Gregorian
Background information on Maggie
Maggie was born to Clyde and Nancy Haberman. Her parents were academicians and professionals in their respect. She was born and bred in New York City, New York, USA. She is an American, and her birth sign is Scorpio. Also, she attended the Ethical Culture Fieldstone School and graduated from there in 1991 before she went on to study at Sarah Lawrence College, where she earned a bachelor's degree in 1995.
The father, Clyde Haberman, was once a journalist with the New York Times while the mother was a media communications executive with Rubenstein Associates. Considering all the members of her family, it is not a surprise knowing that Maggie and her brother, Zach, toed this path, building a stable and excellent career for themselves in the field.
NYT Maggie Haberman is a real gem as described by a leaked mail traced to a former counselor to President Barrack Obama from 2014 to 2015. John Podesta's correspondence said she never disappointed whenever she was asked to come up with stories for the White House. Maggie Haberman CNN career, which continues till now, began in 2014 when she was employed as a political analyst for the Cable Network News.
How old is Maggie Haberman?
Currently, Maggie Haberman age is 46 years. She was born on the 30th of October, 1973, which means that by October 2020, she would be celebrating her 47th birthday.
What is Maggie Haberman net worth?
The celebrated correspondent and political analyst Maggie Haberman net worth is estimated at $3 million. She has enjoyed almost a decade span of a career in the journalism industry. As a seasoned journalist, Maggie Haberman salary is assumed to be one of the highest earned by a professional in the field in America. So, what is Maggie Haberman salary? According to Information Cradle, Maggie Haberman NYT salary is placed in the range of $24,292 and $72,507.
Her career information
After graduating with a degree from Sarah Lawrence College in 1995, Maggie Haberman began her career at the New York Post in 1996 as a clerk. According to her, she never really wanted to be a reporter. But then, it was during that period that she met her future husband. She had a lot of mentors who taught and instilled in her a great deal of the qualities that have made her one of the most successful journalists in America. According to her, she said:
I never wanted to be a reporter. I took a job at the New York Post as a clerk because I couldn't get a job in magazines, which is what I really wanted to do. I was incredibly lucky — I've had a lot of mentors. There was Stuart Marques, who hired me. He was the metro editor at the Post. Allen Salkin, who's a freelance writer now, he was one of the people who taught me newspaper writing.
Being a bartender for four years has also aided her conversation style with people by asking them relevant questions for the required answers. After three years of working as a clerk with the New York Post, she was entrusted with the job of documenting events at the City Hall, and since then, there has been no going back from reportage. It was where she found her strength and love for reporting. She later worked for the New York Daily News for more than three years at the beginning of the second millennium.
In 2008, she went back to her pioneer employer, where she was given the task of covering the presidential campaign at the time. She was appointed the senior reporter at Politico. Maggie Haberman NYT career started in 2015 during the presidential campaign. She was hired to serve in the post of political correspondent for the New York Times. In the process, she was saddled with the responsibility of reporting on Hilary Clinton and Donald Trump's presidential campaign.
Maggie Haberman weight loss report
As it's already known about the correspondent and political analyst, Maggie does not mince words when it comes to reporting issues of concern about the President of the United States. It came as a shock to many when she took to her official tweeter handle and revealed that, as against what several sources reported about POTUS's weight, he has gained less than ten pounds.
According to her, "POTUS has gained less than ten pounds in office despite several allies and associates saying he appears to have put on more, per WH doctor." This came in response to what Doctor Ronny Jackson reported about the President that he was 239 pounds, 75 inches tall, and also had 68 resting heart rate. However, based on his Body Mass Index of 243 pounds, the President is considered to be obese.
Who is Maggie Haberman husband?
Maggie Haberman husband is Dareh Ardashes Gregorian. He is also involved with the news media and once worked for New York Post. It was during his work at that time as a reporter and later on, an editor, that he met his wife. Ardashes is of a mixed-race. He is half American and half Armenian. Additionally, his father is a well-known academician.
Dareh and Maggie dated for about seven years before getting married in late 2003 in the presence of close relatives and friends. They live together as a family in Brooklyn, New York City, and since their union, they have been blessed with three beautiful kids: Max, Miri, and Dashiell Gregorian.
Maggie Haberman is respected for her dedication to her career so that some of her colleagues and superiors describe as a workaholic. But then, her hard work has paid her off as she has won some individual and team awards. The Front Page Award for Journalist of the year received from the Newswomen's Club of New York, and the individual Aldo Beckman Memorial Award from the White House Correspondents Association, which she walked home with are proofs.
Source: Legit.ng