If you are a big fan of video games or you love watching TV shows, then Camilla Luddington is one person you should be familiar with. She played the role of a protagonist in the Tomb Raider game series where she portrayed the character, Lara Croft. She also acted as Dr Jo Karev (Wilson) in the ABC TV show Grey's Anatomy among other movies and TV shows. The vulnerability and strength with which she portrays different characters stand her out.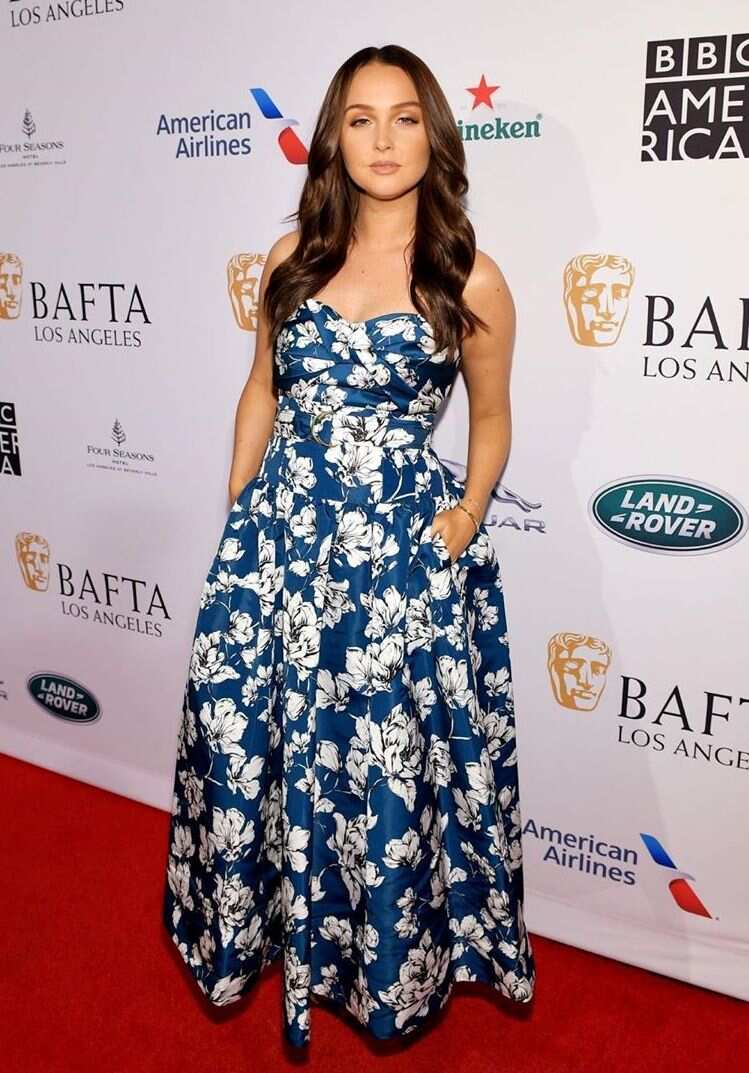 The British-American mother of one played Kate Middleton in the movie, William and Kate. The film tells the story of how Prince William met Kate Middleton, although it was met with so many detestable criticisms. Recently in an interview, she told reporters that she loves Jo, the character that she plays on Grey's Anatomy, and she is totally into the character.
Camilla Luddington bio summary
Full name: Camilla Anne Luddington
Date of birth: 15th of December, 1983
Age: 36 years old
Birthplace: Ascot, Berkshire, England
Height: 1.65 m
Hair color: Brown
Zodiac sign: Sagittarius
Eye color: Hazel
Profession: Actress
Years active: 2007-present
Nationality: British
Ethnicity: British-American
Net worth: $1 million
Weight: 57 kg
Spouse: Matthew Alan
Children: Hayden Gerbig Alan
Education: New York Film Academy
Parents: Martin Luddington and Mary (died 2006)
Who is Camilla Luddington?
Camilla Luddington is an English actress. She was born and raised in Ascot, Berkshire, England, to British-American parents. She started school at the Italia Conti School of Dramatic Arts in England when she was 11 years old. After then, she had to move to Westwood High School in Austin, Texas, U.S.A, when she was 14 years old. However, she studied there just for a year before she returned to England and went to The American School to complete her education in July 2002.
When she was eighteen years old, she attended Susquehanna University in Pennsylvania for six months before she transferred to New York Film Academy to finish her training. Camilla was a part of the school's first-year acting program, and after completing her training there, she returned to Los Angeles, United States, to begin her career as an actress. During an interview, while discussing the motivation behind her choice of career, she said:
The movie The Wizard of Oz was what initially drew me to acting. At five years old I was able to understand that Judy Garland was an actress playing a character and that I wanted to do the very same thing. Perhaps it was an even greater extension of "make believe" that I wanted to pursue.
Among other things, Camilla Luddington accent remains a vital thing that makes the star actress famous. Even though she has a British accent, when she was to act in Grey's Anatomy, she did a perfect American accent that ended up making people forget that she is British. Interestingly, the beautiful actress has appeared in over seven seasons on the TV show using an excellent American accent in all seasons.
What is Camilla Luddington age?
Camilla Luddington age is presently 36 years. She was born on the 15th of December, 1983. By December this year, she will be celebrating her 37th year birthday.
How much is Camilla Luddington worth?
The Award-winning actress Camilla Luddington net worth is estimated at $1 million, according to Celeb Worth. She has made this much from her features in different blockbuster movies and television shows. She reportedly earns $8,333.33 monthly.
Her body measurements
It is not news that the beautiful actress, irrespective of her age, has a killer figure. Camilla Luddington height is 5 feet and 5 inches, and she weighs 57 kilograms. The hazel eyes and model body make Camilla Luddington hot. Viewing her pictures on her social media pages will further prove the point that she is indeed one of the hottest Hollywood actresses alive.
Career information
Camilla Luddington made her debut in the acting scene when she featured in A couple of white Chicks at the hairdresser, playing the role of a receptionist. Her most significant landmark in acting came when she landed a significant character in Grey's Anatomy in 2012. The television series is reportedly the longest-running scripted primetime show on ABC.
Before that time, she took up guest characters in Big Time Rush, Days of Our Lives, and CSI: Crime Scene Investigation. In 2011, she had the privilege of playing the lead character in William & Kate: The Movie. The movie impacted on her fame as it was broadcast in many other countries. Her major role in video games came with the Tomb Raider franchise where she played protagonist Lara Croft in every version of the game.
A list of other Camilla Luddington movies and tv shows include the following:
A Couple of White Chicks at the Hairdresser
Behaving Badly
Pride and Prejudice and Zombies: Dawn of the Dreadfuls
The Filming of Shakey
The Healer
Justice League Dark
Justice League Dark: Apokolips War
The Forgotten
CSI: Crime Scene Investigation
Big Time Rush
The Defenders
Accidentally in Love
William & Kate: The Movie
Friends with Benefits
Serving Time
Friend Me
Californication
True Blood
Tomb Raider: The Final Hours – A Story of Survival
Robot Chicken
Camilla Luddington awards
Since she picked up a career in the entertainment industry, the versatile actress has been nominated for different awards. She was nominated for the NAVGTR Awards in 2014 and 2016 under the category of the Outstanding Performance in a Drama, Lead.
Before that time, she received a nomination for Spike Video Game Awards in 2013 as Best Voice Actress before she eventually bagged Behind the Voice Actors Awards as Best Female Lead Vocal Performance in a Video Game in 2016.
Is Camilla Luddington married?
The award-winning actress is married to her boyfriend of, at least, four years. She met the producer and fellow actor, Matthew Alan, and they kicked off their love affair in 2015. Camilla Luddington husband proposed to the mother of his daughter, and on the 17th of January, 2017, she announced their engagement. Then, they got married in 2019.
Alan is the son of Larry Gerbig and Karen. The American actor grew up in Evansville, Indiana. He attended Reitz High School and afterward, he bagged his degree from Western Kentucky University. He has also featured in some movies and television shows, including Bell Witch Haunting, Ghost Whisperer: The Other Side, War, Castle Rock, Modern Family. The Mentalist, and 13 Reasons Why.
Is Camilla Luddington pregnant?
Yes, she is. From the announcement made on her official Instagram page, Camilla Luddington baby number two is already on the way. They welcomed their first child in 2017. She announced with the help of a Disney doll that she and her husband are delighted after months of hiding the now visible baby bump.
"I'm just gonna do a super casual pregnancy announcement...I NEED PRINCESSES!!!!!!" ✨✨✨ Okay so... Matt and I are so happy to fiiiiinally post after months of "hiding" that i am pregnant! We are beyond excited to add to our little family and give Hayden a sibling. And yes, I've been away a lot from social media the past few months because OMGGGG the exhaustion and OMGGGGGG the morning (read: alllllll day) sickness.
Have I been mid filming at work? Yep! Oh the glamor of growing new humans . But in all seriousness, we feel so lucky and I can't wait to bring you guys along for the remaining months of this baby #2 journey!! *Shout out to the one and only Cinderella for helping me with this pic yesterday ❤️❤️❤️❤️
Encomiums have been showered on Camilla Luddington and her husband Matthew from different quarters after she announced their expectation. While no one can exactly tell what would happen in the coming days as regards the on-screen diva, one thing her fans wish is that she puts to bed safely and return to grace the screen with her incredible beauty.