Luciana Barroso bio: who is Matt Damon's wife?
Luciana Barroso is one of those secretive celebrity wives who do not usually appear in the spotlight. There are surely a lot of fascinating facts about Matt Damon's wife, which makes it so exciting to get to know the famous actor's spouse.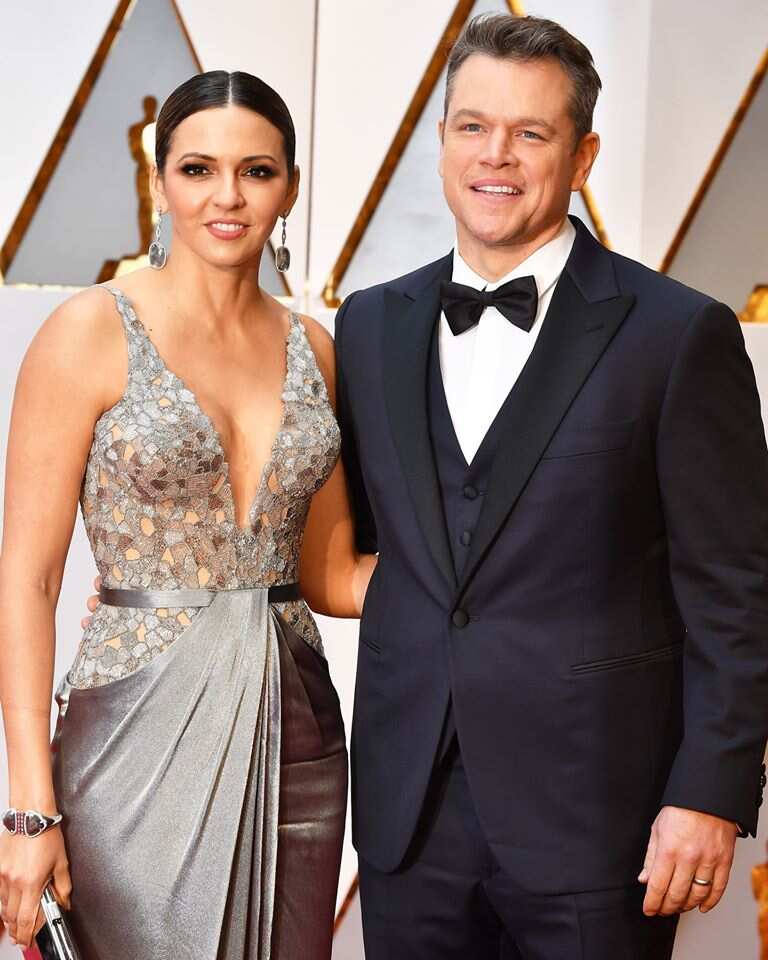 Many people who have seen "Good Will Hunting," "Saving Private Ryan" or "The Talented Mr. Ripley" wonder, "Who is Matt Damon married to?"
Even though Matt Damon wife is a rather private person, there are still some things that are known about her. This woman has a gorgeous appearance and a sweet personality, and it is not too surprising that such a famous actor fell in love with her.
Profile summary
Full name: Luciana Bozán Barroso
Birthday: July 31, 1976
Age: 43 years old
Nationality: Argentine
Birthplace: Salta Argentina
Husband: Matt Damon (married in 2005)
Children: Alexia Barroso (born in 1998), Isabella Damon (born in 2006), Gia Zavala Damon (born in 2008), and Stella Damon (born in 2010)
The early life of Luciana Barroso
Where is Luciana Barroso from? This beautiful lady's birthplace was Salta Argentina, where she came into this world on July 31, 1976.
She was born in a family of an insurance agent and a housekeeper. Her parents divorced when she was young, and she was raised mostly by her grandmother.
During her teenage years, she dreamed of becoming an artist and worked hard towards her goal. However, she later started a career as an air hostess.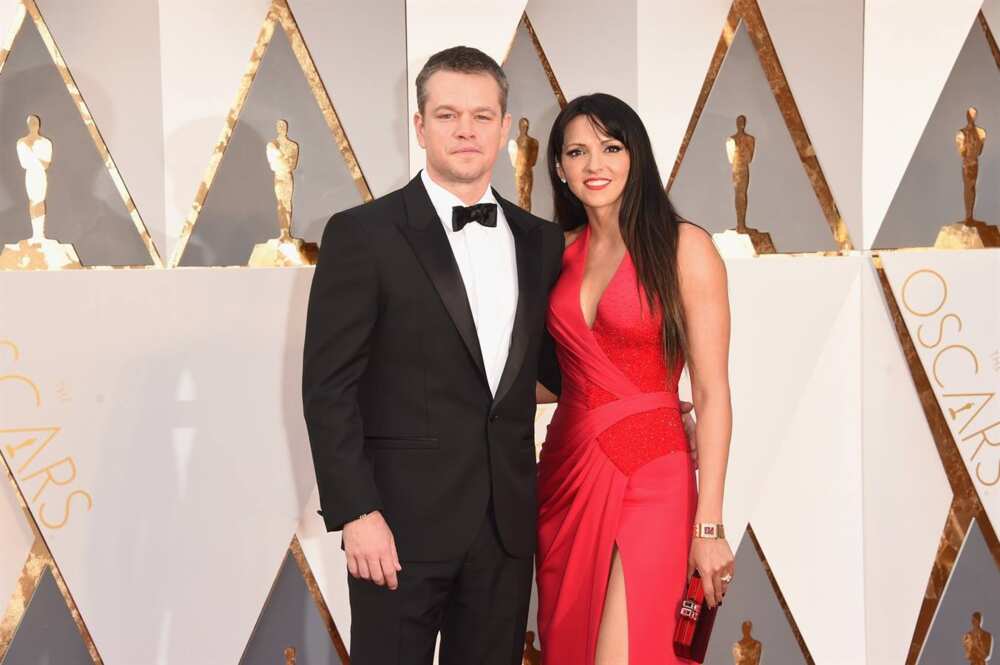 Since she is a private person, not much is known about her path to success. Still, there are some facts about her incredible love story with her husband, which will melt every hopeless romantic's heart.
Who is Matt Damon?
The famous Hollywood star Matt Damon is one of the most accomplished actors of our time. In his career, he has received multiple accolades for his outstanding work, including an Academy Award, two Golden Globe awards, seven Emmy awards, and his own star on the Hollywood Walk of Fame.
He started out in his native city of Cambridge, Massachusetts, by participating in his school's theatre productions. Ever since he debuted in the 1988 movie "Mystic Pizza", he has appeared in nearly 100 movies and television shows. He also writes scripts, produces films, and supports a lot of charities.
Matt Damon and wife love story
Before meeting her famous husband, Luciana was just a regular girl leading a fairly normal life. She met Matt Damon when he was already famous after acting in a few profitable movies.
The two first met in 2003 in Miami, when Matt was busy filming his comedy movie "Stuck on You". He first noticed the love of his life at the bar, where she was working to support herself and her young daughter Alexia (whom she had from a previous marriage).
As Damon remembered, the movie was initially meant to be filmed in Hawaii, but the production was later moved to Miami. That night, some of his crew members invited him out, and he reluctantly agreed.
He saw Luciana across the room full of people as the light fell on her. When people began recognizing him as a famous Hollywood star, he hid behind her bar and started talking to her.
Eventually, when they got together, he started considering this moment to be a defining one in his life. As he stated, if none of this happened, they might have never crossed paths.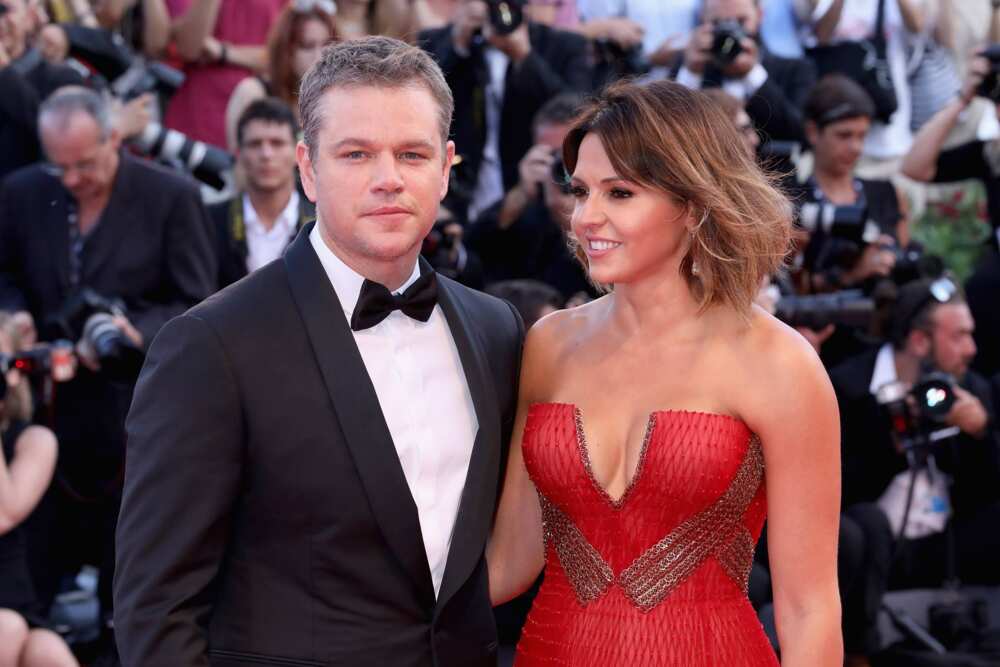 They got engaged in September 2005, after two years of dating. Three months later, they got married in a beautiful ceremony at the Manhattan Marriage Bureau, with only their closest friends and relatives present at their wedding.
Matt Damons wife keeps a low profile and rarely appears in the limelight, though she sometimes attends red carpet events with him. The actor credited his wife for leading such a private lifestyle, saying that the media's attention would always be driven to him had he married a well-known actress.
Matt Damon family
The actor and his lovely wife have four children. The oldest one, Alexia, is Luciana's daughter from her first marriage to a man named Arbello Barroso. They eventually got divorced, but Arbello still keeps in touch with his daughter and respects Matt, crediting him as a great stepfather to Alexia. He also calls his ex-wife a wonderful mother.
As for the Hollywood actor, he considers Alexia to be his own child, even if they are not related by blood. He is always happy to help his wife raise her.
Shortly after their marriage, the couple gave birth to their first biological daughter, Isabella. She was born in 2006, and her younger sister Gia Zavala followed in 2008. Finally, in 2010, the youngest daughter of the couple, Stella, was born.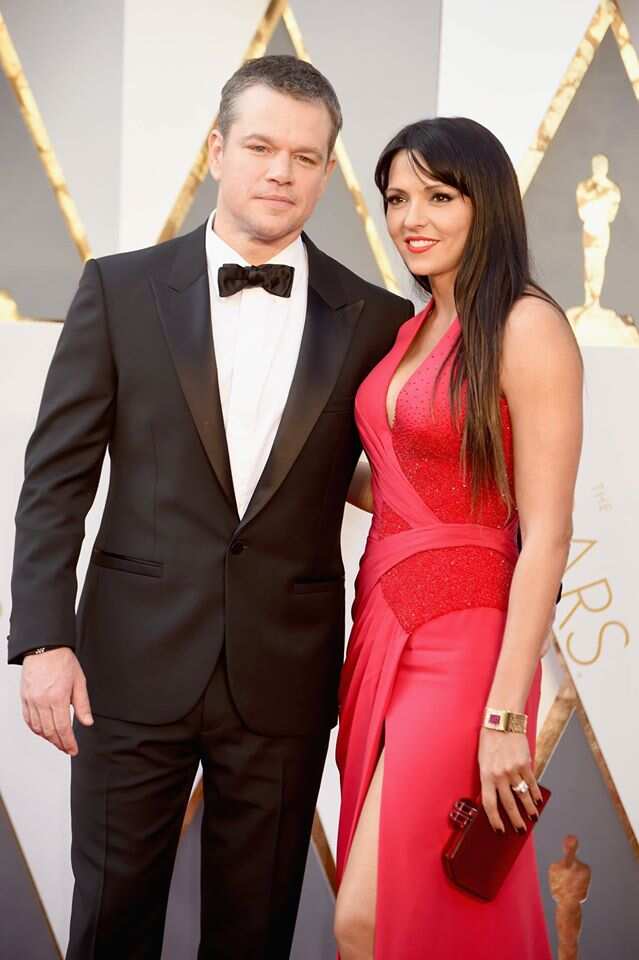 Even though the actor has a busy schedule, he loves his daughters very much and tries to spend every possible minute with them. Matt and Luciana try not to spoil their children - whenever people send gifts to their daughters, they pass it on to people in need.
Once, the celebrity wife gave an exclusive interview to Vogue, where she said that they had a special connection the moment they met and that her dedication to motherhood won him over.
She mentioned that they raise their kids to be compassionate and confident and teach them to respect themselves and everyone else. As for the secret to her successful marriage, she said that they are blessed to have each other and never take it for granted, and called her husband a great dad.
For those who wonder "what does Luciana Barroso do for a living?", she is currently a stay-at-home mum and takes care of her children while her spouse makes money as an actor.
Luciana Barroso is a humble person and a wonderful mother, which is why her famous husband is so lucky to have her.
Source: Legit.ng