Best John Muir quotes about nature and wilderness
We get to learn a lot from other people's words of wisdom. Some of the best John Muir quotes below will leave you with a lot to think about.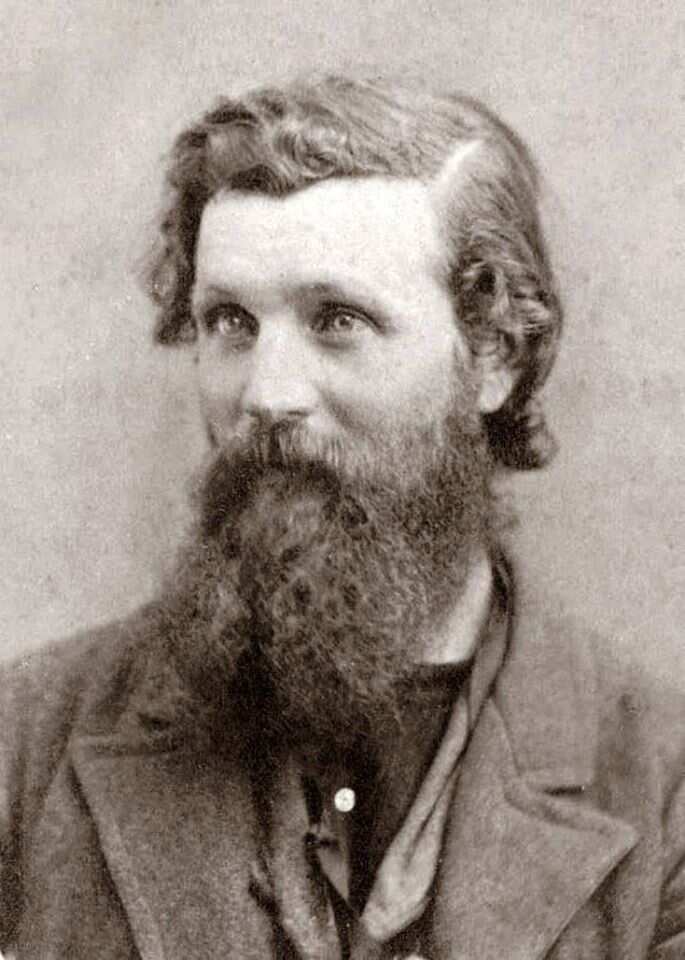 Humans can learn a lot just by being observant. Nature is filled with all the tools we need to make it in life. All the solutions to man's problems are found in nature. This is something that John Muir understood quite well and captured in his quotes.
Famous John Muir quotes
The following John Muir quotes about nature will prompt you to think about life from a different perspective. They will make you question your thoughts and beliefs as well as teach you something new.
The clearest way into the Universe is through a forest wilderness.
John alludes that the fastest way to learn about the world is to go through the thickets of a forest. The flora and fauna in forests are diverse. Some animals are the prey, while others are the hunters. Some have a symbiotic relationship. In a forest, one gets a chance to think and reflect as they observe the plants and animals therein.
When one tugs at a single thing in nature, he finds it attached to the rest of the world.
Sticking to a particular natural occurrence will teach you all there is to know about the world.
The mountains are calling and I must go.
There is something about nature's call that is unique. It cannot be ignored or postponed. When nature's time is due, then you must heed to the call or suffer the consequences.
Thousands of tired, nerve-shaken, over-civilized people are beginning to find out that going to the mountains is going home; that wildness is a necessity.
Nature heals all the world's pressures and stresses. Whenever you feel overwhelmed by the troubles of this world, then consider taking a break from the fast-paced modern lifestyle and retire to the mountains where it is quiet and calm. Sometimes that is all the mind needs to recollect.
Earth has no sorrow that earth can not heal.
You can always trust the earth to sort its problems. Nothing is too big that no solution can be found.
The world's big and I want to have a good look at it before it gets dark.
If you are keen enough, you will notice that everything you need to get through life is somewhere in the world. Take your time to observe.
In every walk with Nature, one receives far more than he seeks.
Nature is giving. It offers you more than you will ever ask for. If you stepped out for peace, then expect to find tranquility, calmness, refreshment, and joy just to mention a few. Make it a habit to pause and commune with nature for its benefits are far more than we can imagine.
John Muir mountain quotes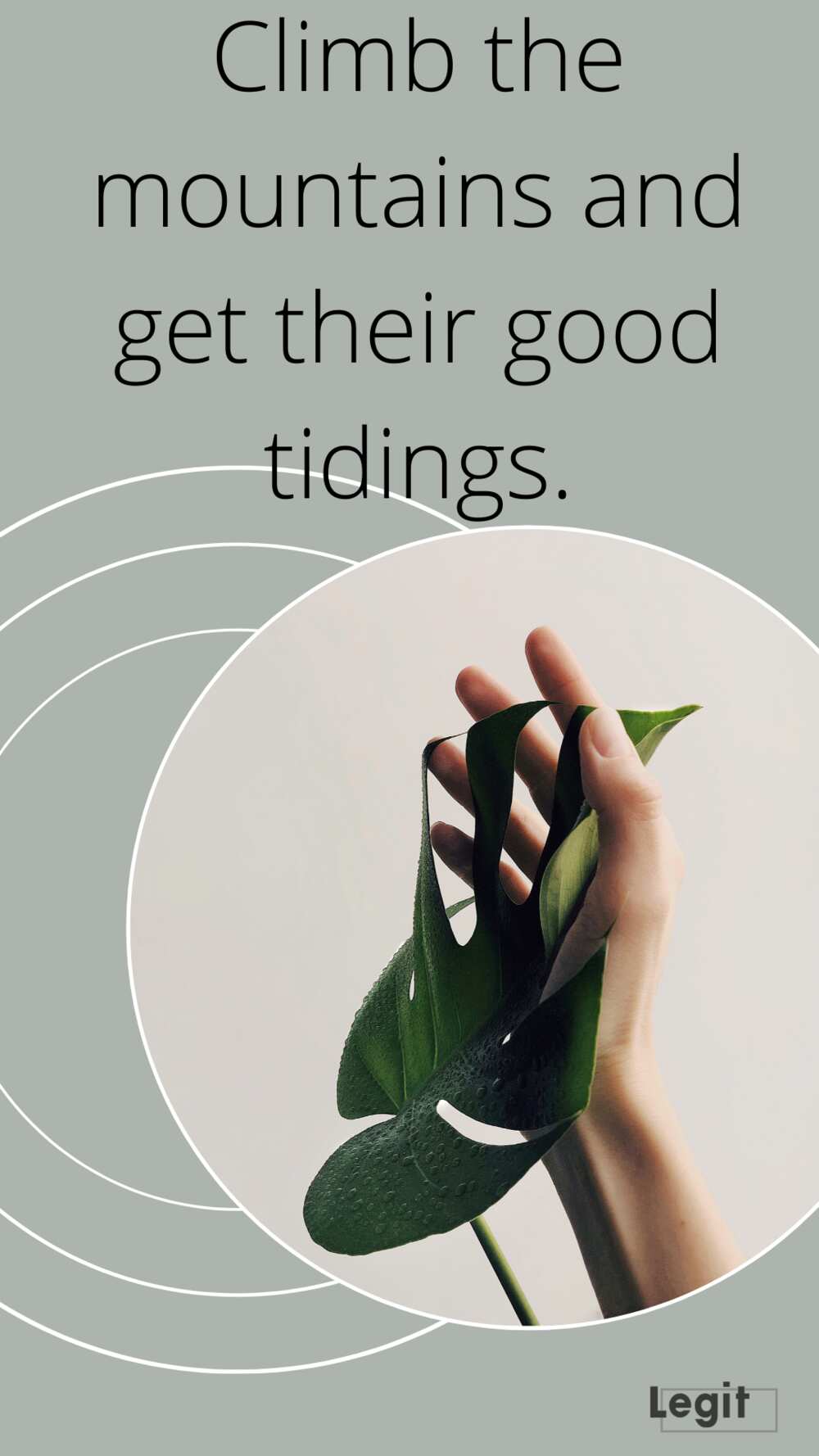 Among the many expert nature quotes John Muir is known for, mountain quotes are among the best you will come across. He seemed to have a lot of experience with the mountains that it was impossible not to talk about them. If you are observant enough, you will notice that there is so much benefit that comes with going to the mountains. Check out the following examples.
I am losing precious days. I am degenerating into a machine for making money. I am learning nothing in this trivial world of men. I must break away and get out into the mountains to learn the news.
The real lessons are captured in the mountains where spirits roam freely. In the mountains, you will not be confined to the routines of this world and that is when the magic truly happens.
Oh, these vast, calm, measureless mountain days, days in whose light everything seems equally divine, opening a thousand windows to show us God.
If you want to connect with your creator, then consider going to the mountains. This is where you will find peace away from the hustle and bustle of the world, making it easy for you to connect with God.
Climb the mountains and get their good tidings.
Do not be afraid of climbing mountains. It may be a difficult journey but in the end, you are assured of greater rewards.
Keep close to Nature's heart… and break clear away, once in a while, and climb a mountain or spend a week in the woods. Wash your spirit clean
The surest way to rejuvenate and wash your soul is to commune with nature. A few days in the woods is all you need to recharge and come back fully loaded with energy and zeal.
John Muir Yosemite quotes
Yosemite Park is a place of rest… None can escape its charms. Its natural beauty cleans and warms like a fire, and you will be willing to stay forever in one place like a tree.
Visit the park and you will tell a similar story. The charms of a well-kept park will touch even the hardest of hearts. That is what nature does to you.
The making of gardens and parks goes on with civilization all over the world, and they increase both in size and number as their value is recognized.
Parks and cool serene gardens should be an endeavour that everyone takes part in. The beauty these places bring cannot be equated to anything else.
He was one of the most sincere tree-lovers I ever knew. About twenty years before his death he made the choice of a plot in the Yosemite cemetery on the north side of the Valley.
Anyone can turn even the worst of grounds into a beautiful garden as long as they love what they are doing.
Top inspiring quotes by John Muir
Walk away quietly in any direction and taste the freedom of the mountaineer.
True freedom is found in high places. Start with the mountains and you will experience the same.
How glorious a greeting the sun gives the mountains!
When you are high up, everything good gets to you first. Get to the top and enjoy the sun's first rays every morning.
One day's exposure to mountains is better than a cartload of books.
What books do to the mind, the mountains will do so much more. One trip up the hills will save you several books. The experience is unmatched!
John Muir nature quotes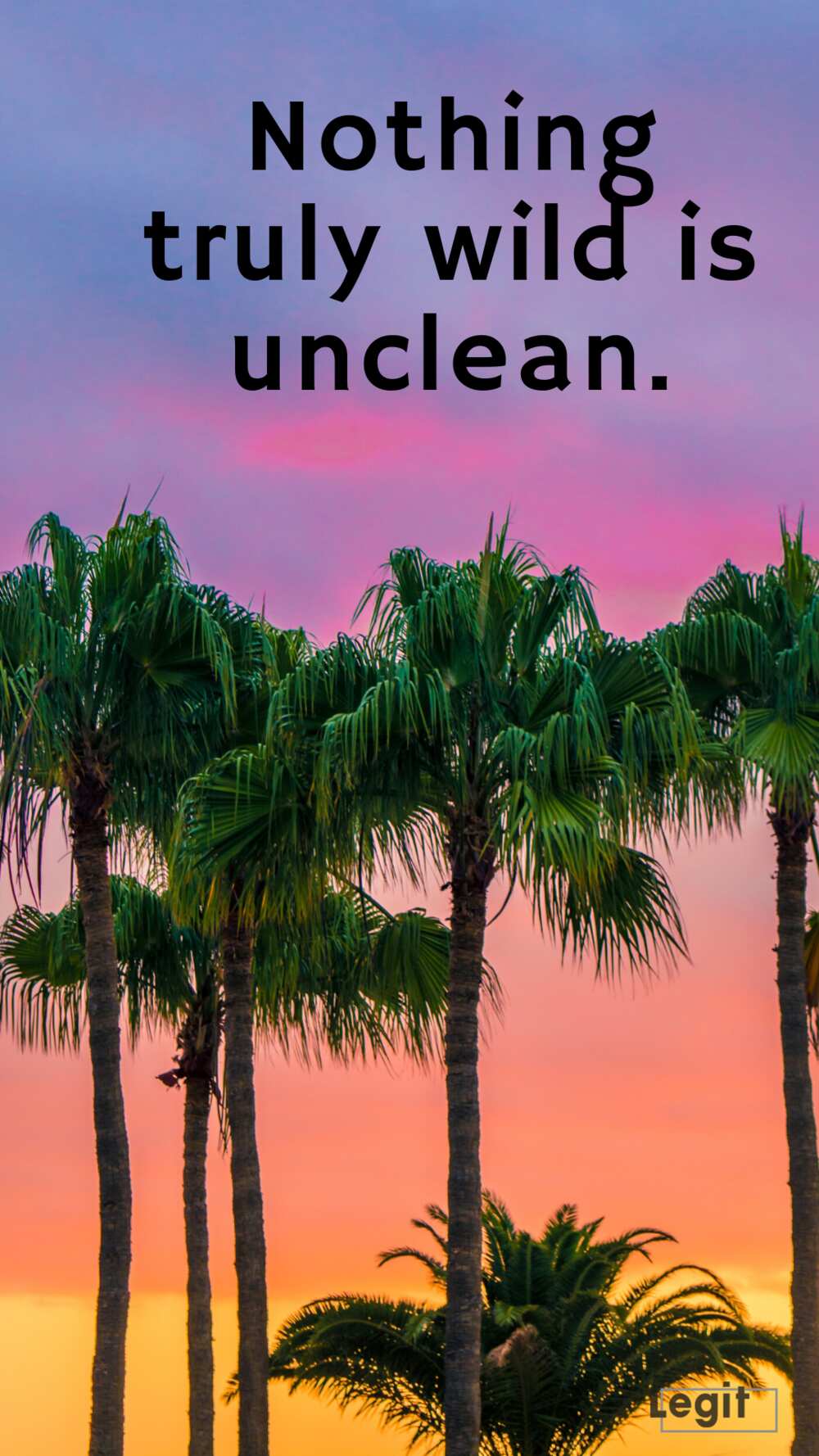 All the quotes by John Muir emphasize just how crucial it is to take advantage of nature. After all, the wilderness, high places, and forests were created for man to enjoy. Check out the following quotes John Muir uses to express how he feels about nature in general. You may love a few of John Muir wilderness quotes and adopt the ideology altogether.
The sun shines not on us but in us.
This inspiring saying reminds us that the light of nature is within us. Never give up just because things seem different. Let the inner illumination radiate outwards.
Any fool can destroy trees. They cannot run away.
This is one of the quotes from John Muir that must be considered a warning. While it may be easy to destroy nature, the consequences of doing so will catch up with us one day. Humans must protect nature instead if we want to keep reaping its benefits. In the end, nature fights its own battles.
Here are the roots of all the life of the valleys, and here more simply than elsewhere is the eternal flux of nature manifested.
Protect the sources of life in the world. Destroying them will mean that the end is near.
Nothing truly wild is unclean.
Nature cleans itself in the process. All forms of corruption come from outside.
John Muir quotes nature examples are a reflection of the life we ought to live. We need to be in harmony with the wilderness if we are to thrive. All forms of true healing and satisfaction are found in the wilderness.
Pick your favourite spot in the wild and make a habit of visiting it every once in a while. You may end up transforming your life in ways you will never understand. Consider the above John Muir quotes for inspiration.
Source: Legit.ng