Sheree Zampino wiki: age, height, net worth, ethnicity
Sheree Zampino is an American entrepreneur, producer, and actress. She is perceived to have stepped into the limelight because of her marriage to the Hollywood star Will Smith, but how real is this thought? Miss Zampino was the first wife of Will Smith, having married him when the two were "so young" as she claimed.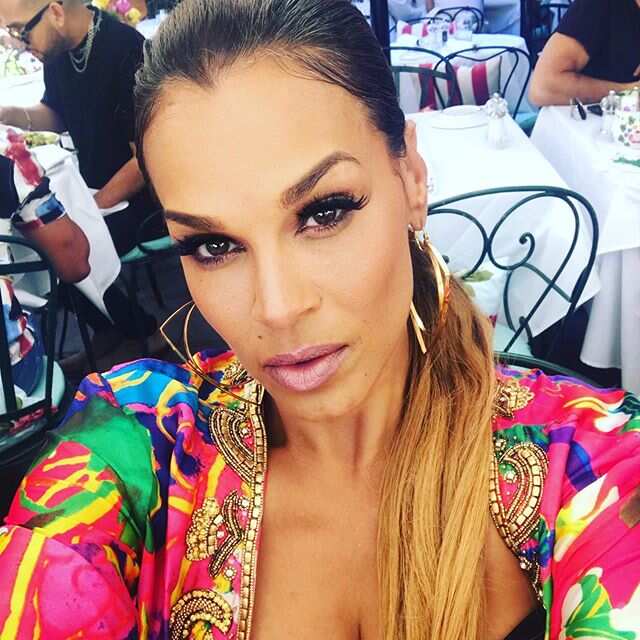 As much as the two are not together anymore, she has remained a celebrity and a voice to reckon with. She has a career that has seen her run or make appearances in several successful reality shows, act television series, and venture into matters related to fashion. You may have first known her because of her marriage to Will Smith, but who is Sheree Zampino?
Sheree Zampino profile summary
Real name: Sheree Elizabeth Zampino
Commonly used name: Sheree
Date of birth: November 16th, 1967
Place of birth: Schenectady, New York, United States
Current location: Los Angeles, California, United States
Sheree Zampino age: 51 years old
Zodiac sign: Scorpio
Profession: Actress, producer, and entrepreneur
Sheree Zampino ethnicity: Multi-racial Afro-American
Religion: Christianity
Marital Status: Divorced
Father: Les Zampino
Sheree Zampino husband: Will Smith (1992-1995), Terrell Fletcher (married in 2007, later divorced)
Sheree Zampino wiki biography
The former wife to Will Smith was born on November 16th, 1967 in Schenectady, New York in the United States of America. She is the daughter of Les Zampino. Sheree Zampino parents divorced when she was still young, and therefore, she spent most of her time with her father. Her father worked at a theatre in Schenectady. She is an American by nationality and of Afro-American ethnicity and a Christian by religion.
Sheree Zampino education
She undertook her high school education, and upon graduating, she joined the Fashion Institute of Technology. At the institute, she pursued her childhood dream of fashion and at the same time studied business. At the end of her two majors (Fashion and Business), Sheree acquired the ability to make money by pursuing her passion, and that is what she does today.
Sheree Zampino career
She has had her career built around acting, entrepreneurship, and fashion.
Acting career
Miss Zampino began her acting career in 2001 when she had her first role in the movie called 'Our Journey.' Sheree Zampino's role in Minay TV, 'Do Something Award' and 'Hollywood Exes' thrust her to more fame. Many of her peers and fellow actors in Hollywood praised her for the performance in 'Hollywood Exes.'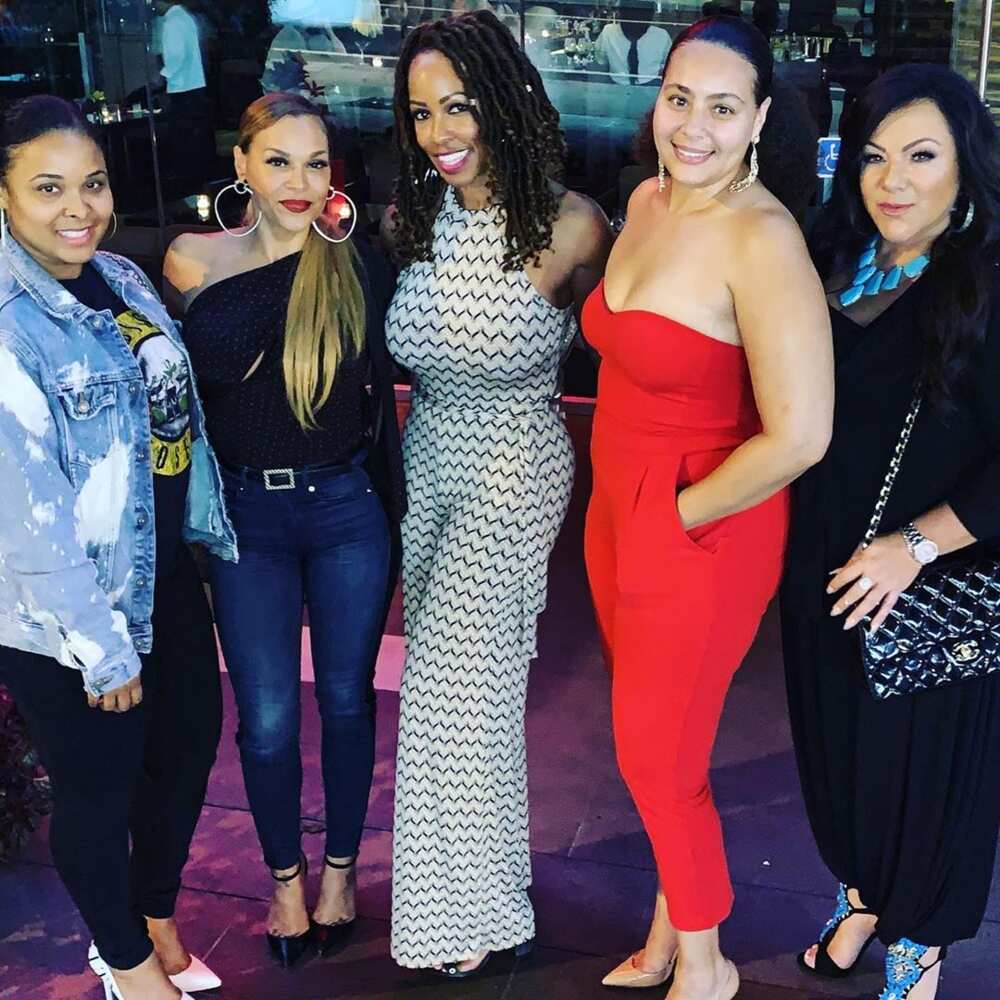 'Hollywood Exes' was a reality TV series that VH1 televised in 2012. She starred alongside Mayte Garcia, Jessica Canseco, Shamicka Lawrence, and others. The series is an account of the life events of women who divorced their celebrity husbands and the struggles they go through as they try to identify their new partners and form a family. Hollywood Exes lasted for three seasons and came to an end on July 2nd, 2014.
In 2015, Miss Zampino joined Minay Mathew's talk show which aired on Minay TV. In the show, she had the opportunity to talk to performers and famous people at movie premieres and other honorable events.
Additionally, she has made appearances in television shows such as Oh Drama, the 2013 Do Something Award and The Oprah Winfrey Show.
Career as an entrepreneur
Her passion for fashion and a business course has enabled her to develop her own skincare company called Sheree Elizabeth LLC. She is currently the CEO of the company. As an entrepreneur, she has a fashion-dedicated website. The site constitutes online stores from which you can purchase any attire you want, whether it is a dress, earrings, shoes or many more.
Sheree Zampino net worth
Miss Zampino is a multi-talented woman. She has managed to transform her passion into monetary rewards. Her career involvement has earned her a considerable amount of wealth. As of 2019, the entrepreneur is reportedly worth a staggering $6 million.
Sheree Zampino husband, marriage and children
She has been married twice, with each union bringing forth a child. Her first marriage was to the famous Hollywood actor Will Smith and her second marriage was to Terrell Fletcher.
Will Smith and Sheree Zampino
She became famous for her marriage to Will Smith. No one knew her until this marriage. The two had been associating with one another for years, and there were rumors that they were possibly dating. Nothing was definite until they decided to tie the knot in 1992.
Sheree Zampino and Will Smith enjoyed their first years in marriage, and things appeared bright for them. They celebrated their achievements together and enjoyed each other's company. It was, therefore, shocking when the couple sought to divorce legally after only three years in marriage.
Despite their divorce, the two are still friends and have even supported one another to move on. She has, at one point, taken to her Instagram page to wish her former husband a happy marriage anniversary.
Another case of their true friendship manifested in 2016 when Will Smith's former wife came to his defense against gay allegations. The allegations had come after Will's wife, Jada Pinkett appealed on Afro-Americans to shun the Oscars. The call was not received well by actress Alexis Arquette. Therefore, to vent her frustrations, the actress teased Will with claims that he was gay, and that was the reason why his marriage to his former wife never worked.
The ex-wife came out blazing with a response to the actress in a video. In the recorded video, she voices her explanation as to why the two separated.
Jada Pinkett Smith is the current wife of Will Smith. She got married to him in 1997, two years after the divorce.
Sheree and Terrell Fletcher
After years of being unmarried, the entrepreneur found love in Terrell Fletcher, and the two tied the knot in 2007 at a private wedding. Terrell Fletcher is a retired National Football League (NFL) player. Unfortunately, the marriage did not last long as the two separated in July 2014.
Sheree Zampino children
Together with her former husbands, she has given birth to two children. Her marriage to Will Smith in 1992 brought forth their son named Willard Smith III. He is commonly referred to as Trey Smith.
Her next marriage resulted in another child as well, this time around, a daughter. Her name is Jodie Fletcher.
Sheree Zampino height, weight, measurements
Sheree Fletcher has the following measurements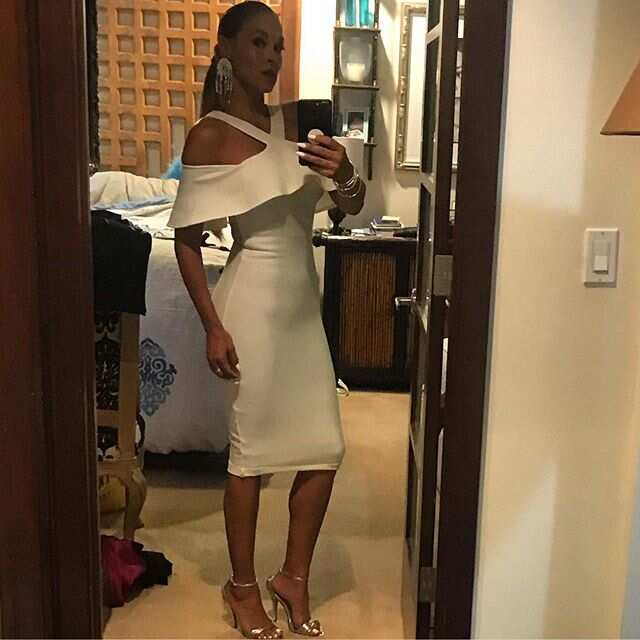 Height: 4 feet 11 inches (1.51 m or 151 cm)
Weight: 103 pounds or 47 Kg
Body measurements: 35 inches - 27 inches - 34 inches
Shoe size: 6
Eye color: Brown
Hair color: Brown
Sheree Zampino Instagram and social media accounts
The entrepreneur is an active member of the social media fraternity. She has used these platforms to market her collection of attires and air her pictures.
Her Instagram account has 308k followers.
Sharee Zampino was born and raised in a middle-class family. She has gotten married twice, with both marriages ending in divorce. She currently runs an e-commerce business and has taken up roles in shows and movies. Her passion, talents, and the ability to monetize them have earned her a considerable amount of wealth as well as kept her name famous.
Source: Legit.ng