Dennis Rodman bio: net worth, spouse, North Korea visits
Dennis Rodman is a retired professional NBA player. Besides playing basketball, he was also involved in acting, wrestling, and TV shows. He is popularly known for his great talent and creativity in rebound and defensive techniques. He played for NBA for many years making millions from the same before retiring in 2006.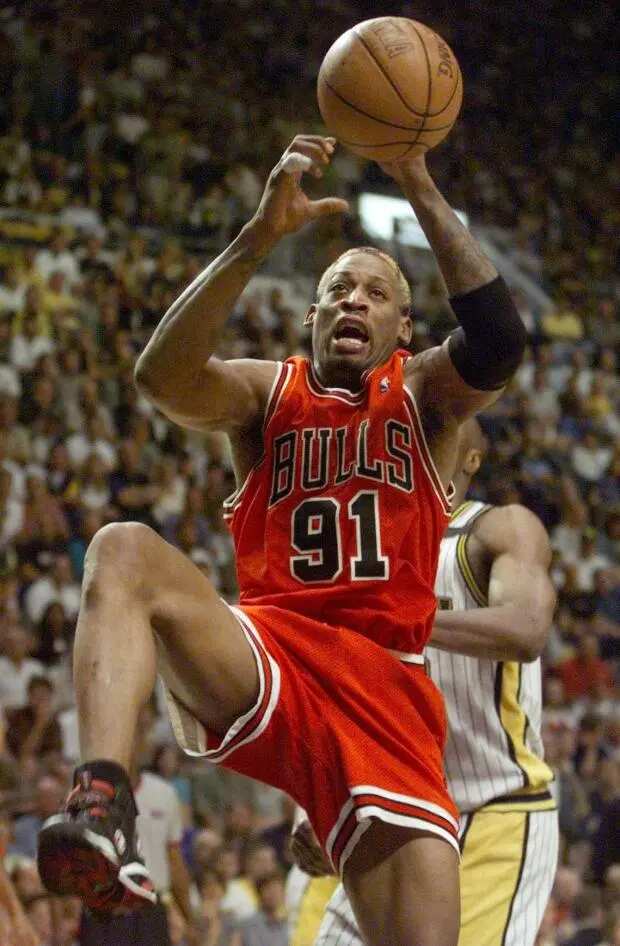 The famous and talented former NBA player, Dennis Rodman, was celebrated for his creativity and excellence in rebound kicks and defensive skills. He began to play for the NBA in 1986. Over the years, he gained popularity for his exceptional performance, specifically in rebound kicks and defense. He won numerous awards throughout the period he worked for the association. Apart from his career, there is a lot revealed about his personal life. He married three times and has gone through the same number of divorces. Learn more about him and his relationship status as you read on.
Profile summary
Name: Dennis Roadman, also known as Dennis Keith Rodman
Birthday: 13th May 1961
Birthplace: Trenton, NJ
Marital status: Single
Age: 58
Nationality: American
Ethnicity: African-American
Height: 6 feet 7 inches (201 cm)
Zodiac sign: Taurus
Father: Philander Rodman
Mother: Shirley Rodman
Siblings: Debra Rodman and Kim Rodman
Spouses (Ex-spouses): Annie Bakes (married 1992-1993), Carmen Electra (married 1998-1999), and Michelle Moyer (married 2003-2012)
Children: Alexis Rodman, D.J Rodman, and Trinity Rodman
Dennis Rodman biography
Dennis Rodman was born on 13th May 1961 to Shirley and Philander Rodman. He was born in Trenton, New Jersey. His parents gave birth to three children together and he is the oldest among his siblings. He has two sisters called Kim Rodman and Debra Rodman. Dennis is of African-American descent but he has American nationality.
The NBA star experienced difficulties with his upbringing, especially after his parents separated. His father left them and went to live in the Philippines. It is reported that his father has many children besides the two siblings mentioned.
Despite the inevitable challenges that Dennis went through, he attended school and worked hard. He discovered his talent in basketball, and he began to participate in sports when he was still in school.
It was at South Oak Cliff High School that Dennis met Gary Blair. Gary was his gym teacher as well as a basketball coach to his siblings. He would later become his role model as he coached the Texas A&M basketball team.
When in high school, Dennis Rodman height was barely 5 feet 11 inches, and he was not lucky to be selected in the basketball team. Nevertheless, he never gave up; he continued to look for a chance to join the team.
He joined Cooke County College where he eventually joined the basketball team. With his talent, he overdid other players in the court during his first semester in college.
He would perform poorly in academics and this forced him to quit college. Despite giving up on academics, he ever relented in basketball. He continued to participate and to shine in all the matches he played. This passion made him a famous and celebrated NBA star for the two decades he played for the association.
Dennis Rodman net worth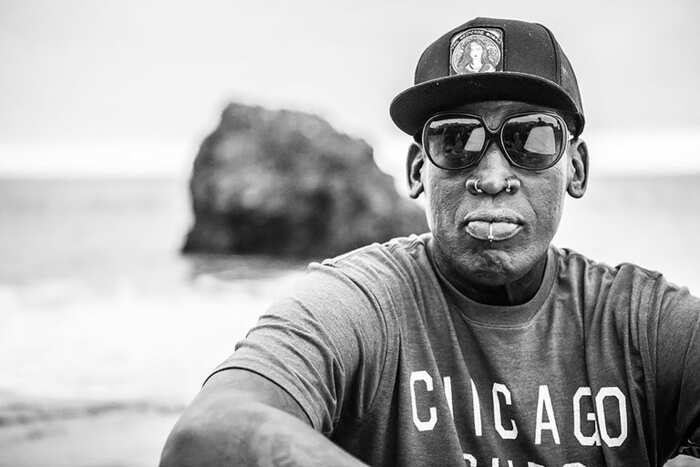 The NBA star played for different teams within the league. He played for Chicago Bulls, San Antonio Spurs, Detroit Pistons and more. Moreover, he would engage in acting, wrestling, and TV presenting, which also earned him money. The celebrity's current net worth is $500,000.
The decline in the celebrity's financial status is partly because of the fines and suspensions he experienced in his career. At some point, he had to pay 200,000 US dollars for kicking a cameraman. Also, he was suspended for at least 11 games, an ordeal that cost him $1 million.
It is reported that Dennis had marital problems that led to court cases. One of his ex-wives filed a case in court, and he was asked to pay for child support amounting to approximately $800,000. The family and career ordeals that he went through can explain how his financial status declined over the years.
Dennis Rodman spouse
Is Dennis married? This is a common question from his fans. He married three times, and his relationships with the wives were public. The latest Dennis Rodman wife was Michelle Moyer, before they divorced in 2012. The two met in 1999 and started dating. Michelle got pregnant a few months later. They welcomed their first child, Dennis Jr., in 2000, which marked a significant milestone in their relationship.
They tied the knot in 2003, but their marriage fell apart sooner than they expected. They begun having issues and later filed for divorce in 2004. Even so, they still stayed together for eight more years hoping to work on their relationship. His wife followed up on the filed divorce, and it was granted in 2012.
Earlier on, Dennis had married Carmen Electra, but their marriage was short-lived. They met in 1998 and fell for one another very passionately until they got married. However, their marriage only lasted for one year as it is reported that they divorced in 1999.
In the early 1990s, Dennis was married to Annie Bakes, a professional model. They two met back in 1986 and dated for almost seven years before they got married. They had one child together, Alexis.
According to the website Who's Dated Who, Dennis is single. He has dated several women and married three of them at different times. However, he has not gone public about his relationship status since he divorced Michelle Moyer in 2012.
Dennis Rodman kids
Dennis has three children; one son, D.J Rodman, and two daughters, Alexis and Trinity. Alexis is from his marriage with Annie Bakes while Trinity and D.J are from his marriage with Michelle Moyer.
Dennis Rodman daughter, Alexis is married. She has a child called Vincent whom she gave birth to in 2017. Dennis expressed his joy about it when he wrote on Facebook saying:
Wow, congrats to my daughter Alexis and her husband for the birth of their 1st baby: Vincent! I can't believe I'm a Grandfather.
D.J Rodman is an exceptional basketball player. He is passionate about it and hopes that one day he will do great in basketball like his father.
Trinity Rodman is the youngest of Dennis' children and she is growing in her love for sports like her father.
Dennis Rodman gay
Is Dennis Rodman gay? The speculations emanate from the celebrity's sense of fashion and style. He is also a lover of tattoos and piercings.
The basketball celebrity has written a book "Bad As I Wanna Be: The Dennis Rodman Story," in which he reveals his being bisexual.
Dennis Rodman North Korea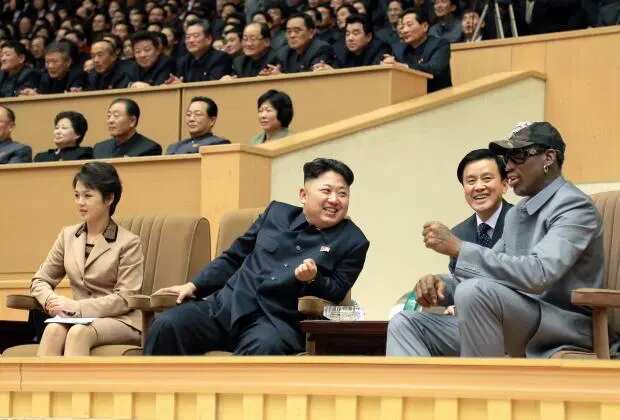 The famous NBA star, Dennis Rodman, has garnered a lot of attention due to his North Korean visits. It is reported that he first visited the country in 2013 to host basketball exhibitions. While in the country, Dennis met the leader Kim Jong-un and they became friends. He declared him as "friend for life," a statement that drew a lot of criticism.
Dennis Rodman Kim Jong Un friendship and ties have made the NBA star visit North Korea several times.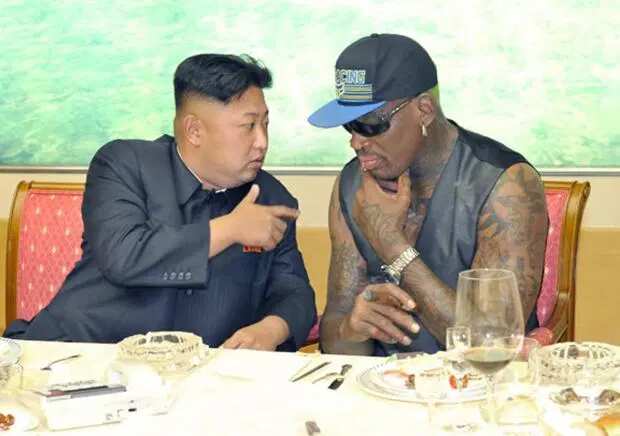 "We laugh, we sing karaoke, we do a lot of cool things together like skiing and riding horses,"
Dennis told Good Morning Britain, describing his close relationship with Korean leader, Kim. There is no doubt that Dennis Rodman and Kim Jong-un are great friends.
While people think that the friendship between the two and the celebrity's visits to Korea are wild, Dennis and the leader Kim Jong-un have continued to have a wonderful time hanging out and having close conversations every time he visits the country. America and North Korea are not in good terms but this does not cool the fire of friendship between Dennis and leader Kim Jong-un.
Dennis Rodman is famous for his exceptional performance in the NBA. He was a great basketball player who was celebrated by the teams he played for during the years he was actively involved in professional basketball. He got married three times, but all of the unions ended in divorces. Nevertheless, he is a proud father to his kids and a grandfather to his daughter's son, Vincent.
Source: Legit