How to play BetKing: registration, login, website vs. app
New fans often experience difficulties mastering online-based BetKing website and application sporting services. The challenge continues to escalate, even as this Lagos based betting company continues to attract more fans from across the country. For this reason, learning to play on the platform is particularly helpful for your entertainment in sporting through high-value bets. How do you play BetKing?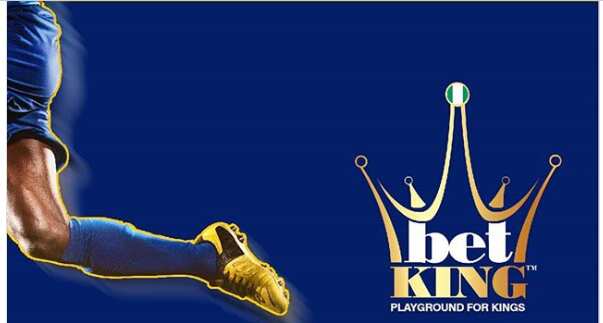 Sports professionals in Nigeria recommend BetKing as one of the best betting platforms in the country. Rapid internationalization of the company affirms that the platform is user-friendly and worth your financial investment in sports. Besides betting in football, cricket, hockey, basketball, tennis and many more, the company provides exciting virtual games among them Colour-Colour and the Kings' League.
How to play BetKing
Nigerian online sporting is a multi-billion business and the market is estimated at USD 2 billion, equivalent to roughly N730 billion yearly. Approximately 60 million Nigerians between 18 and 40 years are actively involved in sports betting. Both individuals and agencies can equally benefit from different opportunities offered by the platform that guarantee a considerable bite into this lucrative stake. All you got to do is become a king-maker by registering on the application or website. Users should take note that BetKing is a fully licensed firm that consistently offers reliably online sporting services beyond Nigerian borders. So, how can you join the betting firm and eventually become a pro-king-maker?
Guide on BetKing registration
How do I register on this betting platform? Our guide on how to register an account is elaborate to make sure you successfully become a member on the platform. BetKing Nigeria registration is a straightforward process, so just follow these steps:
Start by visiting BetKing website using the link www.betking.com
While on the homepage, click "Register Now" on the top right section of the page.
Fill in the required registration details in respective fields before confirming and submitting your duly filled form. Details include your first and last names, desired username, password, email address, mobile number, date of birth, state of residence, and city.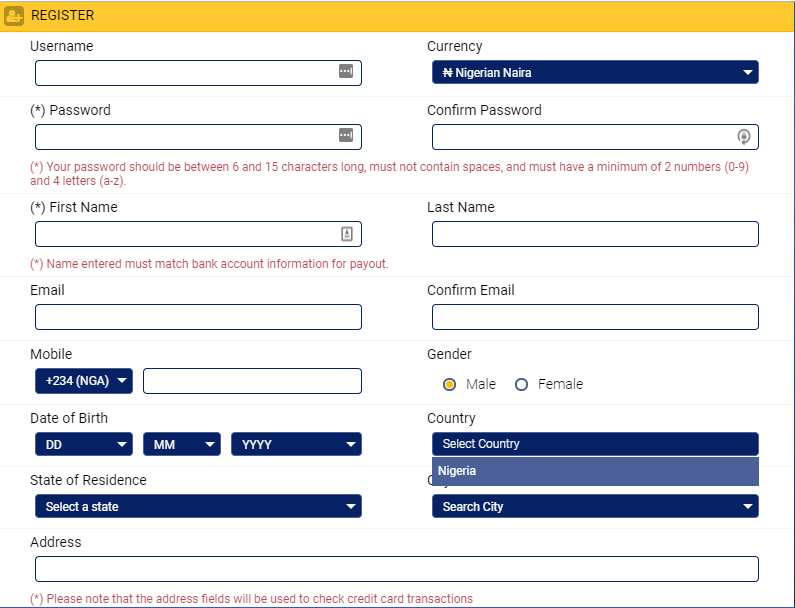 Tick the respective boxes and confirm that you are of legal age, as shown below.

Upon submission, the company's system will respond with an on-screen confirmation message. You will as well receive a message in your email inbox. Access this email and click on the link provided to verify your email address.
At this point you would have completed the registration process and are ready to start playing.
BetKing Nigeria mobile log in
Registered users can quickly start betting upon logging in to the website or the handy mobile application. The login process is easy and authentic to make sure your account data and winnings are safe at all times:
Access the BetKing login option at the very top right corner of the registration page.
Provide your credentials "Username" and "Password" to login
In case you cannot recall your login details click on "Forgot Password?" to reset the same.
How do I start an online bet?
Having registered and logged in to the online platform, it is now time to start accessing various sporting services available on BetKing website and application. So, how do I bet on this betting platform online? The tutorials are handy to make sure that you get the most out of the firm. The tutorials include:
How to reset password
How to place a bet
How to book a bet
How to re-bet
How to deposit with GTB, Quickteller ATM, and Zenith Bank among others
How to withdraw
100%welcome bonus
Accumulator bonus
How to play Color Color, Dog Racing, Super 6, King's Liga, Virtual King's League, and virtual combination bet
Cash desk feature
Explanation of sports markets
Skye collect
Alternatively, you can visit any BetKing shop across the country for help if you do not understand the online guide.
BetKing app vs. website
The application and website are both helpful in accessing online sporting services available at the company's site. Just like 22bet and other online betting sites, the website and app allow you to gamble 24/7 at your convenience.
1. Website
The website is one of the best ways of accessing the platform's features all in one place. The portal is custom designed to accommodate a broad range of screen sizes in a responsive way. Unlike the app, the website provides an easy way of analyzing games and several features from a single page. The site is also a better platform of virtual gaming and accessing more powerful BetKing gaming resources.
2. Application
BetKing mobile application has made it possible for the company to readily avail its top offers to thousands of fans across the country. The app has a highly responsive interface and is user-friendly, making it a proper choice for sports lovers. Old mobile BetKing capabilities, alternatively called BetKing old mobile, is arguably one of the most impressive features that demonstrate the company's continued commitment to accommodating all its active users.
Betking.com old mobile and lite users can both place their bets and reap big. Interestingly, the application is compatible with almost all devices, regardless of model and network capabilities. Android, Apple iOS and Windows phone users can all access BetKing in Nigeria. Unlike the website, application users can receive real-time notifications and updates on their betting. The app also makes sporting, live betting, and virtual gaming friendlier and more fun compared to the company portal.
In the fastest-growing Nigerian online sporting sector, it is amazing to see how well BetKing ranks against close competitors such as Nairabet, Betway ng, Merrybet, and Bet9ja. The company enjoys a booming audience through its website and application and has managed to become home to experienced online sporting fans and betting experts. The details above on registration, logging in, and website vs app, are enough to get you started. Best of luck!
Source: Legit.ng