Sharp lyrics and catchy beats characterize the new track by Terri - Non-Stop. Find out all the details about this hot new tune, including its video, social media reactions to it and its download links.
Here you can find as much information as possible about the new masterpiece of one of the brightest Afrobeats artist in the continent.
Terri - Non-Stop description
Video release date: July 19th, 2019
Format: mp3, video
Genre: Afrobeats
Length: 3:22 min
Label: Star Boy Records
Producer(s): KILLERTUNES
You can finally enjoy the official video for Terri - Non-Stop.
Terri - Non-Stop reviews and comments
This track is already a hit. Its listeners enjoy it. Here are some of the comments and reactions of people on YouTube. You can also leave your impressions in the comments section.
fruitfulvine N: #starboyterri issa ticking tym bomb
Elvis John: I cannot stop I cannot stop playing this Banga
Smith Alvin: Terri you're the best to
Levis Maximillian: starboy Terri... nice video...gud song... keep going star
Control I3woy: I will support you non-stop... Terry you have too much talent!
READ ALSO: Juls - Cake ft Mr. Eazi: audio, lyrics, reactions
laffpodcast: let the real star boy lovers gather here
XIV lyrics: Madd o
Azeez Munirat: This is sick bro...
Frank Daniel: Boss with another banger
Ogunsina oluwadamilare: Mad jam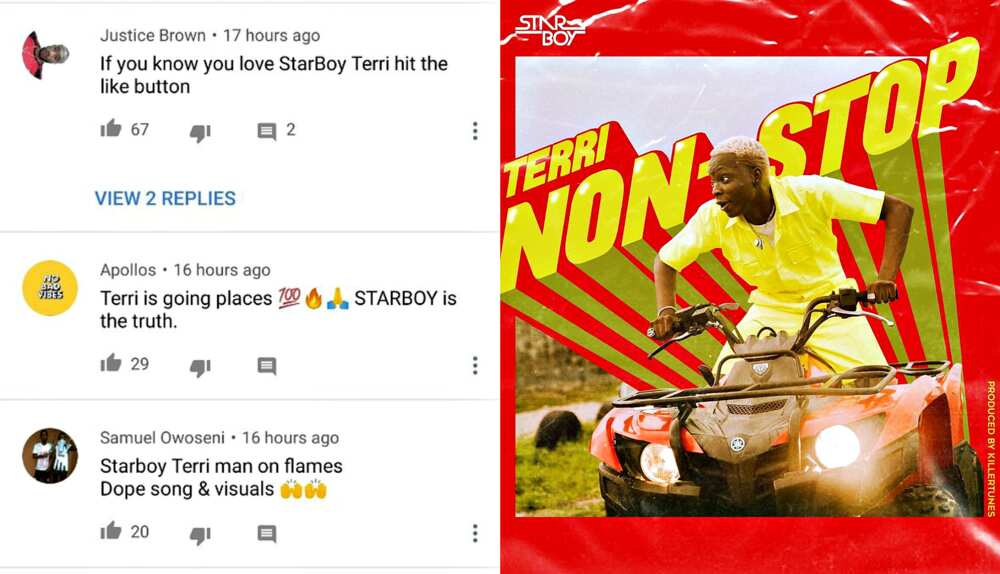 Terri - Non-Stop download
You can download this hot track from the following mp3 download resources:
Terri - Non-Stop is loved for its awesome video and catchy lyrics. It is an interesting and touching song because it speaks to the listener in the most understandable language in the whole world, the language of feelings.
READ ALSO: Dave - Location ft. Burna Boy: video, lyrics, reactions