30 funny love quotes for him and her
Some people might think that love and humour is a somewhat strange combination. If you have the same opinion, our collection of funny love quotes will prove you wrong. It will show you that sharing hilarious sayings about relationships, marriage, and a partner's behaviour with your significant other can bring more life to your relationship.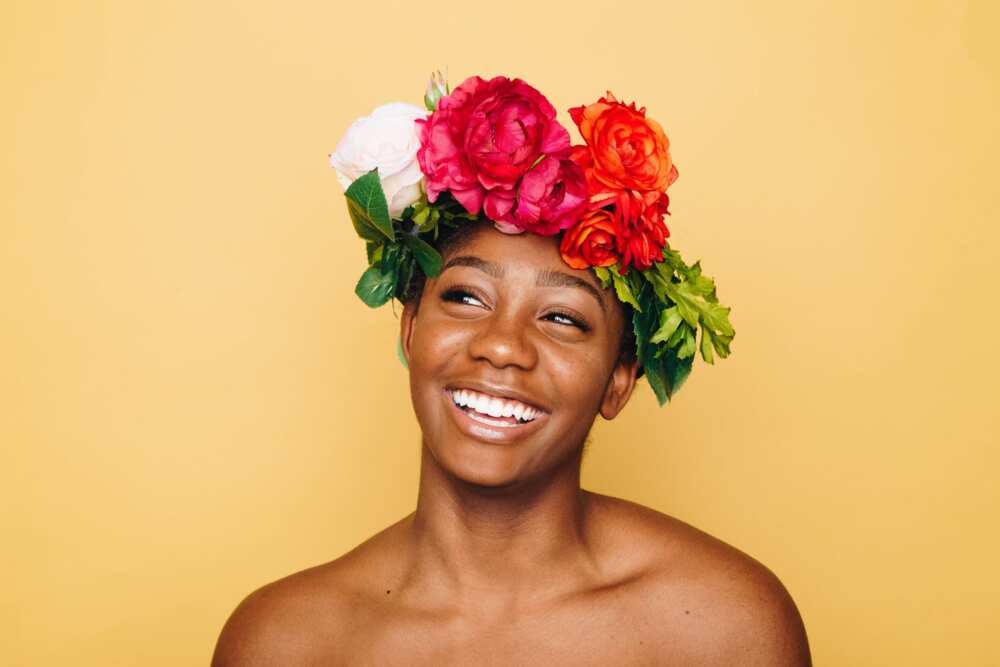 Do you agree that humour is the best cure for everything? If so, try sending some cheesy love quotes to your girlfriend or boyfriend.
Top funny love quotes
These sayings from famous people and the internet community will show you that you can make the simple three words 'I love you' become funny.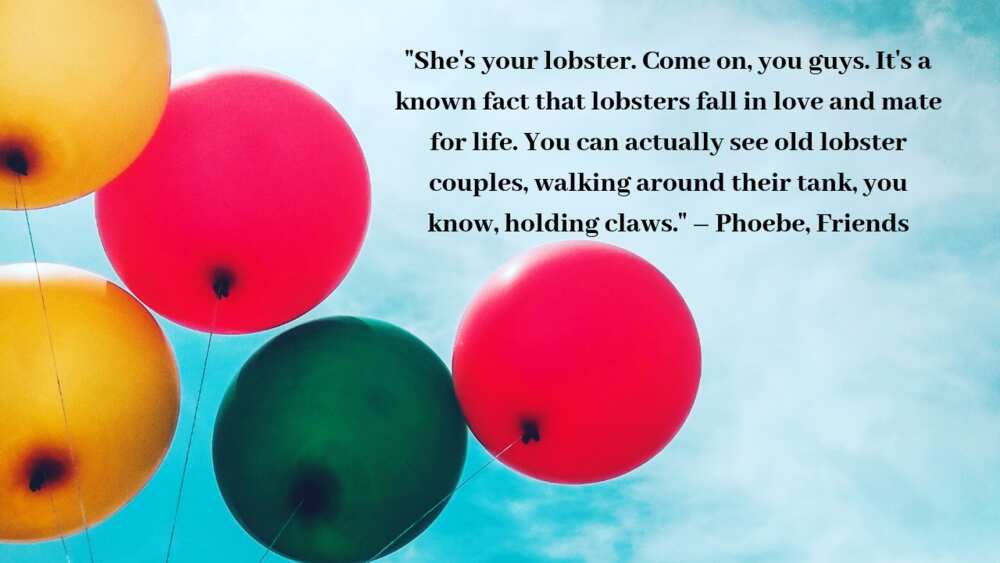 "Before you marry a person, you should first make them use a computer with slow Internet service to see who they really are." — Will Ferrell
"I may look like a potato now, but one day I'll turn into fries and you'll want me then." — Anonymous
"If you text 'I love you' to a person and the person writes back an emoji — no matter what that emoji is, they don't love you back." — Chelsea Peretti
"I want someone who will look at me the same way I look at chocolate cake." – Anonymous
"I love being married. It's so great to find one special person you want to annoy for the rest of your life." — Rita Rudner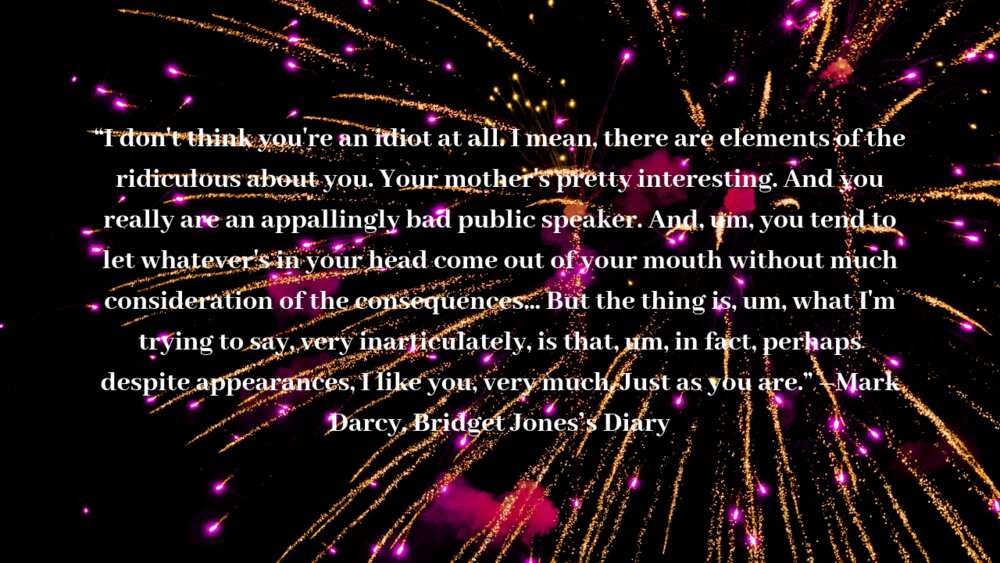 "I almost had a psychic girlfriend, but she left me before we met." – Steven Wright
"A kiss without a moustache is like an egg without salt." – Spanish Proverb
"Marrying a man is like buying something you've been admiring for a long time in a shop window. You may love it when you get it home, but it doesn't always go with everything else." – Jean Kerr
"Do you know why a previous relationship is called Ex? It's not the term for past. Ex is short for Expired." – Anonymous
"Gravitation is not responsible for people falling in love." – Albert Einstein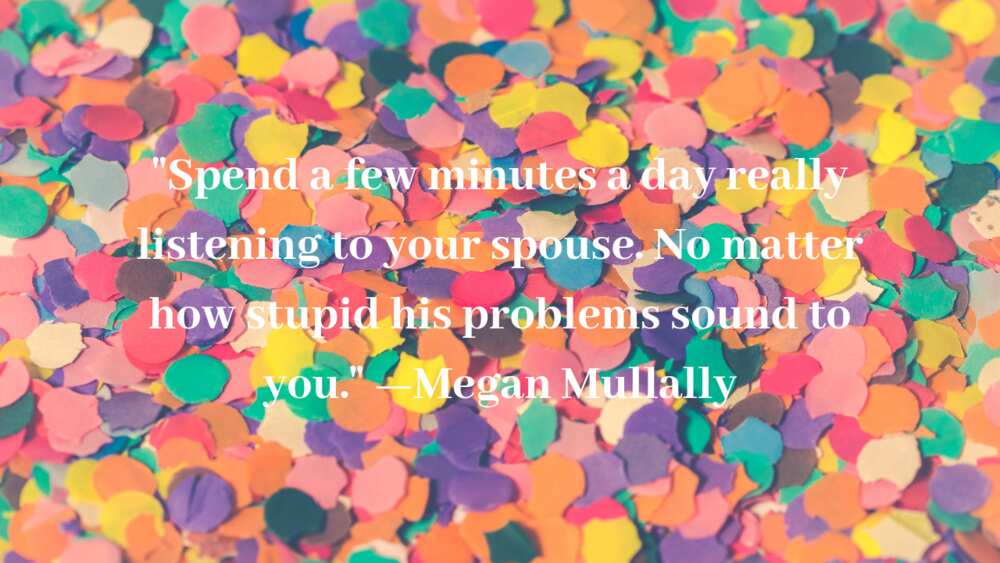 "When a boy gets jealous it's kinda cute. But when a girl gets jealous, World War 3 is about to start." – Anonymous
"I love you no matter what you do, but do you have to do so much of it?" – Jean Illsley Clarke
"I love you with all my belly. I would say heart, but my belly is bigger." – Anonymous
"I love you so much I'd fight a bear for you. Well not a grizzly bear because they have claws, and not a panda bear because they know Kung Fu. But a care bear, I'd definitely fight a care bear for you." – Anonymous
"Romantic love is mental illness. But it's a pleasurable one." – Fran Lebowitz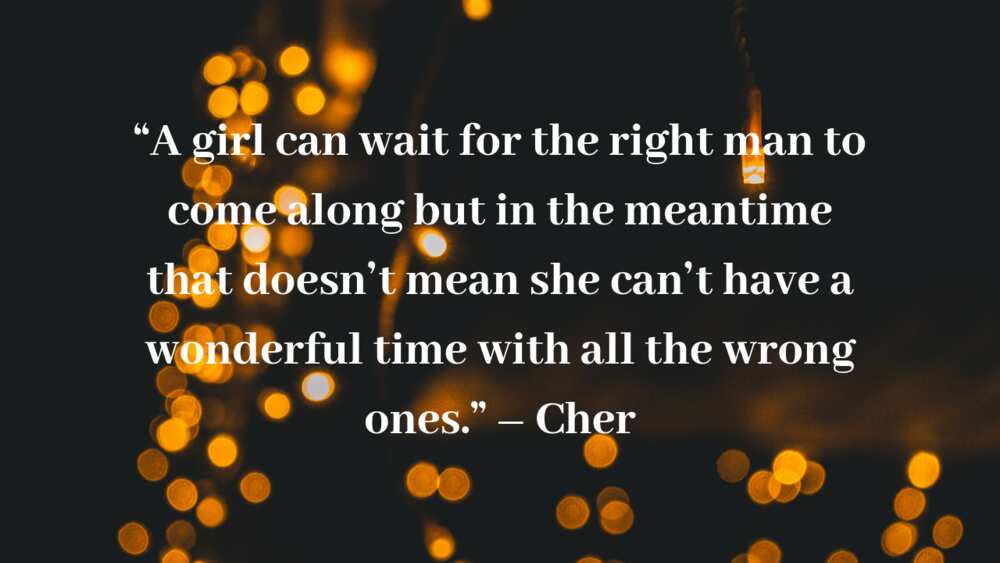 "Obviously, if I was serious about having a relationship with someone long-term, the last people I would introduce him to would be my family." – Chelsea Handler
"Relationships are like a walk in the park. Jurassic Park." – Anonymous
"As a man in a relationship, you have a choice: You can be right or you can be happy. " – Ralphie May
READ ALSO: 50 romantic soulmate quotes for her and him
"Grow old with me. Let's count each other's wrinkles as the years pass by. Let's see who losses all of the teeth and who will need the help of the walking stick first." – Anonymous
"Getting into a relationship may seem tempting, but so was getting on the Titanic and look what happened there." – Anonymous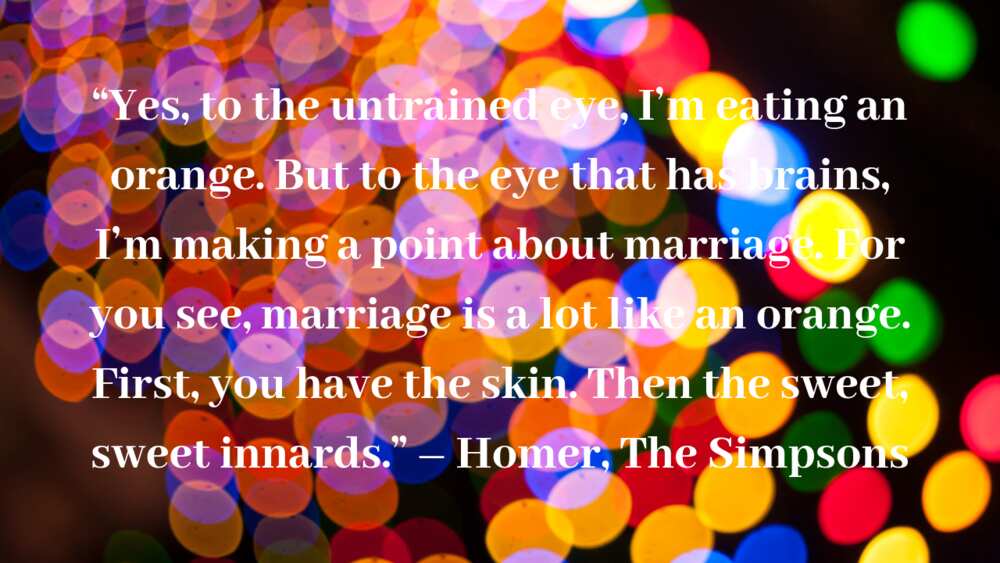 "I want to be the reason when you look down on your phone, you'll have this goofy smile in your face and jump up and down like a silly little girl, and then fall down a manhole." – Anonymous
"An archeologist is the best husband any woman can have; the older she gets, the more interested he is in her." – Agatha Christie
"Roses are red, violets are blue, I am lacking vitamin, vitamin U." – Anonymous
"Oh, my God. I'm in love with a beautiful woman who can quote Yoda." – The Big Bang Theory
"A man's main job is to protect his woman from her desire to "get bangs" every other month." – Dax Shepard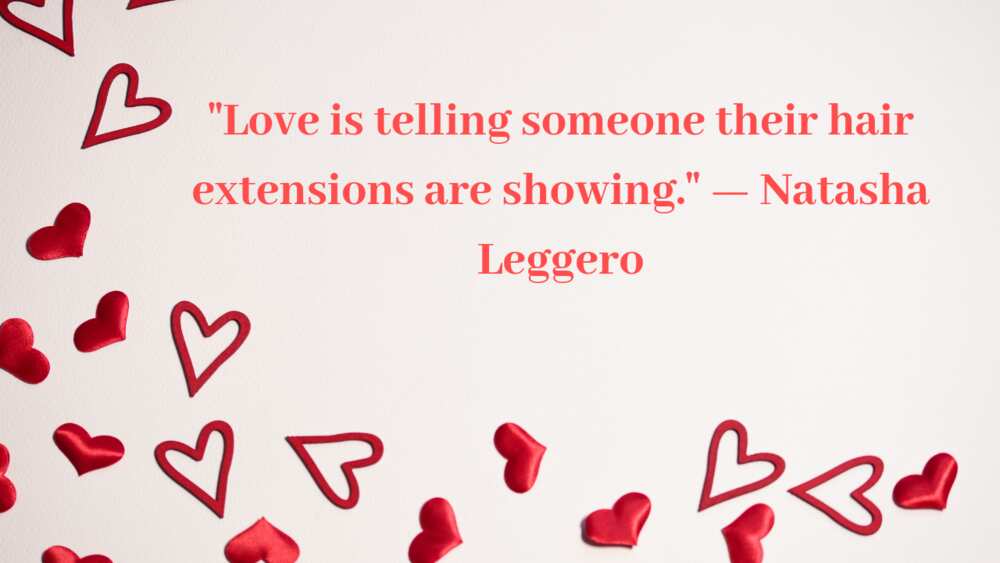 "The great question...which I have not been able to answer...is, 'What...does a woman want?'" – Sigmund Freud
"My wife is really sentimental. One Valentine's Day I gave her a ring and to this day she has never forgotten those three little words that were engraved inside — Made in Taiwan!" – Leopold Fetchner
"When a woman says "What?" It's not because she didn't hear you. She's giving you a chance to change what you said." – Anonymous
"The brain is the most outstanding organ. It works 24/7, 365 from birth until you fall in love." – Sophie Monroe
"Women might not be able to find their keys, hair ties, or shoes.. but they can remember something you said 8 months ago." – Anonymous
We hope that our collection of the best funny love quotes has put you in a cheerful frame of mind. Do not be afraid to send some of them to someone you love. We are sure this person will appreciate them as well.
READ ALSO: Funny questions to ask a girl to make her laugh
Source: Legit.ng