Smooth pick up lines that will help you win over your crush
Smooth pick up lines are a good way to win someone over when you are trying to get yourself a date. They are often used as a light-hearted method of starting a conversation, to avoid the initial awkwardness. Here are some really smooth pick up lines which you can use in everyday life.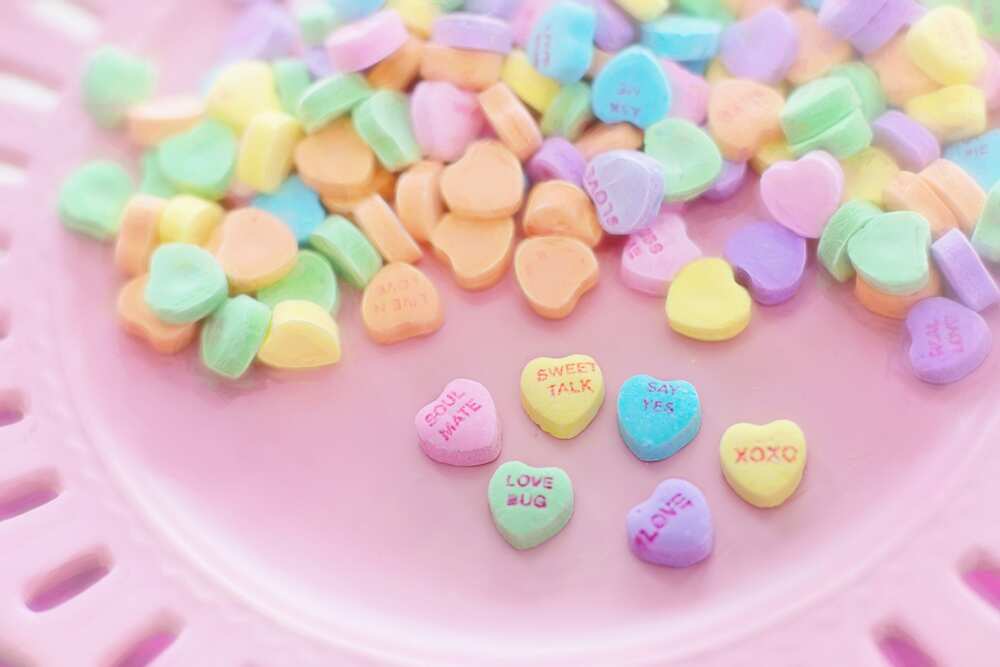 Sometimes, it may be challenging to come up to a random stranger that you find attractive and start talking to them. It is the same on Tinder when you match with someone and have no idea how to start approaching them.
However, smooth pickup lines may help lighten the atmosphere and break the ice between you and the person.
Smooth pick up lines for her
Girls may be difficult to approach or start a conversation with, as there is always the fear of rejection. These smooth pick up lines for girls will help you attract their attention and stand out in their eyes.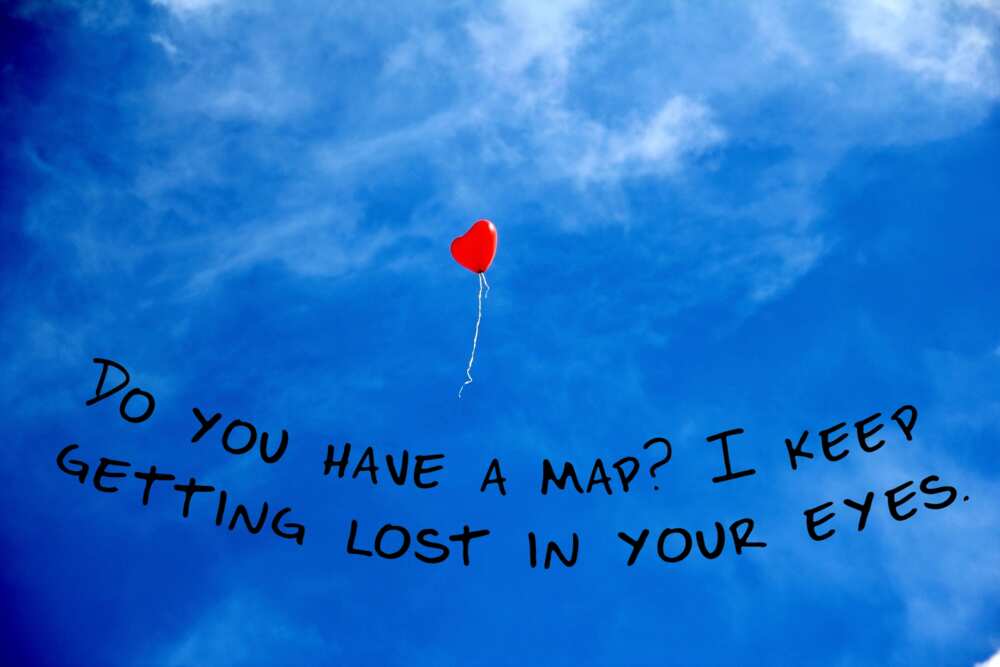 So there you are! I've been looking all over for the woman of my dreams.
Do you have a map? I keep getting lost in your eyes.
Are you a magician? Because every time I look at you, everyone else disappears!
Hey, you're pretty, and I'm cute. Together we'd be Pretty Cute.
I'm lost. Can you give me directions to your heart?
I think there must be something wrong with my eyes because I can't take them off you.
I seem to have lost my phone number. Can I have yours?
I was wondering if you had an extra heart. Mine was just stolen.
I may not be a genie, but I can make your dreams come true.
I'd say God Bless you, but it looks like he already did.
Smooth pick up lines for him
Guys like being approached by someone who has a way with words. Naturally, using some of these smooth lines for guys may impress them.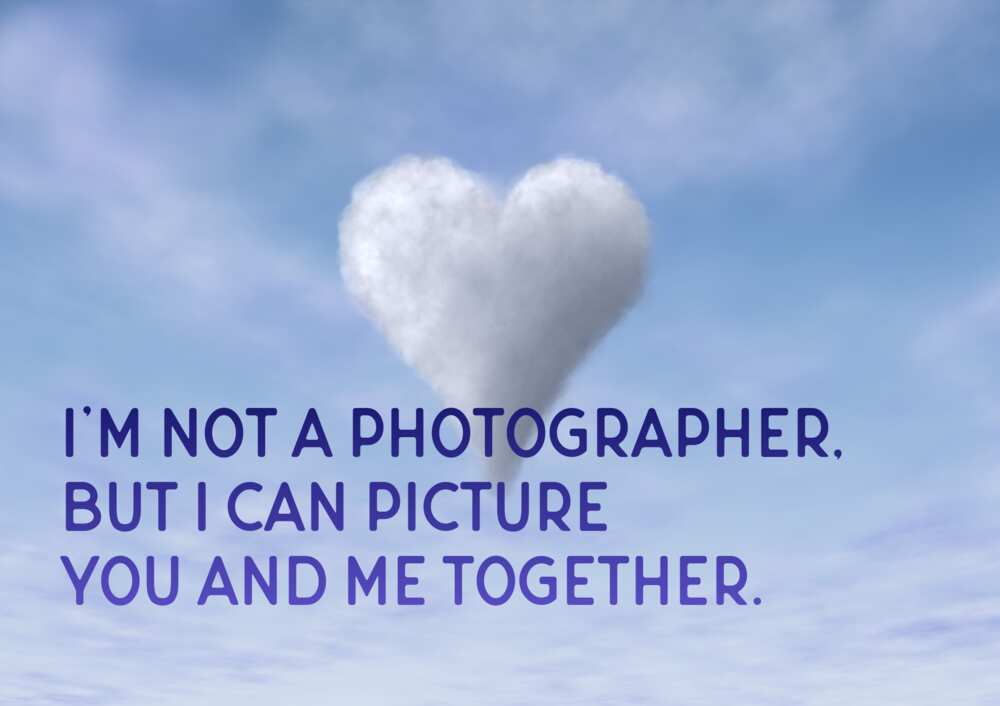 Do you play soccer? Because you're a keeper!
Do you have a sunburn, or are you always this hot?
Did you just come out of the oven? Because you're hot.
I'm not a photographer, but I can picture you and me together.
Let me tie your shoes, cause I don't want you falling for anyone else.
So tell me: how does it feel to look so great?
I would take you to the movies, but they don't allow snacks.
We're not socks, but I think we'd make a great pair.
You look familiar, didn't we take a class together? I could've sworn we had chemistry.
Are you a bank loan? Because you got my interest.
Romantic pick up lines
Some conversation openers are a good way to secure an "aww" reaction because they are so sweet and romantic. There is a chance that the person will appreciate your touching approach.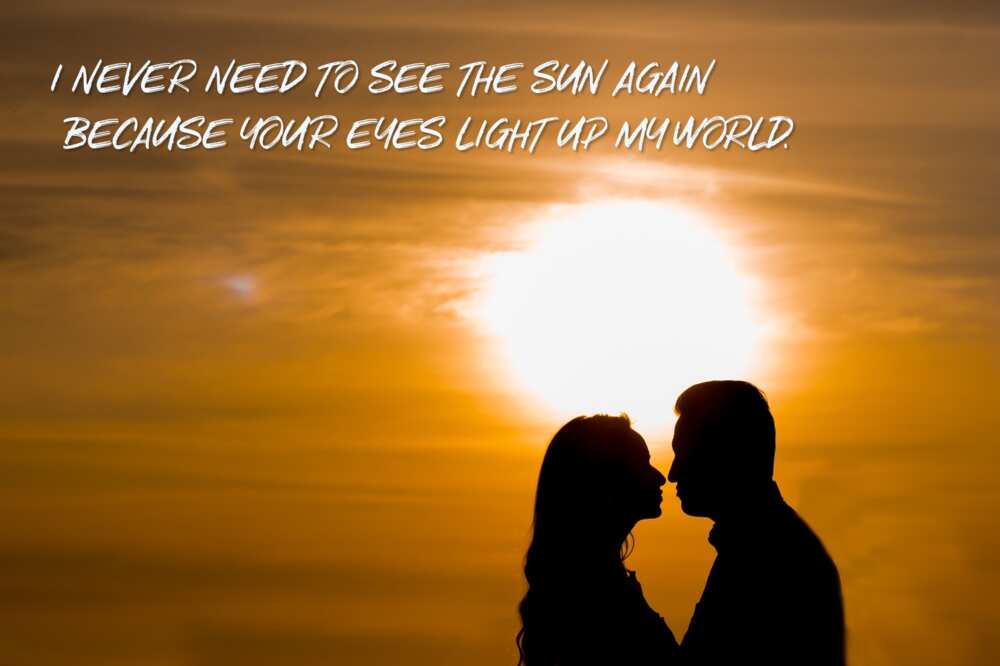 I never need to see the sun again because your eyes light up my world.
My love for you is like dividing by zero– it cannot be defined.
If nothing lasts forever, will you be my nothing?
What time do you have to be back in heaven?
See these keys? I wish I had the one to your heart.
Life without you would be like a broken pencil… pointless.
I don't know which is prettier today, the water, the sky or your eyes.
What are you doing for the rest of your life? Because I want to spend it with you.
If beauty were time, you'd be an eternity.
Someone should call the police because you just stole my heart!
Dirty pick up lines
Some lines that you can say are rather suggestive and provocative. It is recommended to use them with people who are not complete strangers and have shown interest in you previously, in order to avoid awkward situations.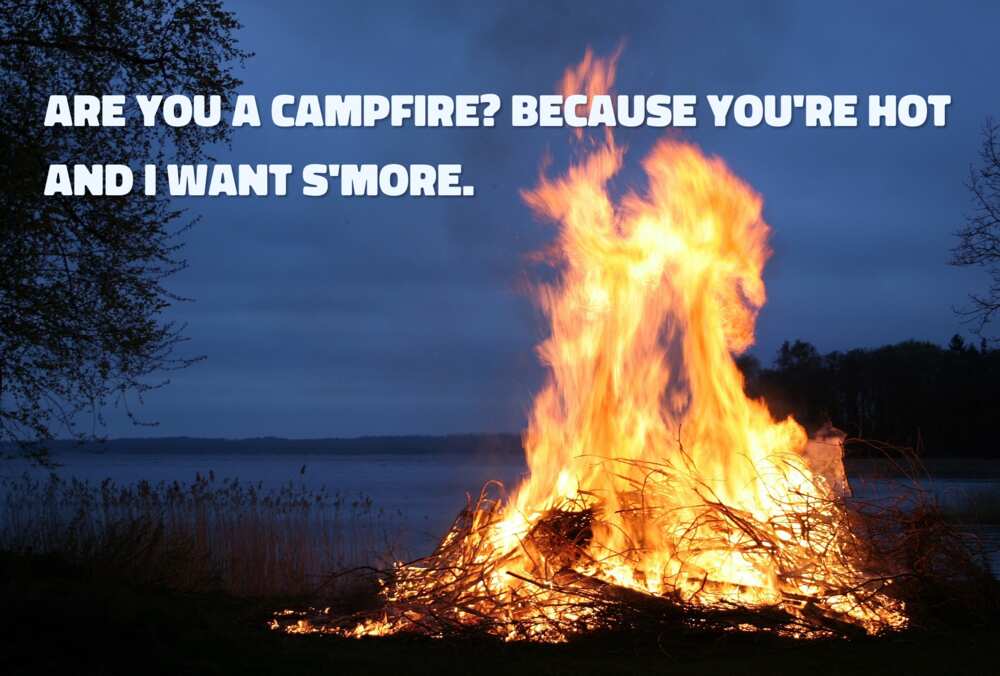 Are you a lion? Because I can see you lion in my bed tonight.
Are you a light switch? Because you really turn me on.
I was told I have a Vitamin D deficiency. Could you help me?
It must be Christmas because I can't wait to unwrap your package.
Are you a campfire? Because you're hot and I want s'more.
Dinner first, or can we go straight for dessert?
Are you my homework? Because I'm not doing you, but I definitely should be.
I'm on top of things. Would you like to be one of them?
I may not go down in history, but I'll go down on you.
That sweater looks amazing on you. I bet I would too!
Smoothest pickup lines for every situation
These openers can be used at any time in a social situation or on a dating app. They are witty and creative, so you have the chance to impress your special someone if you use one of them.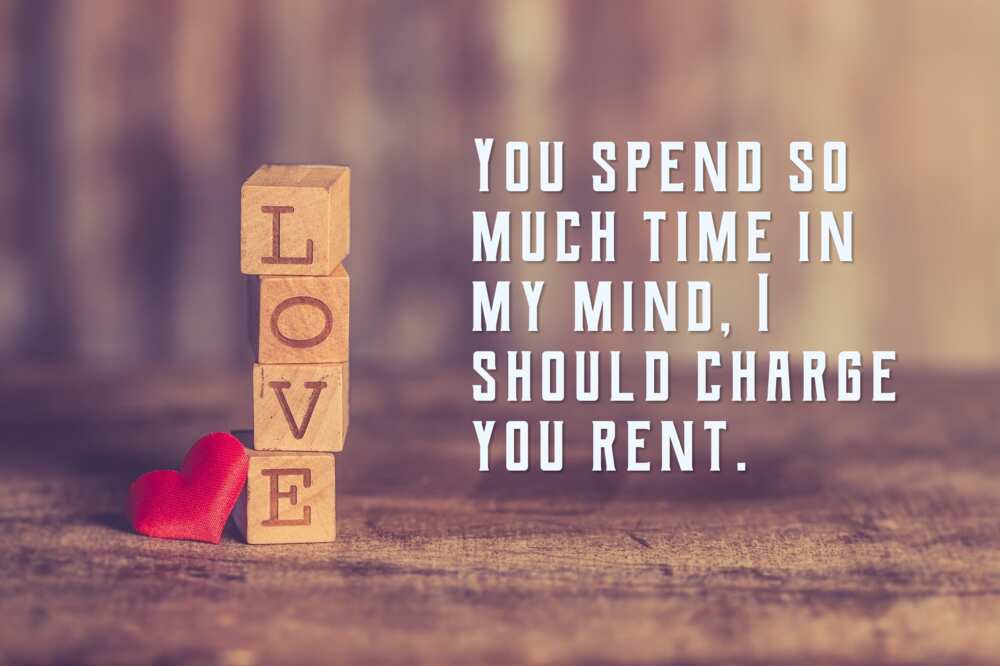 I'd never play hide and seek with you because someone like you is impossible to find.
I am going to complain to Spotify about you not being this week's hottest single.
There's only one thing I want to change about you - your last name.
Can I follow you? Because my mom told me to follow my dreams.
Even if there wasn't any gravity on earth, I would still fall for you!
Was your father an alien? Because there's no one else like you on Earth!
If kisses were snowflakes, I'd send you a blizzard.
Kissing is a language of love. So how about a conversation?
You spend so much time in my mind, I should charge you rent.
Are you sure you're not a parking ticket? Because you've got fine written all over you.
How do you get someone's attention?
Of course, simply using a flirty line will not work if you do not possess other attractive qualities, such as confidence and charisma. Here is how to get the person's interest, so they are intrigued and want to get to know you better.
Be a little mysterious and do not spill your entire life story straight away.
Use body language – keep an open posture, make eye contact, and smile.
Maintain good hygiene and sense of style.
Go out together with friends to gain their support and feel more confident.
Find some topics to talk about so you can find common ground.
Be your authentic self, and do not pretend to be someone you are not.
Here are some tips for successful communication on dating apps:
Address them by their name.
Ask them a question about something you see in their profile.
Compliment them genuinely, preferably on something that is not their appearance.
Ask them about their life and hobbies.
Ask them what they are looking for, so you are on the same page.
Keep asking questions if you feel like the conversation is dying.
Naturally, you should remember – if the person is not showing interest in you or is feeling uncomfortable, it is better to leave them alone. They might have a reason why they do not vibe with you, and in many cases, it has nothing to do with you not being attractive enough.
Hopefully, these smooth pick up lines will help you impress your crush and win over their heart.
READ ALSO: 20 best ways of how to slide into DMs of your crush like a pro
Legit.ng reported about the most effective ways to slide into the DMs of someone you like. It is not always as simple as it seems, as insecurities and fears can get in your way.
With some confidence and positive attitude, it is entirely possible to start a conversation with your crush in direct messages. You should only remember some important rules of communication, which you can find in the article.
Source: Legit.ng