One of the leading fashion events of the year, Met Gala 2019, took place on Monday, May 6, in New York. This year, the organizers of the event chose the theme Camp: Notes on Fashion. What does this style mean and how did celebrities surprise us this year?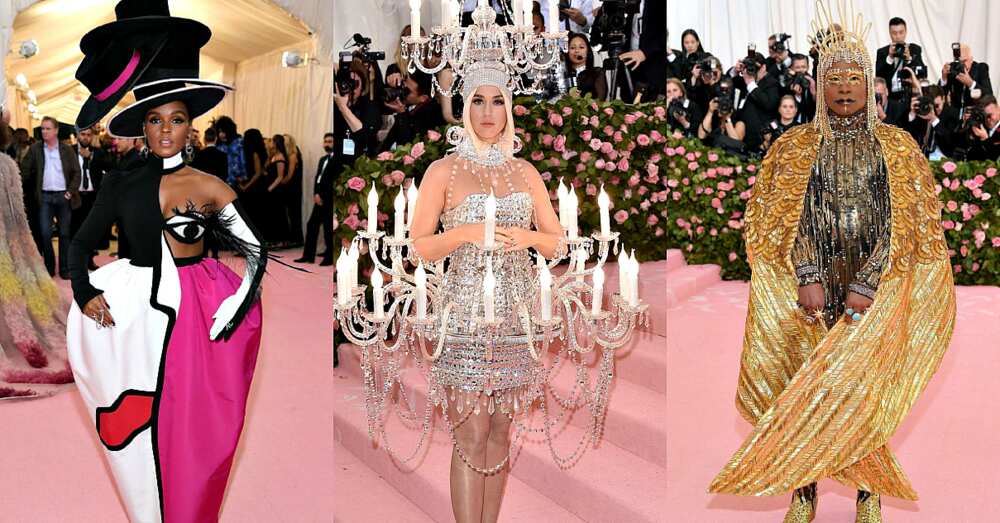 Some of the celebrities overdid it and looked weird. Here are the top-20 'campiest' looks.
Met Gala 2019
What is the Met Gala? The Costume Institute Gala at New York's Metropolitan Museum of Art is the biggest event, and it is famous for its exclusive guest list, expensive tickets, as well as bright and unforgettable outfits. Every year, a new theme is chosen for the event. This year, the theme was Camp: Notes on Fashion. The theme is dedicated to the upcoming exhibition inspired by American political activist and writer Susan Sontag, and her 1964 essay, Notes on Camp.
The term camp is characterized by heightened theatricality, love of artificiality, exaggeration to the grotesque, a certain vulgarity, aestheticism, a combination of play and seriousness. Met Gala outfits were based on irony, humour, parody, fiction and theatricality.
The event was chaired by Anna Wintour, Editor-in-Chief of Vogue US. Such an event usually attracts public figures as co-chairs and hosts. It was co-chaired by famous personalities like Lady Gaga, Alessandro Michele, Harry Styles and Serena Williams.
20. Kendall Jenner
Kendall Jenner appeared in a bright orange dress from Versace. Transparent fabric and decorated with embroidery of crystals and feathers, it made her look like a bird on fire.
19. Kim Kardashian-West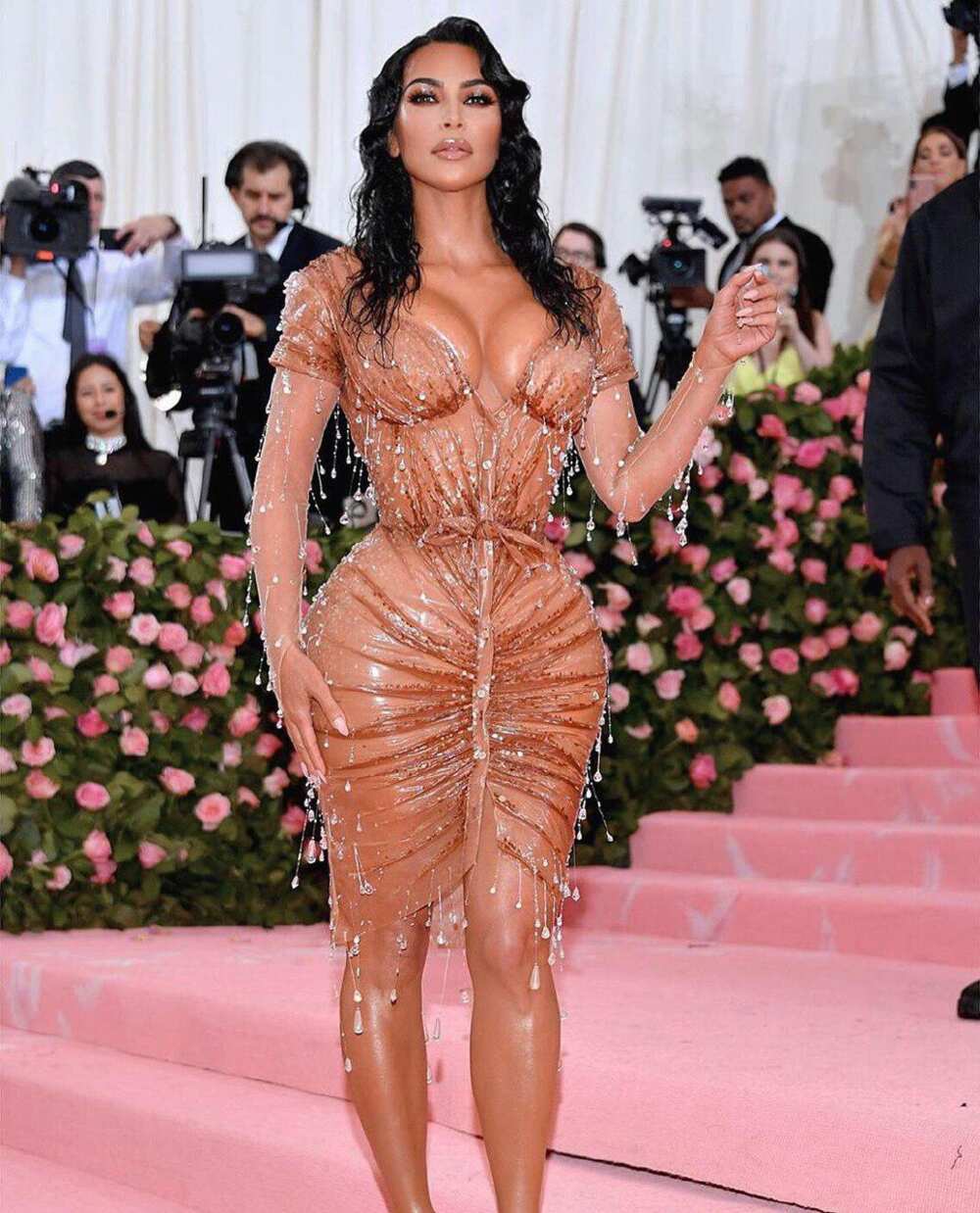 Kim Kardashian-West came to the ball in a luxurious outfit from her longtime friend Thierry Mugler. The body-colour dress with a lot of sequins and pendants hugged her curvy body.
18. Hailee Steinfeld
Hailee Steinfeld, who appeared in front of the press in a dress with the phrase No photos, please! was a real sensation.
17. Winnie Harlow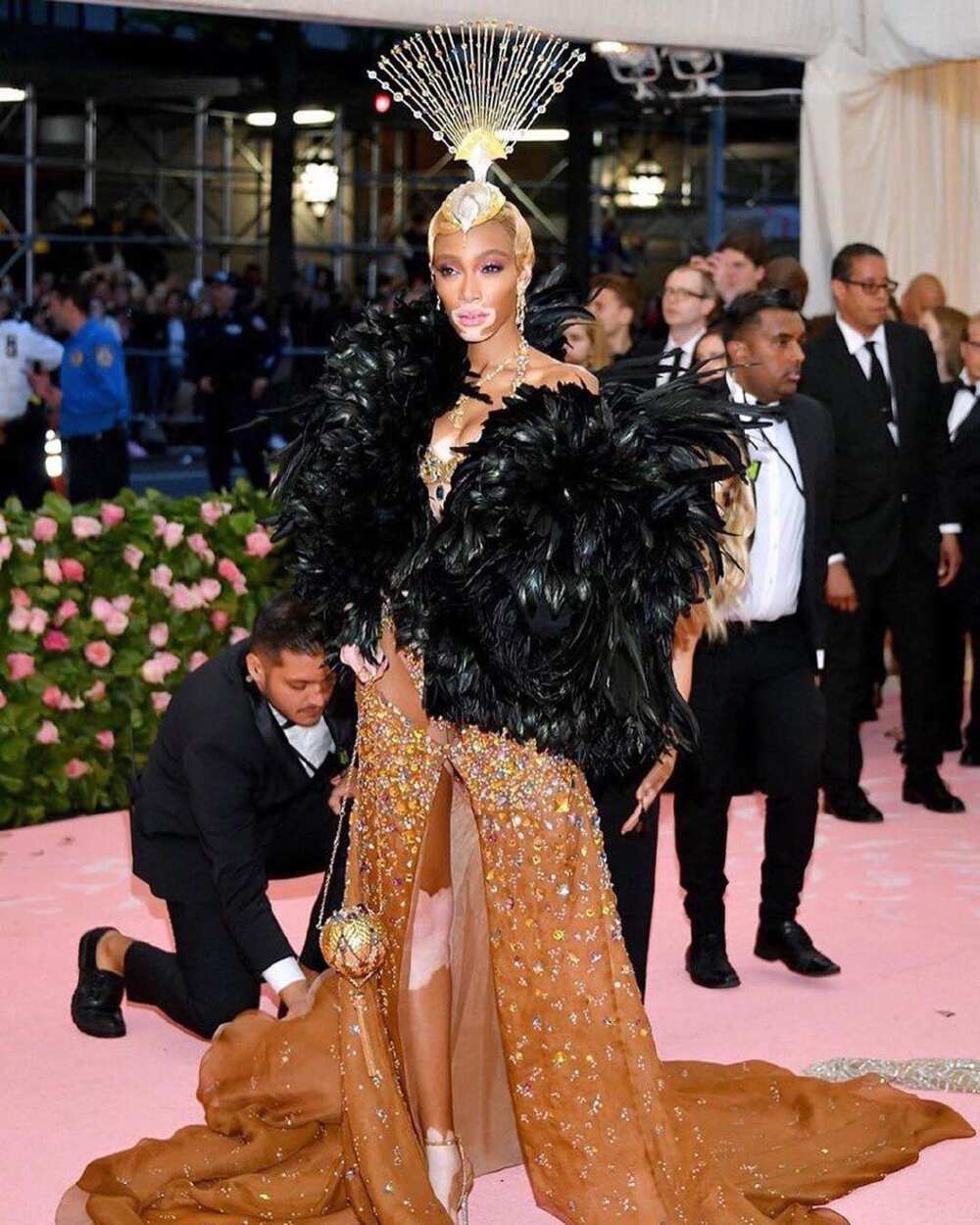 Winnie Harlow looked like a chandelier. Her dress was golden in colour, adorned with precious stones. The model complemented her look with a hat in the form of a bead and a black feather cape.
16. Florence Welch
Florence Welch looked like a fairytale hero. The violet dress from Gucci and silver-winged cape looked amazing.
15. Donatella Versace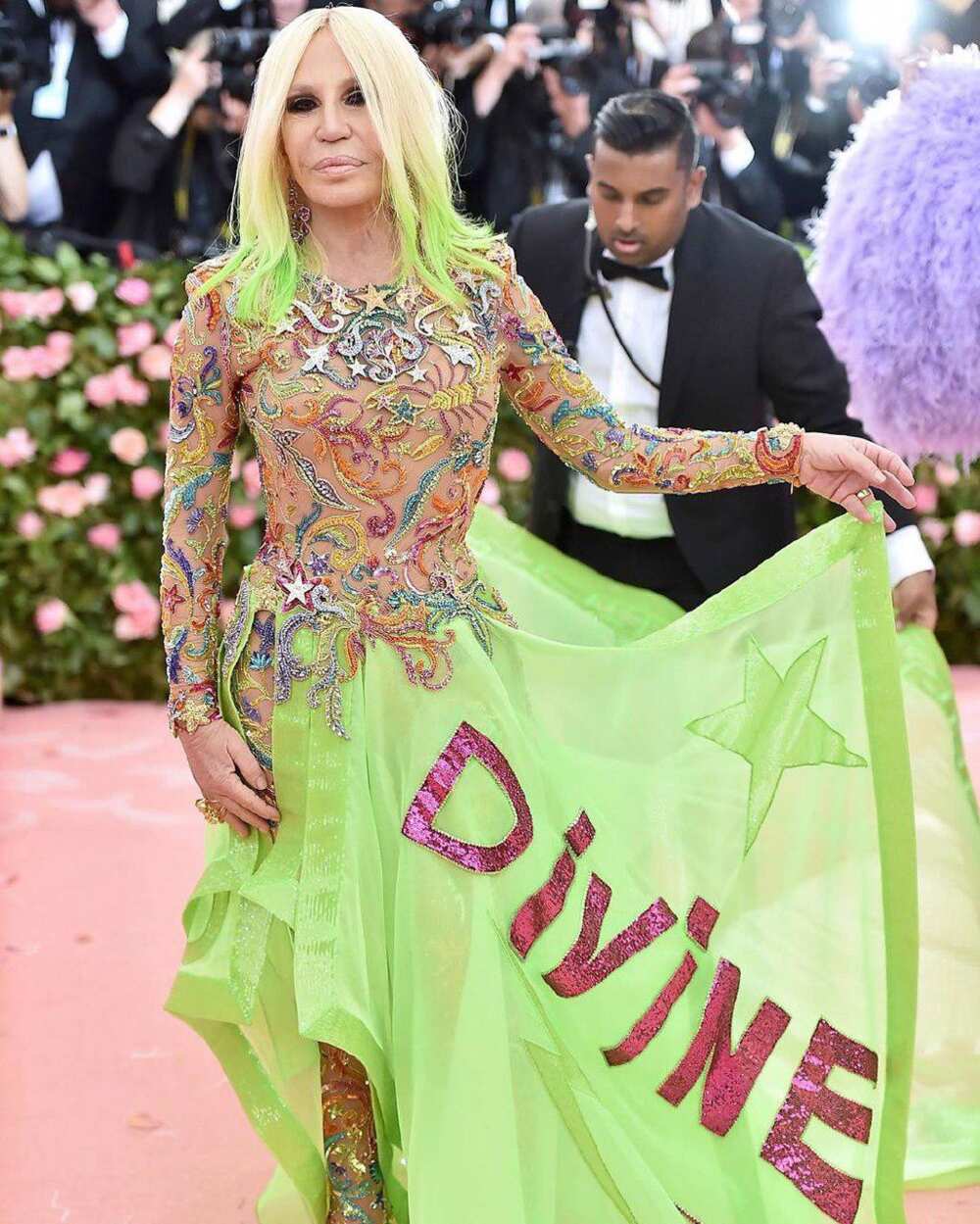 Donatella Versace climbed the steps of the Metropolitan Museum in a dress with the word "Divine" laid out in sequins.
14. Tracey Ellis Ross
Tracey Ellis Ross decided to decorate her Moschino outfit with a golden frame which made her image memorable.
READ ALSO: Met Gala: 6 celebrities that perfected the 2019 theme (photos)
13. Celine Dion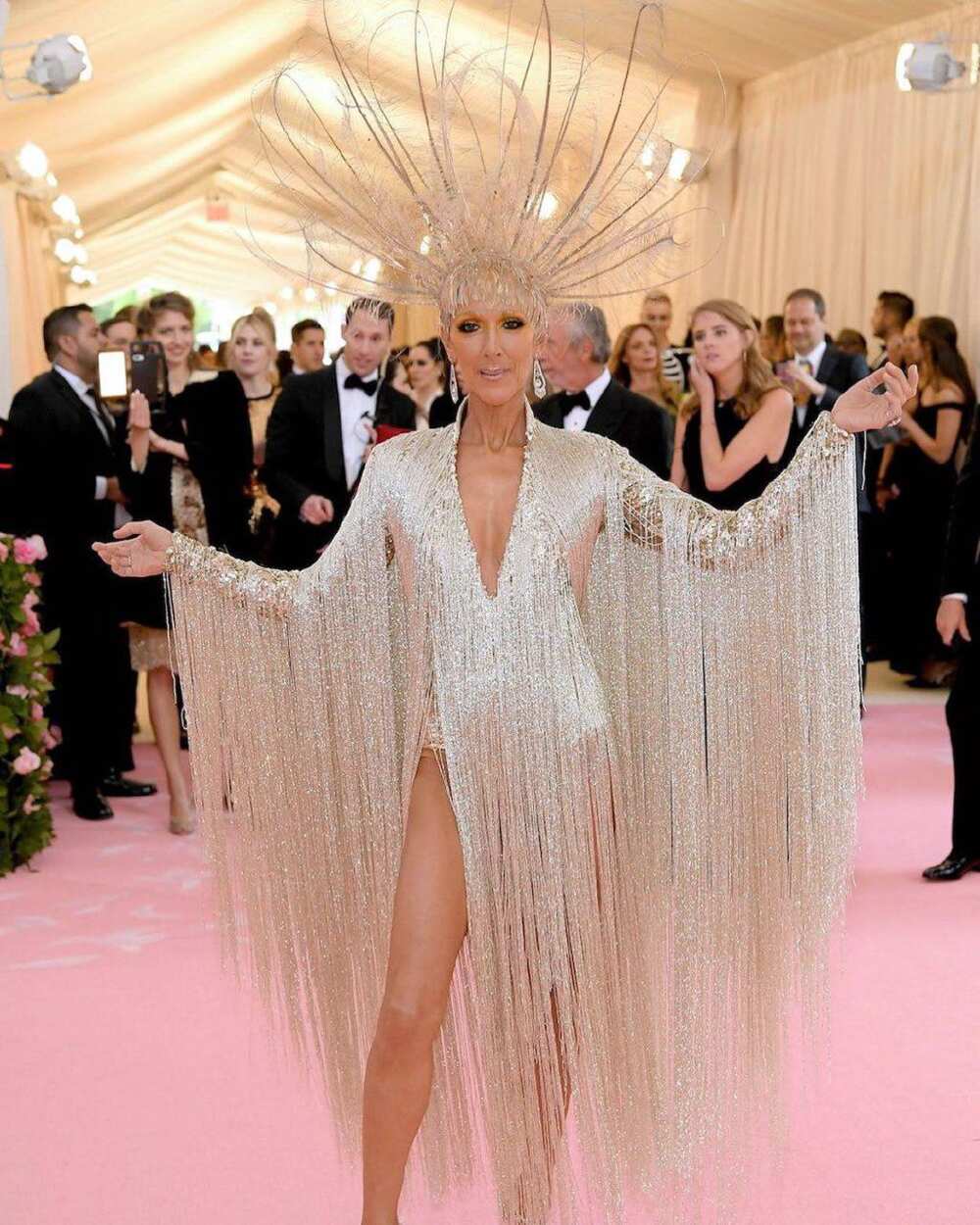 Celine Dion wore an Oscar de la Renta dress with a feather hat.
12. Lupita Nyong'o
Lupita Nyong'o appeared in a pink star outfit with rainbow shoulders. Her hairstyle looks gorgeous.
11. Jared Leto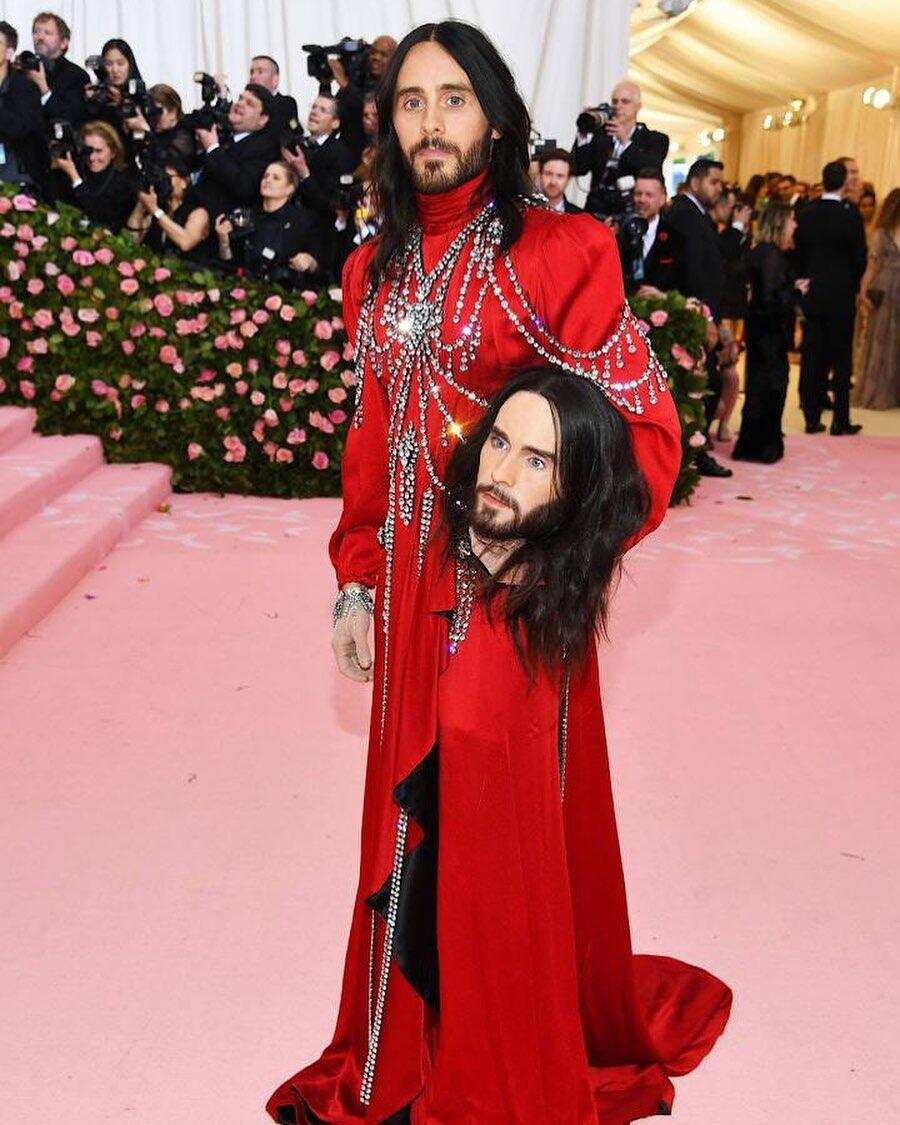 Jared Leto was in a royal red outfit which was decorated with precious stones. The most significant decoration was a life-sized replica of his head.
10. Cara Delevingne
An almost transparent dress with multicoloured stripes was what Cara wore. The headdress was her main decoration because various items such as candy teeth, eyes and banana peel were included in it.
9. Emily Ratajkowski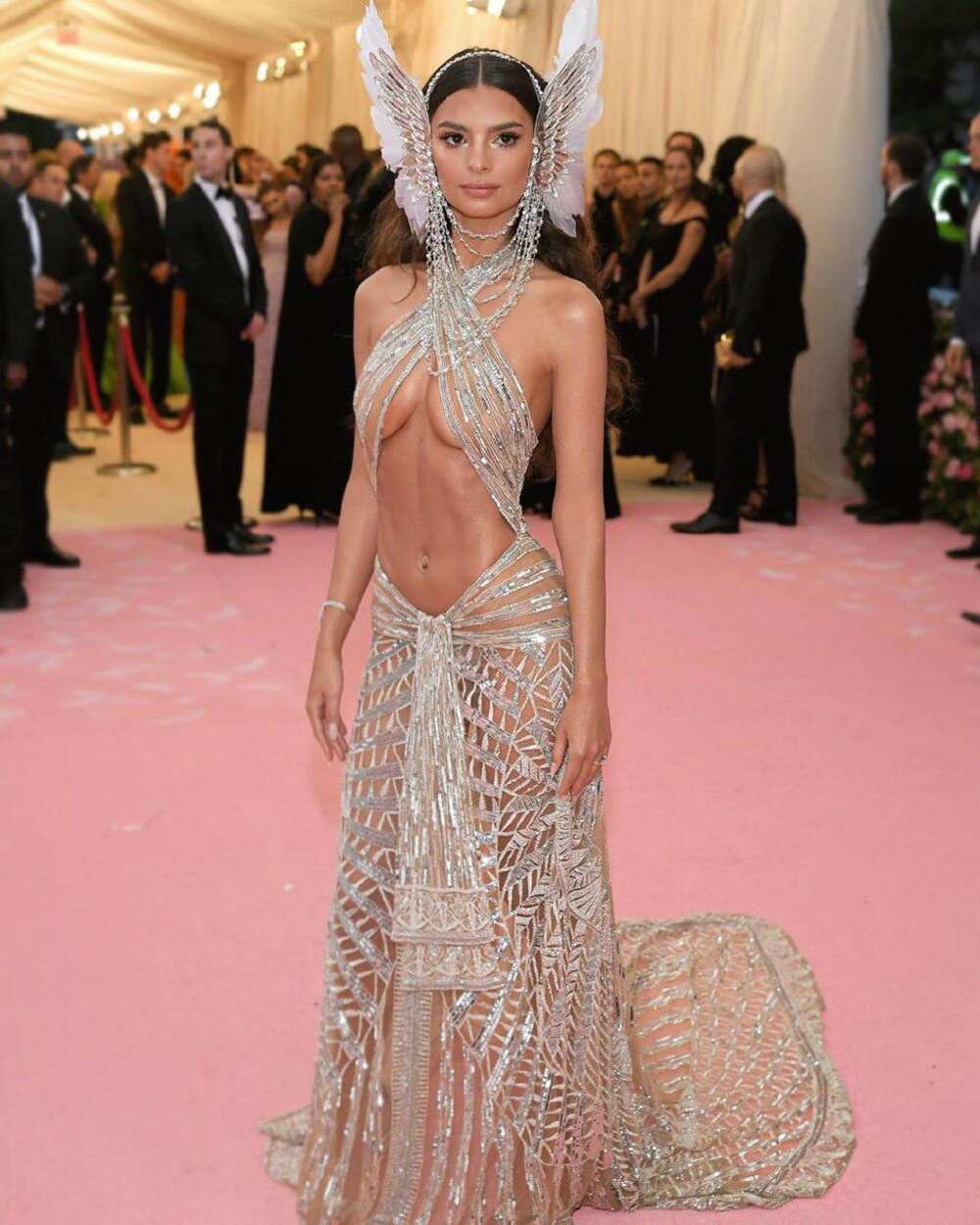 Emily chose a dress in the style of ancient Egypt.
8. Priyanka Chopra
Priyanka Chopra chose an outfit that depicted Hatter from Alice in Wonderland. Her pale makeup and fluffy hair just tipped the scales in favour of the literary character, and the costume from Dior made her incredible.
7. Ezra Miller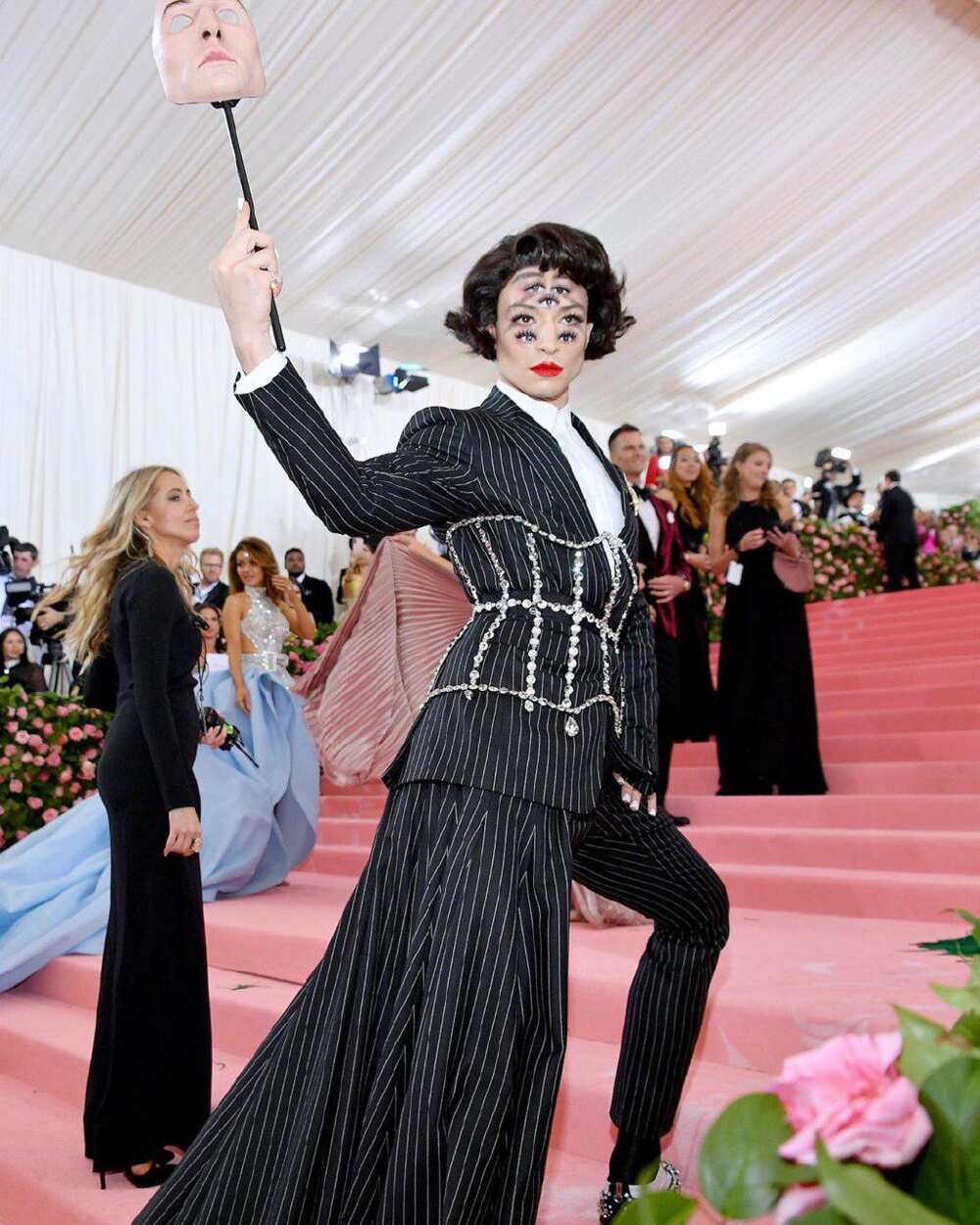 Ezra Miller came out in a Burberry costume with a couture body kit, with a female wig with whipped curls and with hypnotic make-up from Mimi Choi, who painted seven eyes of the Fantastic Beasts. It is hard to know which ones are real!
6. Gigi Hadid
Gigi Hadid came to the ball in the form of a fantastic Catwoman. The silver overalls and capes from Michael Kors also made her look like an alien creature..
5. Cardi B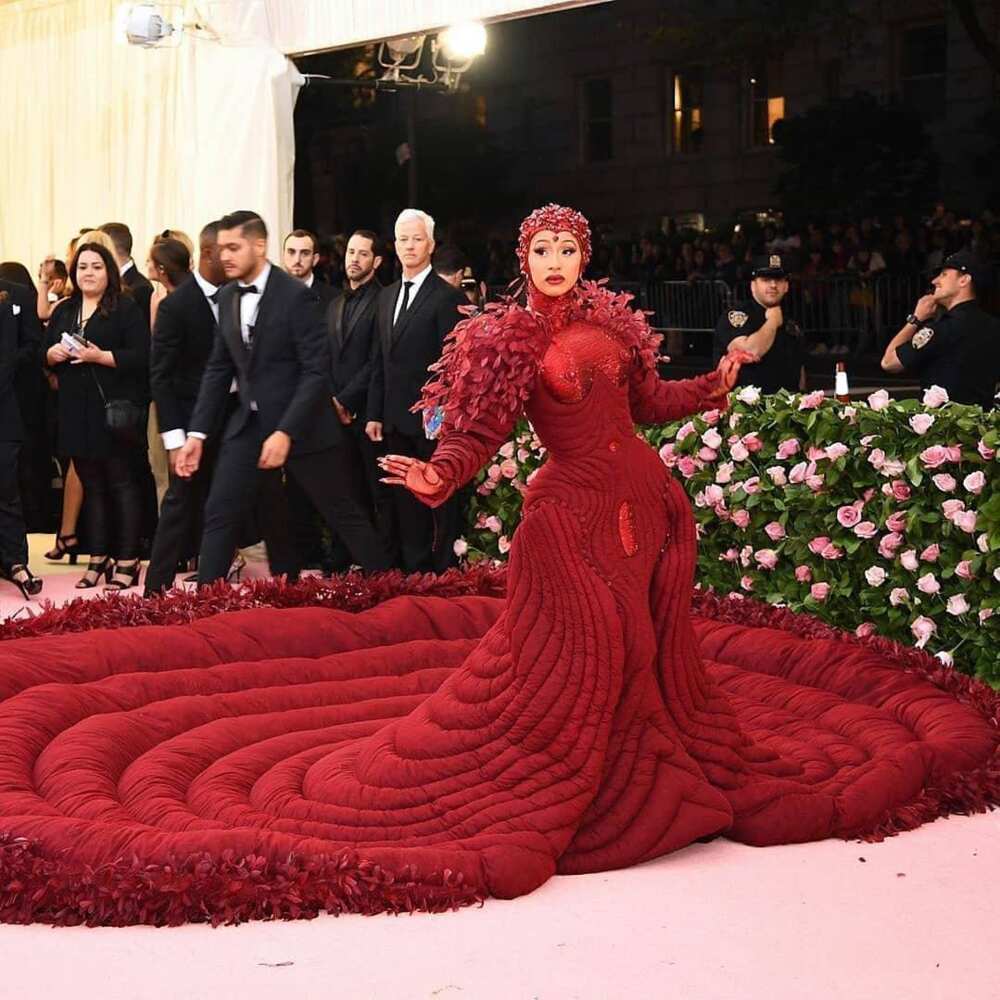 The singer chose a bloody dress with a massive hem from Thom Browne. This outfit resembles a spreading volcanic lava.
4. Lady Gaga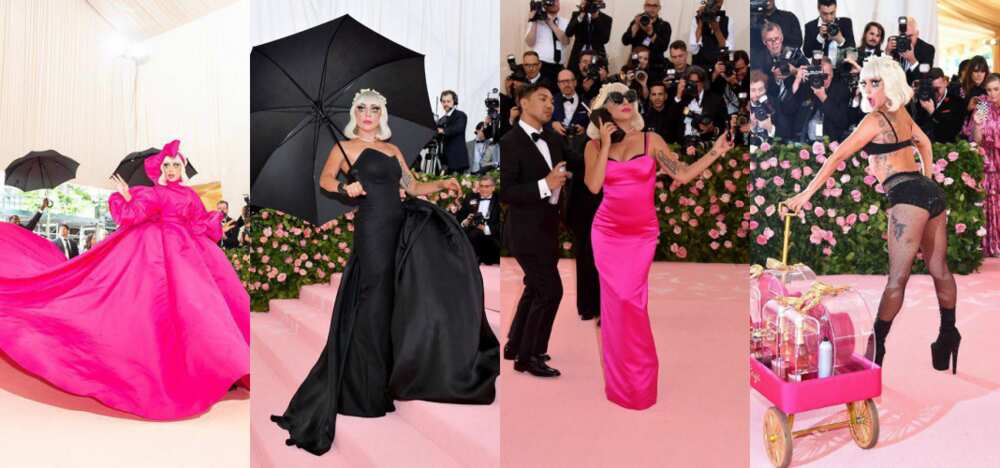 Lady Gaga dressed directly on the red carpet, showing the public four looks from Brandon Maxwell, including a pink dress with a bag in the form of giant phone and a set of underwear along with a champagne wagon.
3. Janelle Monae
Here is another association with the Hatter, but here it appears only because of the abundance of hats on the head of the singer. The unusual design of the dress, the colour scheme and the remarkable eye on the chest were totally note-worthy.
2. Billy Porter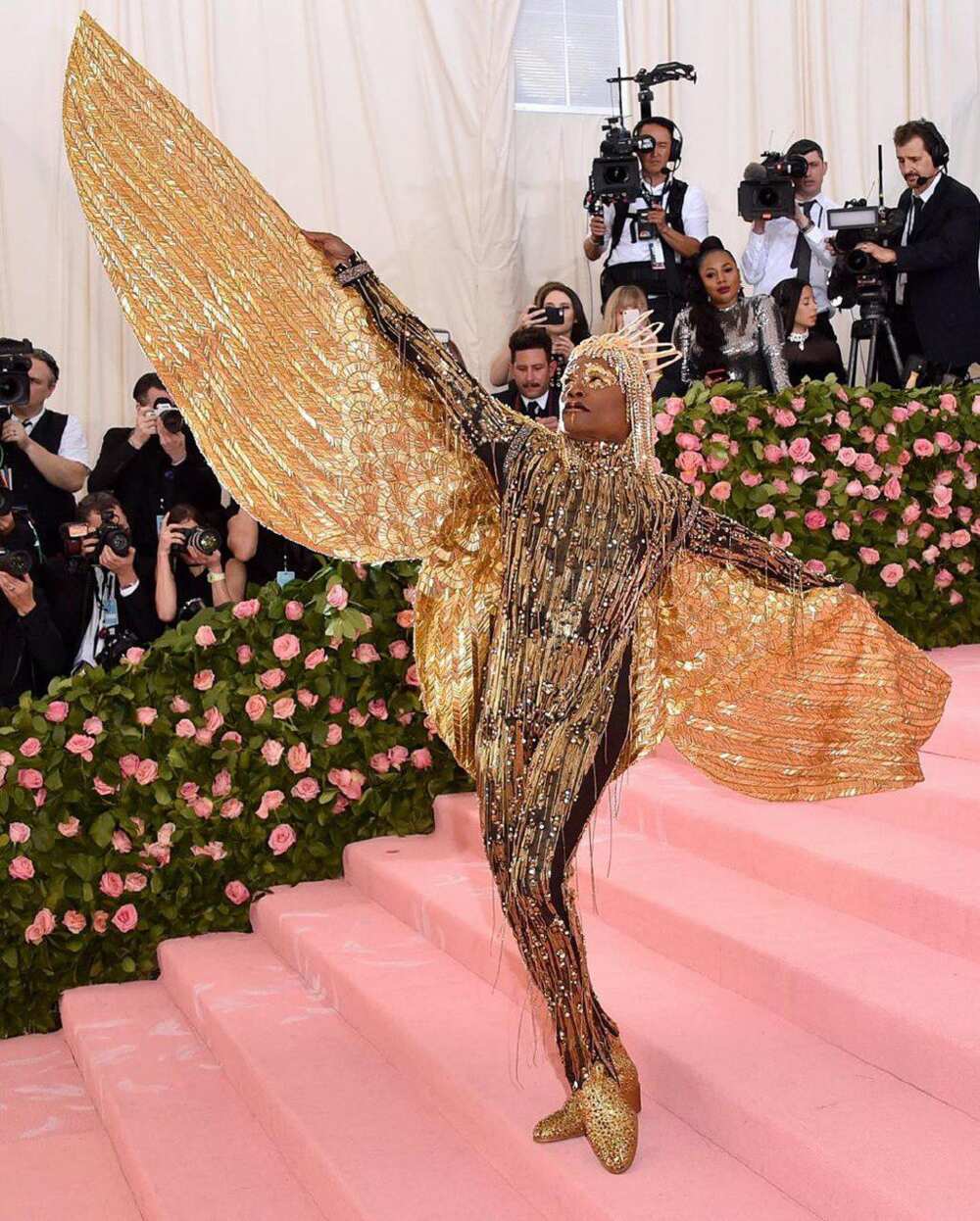 Billy Porter appeared as the Egyptian goddess Isis on a rendered throne and with golden wings.
1. Katy Perry
First place goes to singer Katy Perry. Her outfit, which directly resembles a crystal chandelier, looks luxurious. It was designed by Jeremy Scott for Moschino. This dress has become the most unusual and 'campiest' among other looks.
It is difficult to say that Met Gala is just a fashion event, it is something much more. This is a flight of fancy, a flourishing of imagination, a lot of bright colours and the most incredible designs. This event shakes up the whole fashion world every year.
READ ALSO: Met Gala 2019: Stunning looks of celebrities on the red carpet