30 lemonade braids hairstyles you should definitely try this year
Could Beyonce ever imagine that one day her lemonade braids would become a popular hair trend? Cornrows are back again, but this time they impress more than ever.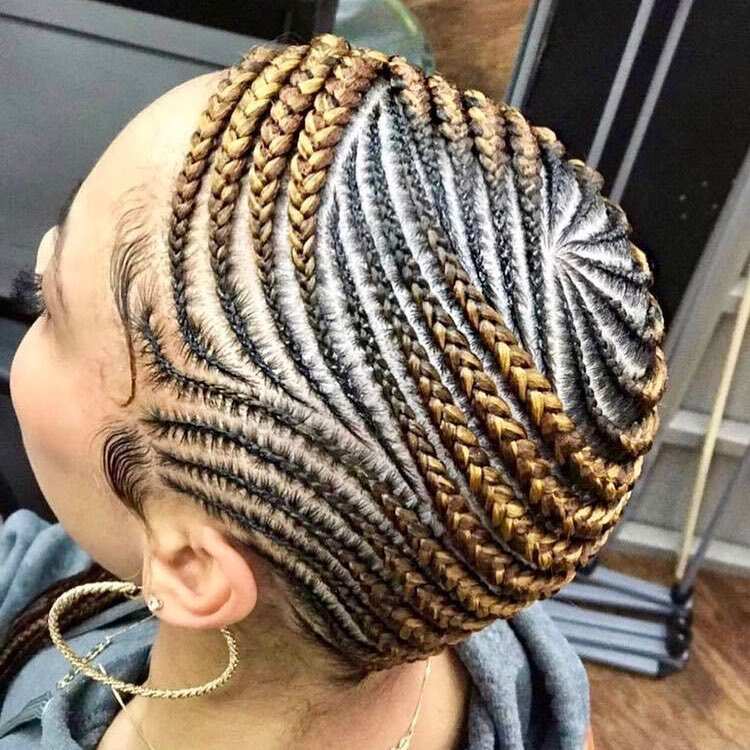 Braids are part of the culture in many countries. Big, small, with Kanekalon and beads they keep on conquering the world. Even celebrities cannot resist such a temptation and adorn their heads with thousands of little plaits.
Have you already tried this cool hairstyle?
Lemonade braids hairstyles 202
There are so many styles to weave one's locks. However, we have found cornrow braids styles ideas you will certainly like to copy.
1. Beyonce lemonade braids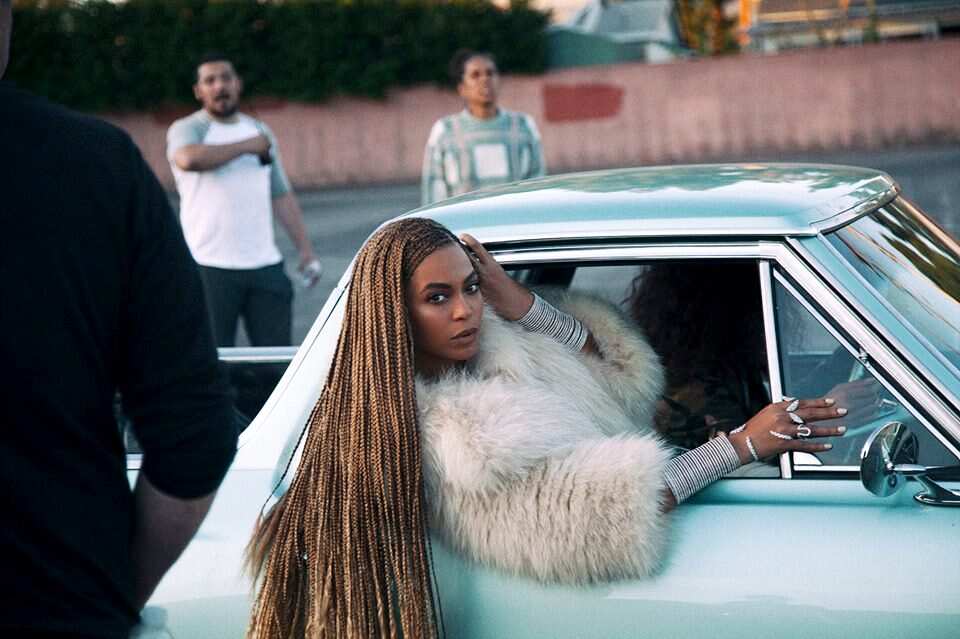 People regard Beyonce braids as one of the most iconic ones. She has already done plenty of experiments with her locks. However, only those tiny golden interlaced strands made her fans obsessed.
2. Lemonade braids hairstyles with beads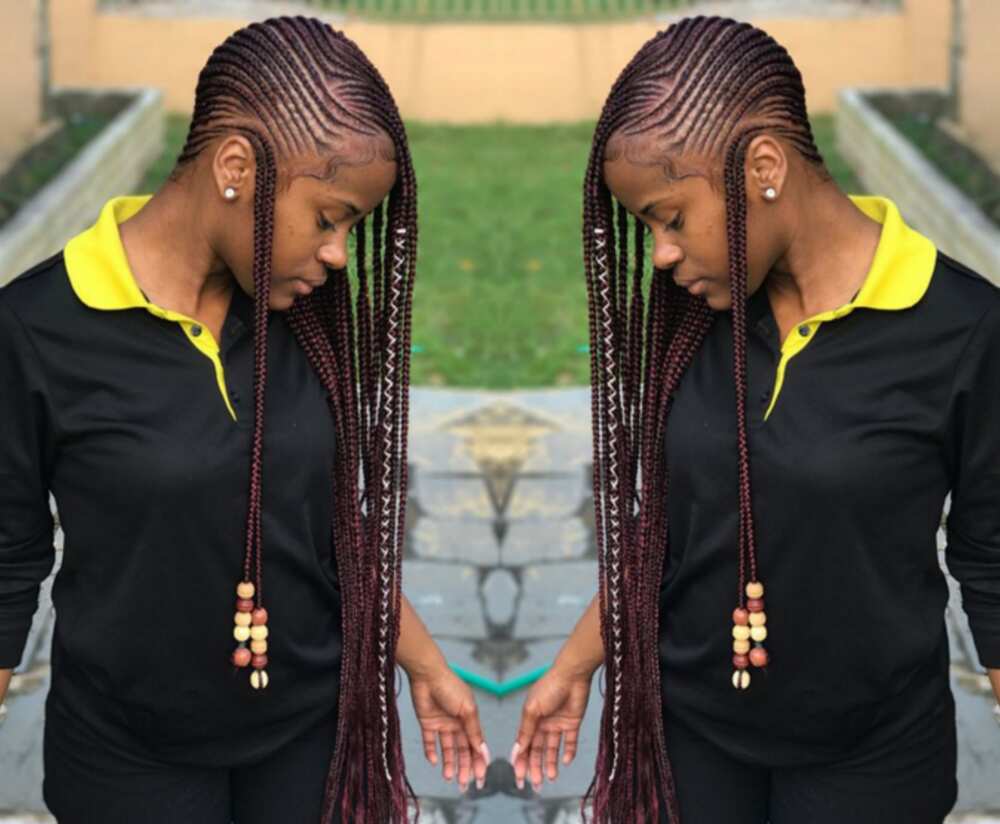 It seems that this style limits the variety of ideas to take. However, things go quite the other way: you can twist the beaded patterns in any possible way to create a particular bohemian style.
3. Lemonade twists with cuffs
Why not try adding a few small accessories of different colours to your cute plaits? The result will be stylish and perfect for any celebration.
4. Classic lemonade braids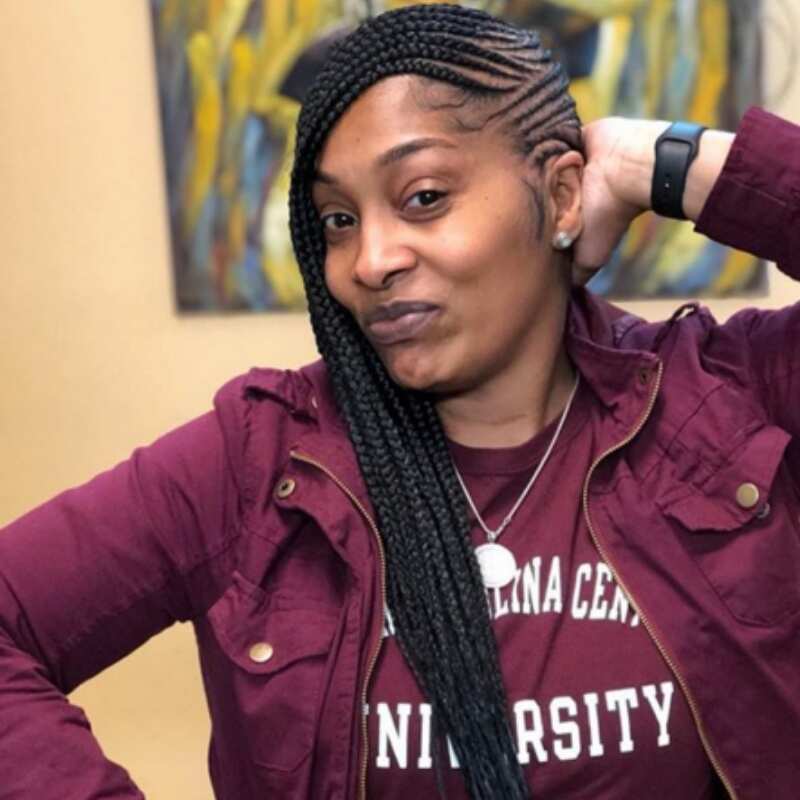 Classic plaits are the long locks cornrowed to one side. Those different patterns will add a particular charm to any clothing style.
5. Blonde lemonade plaits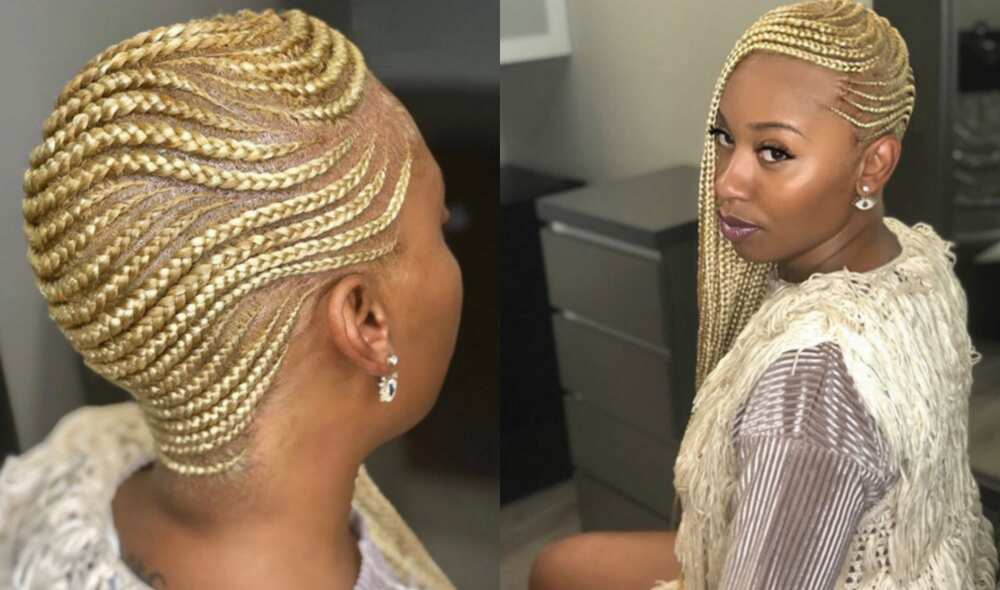 Golden blonde lemonade braids are an excellent choice for women who wish to try something new, create a funky style and stand out from the crowd.
6. Jumbo cornrows with accessories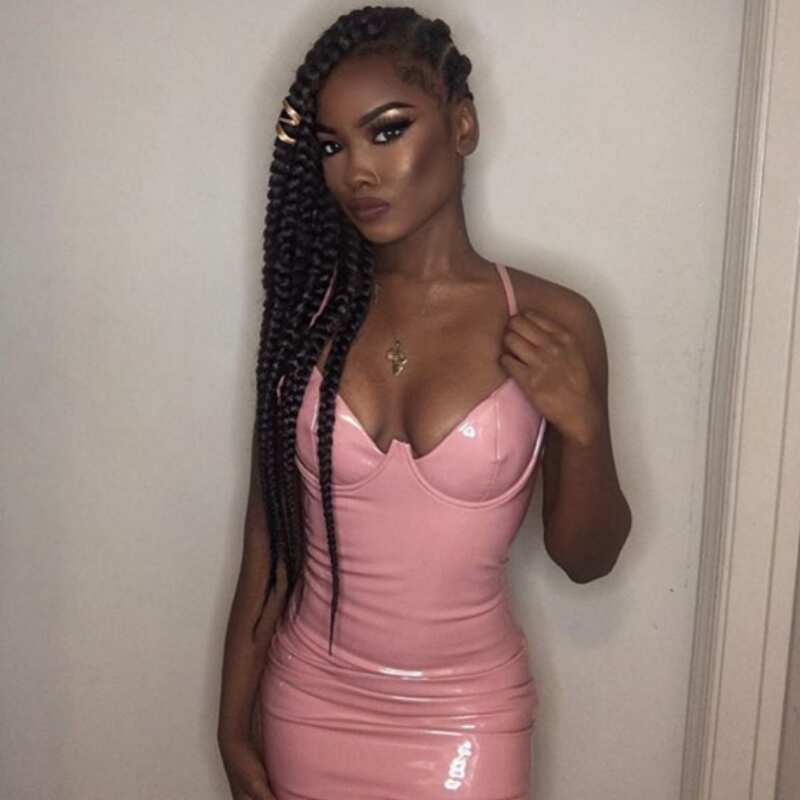 If you are a lucky owner of a thick or curly mane, this hairstyle is a perfect choice for you. It will protect your hair from damage and let you have a catchy look.
7. Golden swirl cornrows
This idea is one of the exciting cornrow designs for your locks. The interlaced strands of different hues help to create an elegant and charming style.
8. Pink lemonade twists
If you like glamour and wish to brighten your look, you can try this exciting idea to impress all your friends.
9. Jumbo cornrows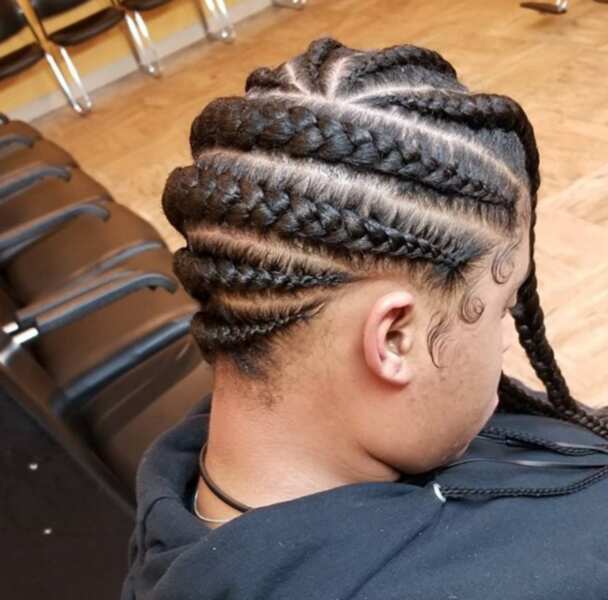 This hairstyle is far from the traditional one. It is the best choice for those people who like to stand out in the crowd.
10. Blonde cornrows to the side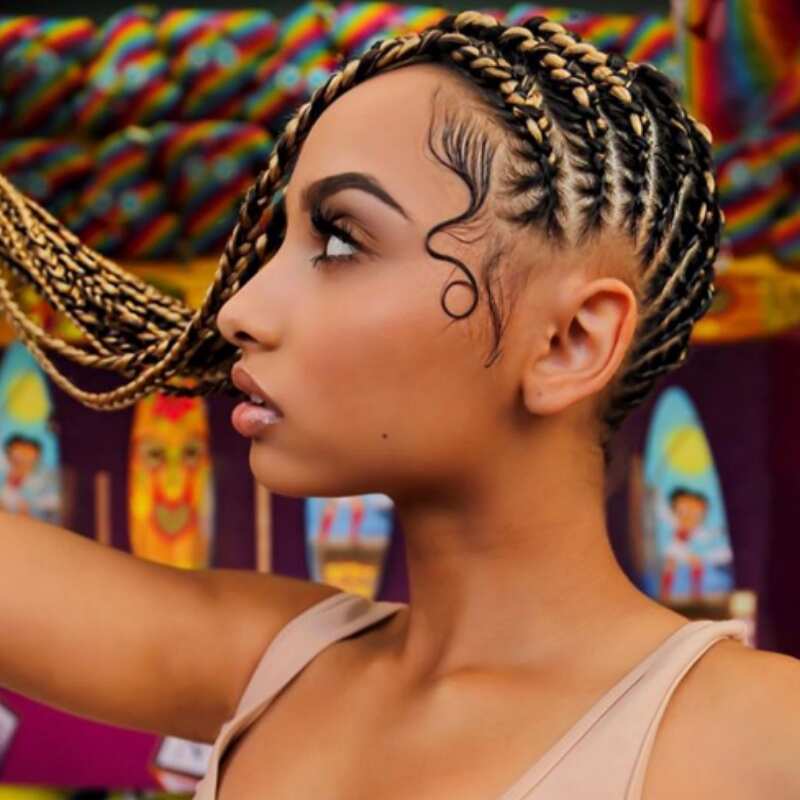 When you add a dash of colour to your plaits, you make them look another way. You can use hair extensions of the required colour and avoid dyeing your locks.
11. Lemonade braids with golden accessories
A few refined golden accessories will perfectly fit any clothes and make you look more stylish.
12. Thin zigzag braids to the side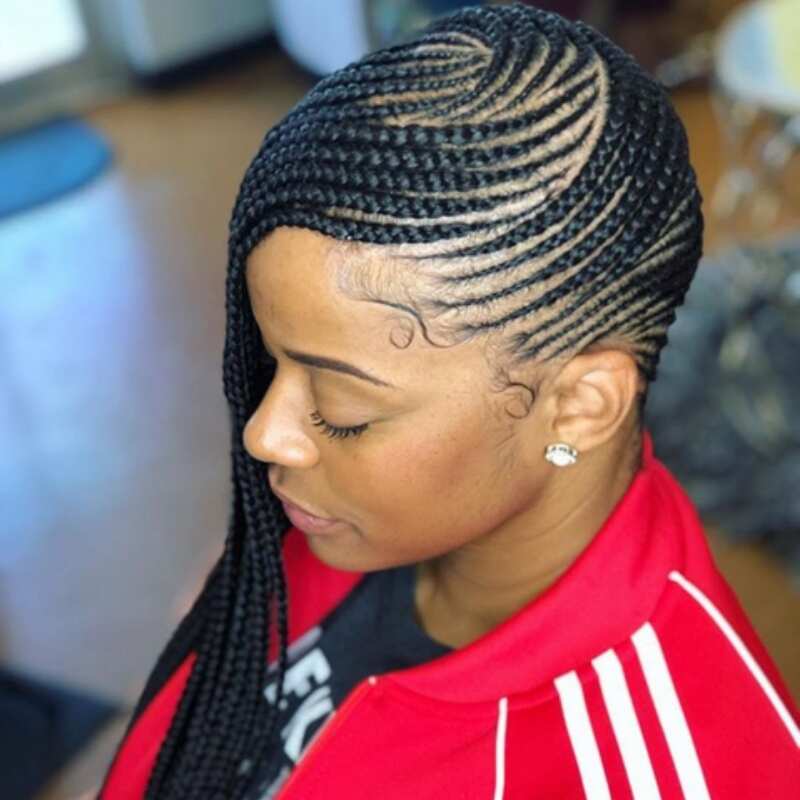 This style will make you look trendier and more elegant. You can also add some wraps to produce a more astonishing effect.
13. Burgundy twists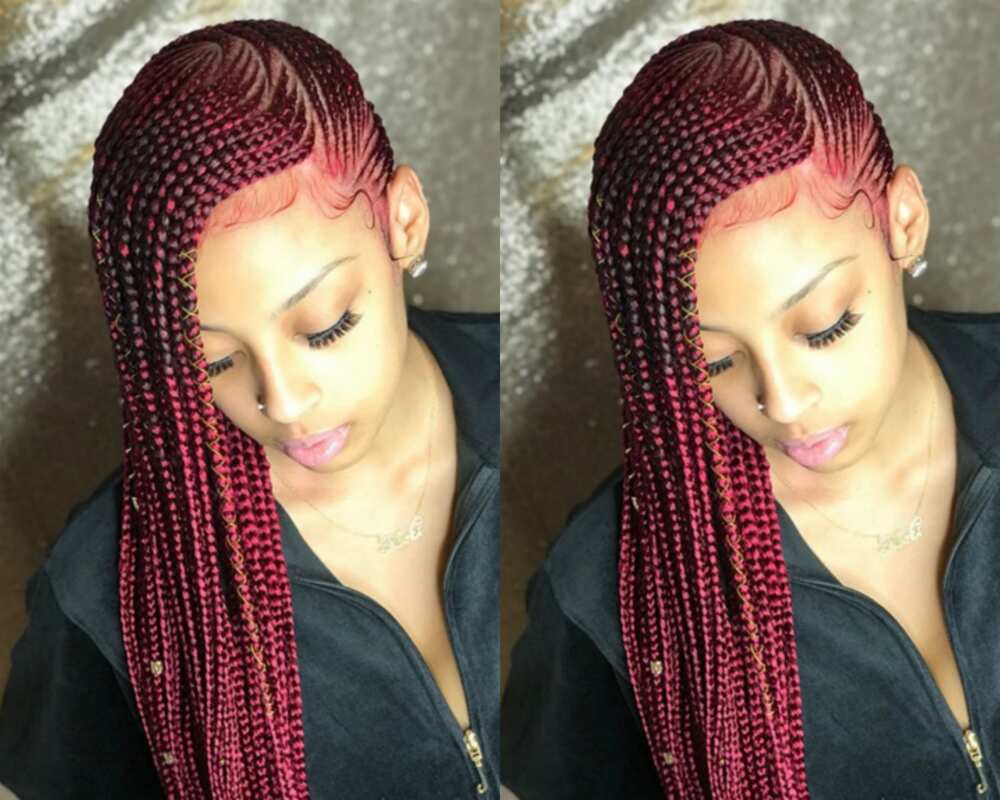 Freshen up your locks with a modern burgundy hue. The tint will help you create a fantastic look while colourful extensions protect it from damage.
14. Multicoloured braids
If you still hesitate which of your favourite colours to choose, then this solution is the best choice. Use the rainbow plaits to refresh your look and brighten the world around.
15. Long lemonade strands
Lemonade interlaced strands provide an excellent opportunity to feel the pleasure of long thick locks even if yours are short. Moreover, long twisted strands always look terrific and make you feel as if you are a celebrity.
16. Designer plaits to the side
There are countries in which weaving plaits is a part of their culture. As a result, one can observe truly awesome haircuts which capture breath.
17. Large lemonade cornrows
This funky style will not leave you indifferent. It is one of the best choices for any woman who wants to look gorgeous.
18. Ombre lemonade plaits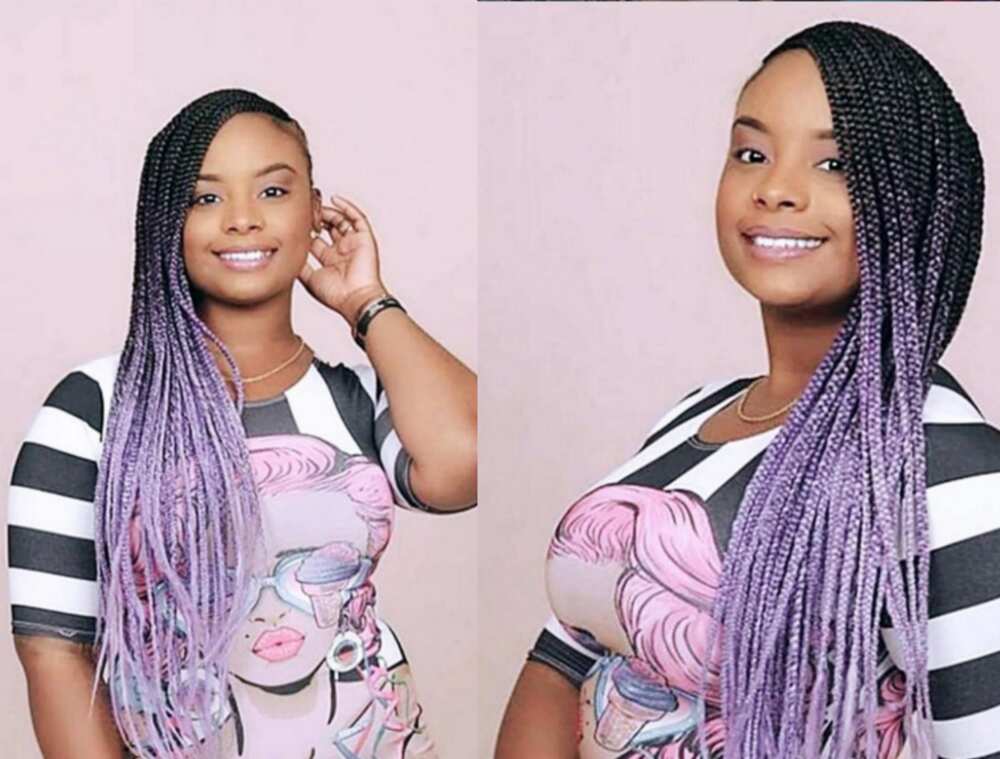 Ombre is an excellent solution to try on both straight and interlaced locks. This dyeing technique provides an excellent contrast that enhances your natural beauty.
19. Red jumbo cornrow designs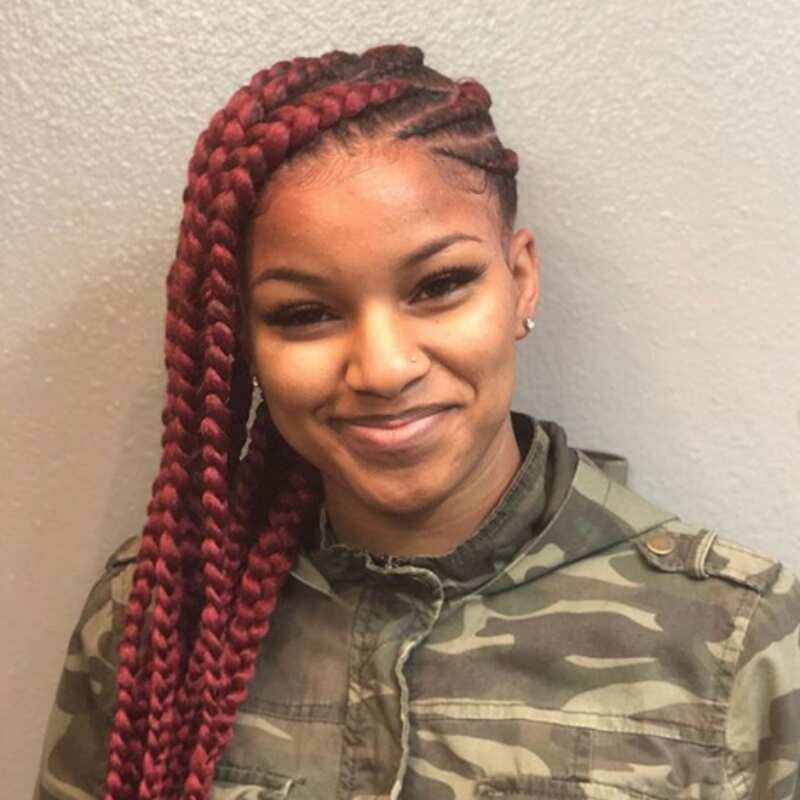 Try this super stylish hair solution and let your haircut impress the entire world. Jumbo cornrows will not only make your distinguished in the crowd but also provide excellent framing of your face.
20. Wavy braids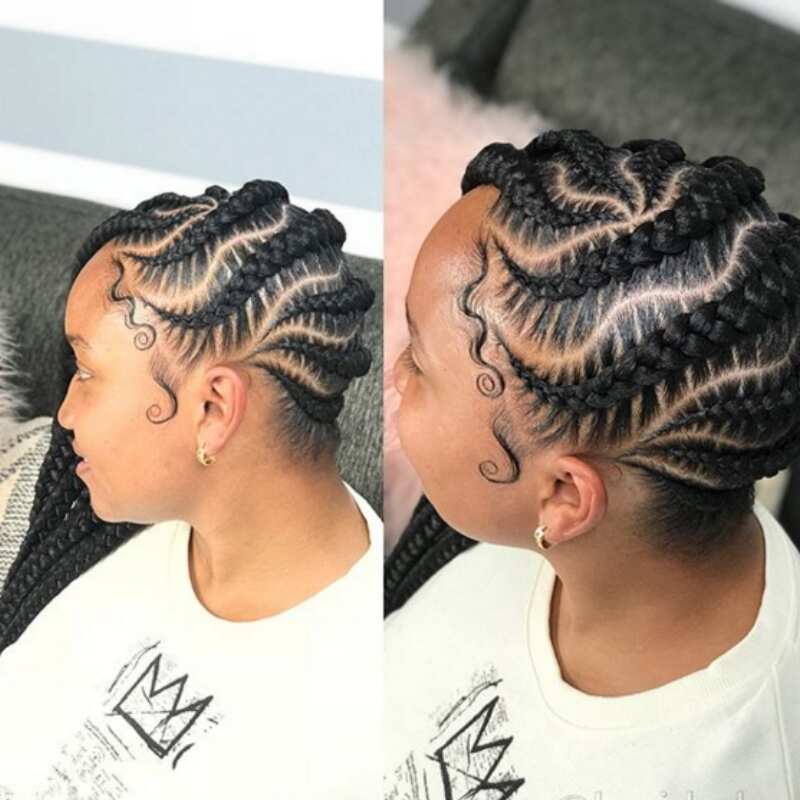 If you are tired of straight hair weaving, then these fantastic waves are the thing you need. It is an exciting combination of small curved chains around your head and long chains on one side.
21. Zigzag cornrow designs
If you are a lady who likes to show your gorgeous locks stylishly, then you will like this hairstyle idea. It provides additional elegance and charm.
22. Gradual cornrows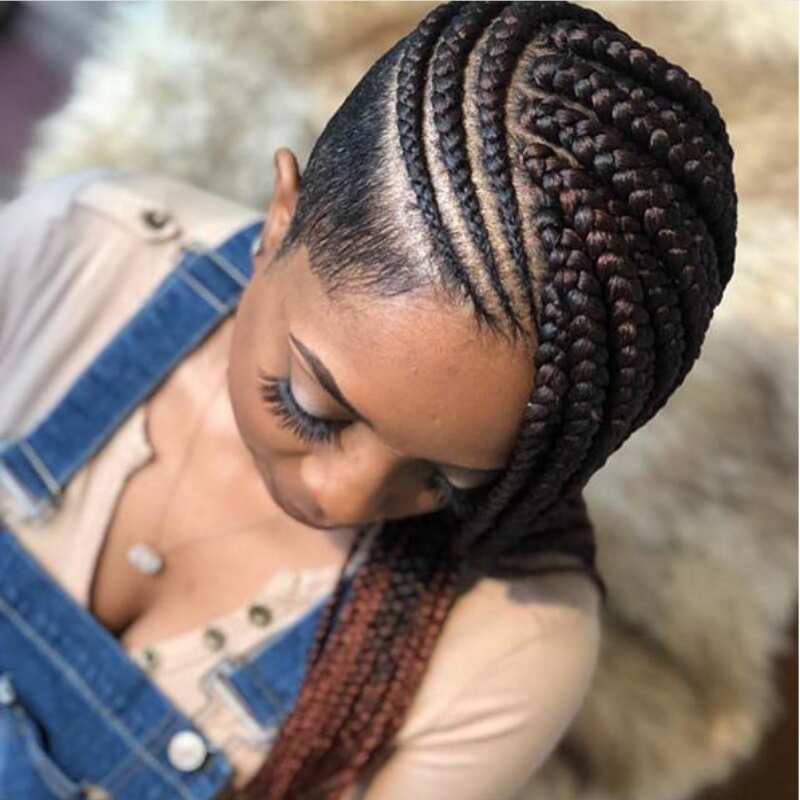 If you want to create such a perfect look, you can use colourful extensions to add more beauty and create individual uniqueness. The interlaced strands in this hair idea are thick on the top and keep on getting thinner towards the tips.
23. Two-tone patterns
A unique combination of black and white will fit any lady and underline her beauty. You can work your creativity and make a bun, or a side ponytail, etc.
24. Warm tone cornrows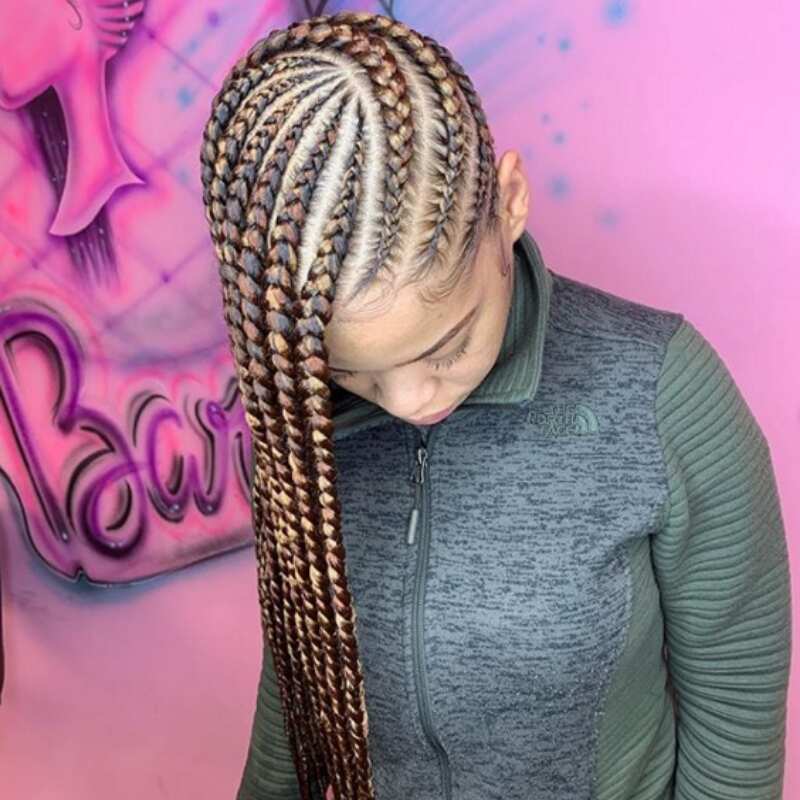 This look blends natural colour with a warmer one. A lighter tone makes it possible to brighten your appearance and refresh it.
Lemonade braids for kids
Children also adore interlaced locks. You can often see celebrity parents with their kids whose little heads shine with small plaits. Moreover, quite often parents do the same hairstyles.
Here are the cornrows for little girl ideas you can try together with your kid.
1. Beads for kids
Beautiful small braids adorned with beads are an excellent offer not only for adults but also for young lovers of fashion. This style will ideally supplement any clothes either dress or sportswear.
2. Thick cornrows to the side with accessories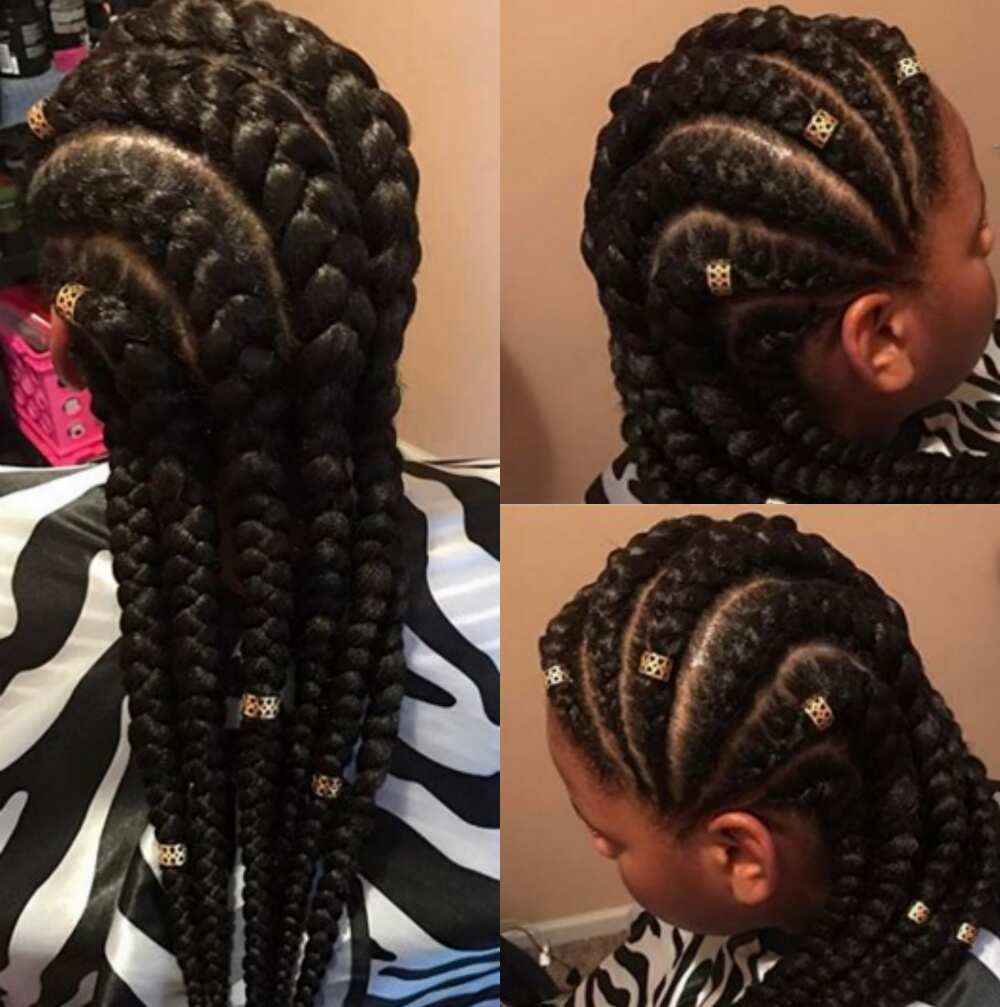 This hairstyle is an excellent solution to make your child look cute and stylish.
3. Burgundy weaves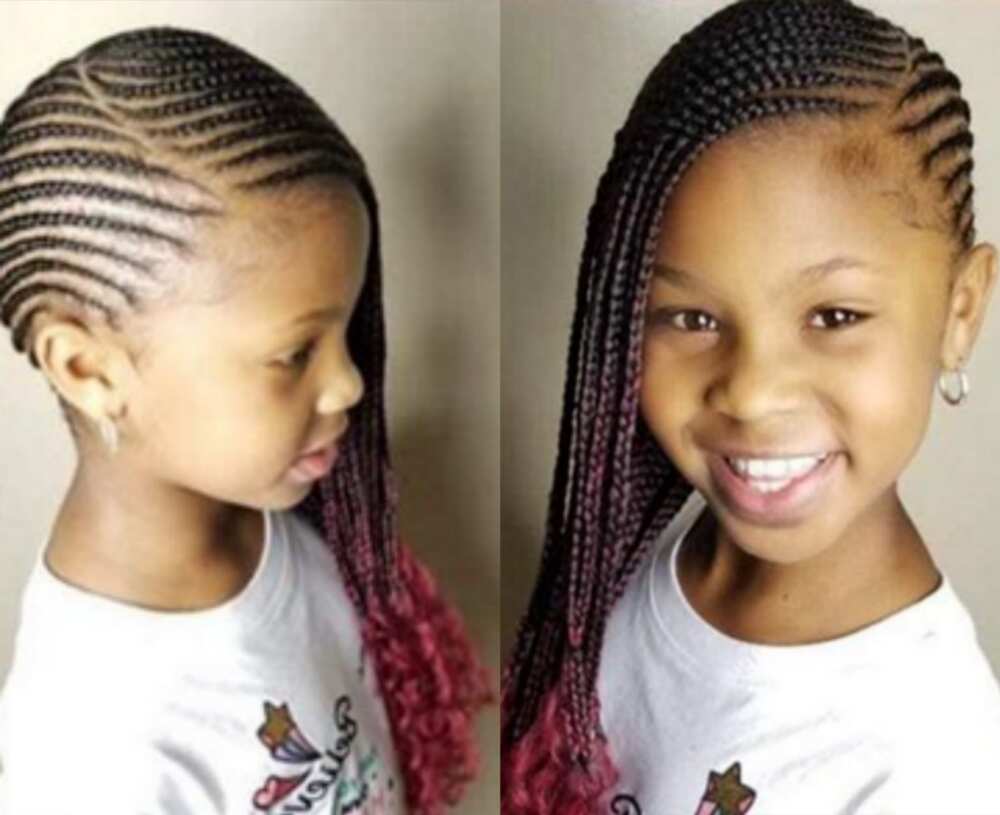 This designer weaving style blends several techniques. Upon the wish, you can also use colourful accessories to let your child enjoy something new as well.
4. Double ponytail
Thick cornrows for little girls are a perfect choice to adorn the head of your little princess for a birthday or any other festive event. You can arrange the tips in two ponytails and add some colourful cuffs or beads to make the hairstyle brighter.
5. Free twists
This elegant hairstyle is an excellent choice for a celebration. One weaves the cornrows from the roots almost till the tips.
6. Side swept style
This hairstyle idea is a perfect choice for both little girls and their moms. The right design of weaving will help you obtain the most beautiful effect.
What are lemonade braids?
The interlaced strands are a particular way to keep your hair away from damage. Moreover, they make you look stylish and attractive. Perhaps, many of you wonder why those patterns are called "lemonade."
The answer is quite simple. It was Beyonce who established a trend for twisted locks. It happened after the release of her new album "Lemonade" in 2016. The singer used side twists in one of the videos ("Do not Hurt Yourself") and for the album's cover. Since then, people regard the hair weaved to the side as the lemonade twists.
The lemonade braids hairstyles are an excellent choice for all women: a business lady, a busy mother of several children, a teenager, and a celebrity. They are easy to transform. Brighten your locks and enjoy the new hairstyle every day!
Source: Legit.ng