Top trending Migos songs 2019
You cannot be a real hip-hop or rap fan without ever listening to Migos songs. The trio has established quite a name for themselves in the modern hip-hop industry. With millions of people addicted to the band's tracks, you just cannot ignore them any longer.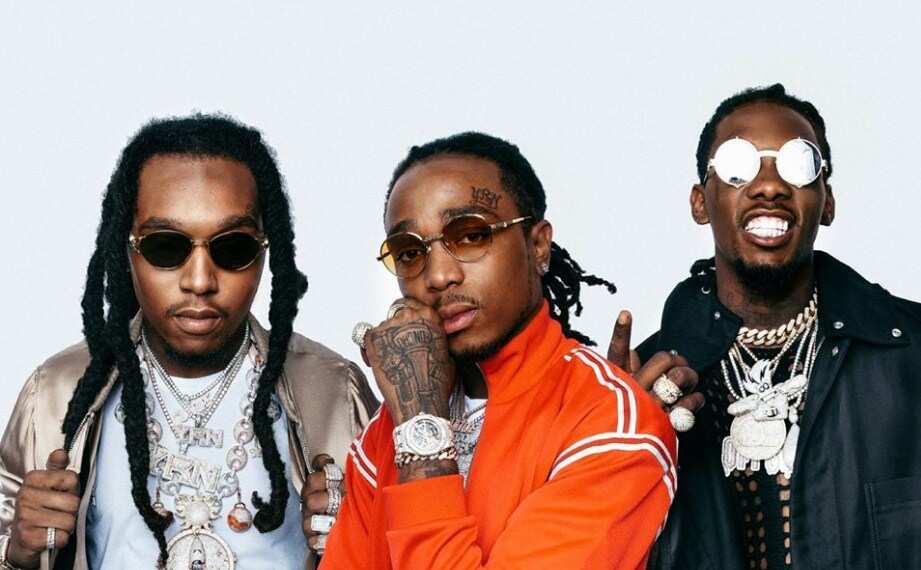 Migos have quite a number of tracks to be proud of. However, we are interested only in those works that make people return to them over and over again. True hits are what we have prepared for you.
Migos songs that people listen in 2019
Talking about talented and popular artists, it is always difficult to sort out their best works. Today, you like one song and tomorrow, when you are in a different mood, you like the other one. Moreover, people's opinions are always subjective, especially when it comes to music.
Therefore, we decided to present you with a list of Migos tracks last played on BBC. We believe that this list reflects the real situation with demand for Migos music. Here you will find Migos new songs along with their older works, including collaborations with other performers.
Bad And Boujee (feat. Lil Uzi Vert)
Bad And Boujee can be confidently named the most successful work of the band. It was released in October 2016, and already in January, it crowned the Billboard Hot 100. It was the first time the band's song was ranked so high by this prestigious music chart.
The success of the track can easily be explained by the addictive lyrics (which of you were not murmuring "raindrop, drop top" at the end of 2016?) and hypnotising music video created by the maestro Daps. Both fans and critics highly esteemed this particular work of the African director. Maybe, the video happened to be so good because the director enjoyed working with the band, as he claims:
I love rap music so it's great working with anyone that's cool and has dope content. Migos' energy is insane on camera and they're true performers.
As of March 2019, official Bad And Boujee video gathered over 818 million views on YouTube. Here are some of the comments that people leave below the video:
2019 and that badass song is still fire. - @Ryan Jeannis
This song will never die... you will always come back here. - @Lwazi Sbu Live
This song will forever be a hit. - @QMadeDat
Stir Fry
Stir Fry was written with the help of Pharrell Williams which shifted the usual Migos trap beats to softer ones. Later, the artist also acted as a producer of the music video for the song, which turned out to be really atmospheric. The track was included in the Hot R&B and Hip-Hop Billboard Charts in February 2018.
Pure Water (feat. Migos)
This track is what each and every fan of the band was waiting for. Pure Water, being among Migos latest songs, sets a high standard for the band to follow in 2019. It has everything a new banger requires: heavy beat, addictive vibe, and smooth flow. The track is performed together with Mustard, and this collaboration of the artists has proved to be immensely successful. See how YouTube users reacted to the hit:
Hardest Migos song in a REALLY long time, they went together perfectly with this beat. - @helloyassine
Party song of the year - @Infamous J-H00KZ
This song is fire. - @Christoph Nachname
Drip (feat. Migos)
READ ALSO: Latest 9ice songs 2018-2019
Drip is a Cardi B song released in 2018. She teamed up with the trio to make a real banger out of the track, and it was a good decision. It ranked 21 on the Billboard Hot 100 soon after the release. The track is full of classic heavy trap beats characteristic of both Cardi B and Migos band.
Slide (feat. Frank Ocean & Migos)
Slide is a unique work of art that has brought together artists of such different genres. The song belongs to Calvin Harris who teamed up with Frank Ocean and Migos. Together they created a very balanced and even in tune track. This is nothing like other works of the band, but other does not mean worse. This is especially true if you take into account the fact that Slide ranked 13 on Hot R&B and Hip-Hop Songs Billboard Chart and 34 on Billboard Hot 100 in March 2017. You should definitely check out the banger.
Walk It Talk It (feat. Drake)
This trap track was created by Migos in collaboration with Drake. Moreover, the music video directed by Daps and Quavo features Jamie Foxx himself. The video is very captivating and is styled as a retro TV show. It is extremely exciting to look at familiar celebrities dressed in old-fashioned clothes. The video certainly deserves attention.
Here is what YouTube users say about Walk It Talk It track and video:
Funniest video ever. - @Kamranadnan Adnan
The song is hella good. But you can't deny that the music video is just as good XD. - @TheRealPepeFrog hi
This is not the video I expected when I heard the track. - @Rujay
The most entertaining music video I have ever seen in the past 3 months. @Abel & CAIN
Peek A Boo (feat. Migos)
Peek A Boo is a Lil Yachty song created in collaboration with Migos. Despite being a solid trap hip-hop track, it was received quite coolly by critics. For example, Matthew Ramirez from Pitchfork thinks that Yachty sounds "cumbersome" and Migos "are on autopilot." Well, everyone has a right to voice his or her opinion. Check out the video below and drop a comment of your own.
Narcos
Narcos is a relatively fresh work of the trio as it was released in summer of 2018. Its official music video has already over 116 million views on YouTube. And it is no wonder. The video is quite colourful and captivating. It is styled as a short movie and tells a certain story.
T-shirt
T-shirt is a 2017 track that is still popular among the trio's fans. The banger has all characteristics of the music you associate with the band. Maybe, this is why people return to it no matter how much time has passed since the release of the song.
I Get The Bag (feat. Migos)
I Get The Bag is a track of Gucci Mane that features Migos. The banger has a hypnotising beat and surprisingly relaxing vibe. The music video is somewhat common for rap performers showing luxurious life and abundance of beautiful women. If anything, it is oddly satisfying to watch the video.
Download Migos songs easily
If you still do not have these tracks on your playlists, you can easily download Migos songs following the links we provide:
Love them or hate them, Migos songs are ones of the best in the trap hip-hop genre. That is why people are still interested in the tracks the band released a year or two ago. Moreover, the fans also warmly receive their newer works. What is your favourite track by Migos? Do not be shy; drop a comment below.
READ ALSO: Olamide - Woske: song, video, lyrics, reactions
Source: Legit.ng