Who is Astrid Menks? Top facts about Warren Buffet wife
Astrid Menks is a humble person, despite being married to a multi-billionaire husband. Astrid has managed to maintain her simple life as she is a great wife who takes great care of her home. Menks also takes care of her stepchildren like they are her own. Keep reading to find out more!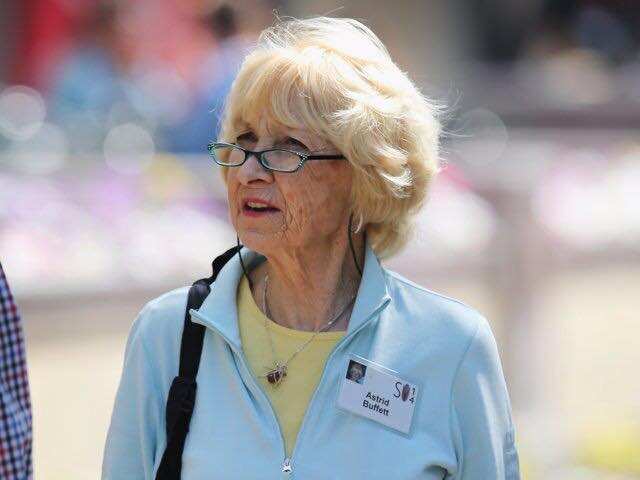 Astrid Buffet is a Latvian by birth, but later she relocated to the USA to pursue her proverbial American vision. However, she first worked as a cocktail waitress. You will be impressed, but Menks stayed together with Warren Buffet for three decades before they have married officially. Funny enough, their wedding ceremony only lasted 15 minutes. These two are not a typical couple, for sure. Are you already interested enough to keep reading?
READ ALSO: Amanda Fuller: age, weight gain, husband and pregnancy rumours
Top facts about Warren Buffet wife
Warren Buffet is a well-known businessman who is in the list of the top 3 richest men in the world. He is not only a businessman but is also a speaker, investor and philanthropist. Astrid is the second wife of the billionaire while his first wife was Susan. All the three, Warren, Susan, and Astrid, had a good relationship and there was no fuss from either of them.
Astrid Menks net worth
Menks worked as a bartender before meeting Warren Buffet. She was secretive about her net worth and did not share the information about her income to the public. However, as of 2019, the net worth of her husband is $82.2 billion.
They had their wedding on Warren's birthday
Warren and Menks had an affair for three decades from late 1970 till the demise of Susan in 2004. Warren was still married to Susan despite his relationship with Menks. They all stayed together well and showed up at events together.
Susan passed away in July 2004. Warren and Astrid tied the knot officially in August 2006 while on the same day the billionaire celebrated his 76th birthday. The wedding was a 15 minutes intimate occasion which was held at their home. The only people who witnessed the occasion were Menks's sisters and the daughter of the businessman.
READ ALSO: Christian Okoye: wife, son, net worth, highlights and football life
Her career life
Astrid wanted to follow her dream when she decided to move to the US. She did not settle immediately in Omaha, Nebraska but bounced a bit in the country. She later managed to get a job at a French Café. This place was an upscale night club. It poked fun with fake French dishes and traditional upscale nature of French cuisines. It is the place where Astrid first met Susan, also known as Susie. Susan was an occasional night club singer at the same café.
Menk's relationship with Susan and Buffet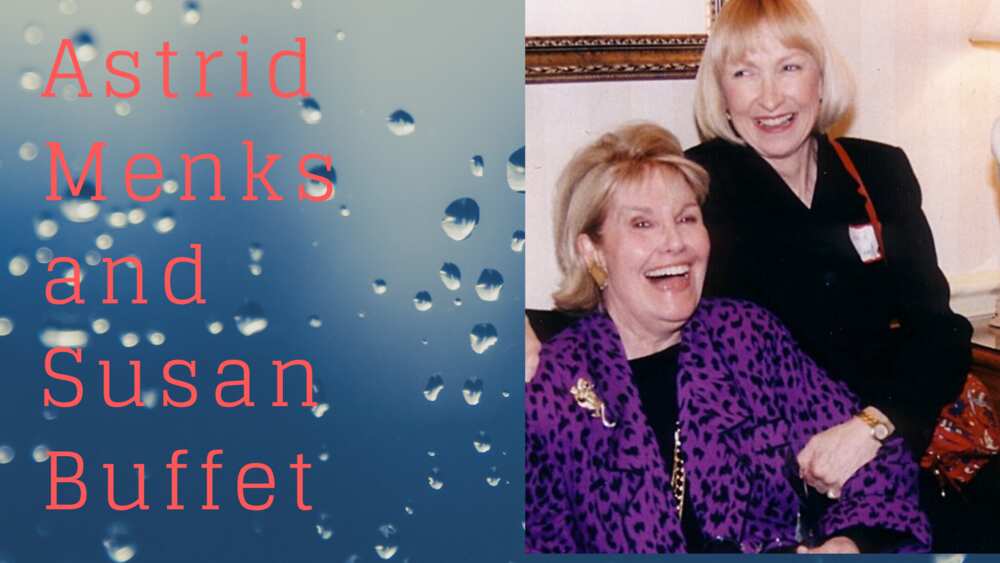 They all met at the French café when Astrid was a waitress and Susan was a night club singer. During this time, Warren received a lot of attention which Susan did not like and opted to move to San Francisco in 1977. Before she left, she requested her friends including Astrid to take care of her husband.
Menks respected the relation of Susan and Warren despite having an affair with Mr. Buffet since they were still married. Despite their affair, she knew how much Susan was loved by the husband regardless of her absence. Astrid and Susan had "an agreement" to share Warren and continued to maintain their friendship. In fact, they sent Christmas cards to friends with their three names signed at the bottom. Not many would do this, but Astrid and Susan would both appear in functions involving Warren together holding each other's hands.
How Menks and Warren met
It is believed that Susan felt that her husband emerging as a multi-millionaire investor was overbearing to her. Thus, Susan felt she needed something different which eventually led her to revive her long-dormant career as a singer in a night club. It was when Susan met Astrid who was a waitress at the same club. Later, Susan decided to move over to San Francisco where to continue her singing career.
Before moving to another city, Susan asked the club girls to take care of her husband as she knew how much Warren needed a female companion. Among the club girls who were taking care of him, Warren liked Astrid more than the rest as she was more caring. Precisely, what made Astrid stand out is that she always brought him a homemade bowl of soup. After a year of taking care of him, they moved in together in his white stucco house in Omaha. Astrid was aware that there was a probability their affair could fail to lead to marriage which she had no problem with. The role of Menks was to take care of the home as Susan ran for Warren his charitable foundations.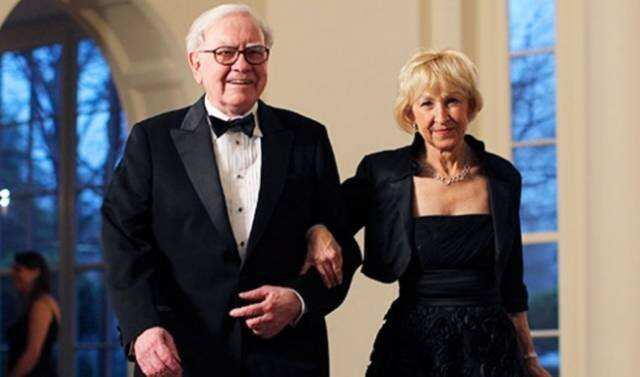 Astrid Menks age and height
Menks was born in 1946, and this year she will be turning 73 years old. Her exact height and weight are not clear to the public. Born in 1930, Warren is 88 years old. He is 5 feet 8 inches and weighs 88 kilos.
Astrid Menk's education and early life
She was born in Latvia, which is in the northeast of Europe near Russia. There is no information about her family. She never revealed any details about them. Her nationality was Latvian. Being a secretive person, she has been all through her life; no one knows any details that entail her educational background.
READ ALSO: Abby and Brittany Hensel: Top 10 facts you need to know
Menks current life
After the death of Susan, Menks took over the charity foundations that Susan had been running that were under the name of Warren. She is well known as an antique collector. She is happy in her marriage as the legal wife of Warren.
Menks family
Warren has three children: Susan Alice Buffet, Howard Graham Buffet, and Peter Buffet with his former wife, Susan. Menks is now part of this family where she takes care of Warren as the legal husband and the children of Susan as their mother.
Warren bought Menks a house in Omaha whose worth was $31,000 in 1958. As of July 2018, its market value was $11 million. Till now, this is the house where the couple lives.
Astrid Menks is a supportive, loving wife to Warren and a caring mother to their children. She is respectable and excellent in all she does. People know very little about Warren Buffett wife since she has lived a very secretive life. Not many know most of her personal information till date but whatever is out to the public speaks positively about her.
READ ALSO: Annie Verret bio, parents, college and relationship with Jordan Spieth
Source: Legit.ng