Papaya seed uses, benefits and side effects
Do you like papaya seeds? Here, we have prepared for you the list of proven health benefits of this wonderful natural product. Also, you will learn some information about possible side effects of consuming papaya seeds, so we welcome you to find out more.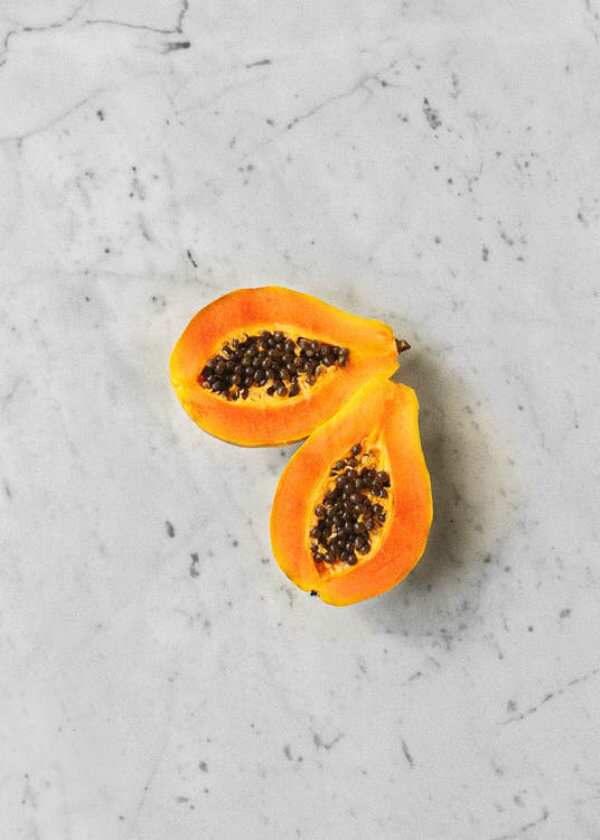 Papaya seed is the product that contains quite a significant number of elements with unique properties. These elements may improve the proper work of vital systems in our body. All you need is to consume the required amount of these seeds.
Papaya seed benefits
Inside any papaya fruit, you can meet black, round seeds, it can sound surprising, but these little kernels have many advantages and a wide sphere of usage. The simplest example: you can dry these seeds, grind them and use as a seasoning while cooking. The taste of such seasoning is very similar to ground black pepper. This condiment is a great idea for salad dressings.
One can also eat the seeds with honey or use papaya seed oil, anyway the list of benefits is long, and here we have the main points.
Normalisation of digestion
Regular intake of these seeds may appear quite beneficial for the proper work of your digestive system. As it turned out, digestive enzymes contained in the product help with the processing of food. Because of these elements, consumed food can be digested completely and smoothly. The researchers insist that such an effect is possible only if you consume the kernels as a part of your daily dietary routine.
Improvement of liver health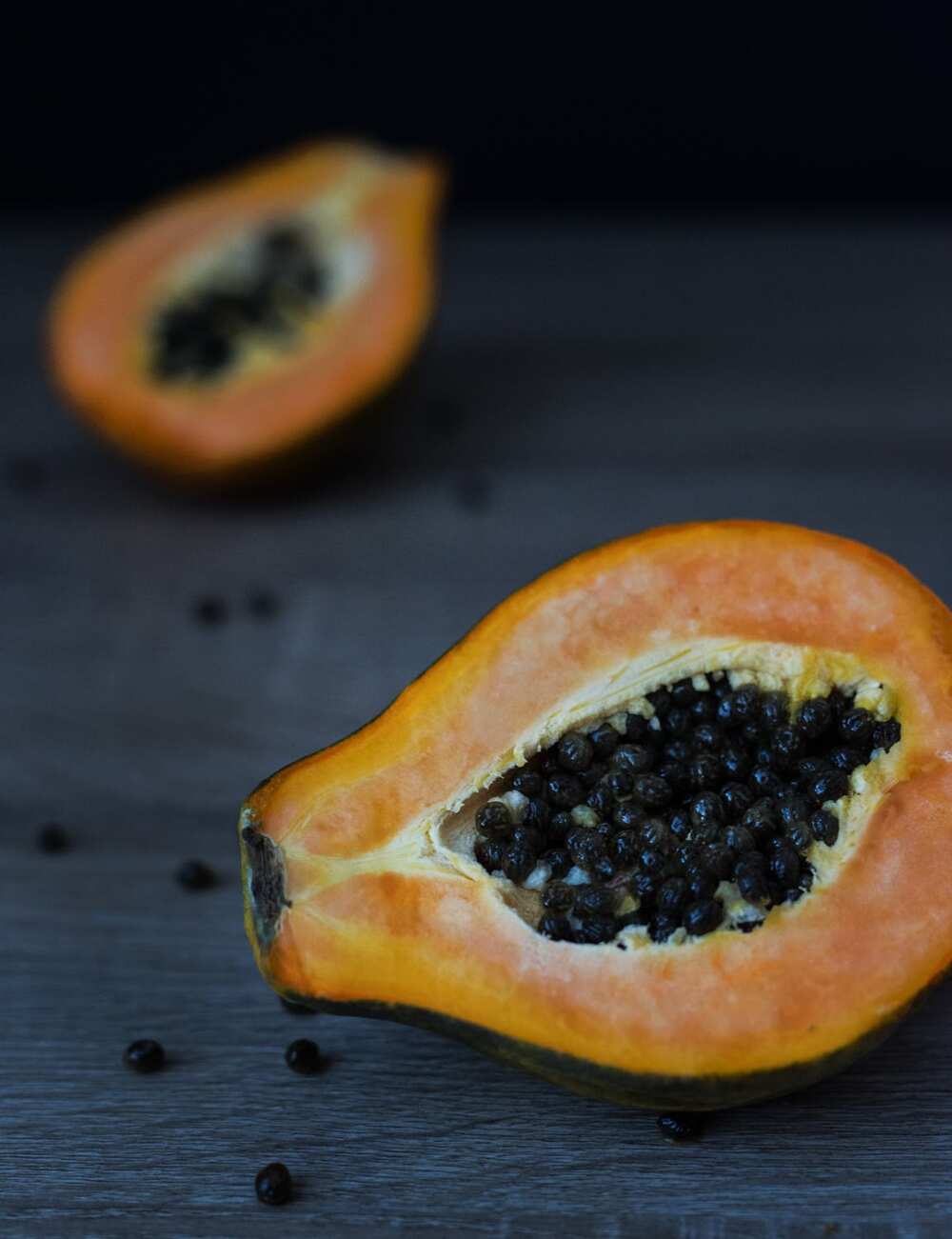 READ ALSO: Papaya benefits for skin whitening
The consumption of papaya seed appeared to be helpful even in the cases of liver cirrhosis. Vital nutrients contained in papaya also work as liver detoxing mean. In the cases of cirrhosis one is advised to take 5 or 6 dry papaw kernel together with lime juice. If you want to achieve a detoxing effect, it is enough to eat a small amount of grinned seeds but regularly.
Cancer preventing
This benefit sounds quite amazing. The scientists found out that the milky sap that is present in papaya seeds contain such element as acetogenin. It is known that this element is capable of preventing the growth of cancer cells. Papaya leave tea also has the same properties, and people in Japan consume this kind of tea to stay healthy.
Kidneys health maintaining
The professors from the University of Karachi, Pakistan claim that papaya kernels have incredible properties that are highly beneficial for mentioning the health of kidneys. According to scientists, one should take seven seeds, seven times a day to achieve a healing effect.
Weight control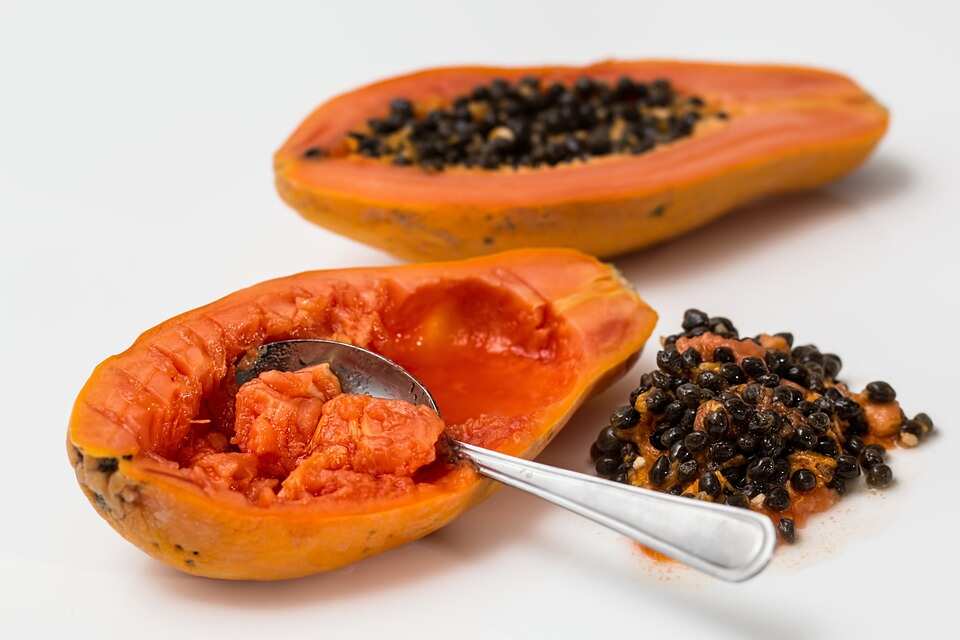 The seeds help not only to improve digestion, but they also contribute to the burning of body fat. When one consumes papaya kernels, excess fats and sugars do not stay in the body. As a result, the body does not gain weight, so the seeds can be quite helpful for those who already suffer overweight or those who just do not want to get extra weight.
Killing viral infections and bacteria
According to researchers, pawpaw kernels have the ability to kill such bacteria as Staphylococcus, E. coli, and Salmonella. Another feature is the ability to fight dengue. It is also known that the seeds mixed with milk help in curing typhoid fever. The elements contained in seeds improve the level of blood cells, and it is an essential benefit that helps the body to deal with infections.
Killing parasites and worms
The product contains alkaloid carpaine. This element helps fight parasites. Science researches claim that the usage of seeds is extremely effective when it goes about fighting amoeba parasites and worms in children.
Treatment of skin problems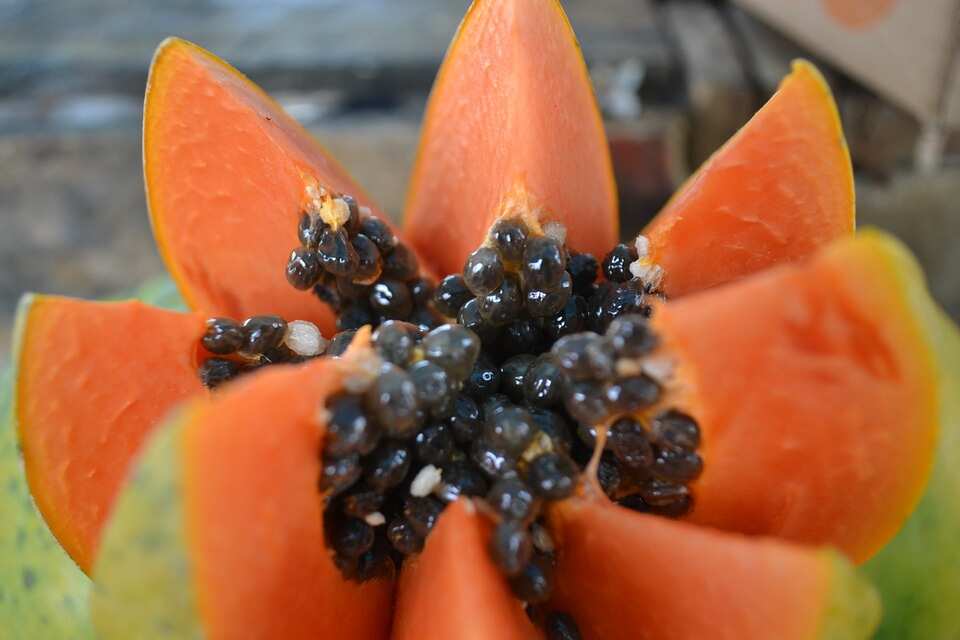 It is another fantastic benefit, a wonderful gift by nature. The usage of papaya seed paste helps to prevent the appearance of wrinkles, and as a result, it ensures the anti-ageing effect. The secret is in nutrients contained in seeds, because of them the skin gets the ability to rejuvenate better.
Papaya seed side effects
As you see, the product has a number of beneficial properties, but here we should also maintain some side effects:
Several studies confirmed that large doses of papaya seed could be quite harmful to male fertility. However these studies were conducted with a high dosage of seeds, and most people do not eat this product in such huge amounts.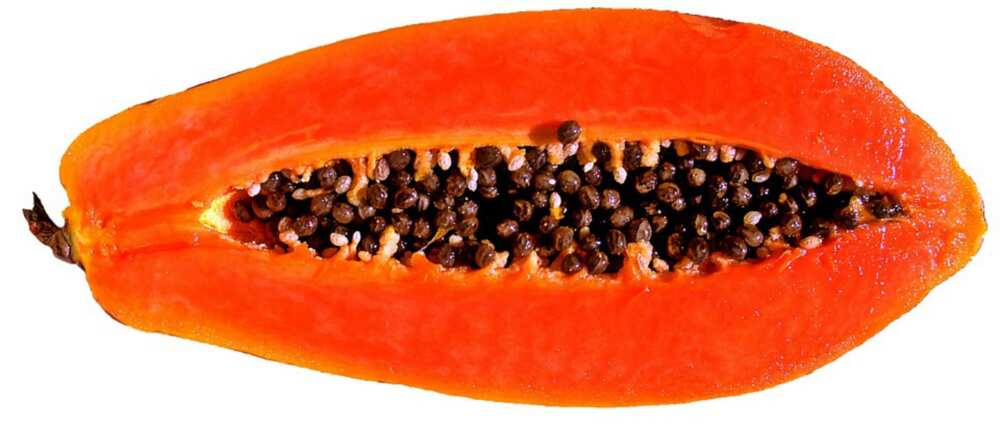 The seed contains such elements as benzyl isothiocyanate. This element ensures a set of positive health effects; however, when consumed in large amounts, this element may appear harmful. A large quantity of benzyl isothiocyanate may damage DNA structure.
In conclusion, we can say that papaya seeds may appear to be quite a beneficial gift of nature, but you should avoid eating large amounts of this product. And, as usual, it is better to consult a doctor if you want to achieve a particular health effect with the help of this herbal mean.
DISCLAIMER: This article is intended for general informational purposes only and does not address individual circumstances. It is not a substitute for professional advice or help and should not be relied on to make decisions of any kind. Any action you take upon the information presented in this article is strictly at your own risk and responsibility!
READ ALSO: Health benefits of pawpaw leaves juice and tea
Source: Legit.ng