Top 35 Bible verses about love
Love is a complex feeling that we rarely fully understand. Luckily, we have Bible verses about love to guide us through. Whether you have troubles in your marriage or disagreements with friends, these lines will teach you how to overcome these issues.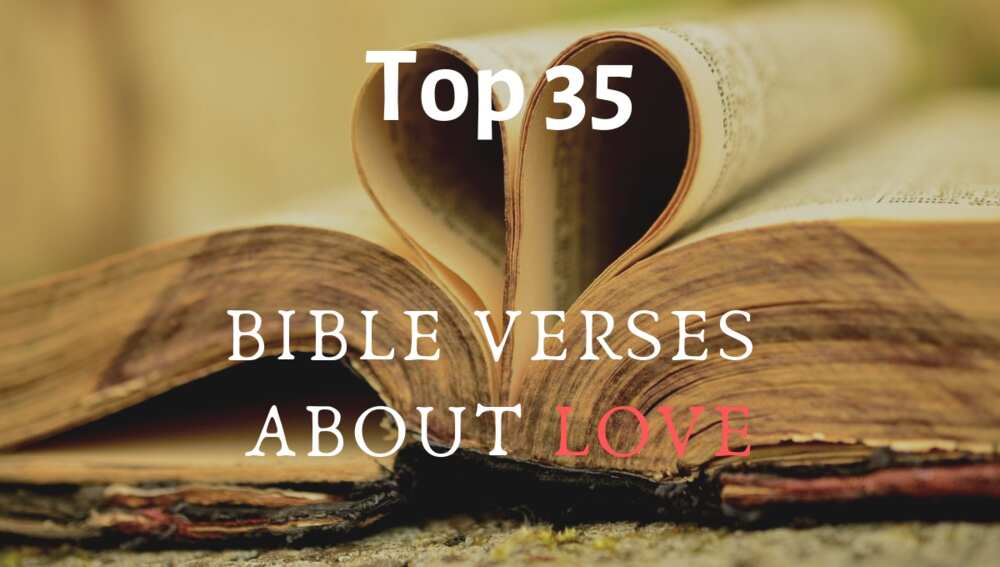 The Holy Book is a unique source of knowledge and inspiration. Its scriptures will give you the strength to care for every person you encounter in your life, just like Jesus taught. Everything comes to those who love and have faith.
Bible verses about love: what are they?
There is a lot one can find about affection in the Holy Book. This eternal source of wisdom is literary soaked through with the feeling. The book not only depicts the purest forms of affection but more importantly it teaches us to care, to live in peace with one another, to support and share our strength with all the people we encounter in our lives.
There are many Bible verses about love and understanding that share deep knowledge with us. They are not only about romantic relationships between a man and a woman. These lines have a lot to say about affection shared between family members, the devotion of friends, and respect among neighbours. However, the most soul-touching are Bible verses about God's love. The love of our Lord is the main source of everything we have, including our lives.
What are good verses in the Bible about love?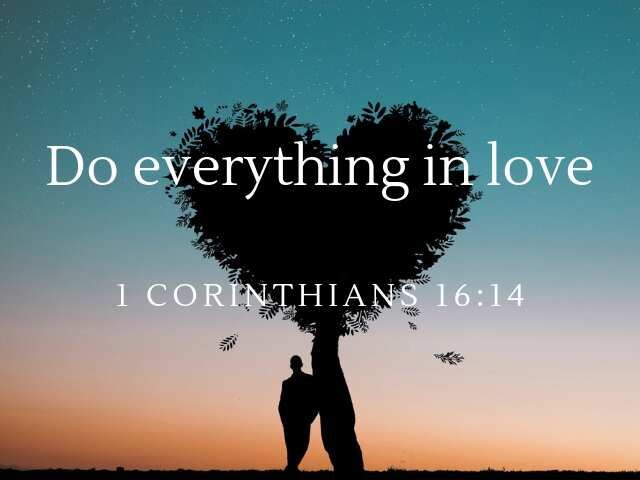 Here are the best Bible verses about love that you can send to your sweetheart, friends, or parents. Also, you can read them yourself and take in a little bit of wisdom that was shared with us thousands of years ago. These Bible verses about love and trust will teach you to build solid connections with any person. Additionally, Bible verses about relationships will help you to solidify your marriage and friendship.
"Love is patient, love is kind. It does not envy, it does not boast, it is not proud. It does not dishonor others, it is not self-seeking, it is not easily angered, it keeps no record of wrongs. Love does not delight in evil but rejoices with the truth. It always protects, always trusts, always hopes, always perseveres. Love never fails." – 1 Corinthians 13:4-8
"If I speak in the tongues of men or of angels, but do not have love, I am only a resounding gong or a clanging cymbal. If I have the gift of prophecy and can fathom all mysteries and all knowledge, and if I have a faith that can move mountains, but do not have love, I am nothing. If I give all I possess to the poor and give over my body to hardship that I may boast, but do not have love, I gain nothing." – 1 Corinthians 13:1-3
"And so we know and rely on the love God has for us. God is love. Whoever lives in love lives in God, and God in them." – 1 John 4:16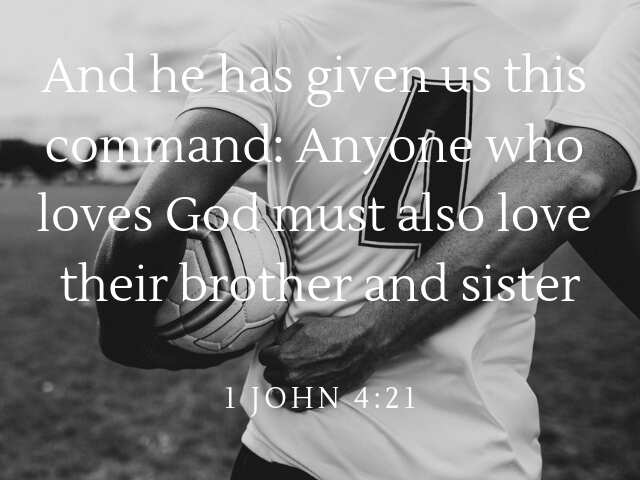 "Let no debt remain outstanding, except the continuing debt to love one another, for whoever loves others has fulfilled the law." – Romans 13:8
"Whoever claims to love God yet hates a brother or sister is a liar. For whoever does not love their brother and sister, whom they have seen, cannot love God, whom they have not seen." – 1 John 4:20
"And now these three remain: faith, hope and love. But the greatest of these is love." – 1 Corinthians 13:13
"Love must be sincere. Hate what is evil; cling to what is good. Be devoted to one another in love. Honor one another above yourselves." – Romans 12:9-10
"Let love and faithfulness never leave you; bind them around your neck, write them on the tablet of your heart. Then you will win favor and a good name in the sight of God and man." – Proverbs 3:3-4
"My command is this: Love each other as I have loved you." – John 15-12
"Husbands, love your wives, just as Christ loved the church and gave himself up for her to make her holy, cleansing her by the washing with water through the word." – Ephesians 5:25-26
READ ALSO: Top 20 Bible verses on healing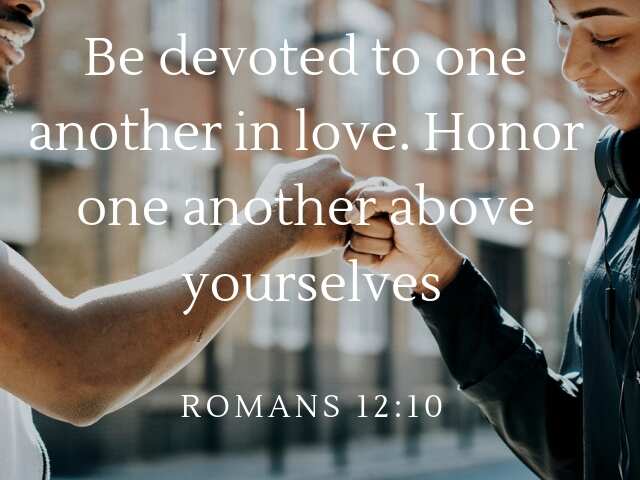 "No one has ever seen God; but if we love one another, God lives in us and his love is made complete in us." – 1 John 4:12
"May the Lord make your love increase and overflow for each other and for everyone else, just as ours does for you." – 1 Thessalonians 3:12
"Greater love has no one than this: to lay down one's life for one's friends." – John 15:13
"There is no fear in love. But perfect love drives out fear, because fear has to do with punishment. The one who fears is not made perfect in love." – 1 John 4:18
"But love your enemies, do good to them, and lend to them without expecting to get anything back. Then your reward will be great…" – Luke 6:35
"This is how we know what love is: Jesus Christ laid down his life for us. And we ought to lay down our lives for our brothers. If anyone has material possessions and sees his brother in need but has no pity on him, how can the love of God be in him? Dear children, let us not love with words or tongue but with actions and in truth." – 1 John 3:16-18
"Love does not delight in evil but rejoices with the truth. It always protects, always trusts, always hopes, always perseveres." – 1 Corinthians 13:6-7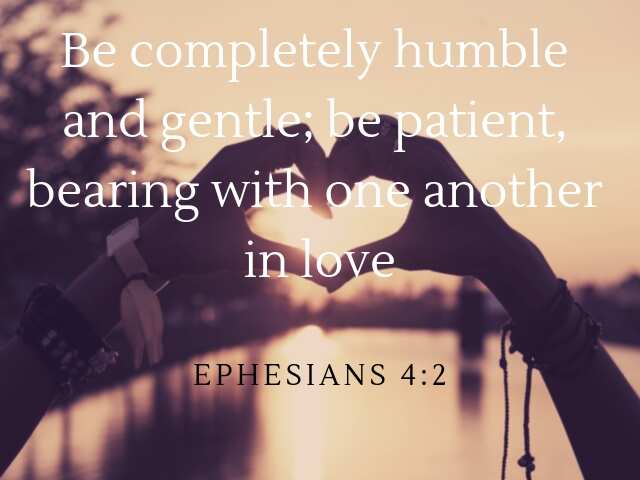 "Place me like a seal over your heart, like a seal on your arm; for love is as strong as death… Many waters cannot quench love; rivers cannot wash it away." – Song of Songs 8:6-7
"Though the mountains be shaken and the hills be removed, yet my unfailing love for you will not be shaken nor my covenant of peace be removed,' says the Lord, who has compassion on you." – Isaiah 54:10
"Hatred stirs up dissension, but love covers over all wrongs." – Proverbs 10:12
"And over all these virtues put on love, which binds them all together in perfect unity." – Colossians 3:14
"You, my brothers and sisters, were called to be free. But do not use your freedom to indulge the flesh; Rather, serve one another humbly in love." – Galatians 5:13
"Be completely humble and gentle; Be patient, bearing with one another in love." – Ephesians 4:2
"Keep on loving one another as brothers and sisters. Do not forget to show hospitality to strangers, for by so doing some people have shown hospitality to angels without knowing it." – Hebrews 13:1-2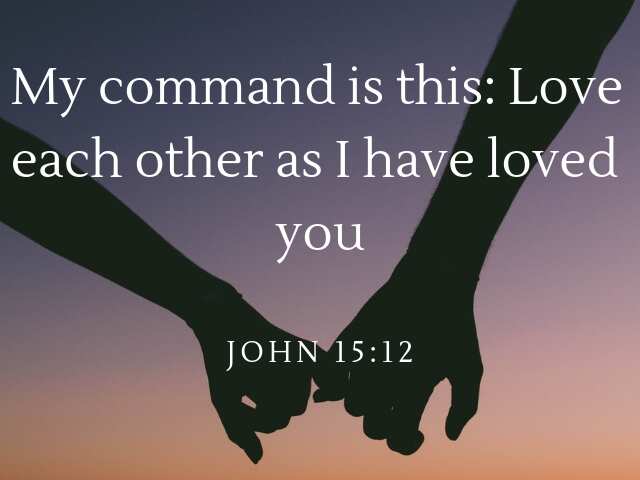 "For this very reason, make every effort to add to your faith goodness; and to goodness, knowledge; and to knowledge, self-control; and to self-control, perseverance; and to perseverance, godliness; and to godliness, mutual affection; and to mutual affection, love." – 2 Peter 1:5-7
"Because your love is better than life, my lips will glorify you. I will praise you as long as I live, and in your name I will lift up my hands." – Psalm 63:3-4
"But because of his great love for us, God, who is rich in mercy, made us alive with Christ even when we were dead in transgressions—it is by grace you have been saved." – Ephesians 2:4-5
"And we know that in all things God works for the good of those who love him, who have been called according to his purpose." – Romans 8:28
"Dear friends, let us love one another, for love comes from God. Everyone who loves has been born of God and knows God." – 1 John 4:7
"Hear, O Israel: The Lord our God, the Lord is one. Love the Lord your God with all your heart and with all your soul and with all your strength." – Deuteronomy 6:4-5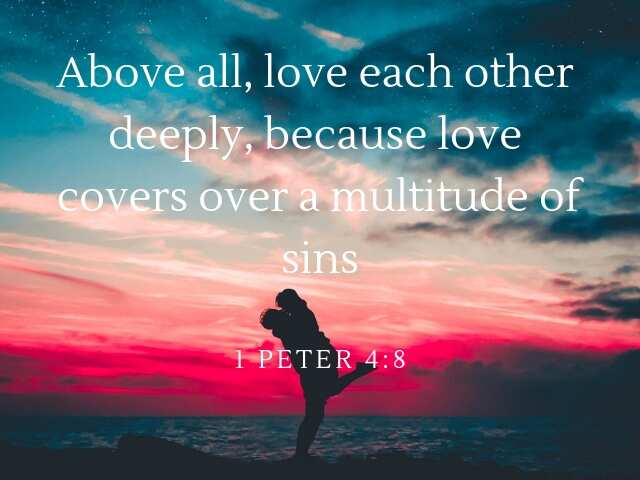 "And hope does not put us to shame, because God's love has been poured out into our hearts through the Holy Spirit, who has been given to us." – Romans 5:5
"It was not by their sword that they won the land, nor did their arm bring them victory; it was your right hand, your arm, and the light of your face, for you loved them." – Psalm 44:3
"My goal is that they may be encouraged in heart and united in love, so that they may have the full riches of complete understanding, in order that they may know the mystery of God, namely, Christ." – Colossians 2:2
"Place me like a seal over your heart, like a seal on your arm; for love is as strong as death, its jealousy unyielding as the grave. It burns like blazing fire, like a mighty flame." – Song of songs 8:6
"For this is the message you heard from the beginning: We should love one another." – 1 John 3:11
Bible verses about love are the best sources of advice on relationships you can ever find. They not only teach us how to care for someone but also how to live. Love should be the foundation of all our thoughts and actions. Only in this case will we have a unified world with happy people.
READ ALSO: 30 best short Bible verses for inspiration
Source: Legit.ng