Famous Frida Kahlo quotes to inspire you
Do you know Frida Kahlo quotes? You would if you are a die-hard feminist like she was. Frida is probably the most famous female Mexican artist ever to have graced the surface of the earth. She was bold in her communication, spoken or otherwise. She did not shy away from controversial topics. This is probably what set her apart and put her on the global map.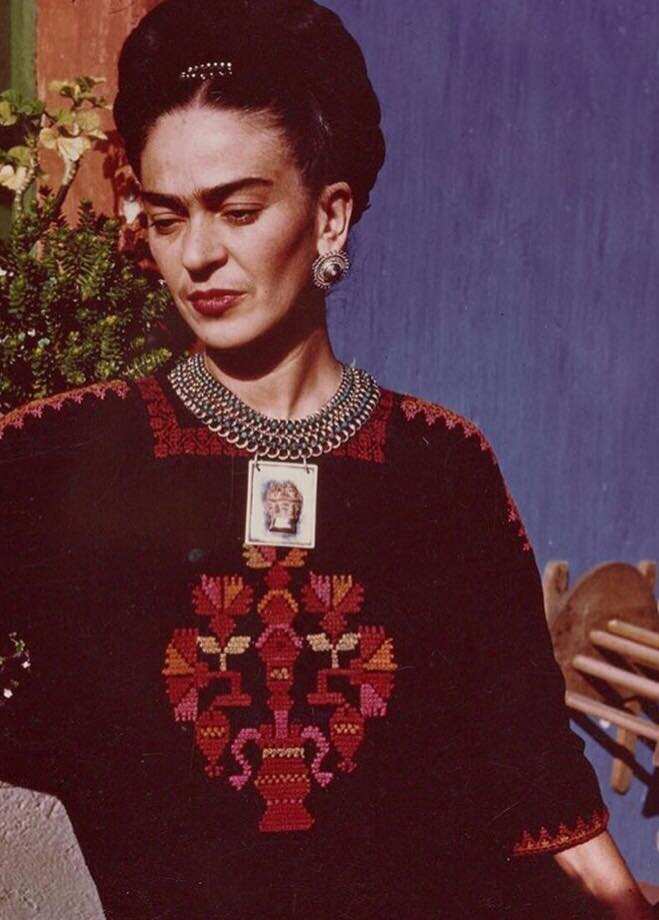 Whether she was speaking about love, governance or gender issues, every word that she uttered was powerful and deep. It is not surprising that her art pieces are some of the best to date. The following are a few of her best quotes.
Frida Kahlo love quotes
Love is a powerful emotion and Frida Kahlo quotes on love emphasize this aspect. As a female artist, people expected her to know and understand a lot about love. Here are a few examples of what she said about the topic. Just like popular Frida Kahlo feminist quotes, her love quotes are equally powerful.
I love you more than my own skin and even though you don't love me the same way, you love me anyways, don't you? And if you don't, I'll always have the hope that you do, and I'm satisfied with that. Love me a little. I adore you.
Love is powerful. It yearns and desires for reciprocity. When given in equal measure it can make people do wonders.
The atoms of my body and yours are the same, and they vibrate together so that we can love each other.
Sometimes the feelings between two people are so intense that they may feel they are existing as one.
I would like to give you everything you've never had, but even so, you would never know the wonder it is to be able to love you.
Love is a little more interesting when the element of surprise and awe are left in it. Do not reveal or spill everything.
To feel the anguish of waiting for the next moment and of taking part in the complex current (of affairs) not knowing that we are headed toward ourselves, through millions of stone beings – of bird beings – of star beings – of microbe beings – of fountain beings toward ourselves.
When love strikes, especially the forbidden kind, one is always on the edge of their seat. The anguish and pain is difficult to explain, but it is this bitter-sweet feeling that makes people stay. It is complicated.
I am that clumsy human, always loving, loving, loving. And loving. And never leaving.
Some people know nothing else but to love and love some more. Quitting is never an option. They may pause but never exit when it comes to matters of love.
I leave you my portrait so that you will have my presence all the days and nights that I am away from you.
Even in absence, whenever you get to visualize the face, it all seems like reality.
Frida Kahlo famous quotes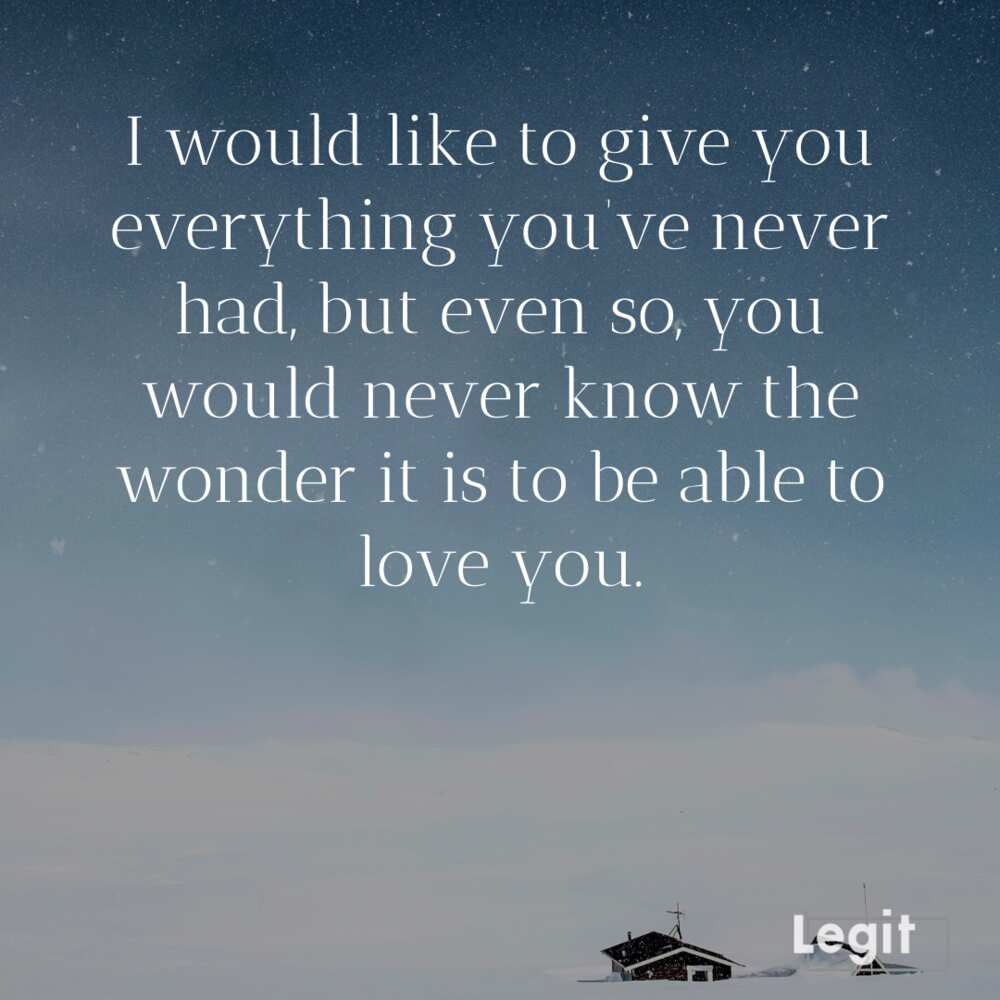 Chances are that you have a few famous Frida Kahlo quotes as your all-time favourites. There are certain statements that she said that still click and resonate with different people. Here are a few of the sampled quotes by the phenomenal lady.
You deserve the best, the very best, because you are one of the few people in this lousy world who are honest to themselves, and that is the only thing that really counts.
Just for being truthful to yourself, let all the good things find their way to you. There is nothing that is more important than being true to yourself.
At the end of the day, we can endure much more than we think we can.
Do not beat yourself up. You are actually stronger than you know. Tough times will show you what you are truly made of.
I think that little by little I'll be able to solve my problems and survive
All you need is the right attitude and there is nothing that you will not conquer. Everything needs you to take a step at a time.
I am my own muse, I am the subject I know best. The subject I want to know better.
Make yourself the subject of your own interest. This will push you to focus on self-improvement and make you become the best version of yourself. Forget about keeping up with other people's affairs, especially if it does not concern you.
I hope the exit is joyful. And I hope never to return.
Focus on creating a grand exit that you will never wish to look back on because what you achieved is fulfilling enough to want to move on without any regrets.
I am not sick. I am broken. But I am happy to be alive as long as I can paint.
Accepting that you are broken and that things have not gone your way is the greatest power you can give yourself. You will always have a chance to start again and recreate your best as long as you accept your reality and brokenness.
Nothing is worth more than laughter. It is strength to laugh and to abandon oneself, to be light.
Don't underestimate the power of reckless abandon. There is power in letting go and just laughing. You heal your soul in the process.
Frida Kahlo communism quotes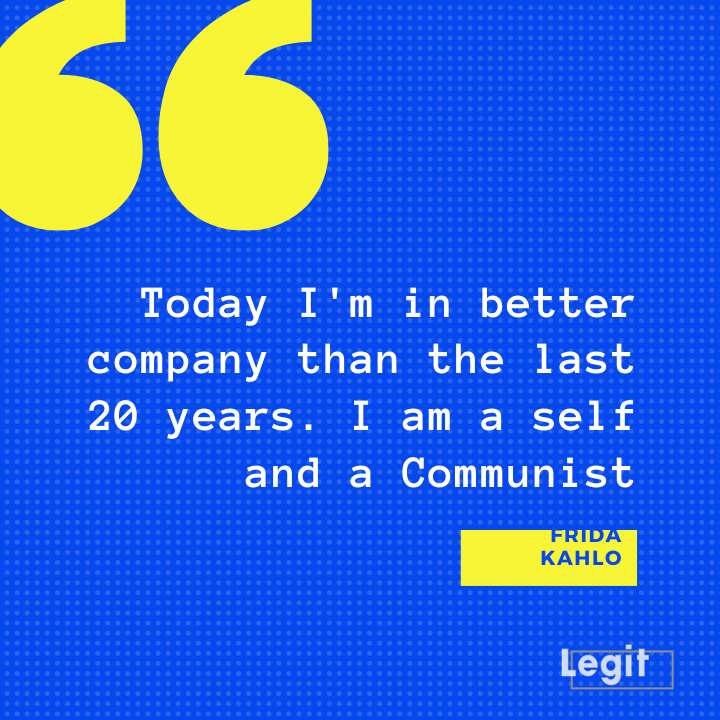 Frida loved to talk about governance and her speciality was communism. Here are a few highlights she made through her works and speech on the subject.
I feel uneasy about my painting. Above all I want to transform it into something useful for the Communist revolutionary movement, since up to now I have only painted the earnest portrayal of myself, but I'm very far from work that could serve the Party.
When it comes to fighting for a cause that you believe in, go the extra mile even when strength fails you. Struggle until you come up with something useful.
Today I'm in better company than the last 20 years. I am a self and a Communist
Frida stood for whatever she believed in.
It was worthwhile to come here only to see why Europe is rottening, why all this people – good for nothing – are the cause of all the Hitlers and Mussolinis.
One wonders if democracy is indeed worth it. Power can be the cause of all problems if not handled properly and with caution.
Frida Kahlo inspirational quotes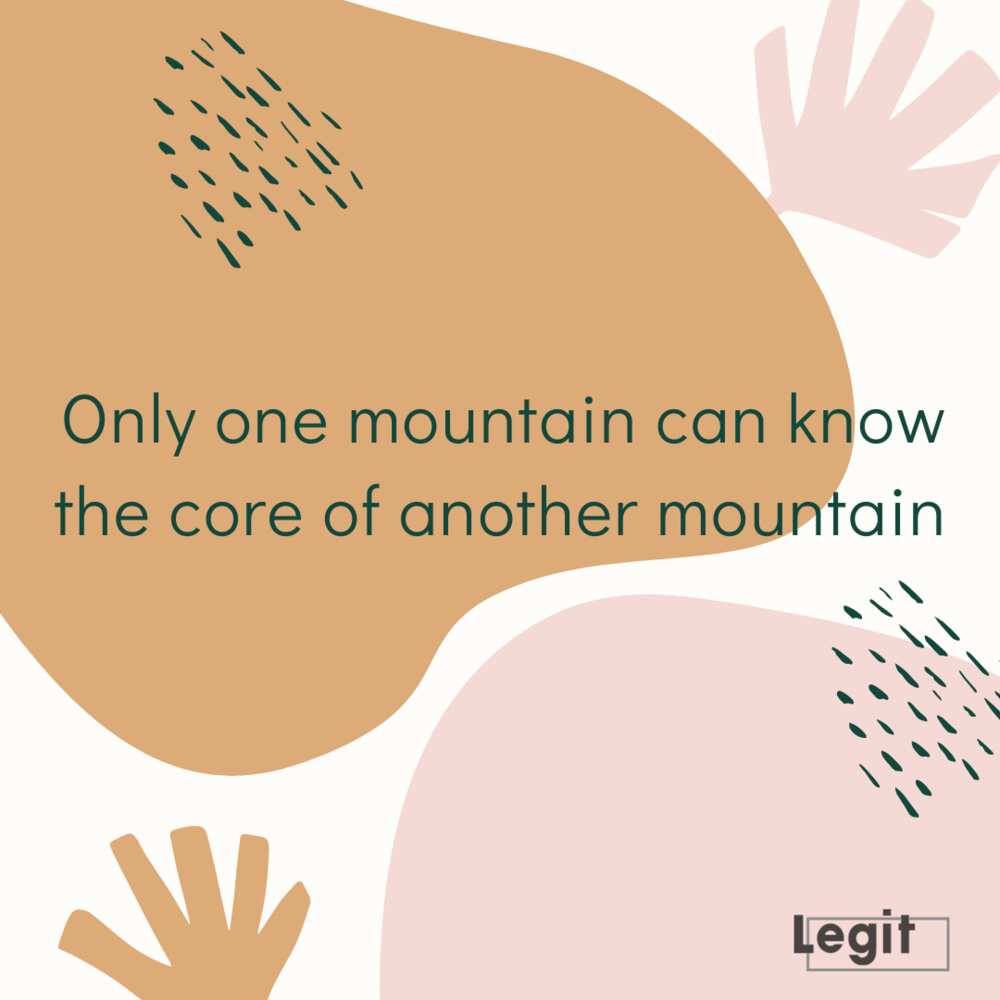 These are probably the most inspiring quotes Frida Kahlo said that you will ever come across. They are thought-provoking in a special and powerful way. These quotes tend to speak to the inner-most being of anyone that reads them. Check them out below.
Feet, what do I need you for when I have wings to fly?
This simple and straightforward quote will push you to do your best. Do not clip your own wings when you have the power to fly and be great.
Only one mountain can know the core of another mountain.
Unless you are in a similar situation, do not be in a hurry to judge. People will react and behave based on their situations at the time.
I paint self-portraits because I am so often alone, because I am the person I know best.
Do not be afraid to be yourself. After all, only you know yourself best. Everyone else shows you what they want you to see.
Really, I do not know whether my paintings are surrealist or not, but I do know that they are the frankest expression of myself.
Whichever way people choose to describe you, make sure that you believe that everything you do comes from the deepest part of self-expression.
I drank because I wanted to drown my sorrows, but now the damned things have learned to swim
Stay away from alcohol, especially if you do it to drown your sorrows. Trouble always find a way to manifest if left unsolved and drinking will not help matters.
I must fight with all my strength so that the little positive things that my health allows me to do might be pointed toward helping the revolution. The only real reason for living
We should all must aspire to live to help others positively. Avoid living just to exist for life's purpose is to leave the world a better place than you found it.
Nothing is absolute. Everything changes, everything moves, everything revolves, everything flies and goes away
The faster you accept the reality that change is a constant, the better things will be for you. Nothing remains the same no matter how much you wish it to.
Pain, pleasure and death are no more than a process for existence. The revolutionary struggle in this process is a doorway open to intelligence.
Do not fight your experiences no matter how tough, they are all instrumental in making you sharp and brilliant. Appreciate and embrace the process of refining your personality.
Most Frida Kahlo quotes will inspire you to be the best version of yourself. It is amazing that even after 6 decades, her words are still powerful enough to change mindsets and influence others positively. Going through quotes by Frida Kahlo can influence how people think about certain life aspects.
Source: Legit.ng