Laundry services and business in Nigeria - how to start?
We all love to look neat and clean. If you work at an office, you are just obliged to wear clean and well-ironed clothes. For this reason, laundry services will always be needed. Here, we are going to talk about how to set up your own laundry business in Nigeria. So, let's get started.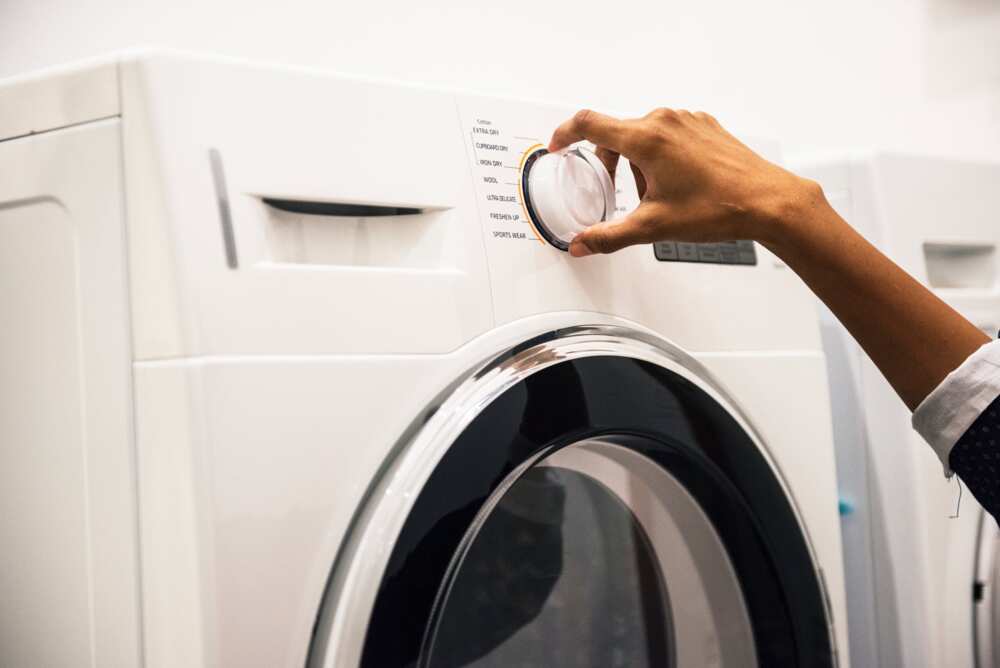 As of today, the laundry business belongs to the top lucrative businesses in Nigeria. What is especially fascinating about it is that everyone can start such an enterprise without any money and experience. Laundry business refers to such services as washing, drying and ironing of clothes. Laundry services can be provided to individuals or enterprises. Given the fact that Nigeria is the most populated country in Africa, it gives vast opportunities for starting a business from scratch.
The truth is the laundry business in Africa is quite saturated. In big cities, the laundry service providers set up their shops at every corner. If you are strongly determined, the market is big enough to let those who want to gain success. Similar to some businessmen, you can begin with doing laundry at home which will be a part-time job. It can even be a great chance to start a work-from-home business with no money and equipment.
Why is laundry services business so popular in Nigeria?
This business consists in the washing of clothes for individuals or companies with the use of specialised equipment like washing machines and detergents. The laundry may be done in a traditional way, that is, by washing with hands. However, it still requires to be qualitative. The laundry services usually come at a fee, after which the customer picks up the clean clothes, or they are delivered to the home.
Opportunities for growth in Nigeria are numerous. Many people work 12 hours a day which means that they probably do their laundry once a week, on Saturday. However, even on Saturday, there may arise various reasons why not wash clothes. That is where laundry businesses come into action.
No surprise that laundry shops become more and more needed. For example, some people hate doing chores. Those who have a big family and many children have probably no time to carry out such an exhausting domestic activity as laundry. While you may not entrust cooking, cleaning your home, taking care of your children to someone you have never seen before, delegating laundry to other people is worth trying out. Or maybe you have no desire to do the laundry, and we are not blaming you for it. In the present-day world, there are so many much more exciting things than doing laundry. Now, let's picture your dirty clothes washed and dried for you with no effort on your part. So, why worry about doing laundry if you can delegate this task to laundry specialists?
A laundry service business is a time- and effort-consuming business but it still allows making high profits. So, if you are a hard-working entrepreneur, you can make a lot of cash quickly. The truth is that with laundry businesses, one can become a millionaire even without a dollar in the pocket. Let's imagine that you have been asked to wash and Iron a shirt. It will cost around N500. If you wash ten shirts in a day, you will make N5,000. Your profits depend on how many regular clients you have.
In the era of growing urbanisation, people will have less and less time doing laundry and other chores. While this job is quite demanding, many people like managers, directors, office workers pay money to the professionals who can make them look sharp every day.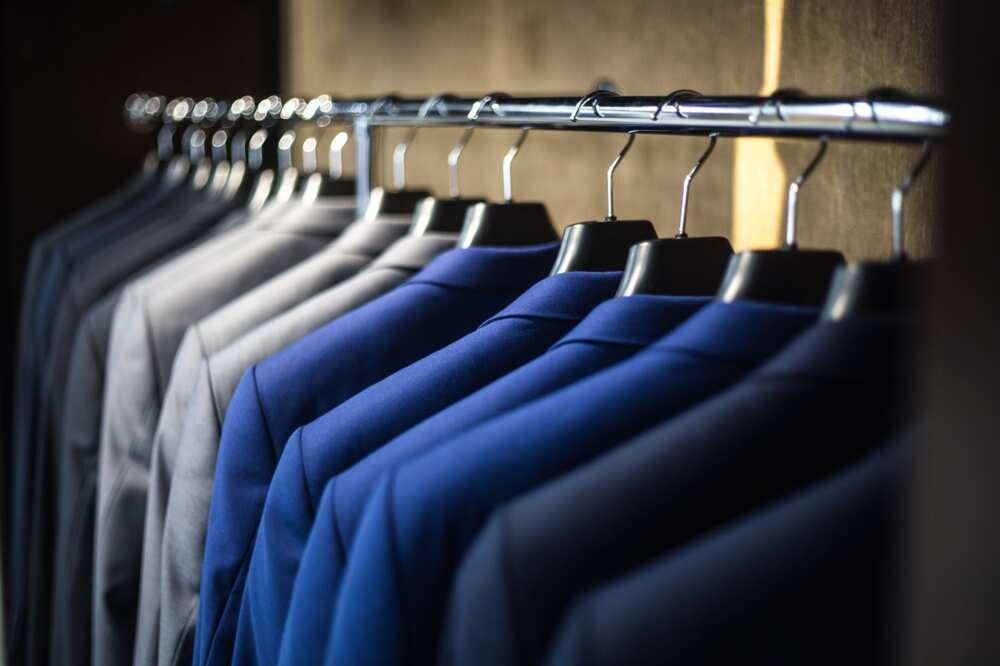 What equipment and resources are needed?
The most important things you need are a strong desire and a lot of patience. Besides these personal qualities, you need to buy equipment and other resources. If you feel confident enough in your dreams of starting a laundry business in Nigeria, look at the list below where you will find things you need to buy to start this venture and make it as profitable as possible. Here are the equipment and resources needed to start a laundry business:
Industrial laundry detergent. Rather than buy any detergent, purchase one that is used by dry cleaners as dry cleaning is a technology that must be mastered. The better you clean the clothes, the more clients to get in turn.
Washing machines. If you cannot afford to buy a few washing machines, you can start with one but a good one. It should still be high-quality as clothing is often torn in washing machines. If you have no money to buy a washing machine, you can also take a loan from the bank or buy a piece of second-hand equipment.
Big washing basins. Before you wash the clothes, you need to soak different types of fabrics in separate washing basins. To avoid paying for damaged clothing, be careful enough when handling people's items. You might hear that jeans should be soaked separately from other fabrics. The same applies to white colour clothes. And remember not to mix colours!
Pressing iron. A high-quality pressing iron that suits for ironing different materials is worth investing. The thing is you are handling people's clothes. Inefficient pressing iron can cause a lot of trouble and havoc. It is advisable to purchase a qualitative iron from a reliable maker like Philips, Rowenta to avoid the damage of materials.
Wide ironing table. You need to feel as much comfortable as possible. A wide ironing table has to be wide enough to give you enough space for handling large quantities of clothes. A wide ironing table can be bought in the market, from the electronics shop at quite an affordable price.
Garment conveyor. It is used for hanging the washed clothes. You can reach a local carpenter or furniture maker to make a wooden hanging stand. It will cost less than buying a ready-made garment conveyor for hanging the clothes. Remember that it should be wide enough. Otherwise, the finished clothes will be stuffed.
Power generator. As electricity supply is not always reliable, you might need a good generator to produce energy in case you will run out of it.
Starch. If you have a lot of wealthy clients, they will ask you to add beauty to their clothes by starching them.
Clean water. Possessing a source of water is no less essential for running a successful laundry business.
These are the necessary equipment and resources you need to purchase to build a profitable laundry business. There is probably no need to purchase all the equipment at once. The type and amount of equipment will also depend on the scale of your business.
In the beginning, most of the entrepreneurs have no money to purchase a piece of expensive equipment. For starters, you can buy the equipment you need from the second-hand providers, take a loan from the bank, ask for some money from family and friends, borrow the most needed equipment and so on. Additionally, you can wash the clothes with hand and later purchase iron, more expensive detergents, wide ironing table and other items.
What skills are needed to start a laundry business in Nigeria?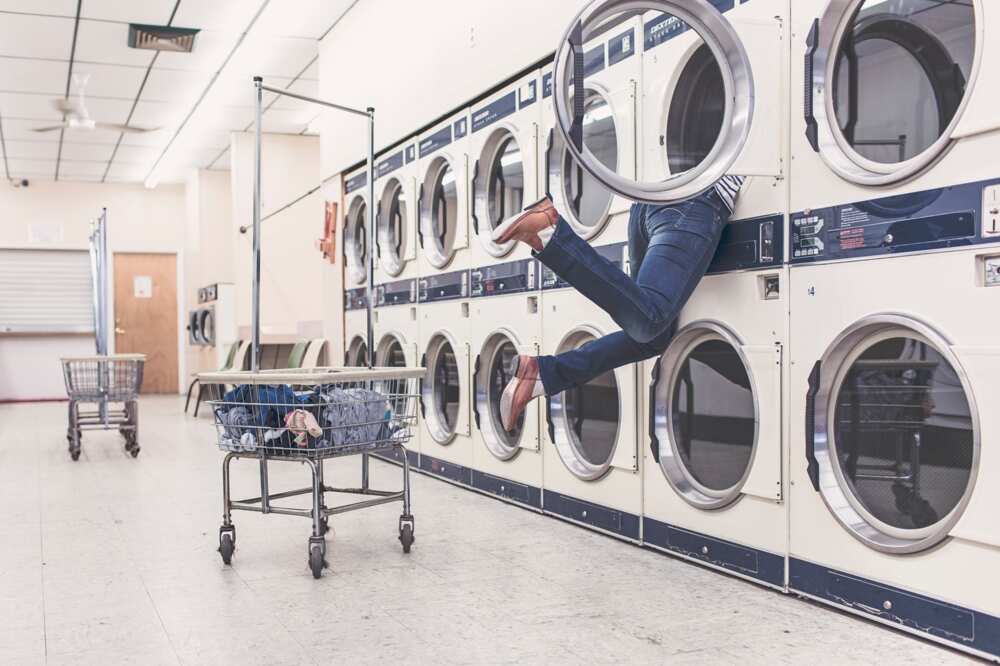 It may seem to be extremely easy to run a laundry business. However, if you have no experience, you will need to get some knowledge of proper cloth washing, dry cleaning, ironing, starching. Other crucial laundry skills include cloth handling, sorting, cloth folding, packaging, dealing with white clothes, special fabrics and so on.
If you are going to do laundry yourself, then you need to be physically healthy. And this is only beginning. It is advisable to get some initial experience in the industry, for example, by working at the nearest laundry even for free. To make your business grow, you will also need to learn the basics of customer relations and bookkeeping. Being experienced in all these areas might be what will put you ahead of the competition.
How to market and promote your laundry service business in Nigeria?
The cheapest way to market your newly established laundry business is to spread word of mouth. Today, it is almost effortless to promote business on social media platforms like Facebook, Instagram, Twitter, Whatsapp. You can also entrust promoting your business to digital marketing specialists who will send the customised emails to the whole bunch of new customers who will possibly become your stable clientele. Another way is to create beautifully designed flyers with the use of Microsoft Word or other specialised programs. At the online shop, printing the flyers will cost around N6,000. Even if dropped at neighbouring houses or schools, offices, shops, these flyers can bring you stable clients with ease.
As the business grows, you can add more items like home delivery, starching to the list of your laundry services. Many dry cleaners give presents to their stable clients with every 5-10 clothes they wash for them. The gifts may include a pan, a pair of free socks, a tie and many more. A good tip is to launch a reward program for the clients referring their friends or relatives.
Effective ways of marketing are numerous, they range from the simple ones like putting a large banner outside your dry cleaning shop, picking up and doing home delivery, offering promotions and discounts, spreading word of mouth among people living in the nearest neighbourhood to more sophisticated ones like going to offices and informing the workers of your laundry services.
Every businessman has no other way but trying out different methods of marketing and promotion to find out which work best for their business. What is a 100% truth is that building a profitable business requires the owner to be honest with the clients about prices and services.
READ ALSO: How to use washing machine in a right way step by step?
The most popular types of laundry service businesses
A possible way of how to become a successful entrepreneur in the laundry industry is to try to develop only one but highly demanded service. If you want to go big, take a look at the list of the most popular laundry services in Nigeria.
Dry cleaning
Every big city has a bunch of dry cleaning shops. Looking nice, clean and neat is the key to success for a significant number of office workers. That is why dry cleaning is continuously growing in the laundry service business industry in Nigeria.
Ironing clothes
You might be surprised, but many people are ready to pay money to get their clothes ironed. While washing and washing involve ironing on the customer's request, some clients need exactly to iron the items. In many cases, it is a shirt brought in the morning because of the customer's broken iron. A client is usually charged as low as N100 per clothing ironed.
Laundromats
Laundromats are often established in European and American laundry shops. In Nigeria, it is just starting to win a market. It is a business that doesn't require hiring lots of staff. The customers are washing and drying the stuff in the laundromats which is much more convenient.
Staffed laundry
Compared to a previous one, the staffed laundry is a different business. An owner may employ more workers to provide additional dry cleaning services to the clients. You, for example, can sit over the counter selling detergents and soaps, offer change, watch the customers' clothes to make sure they will not be stolen as well as do the laundry themselves.
Fluff-and-fold services
We cannot but mention fluff-and-fold service which has gained huge popularity in Nigeria. The businesses built on this laundry services include washing, drying, pick up and delivery, ironing, and folding services.
Steps to establish your laundry service business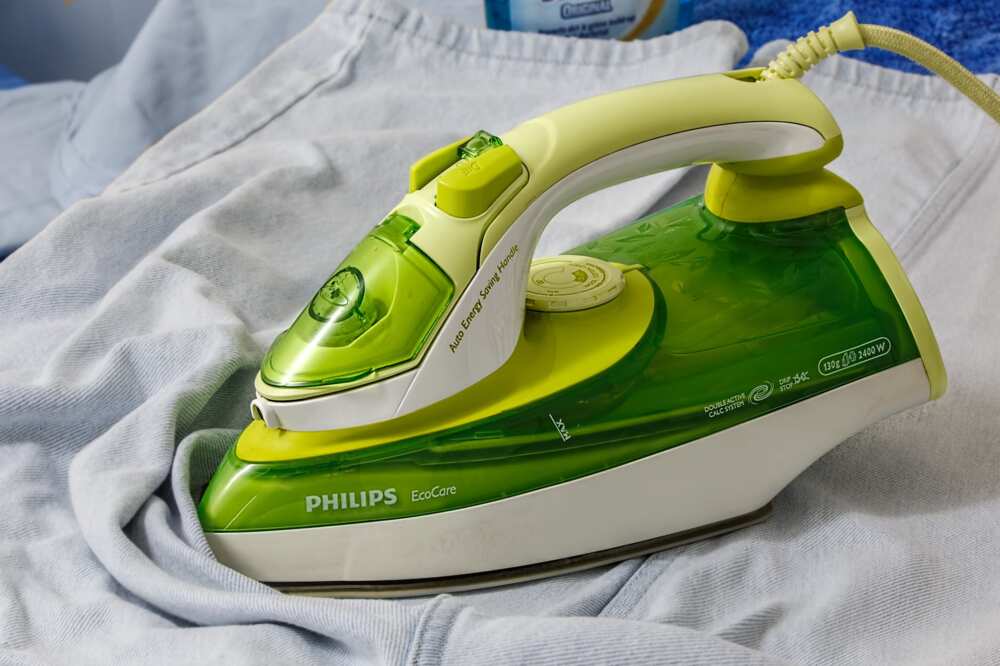 Once, you decide that you have enough courage to start your own business, you need to perform a few steps. They are the following:
Register your laundry business. If you consider yourself a businessman, you are required to register your venture and get a special kind of permit. Unlike the USA citizens, Nigerians need to gather the whole pile of documents before they are allowed to set up the shop. Similar to other countries, the laundry shops owners in Nigeria have to pay taxes to the local and federal government after they get registered.
Choose a good location. Selecting the right place in your area is very important for this business as it directly depends on the influx of customers. The best location is one that attracts a lot of traffic, for example, a city centre, underground stations and so on. Establishing your shop near the main road can help to grow your clientele much faster than if you set your business in a poorly populated area. An excellent place to locate a shop is near the relaxation spots where a high influx of people is observed.
Another useful tip is to build a business within the place with less competition. In business, everything counts. The bigger and stronger the competition is, the fewer chances you have to grow fast and make high profits. However, you don't have to worry if you have a good business strategy and are offering outstanding service.
Benefits and challenges of the laundry business
As mentioned above, the laundry service business may be quite very lucrative. However, there may also be many pitfalls of setting up a laundry shop in Nigeria. Let's start with the things that can be considered beneficial for developing a laundry business. They are the following:
Washing of clothes in the laundry shop is affordable and convenient for the customers, especially, in big cities. Laundry is usually done quickly, and clothes can be even picked up and delivered at an affordable price. So, if you are doing your job well, you will always have many loyal customers
Highly professional laundry service implies careful washing and protection of the quality of the clothes. It makes a laundry business highly lucrative and businesspeople millionaires
Laundry business is easy to set up when it comes to startup capital. Many Nigerian people in business start their business with no money by doing home service, so you can start small and grow fast.
This business allows working with a flexible schedule and staying in control of your time. It is another reason why you should set up a laundry shop if you are not able to work at the office.
Most of the Nigerian businessmen face a lot of challenges when starting a laundry service business. Here are some of the most significant of them:
Poor electricity supply. It is a well-known fact that Nigeria suffers from a lack of electricity. For this reason, businesses are even closing. To save their laundry business, entrepreneurs need to purchase the power generators to keep the washing machines operating
Clothes occasionally get burnt, damaged, coloured, shrunk, go missing which often causes customer dissatisfaction. Compared to the state-level issue like a lack of clean water or electricity, these are minor disadvantages. The truth is damage to clothes happens very often. However, if you care about the prestige of your laundry business, you don't want your clients to get mad because of poor services
Lack of highly trained staffs. While Nigeria is a densely populated country, it has not as many highly professional workers as needed
Poor access to clean water. This factor can negatively influence the laundry service. However, it applies only to the small-scale businesses
Building a reliable client base. Marketing is one more weak spot in Nigerian laundry industry which may cause a lot of trouble for beginners.
How much money do you need?
To build a profitable service business in Nigeria, a businessman need some money on business registration, rent, buying equipment. The total cost may reach around N500,000. If you are working from home, you do not need so much money. The situation changes in case of a medium scale laundry business. An owner will need to more stuff including a receptionist, a person delivering clean clothes to the customers' homes.
Take into account that every single day a certain amount of money will be spent on washing and ironing. On average, handling clothes starts at N50 but, as they say, everything has its price. For example, lighter items can be handled for N100, while heavier items are done at N500. The price may change depending on your area. The list of spendings doesn't end at this point.
Setting up a laundry business without any money requires putting in a lot of effort to make your dream come true. The good news is it's possible. All you need to do is to start moving from home to home and doing washing and ironing. If you are good at this, you will be paid well. After you save up some money, you can purchase the equipment and resources to set up a proper laundry business.
Conclusion
To summarise, laundry business can bring a lot of money to someone who is working hard. To set up a successful business in Nigeria, one has to possess some professional skills and knowledge about marketing, consumer relations. It is essential to find a good location, develop a strong marketing strategy, find highly skilled workers and so on. To make a laundry business grow fast, its owner has to clearly understand the needs and preferences of his clients as well as the requirements of the industry.
While it is essential to have some capital at the beginning, it is possible to start from scratch with no money. The laundry business in Nigeria can be both beneficial and challenging. Despite many obstacles on the way to success, businesspeople in Nigeria have carved a niche by providing high-quality services to the customers. If everything goes well, one can build a lucrative laundry services enterprise in a short amount of time. Remember to have a fair price policy and not overcharge your customers. Providing high-quality services at affordable prices can make your venture sustainable and give you a lot of loyal clients that will come back again and again.
Disclaimer
This article is intended for general informational purposes only and does not address individual circumstances. It is not a substitute for professional advice or help and should not be relied on to make decisions of any kind. Any action you take upon the information presented in this article is strictly at your own risk and responsibility!
READ ALSO: Most successful small business ideas in Nigeria to try in 2019
Source: Legit.ng