Different types of cornrows for guys
An exceptional way to express one's personality and experiment with one's appearance is different types of cornrows. We offer several popular Nigerian braids hairstyles for guys. Everyone can choose something stylish or even unique for his new look!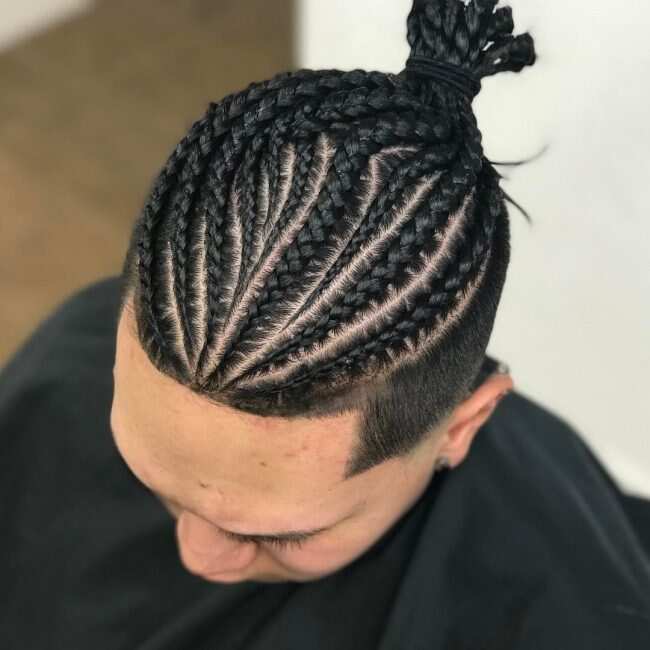 Different types of cornrow hairstyles
Simple braids
Braids or boxing pigtails are types of cornrows braids that are woven over the head. Often, weaving can be seen on athletes, as this hairstyle retains its neat appearance for a long time. You can braid them in different directions. Often with the help of this type of weaving, barbers create fancy patterns. Men can put hair in boxing pigtails at the temples, the back of the head or around the entire skull. Strands can be twisted along the entire length or fixed on the back of the head.
Cornrows
Probably the most popular style for men, corn is a close braid worn next to the head. Single braids or double braids give you the opportunity to play with the texture, and hairdressers can stylize them.
Layered braids
With rotation on the cornrow, they can be pulled or left to hang freely, depending on your mood. It is better to do it with hair short enough so that it does not fall into the eyes.
One with bun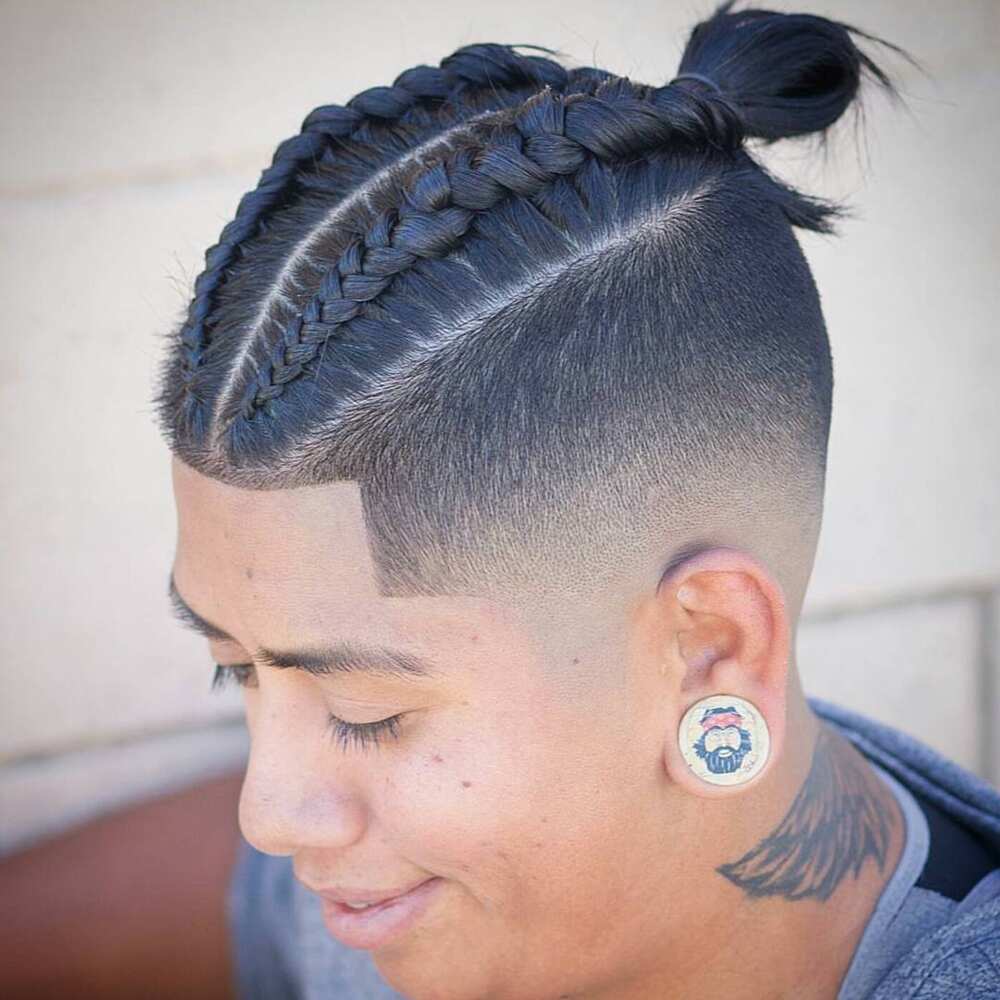 Dreadlocks
Dreadlocks require a lot of patience, but as soon as you have them, there are many hairstyles you can wear.
READ ALSO: Big braids hairstyles to rock in 2018
For example, you can twist locks in French braid or several smaller braids. Another great option is to make locks that look like braids.
Rear braided hairstyles and horns
Reverse braids are the most popular, mainly because they are easy to use for any hair size and they also look impeccable. For these braids, all you have to do is weave them straight to the back of the head.
Box style
The best thing about this style is that it is easy to make, and therefore you can make them yourself. There are also a lot of projects that you can choose, plus the opportunity to come up with a unique one. You can have them as horse tails, buns or bends, but it is important to have the correct length and prepare the hair before weaving.
Mohawk
A Mohawk can be formed with medium hair or the hair on the sides, and all that is required is creativity. If you want the braids to be in the middle, you have to shave the sides. And if you need cornrows for the sides, then you have to leave longer hair, decorated in the middle.
Simple hairstyle
Sometimes you just want to have something quick that you can wear for a special event, and this is a perfect example, because everything you need is to weave the hair, and that creates a very good pattern.
The horns on the side
The side rows may be part of Mohawk, as mentioned above, or part of any other style, such as a Pompadour or top top. In Pompadour you can have a line under it immediately after the line side, to make your crop more attractive.
Braided dreadlocks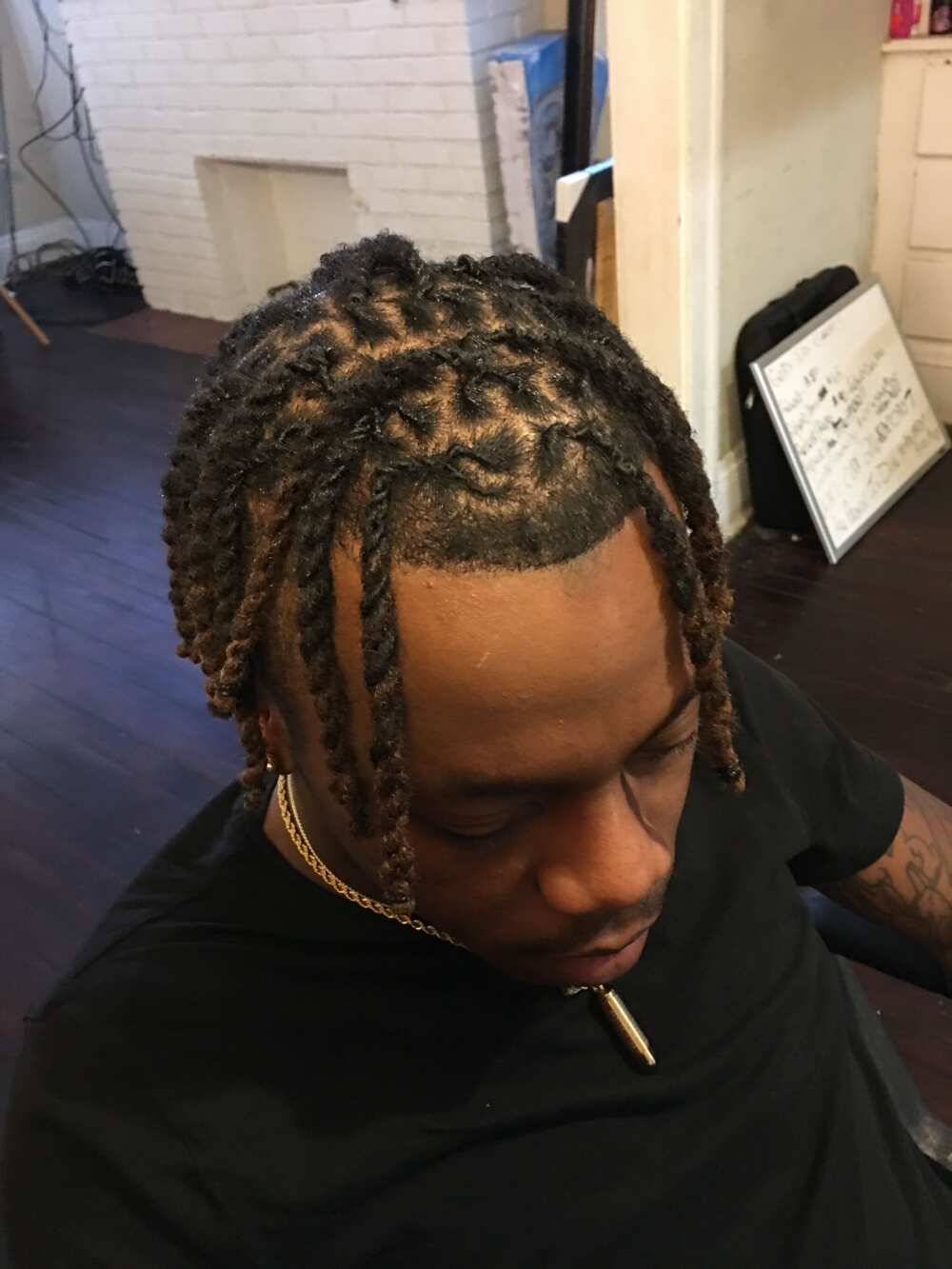 If you have dreadlocks and you don't know what to do with them to make them look more outstanding, netting can offer you the solution you are looking for. One way to do this is to weave your thin locks into a pair of braids or elegant French twist.
Updo styles
Men are accustomed to cornrows, which flow towards the back, but there are many other ways to make them look like updo styles. The hair line should flow towards the center of the head where they will be buried in a bun or any other creative style.
Micro-braids
Micro-braids are also called invisible braids, because they are thin, and it will be difficult for most people to determine the style you wear. The trick behind wearing them is the use of a skilled and experienced barber, as not everyone can create beautiful ones.
Weaving at the top of the head
Some men or even most men like to keep their hair longer in the crown and the sides of their skin are shaved or faded. Then the long top is embedded in different hairstyles, such as spikes or bangs. However, you can also get braids on your long section, and then tie them into a bun or top knot on the crown.
Asian braids and horns
Most Asians prefer to weave the sides, leaving the hair natural in the middle and pushing it back. This style looks incredible!
Regardless of how you decide to make your transformation, it is also important to know that braiding helps your hair grow faster than other hairstyles, which include combing. Hair with pigtails on the head is a trend among men all over the world,the same as different types of cornrows 2018-2019.
READ ALSO: How to make braided wigs
Source: Legit.ng