The gorgeous actress Yvonne Nelson is the pride of Ghana. She has so many talents which she proved over the years. The fans are still unable to get over her classic movies, so they watch them again and again. This woman is not just beautiful – she is intelligent, brave, and smart. Read the Yvonne Nelson biography and learn new things about this classy actress!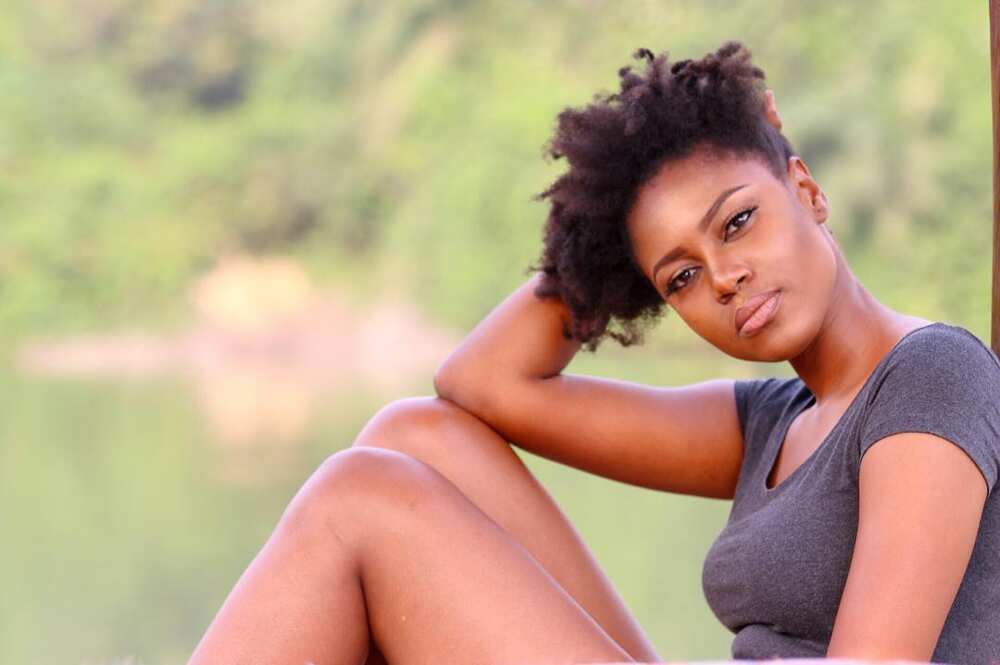 Photo: clickusgh.com
Ghanaian actress Yvonne Nelson biography
What made Yvonne Nelson famous? Maybe it is her endless charm, or ability to stay professional in every situation, or the multi-faceted acting talents. But the fact remains that nowadays she is the household name when it comes to Ghanaian movies, and so many admirers want to know more about her beginnings and the establishment of her career. You can read the biography of Yvonne Nelson and find out how everything has started for this bright woman with a charming smile. Trust us, Yvonne Nelson bio is definitely worth reading.
Early years and family
Yvonne Nelson was born in the city of Accra, even though the actress originates from Cape Coast. Her birthday is on November 12th, 1985. Yvonne was the last sibling out of four. The first school of Yvonne Nelson was St.Martin De Porres School, which is in Accra, and later, the superstar proceeded to study at the Aggrey Memorial Senior High School. She then studied Human Resource Management at the Central University College.
Yvonne and her siblings were raised by a single mother. Their father abandoned the family when she was still a little girl, and since then, all the responsibility was on the shoulders of her mother. She even congratulates her mom on Father's Day every year on social media, emphasizing on how she had to fulfill the role of both parents at once.
As Yvonne remembers, she was always into music, and at the start, she did not have any interest in acting. Unlike many other actors, she did not dream of starring in movies. Back in her university days, she used to perform rap songs on stage, and overall she was really into music and singing. However, now, she says that she is not surprised at all that she chose the acting career, just because it is a huge part of show business, and got her in the spotlight.
Career path of Yvonne Nelson
Before becoming a nationally known actress, Yvonne Nelson used to be a beauty pageant queen. She started participating in beauty contests when she was in high school. After a few long years of mastering her talents and getting ready, she got a chance to take part in the Aggrey Memorial High School beauty pageant, and she succeeded in winning the Miss Aggrey title. Afterwards, she decided to aim for the bigger chances and became a participant of "Miss Ghana" beauty pageant in 2005. Yvonne did not become a winner, but she got a special recognition award "Best Talent", because she performed the best original rap song, which touched the topic of HIV/AIDS disease. Yvonne also managed to win the title "Miss Photogenic", as well as a few other awards.
After Yvonne Nelson received the much-needed exposure from the "Miss Ghana" beauty pageant, she quickly started gaining popularity. The beautiful young girl has won the two-year-contract with "Maxim Cosmetics" brand, which made her a face of their production. However, the most valuable prize for participating in the Ghanaian biggest beauty pageant was the role in TV series called "Fortune Island". This was the TV production that brought Yvonne Nelson to the limelight and acquired her the initial fame for kicking off her acting career. Even though "Fortune Island" did not last long, these series became Yvonne's platform into big mainstream acting and exposed her natural talent to the big Ghallywood producers.
As Yvonne Nelson remembered, her real fame started when she began her work with Venus Films. This production house is one of the best known in West Africa, and it has cooperated with many celebrities. For pursuing her career and following her dreams, Yvonne Nelson even decided to drop out of the university. The first major production that Yvonne took part in was called "The Return of Beyonce", where she starred alongside such Ghanaian movie giants as Nadia Buari, Van Vicker, and Jackie Appiah.
According to Yvonne, she was not even going to audition for the big movie productions. She got her first big part completely accidentally, without even planning. As she remembered, she only went to have lunch at her favourite place, and the audition for the movie was going on there at the same time. The young beauty was spotted by the producer of the movie, who asked her if she was there to audition for the role. Yvonne said that she did not want to audition, but the producer asked her if she was certain. Even though Yvonne rejected the proposition, the producer later got her number and gave her a call, asking her to come. Yvonne thought that it will not hurt if she came, and once she got the role, she never had any regrets about it.
Her first big debut where she got a lead role was called "Princess Tyra", where she appeared in 2007. This movie brought Yvonne Nelson to the public eye and made the producers realize she is a potentially talented actress. Her next great production was called "Playboy", and it came out in 2008. Afterwards, as she appeared in many new movies, she became a recognizable name in Ghana.
Yvonne Nelson did not only stop on Ghallywood – she thought that she had to expand her horizons to become a superstar. This way, she became the first actress from Ghana, to act in the Ivory Coast movies. It happened when Ghanaian movie industry collaborated with Nigeria and Ivory Coast. Later, she also moved to Nollywood, where she played in her first production with the famous actress Genevieve Nnaji. Yvonne Nelson believes the the African movie industry with pleasure but admits that it still has a long way to go before it could be compared to Hollywood.
Yvonne Nelson has been featured in more than 200 movie productions. Some of the most popular movies which include her appearance are "Deadly Passion", "Desperate to Live", "The Queen's Pride", "Yvonne's Tears", "Blood is Thick", "One Night in Vegas", "The Mistresses", "Deadly Plot", and many, many others. Except for being an actress, Yvonne Nelson is also a successful movie producer. She decided to try her hand at producing films in 2011.
The first movie of hers was called "The Price", and it was released in 2011. Afterwards, she has produced such movies as "Single and Married" (2012) and "House of Gold" (2013). For all of her movies, she has won plenty of "Best Actress", "Favourite Actress", and "Hottest Actress" awards, as well as "Best Picture" awards, at the various Nigerian and Ghanaian award ceremonies. Her outstanding talent was recognized and acknowledged by the academy and the fans.
Yvonne Nelson usually plays roles of a bad girl in the movies – she is really great at portraying the believable negative characters. However, in real life, she is very far from this archetype. Yvonne admits that she does not smoke or drink, and in general, she is nothing like her usual movie roles. She says that people have to understand that she is an actress, which means that she receives the scripts and acts them on screen in a certain way.
Yvonne Nelson considers herself a professional and says that she does not turn down the scripts just because in real life people put unrealistic expectations on her. She also enjoys doing all the romantic scenes that the movies require but notes that she would not go any further than kissing.
Except for acting and producing, Yvonne Nelson is a well-known and hardworking businesswoman, who holds a few profitable entrepreneurship. She owns a fashion store which is named "YN's Closet", where all the most fashionable designer clothes are shipped from all over the world. Except that, she has a hairline and a production company "YN Productions".
Yvonne Nelson is very big on charity and fighting for human rights. In 2010, she launched a foundation called "Yvonne Nelson Glaucoma Foundation", the purpose of which was educating people on the eye ailment and its harmful effects. The main inspiration for this was her family member's death from glaucoma.
Yvonne Nelson is very aware of how this disease can affect people and knows that it is hereditary, which means that everyone can inherit it from their family members. Unfortunately, "Yvonne Nelson Glaucoma Foundation" was quickly forced to shut down, because it met unexpected financial challenges.
Aside that, she was one of the celebrities who decided to protest against the energy crisis in Ghana. She took part in the peaceful protest, which took place on May 16th, 2015. The official hashtag of this protest was #DumsorMustStop, which is its name on social media, used to describe the concerns of Ghanaian people about the energy crisis in the country. Yvonne Nelson and a few other celebrities decided to drive more attention to this problem and challenge the government to the quickest solution.
Yvonne Nelson is one of the "it-girls" of the Ghanaian movie industry, being a popular actress and the idol of many people. Even though she went on breaks from movies, she never stopped being incredibly popular and recognizable actress. Many people are not only watching her movies and admiring her on-screen but also discussing her rich private life. And there is really a lot to discuss. Now, that you have learned everything about Yvonne Nelson's career, checkout what she's like off-screen.
Is Yvonne Nelson married?
This actress is not a media person, so she does not disclose a lot of information about herself to the news outlets. This only fuels all the gossips about her. There were rumours about her dating the famous actor Chris Attoh because there were pictures leaked from their supposed wedding. However, this wedding was only for the movie that they both starred in, and it was confirmed that they have never been in a relationship, especially taking into account that fact that Chris has a wife.
In 2017, the Ghanaian movie industry was caught by surprise when the public found out that Yvonne Nelson is pregnant. The actress always said that she wanted to have a child. She also displayed an opinion that it was not necessary to be in a relationship to have a child, and that every woman is capable of raising her baby without help. There were different assumptions about her pregnancy because Yvonne never gave any hints on the identity of her baby father.
READ ALSO: Yvonne Nelson's baby daddy drama story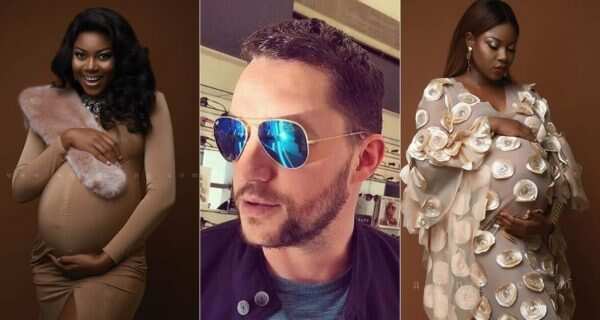 Yvonne Nelson's pregnancy and baby daddy. Photo: moneylandforum.com
The media found out his name anyway – the photographer from Great Britain, who went by the name Jamie Roberts, was revealed to be Yvonne's current boyfriend. The fans were happy that Yvonne has finally found someone special, and could not wait for their marriage. However, not everything was so smooth. It turned out that Jamie was supposedly married to another woman! There was a lot of proof that he was in a relationship with the Nigerian lady named Keela Harrison, and even had children with her.
Still, Ghana's favourite actress did not pay any attention to the rumours and was posting a lot of photos with Jamie, indicating that they are in love.
The union between the British photographer and Ghanaian actress did not last long, even with the arrival of their child, Ryn Roberts. Even though the start of their relationship was very promising, they could not work out the differences between each other. Apparently, Yvonne Nelson deleted all the romantic photos with Jamie from her Instagram, and they both unfollowed each other. Yvonne said that she and her baby father are still on good terms, but it is clear that they are not a couple anymore.
Besides, Yvonne Nelson suddenly revealed that she is married to someone else! She posted a photo of herself and the attractive man on her Instagram, saying that he is her husband. Nothing is known about this man, but if Yvonne is truly happy with him, it is good for her. Her personal happiness is all that matters.
READ ALSO: Is Yvonne Nelson married?
Yvonne Nelson's child
The beautiful little girl, Ryn Roberts, was born on October 29th, 2017. Yvonne Nelson was on cloud nine when she first held her baby. She later told in the interviews that she would never forget this experience. Recently, Yvonne Nelson's baby daughter celebrated her first birthday, and the actress decided to throw her a huge party with all the most famous celebrities coming to visit, such as John Dumelo, Prince David Osei, Sammy Forson, and Yvonne Okoro. Jamie Roberts, the father of Ryn, was also present, and Yvonne Nelson acted friendly with him. Even the former president, John Agyekum Kufour, had a chance to play with little Ryn and spend time with her.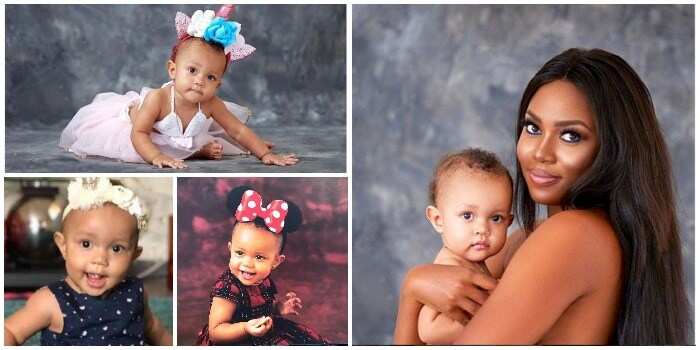 Photo: nigeriancelebrities.ng
The birth of her little daughter truly changed Yvonne Nelson's life. She always speaks very highly of her girl and promises that she would always protect her, no matter what. She also believes that she would be able to raise her even if she did not have a husband by her side.
Yvonne Nelson always encourages women to have children whenever they want, and not be afraid of public opinion. She faced a lot of criticism for having a baby out of wedlock since it goes against the African traditions, but she says that she never lets the negativity get close to her heart, and all that matters to her is for her little daughter to be healthy and happy.
READ ALSO: John Dumelo's wife and baby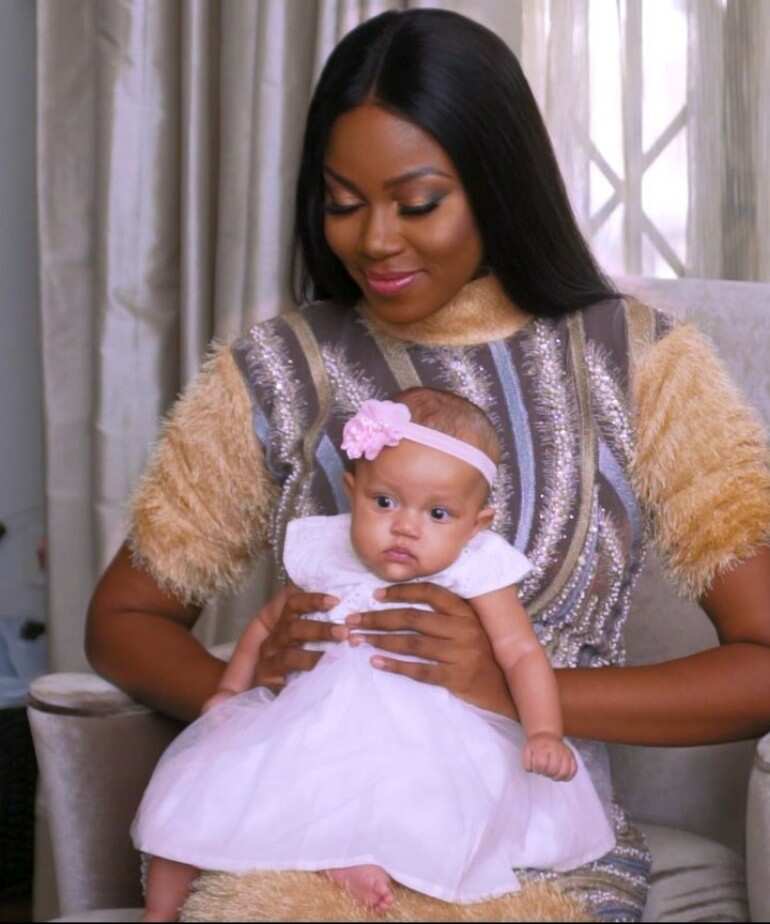 Photo: ghafla.com
This was a fascinating biography of one of the most famous and acknowledged Ghanaian actresses, Yvonne Nelson. This actress is truly one of a kind. She is a bold woman who is confident about what she wants and is never afraid to speak up her opinions. We hope that her story was an inspiring one and that you enjoyed it.
READ ALSO: Van Vicker's biography and family