Mike Adenuga biography. Read the most interesting facts about his education and business empire
Are you interested in Mike Adenuga biography? Read the most interesting facts about his education and business empire. Besides, learn the latest details about Mr. Adenuga's net worth, family, and place of residence.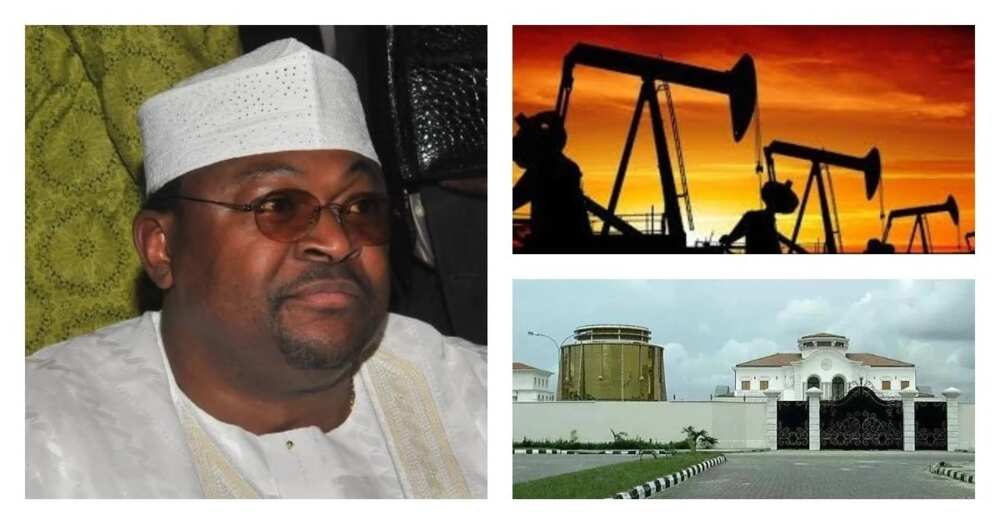 How to make a million dollars? How to earn a billion or several billion? Probably, you need to work very hard, not afraid to take risks and have a certain share of luck. Today we talk about such a person. He is Nigeria's second richest man, as well as one of Africa's richest people, Dr. Mike Adenuga.
Biography of Mike Adenuga
Probably, there is no person in Nigeria who has not heard about the famous businessperson, investor, sponsor of various charitable undertakings and just a good person.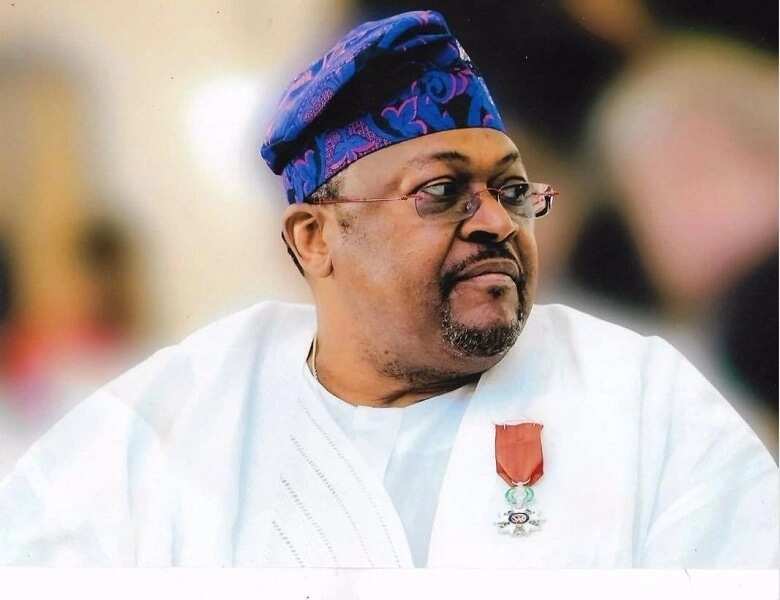 Photo: themomentng.com
Education and early career
Mike Adenuga is a business magnate in Nigeria. His date of birth is the 29th of April, 1953. His father, Oloye Adenuga worked as a teacher at a school. His mother, Juliana Oyindamola Adenuga was a business woman. It's worth to know that she has a royal origin. The family lived modestly enough.
Mr. Adenuga got his secondary education in Ibadan. He studied at Northwestern Alva Oklahoma State University and Pace University in New York. Mike Adenuga received an MBA in business administration. When Mr. Adenuga was a student, he worked as a taxi driver and guard.
Mr. Adenuga achieved his first success in business when he was 26 years old. The future tycoon came back to Nigeria after his studies in the US and was involved in deals at a sawmill that belonged to his mother. Besides, Mike Adenuga sold lace and other textiles. He also distributed Coca-Cola.
READ ALSO: 10 youngest millionaires in Nigeria and their stories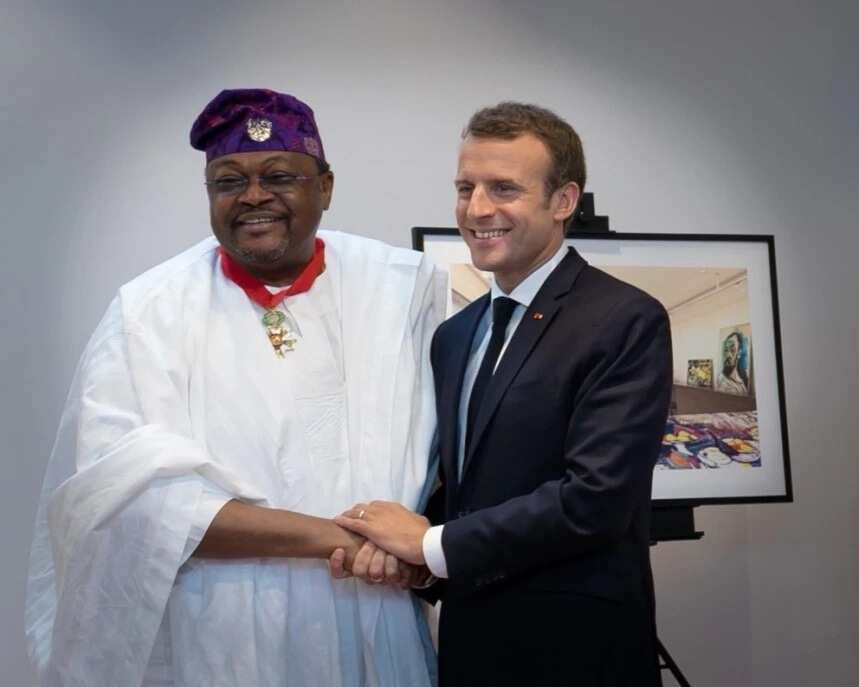 Mike Adenuga with Emmanuel Macron; photo: www.premiumtimesng.com
Mr. Adenuga also had authoritative friends among the military. With the help of Ibrahim Babangida, the former military president of Nigeria, Mike Adenuga received an oil exploration license. This gave birth to Conoil Producing limited. The entrepreneur was the first person of Nigerian origin who to explore crude oil on an industrial scale.
In 1990, he got a license for drilling. Then in 1991, Mr. Adenuga started oil production in the shallow waters (South Western part of Ondo State) in great numbers. As for his mobile communication business, Mike Adenuga got a GSM license in 1999.
Now, Mr. Adenuga is one of the richest men in the world and controls a huge business empire in Africa dealing with oil and gas, telecommunications, aviation, banking and real estate.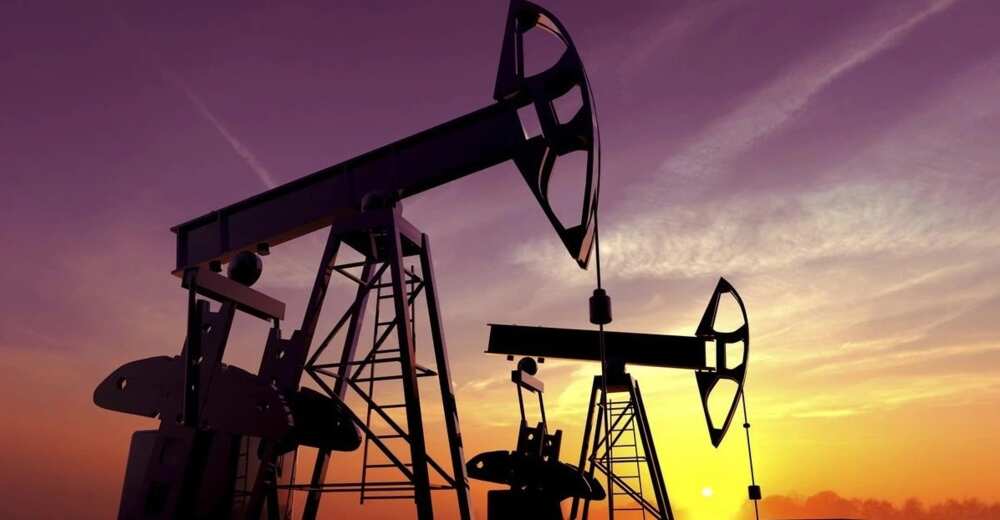 Mike Adenuga in telecoms
Mike Adenuga founded his mobile phone network Globacom in 2006. It has almost 30 million subscribers. Global services are also available in Republic of Benin, Ghana and Ivory Coast.
Globacom made submarine communication cable system for connecting United Kingdom and Nigeria. It was named Glo-1. The project was done in order to provide Internet connection with high speed at best prices for people.
READ ALSO: Top 20 richest Igbo men and women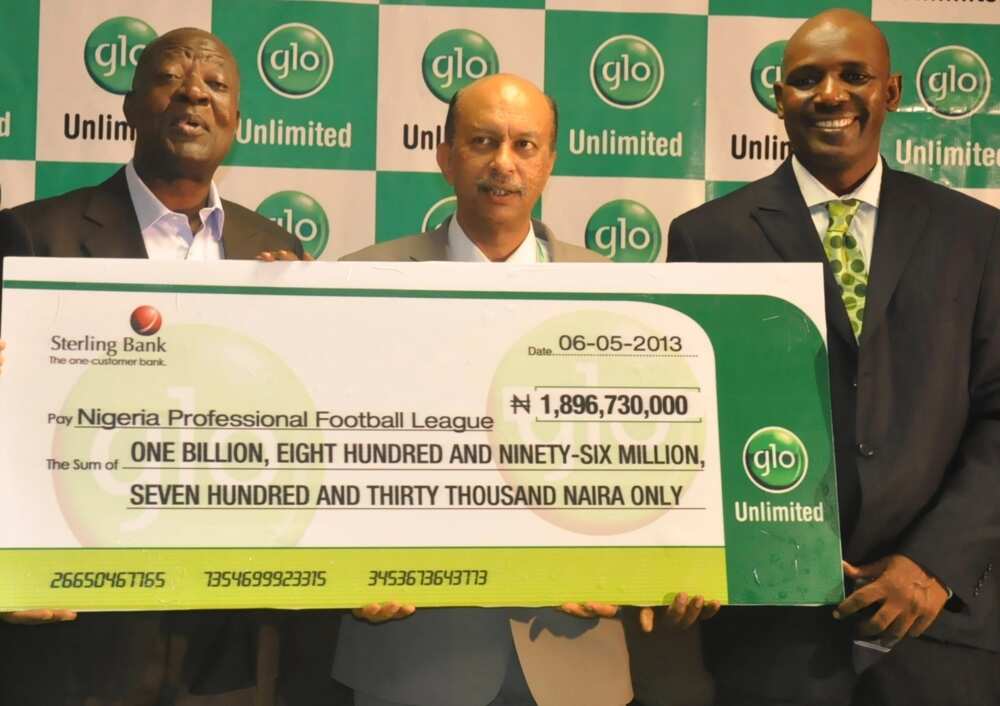 Photo: www.gloworld.com
Mike Adenuga in the banking
Equitorial Trust Bank is one of the largest Nigerian banks. ETB bank was founded in 1990. In 2011, Equitorial Trust Bank had almost one hundred branches in different cities all over the country. In 2006, ETB bank merged with Devcom bank.
Despite Mr. Adenuga successes in the banking sector, for some time the ETB bank experienced certain difficulties. In 2009, the major part of the bank's shares was taken over by the Nigerian Government.
Charity projects of Mr. Adenuga
Mike Adenuga is fond of football. He sponsors the Nigerian national football team, Nigerian premier league, and various soccer events and awards.
Mr. Adenuga and his Globacom also sponsor many activities and projects in Nigeria and abroad.
Mr. Adenuga received a lot of awards for his activities, including African Entrepreneur of the year at the ATA (2007) and Silverbird Man of the Year Award (2009). Adenuga's entrepreneurship provides jobs for Nigerians.
Mr. Adenuga is included in the top richest men in Nigeria. He takes the second place among the wealthiest Nigerians. Mike Adenuga's net worth according to the latest Forbes data is 5.3 billion US dollars. See www.forbes.com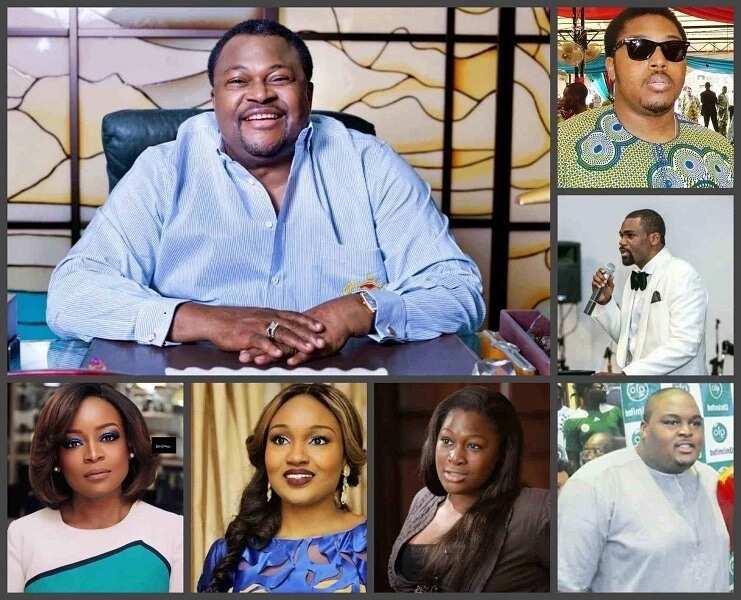 Adenuga's family
The businessman has a wife, Titi Joyce Adenuga. Adenuga's most popular children are Belinda(Bella) Adenuga and Paddy Adenuga.
Also, according to www.celebfamily.com, Dr Mike Adenuga children has seven more children:
Adetutu Oyindamola Emilia
Eniola
Folashade
Adeniyi
Prince Michael
Tunde
Abimbola Beenu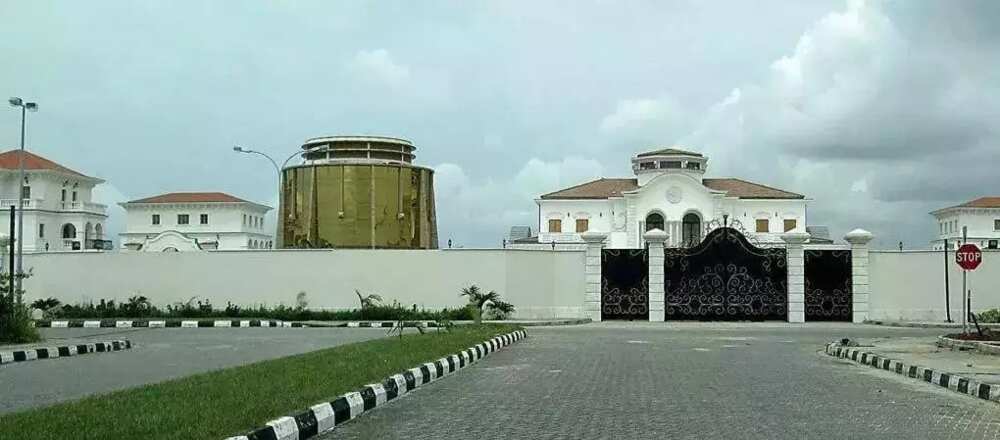 Mike Adenuga's house photo: madailygist.ng
Also, the second richest man in Nigeria has a large estate with nine duplexes on Banana Island in Lagos. On the manor's territory, in addition to residential buildings, there is everything necessary to live for a business tycoon: a conference hall, a church, a mosque, a helipad, a pier for yachts, a large garage for cars and a swimming pool. It is fair to note that Mike Adenuga occupies just one house. The rest eight duplexes are intended for his numerous relatives and guests.
Mr. Adenuga has achieved tremendous success, thanks to perseverance, hard work and the ability to negotiate and build under challenging circumstances of doing business in Nigeria.
READ ALSO: Mike Adenuga's house in Banana Island
Source: Legit.ng