Birthday wishes to a brother: 70 touching ideas
It's your brother's birthday, and what better way to show you care than by sending him a heartfelt or funny message? When writing birthday wishes to a brother, there are many options to choose from. You can either write one on a card, post it on Facebook or send him an SMS. Sincere words coming from a pure heart or a funny phrase will make him smile and make his day special.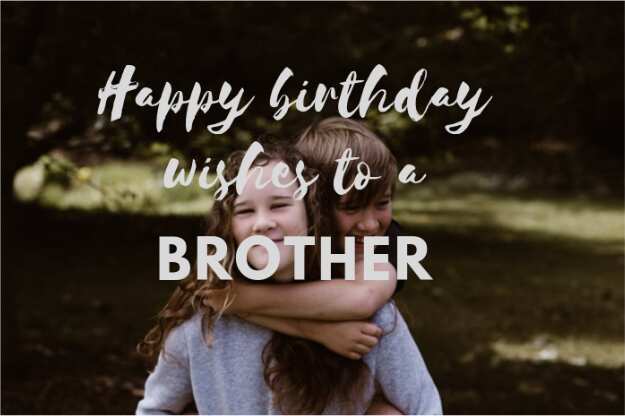 You can make your brother's birthday special by sending him a funny, heartfelt or inspiring message. Above showing up, the gesture will be appreciated that day and more days to come.
Funny birthday wishes to a brother
When crafting birthday wishes to a brother, you have the chance to make him laugh by reminding him of all the funny memories you have together. You even get to share a light-hearted ribbing of how old he is. Here are some great examples you can use in a happy birthday message to a brother:
For your birthday, I wish that every mirror in the world would vanish so you wouldn't know that you are getting older (except for your ever-increasing wisdom, of course.)
As the true and good-hearted brother/sister I am, I have remembered your birthday and forgotten your age.
Do you know why I hate birthday greetings? Because I always have to tell a bunch of lies. Oh, by the way, "Dear brother, you are so sweet."
Happy born day! They say that the older you get, the smarter you become. But as we keep on doing the same stupid things we did as kids, I guess we are an exception.
I know that I've been a role model for you for your entire life, so on this day I want to say, "You're welcome."
I've learned so much from you over the years, like getting away with staying out late, making mom and dad mad, and how to tell on your siblings. I can't wait to see what you teach me this year! Happy birthday!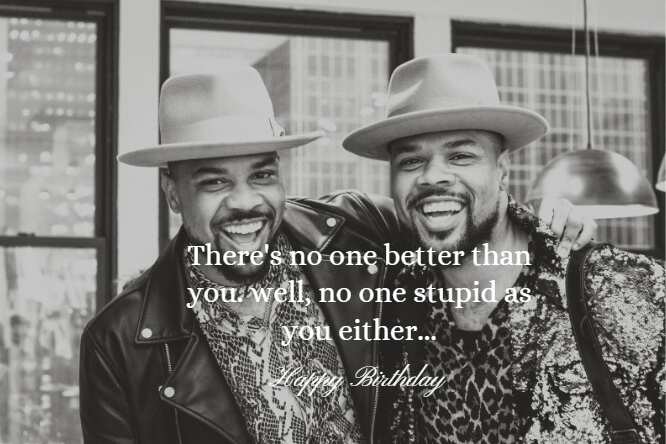 A piece of wisdom for you on your birthday: age is a number and should be unlisted! Happy born day!
Though you are no longer young you are still immature! Happy birthday to someone who is always young-at-heart.
Don't regret the grey hairs on your head. Ageing is a privilege granted to a select few.
Today on your natal day, let the fun begin! We'll bathe in champagne, eat birthday cakes iced with gold, and eat only the most expensive foods. No harm in wishing for something spectacular for a spectacular sibling!
Okay, you need to stop getting older because it reminds me of how old I am getting. So just cut it out! Have a wonderful celebration.
Before you go out today, make sure your pockets are empty. It's your day to have others treat you! I hope you enjoy your day.
I spent 3 hours searching the internet for the perfect birthday message for you, and I gave up. Happy birthday!
Who would I have blamed for all broken things in the house if you were not born? Happy birthday to you!
Today is a special day for me because I got someone to bring me water and do my chores. Happy born day!
From sharing the same room to sharing the first crush, when did we grow up? Happy birthday, monkey...oops, brother!
Hey bro, ask me for any gift you want today... remember you will have to pay for it!
Someone, please grab the fire extinguisher because someone is looking super lit today! Happy birthday, you look good!
Happy birthday wishes to my brother! Don't worry about getting older as your brain is going to be the same... unused.
A wise man once said, "Forget about your past; you cannot change it." Mine is, "Forget about your present; I didn't get you one.
Dear brother, today dad told me that they bought you from the dustbin and not me… Anyways, Happy birthday.
Heartfelt birthday wishes for a brother
A sweet and heart-touching message to your brother on his day will let him know how much he means to you. You can express your gratitude for the support and guidance he has given you as a sibling. Find the perfect birthday wish to a brother that will tug at his heartstrings.
Your birthday is special to me because it gives me the chance to remember the day that someone I love and honour came into the world.
My Brother is, B: Brilliant | R: Respectful | O: Outstanding | T: Terrific | H: Honest | E: Entertaining | R: Remarkable. Happy Birthday!
You're a little piece of my childhood that will always be with me. I'm so glad I have someone like you in my life. May we share and make many more memories together, starting with your today!
Today I found my old memories alive again and enjoyed reminiscing our childhood. I know that the warmth of those innocent days is still with us and will always remain. Happy birthday, bro!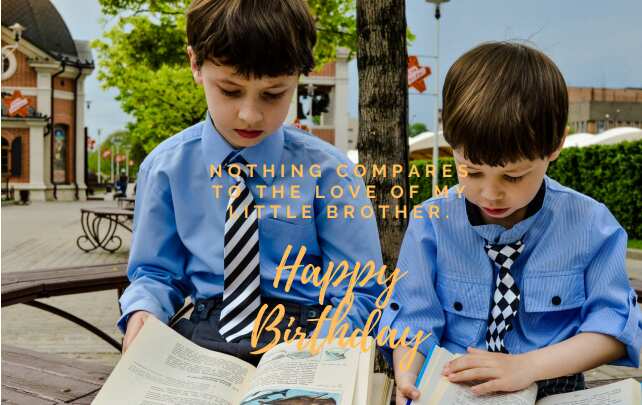 You were my hero right from the start, and I have always wanted to be like you. My birthday wishes to a brother like you is happiness and joy in this new year.
Nothing compares to the love of my dearest brother. Many happy returns of the day!
I wish a rocking day to the cutest and favourite member of our family, happy birthday little bro!
Do you know what a brother's best achievement can be? It is to be a good friend to his sister, and you succeeded! You are my best friend. I love you and wish you a fantastic day!
You are my mentor and supporter in every sphere of life. I am indebted to you beyond repayment, and I wish you the very best on this special day.
Though there have been some moments between us where it would be hard to say I liked you, you should know that I have always loved you and respect you for what you were, are, and will be. Have a good one!
Writing this message is a pleasure for me because I'm a fortunate sister/brother that gets to send birthday wishes to a wonderful being. I hope you have an exceptional day!
You are such a unique being that I never hesitate to talk to anytime. Thanks for being my everything. I love you and wish you a great day!
Happy birthday wishes for a brother and best friend. I wish you love and more love on your birthday.
I know it's your birthday, but today is special for me too. It was many (or not so many) years ago today that I got a new best friend and a wonderful sibling. Happy birthday wishes to my brother.
No treasure compares to the love of a brother. Wishing you a wonderful birthday, dear brother.
Growing up with you was so much fun, dear brother. Happy birthday and have lots of fun.
You had lots of friends, but I had only one, and that was you. Many more happy returns!
I can never forget how you have helped me in growing as a person; you're not only a big brother but a guardian. Have a wonderful birthday, brother!
You are one of the most beautiful and most genuine people I know. I'm glad that we're not just siblings, but that we're also best of friends. Have a great one!
The teachers in school have educated me, but you are the who has trained me practically, happy birthday to my brother.
Birthday quotes for a brother
Instead of sending 'happy birthday', try to send an unforgettable quote instead. You can choose from sweet, inspirational, or sentimental quotes to make his day one to remember. These are some of the best quotes to use: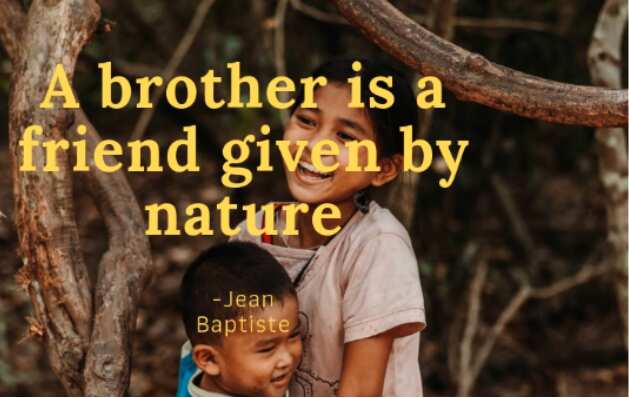 A brother is a friend given by nature -Jean Baptiste Legouve
We didn't even realize we were making memories; we just knew we were having fun -Winnie the Pooh
Like branches on a tree, we may grow in different directions, but our roots remain as one.
Your siblings are the only people in the world who know what it's like to have been brought up the way you were -Betsy Cohen
He is my most beloved friend and my bitterest rival, my confidant and my betrayer, my sustainer and my dependent, and scariest of all, my equal -Gregg Levoy
Some people don't believe in super-heroes. But they haven't met my brother.
A brother is a gift to the heart, a friend to the spirit.
Because I have a brother, I'll always have a friend.
There is no love like the love for a brother. There is no love like the love from a brother -Astrid Alauda
Once a brother, always a brother, no matter the distance, no matter the difference and no matter the issue -Byron Pulsifer
A friend loves at all times, and a brother is born for a time of adversity -Proverbs 17:17
My brother is worth a thousand of your friends -Cersei Lannister (Game Of Thrones)
I sought my soul, but my soul, I could not see. I sought my God, but my God eluded me. I sought my brother, and I found all three
Top happy birthday wishes for brother
Show that you support him in his endeavours while wishing him all the best in life. Here are some of the most inspiring messages you can send to your sibling on his special day:
Though even the sun will one day run out of fuel, my love for you shall last forever. Happy birthday, dear brother.
I thank God each and every day for giving me a brother like you. On your birthday, I want to thank you for being the best. Happy birthday!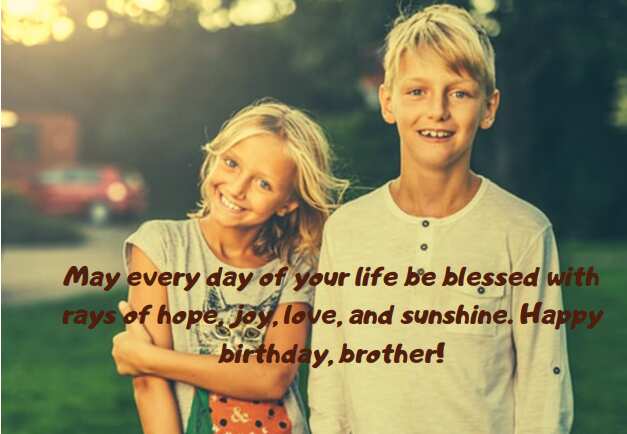 You are such a great role model for every brother in the world because you are so loving, caring, protective, and supportive. I wish you a fantastic day and a fantastic year to come.
Hey, don't think too much about the past or where you are because I believe you are destined to be great. On this day, I hope you reflect and understand that you are at a turning point in your life. Happy birthday.
On this special day, I pray that God blesses you with every good thing, with love, with luck, and with joy. Thank you for always being there for me and giving me your support and strength.
May every day of your life be blessed with rays of hope, joy, love, and sunshine. Have a fabulous day, bro!
On your birthday, let us promise never to be separated from each other's heart despite the distance between us. My best wishes to you!
When I think of you, I can't help but smile from happiness. On your birthday, my every thought is for happiness and joy in your life. Many happy returns of the day.
Those days and moments of childhood that I shared with you are very dear to my heart. I wish you many more happy returns.
Quite often, even the most ordinary card signed with all the warmth and love is appreciated much more than an expensive gift. Therefore, the choice of sending birthday wishes to a brother is in itself a gift. Which of our happy birthday messages did you like most? Share in the comments!
Source: Legit.ng