Ankara styles for skinny ladies to rock in 2018
Nigerian fashion of the 21st century provides a lot of ankara styles for skinny ladies to create a stylish and attractive image. Trying to keep up with the latest fashion trends, many ladies with slim physique make many mistakes when choosing clothes. Not to spoil the image and not look ridiculous, it is essential to pay attention to details that will help to hide shortcomings and emphasize the merits of a lean figure. Let's talk about how to dress slim ladies to expose themselves in the best light.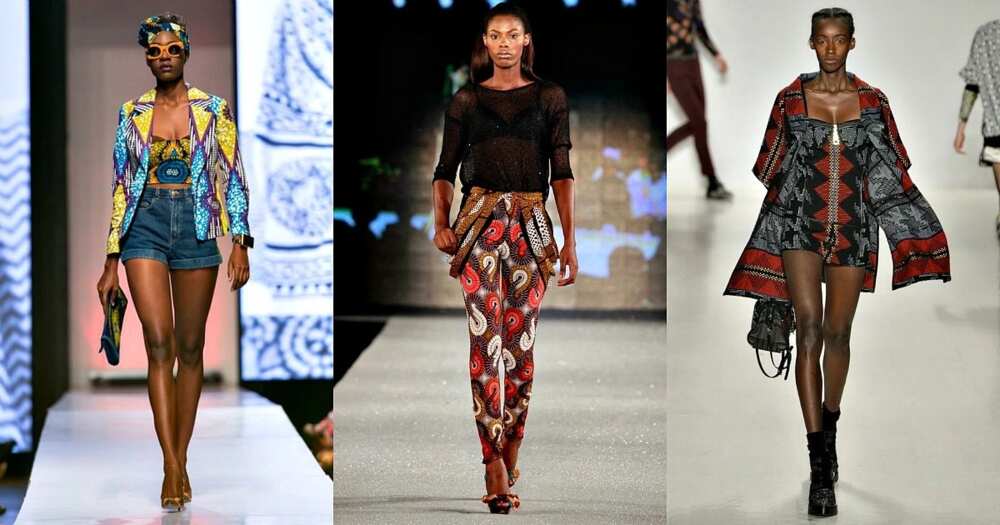 Some genetically inherited features cannot be changed, but proper clothing can do miracles. If you belong to the category of skinny ladies, do not worry, we have prepared some recommendations in clothes for slim women to achieve a positive, magnificent result when looking in the mirror.
Ankara gown styles for slim ladies
The most important thing of every Nigerian woman's wardrobe is ankara gown. These clothes are designed to create a very feminine and elegant image in combination with specific accessories. Some ankara styles for thin ladies can be used for walks, parties, business negotiations or work in the office.
Dresses for skinny women should perform several functions at once. First, attach volumes to the "right" places: the chest and thighs. Secondly, emphasize the refinement of the figure, its fragility, and harmony. Third, make a woman trendy.
The most successful ankara styles of gowns for women with slim physique are the following:
1. Sheath gown
This classic and versatile dress in style is ideal for slim. The main thing - to adjust it precisely to the figure. To make the image even more attractive will help horizontal drapery, ruches, and decorative seams, which visually increase the volume.
Any classic dress can easily be changed by adding a wide bracelet, brooch, beads or earrings.
READ ALSO: Short ankara dresses to rock in 2018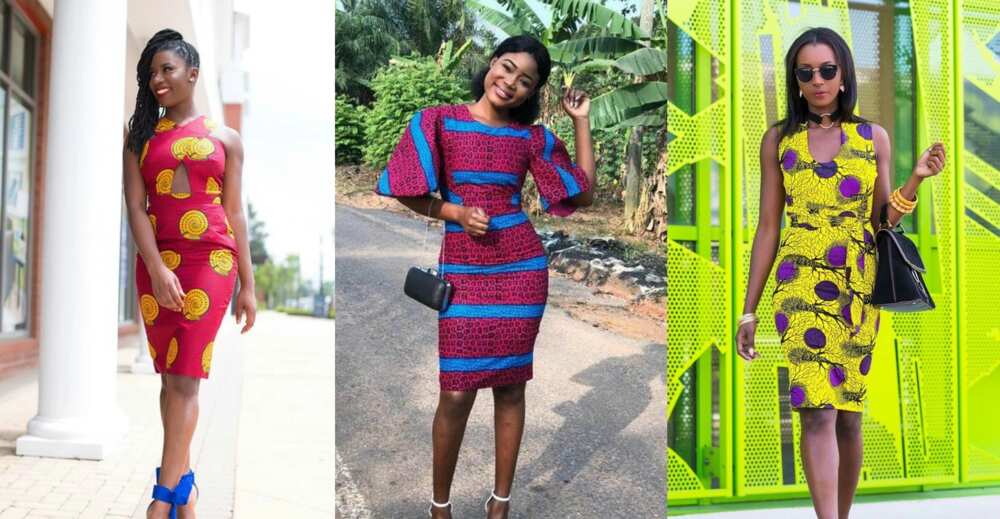 2. Babydoll gown
First of all, attention is focused on the breast - in the babydoll dress, and it will seem more voluminous and alluring. Thanks to the lush folds with which this outfit is decorated, the body visually expands, leaving bony hips and flat butty in the shade.
Babydoll ankara gowns are very popular among young girls. Also, an excellent addition to a similar dress will be a denim jacket.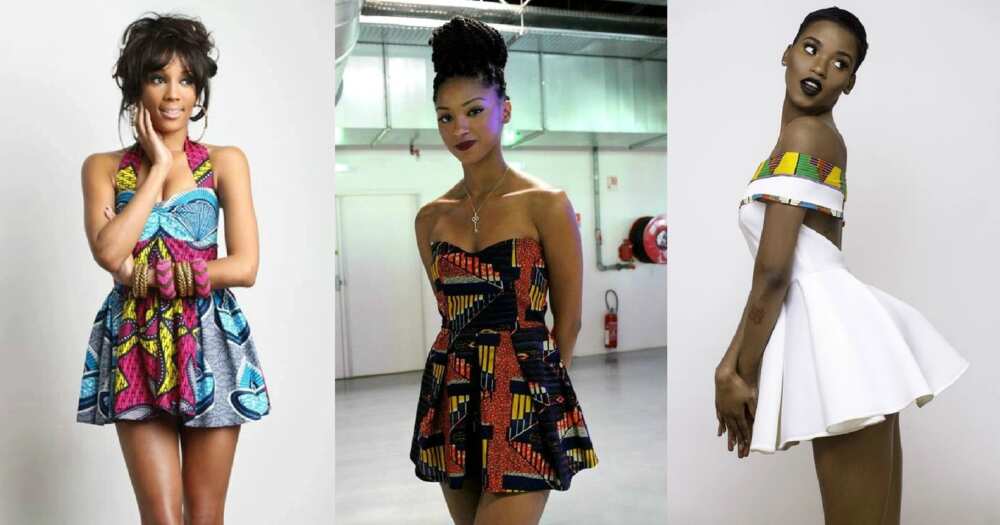 3. Tulip gown
This outfit is designed to emphasize the waist, giving the missing volume to the hips. With the help of a semicircular cutout, it is possible to disguise the bulging clavicles.
It is generally accepted that shoes with heels are more suitable for a tulip gown, the higher it is the better. But some Nollywood stars "break stereotypes" and wear flat-soled sandals or chic ballet flats with it. This gown is combined with short jackets or bolero jackets.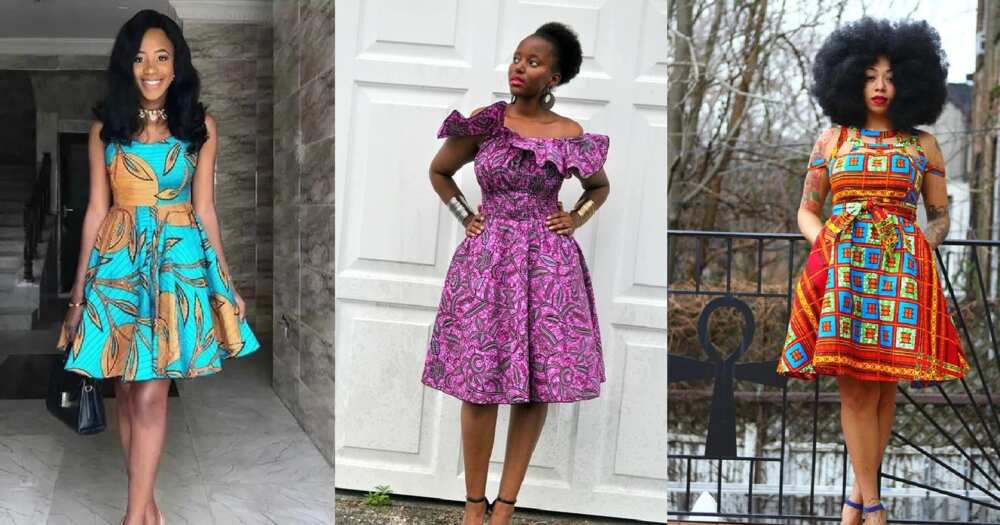 4. Bell gown
Fashionable bell gown looks romantic and feminine. It is suitable for everyday life, romantic meetings walks. It takes on special importance in hot days.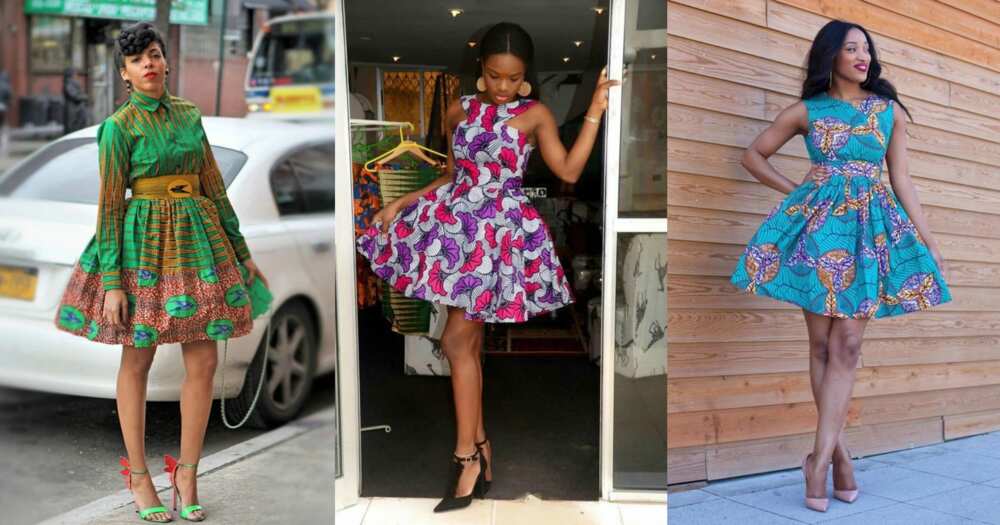 5. Gown with a high fit
Ankara gowns with a high waist are the most suitable for slim ladies of short height (up to 172 cm). They focus on the decollete zone, visually expand the silhouette, hide excessively thin legs and narrow hips. The length of such gowns with an overstated waist depends on the case - everyday models can be very short, medium or even long length, evening dresses - usually long to toe or short, depending on preferences. For the most part, such dresses are made lush, but there are also narrow models with a high waist.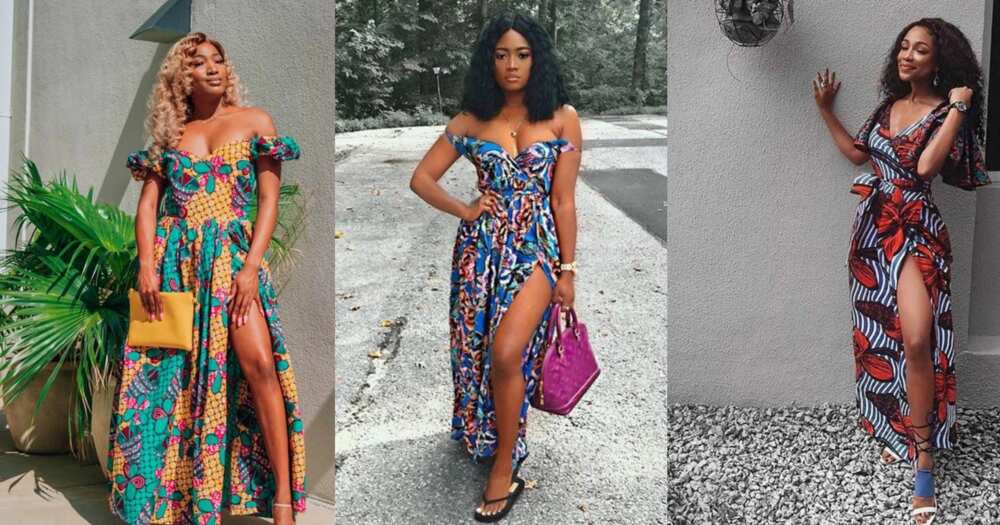 6. Ankara gown with ruches, flounces, and frills
With the help of such feminine elements, like ruches, lace flounces, frills, you can create an image of a little doll. It will allow you to expand your shoulders visually and take attention away from thin waist.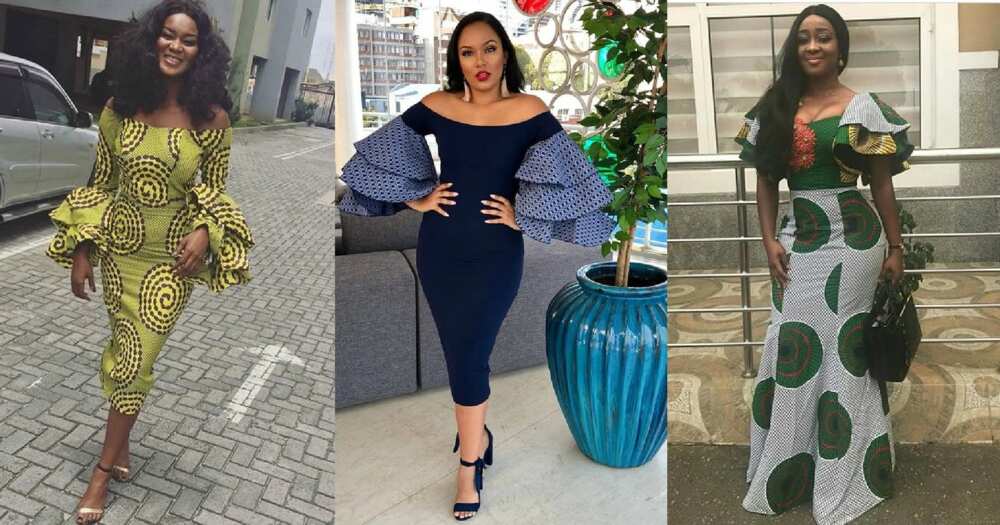 READ ALSO: Trendy ankara jackets for real fashionistas
Beautiful ankara styles for slim ladies
We bring to your attention the styles of jeans and trousers, which are worth the attention of slim ladies who want to feel more confident and stylish.
1. Classic straight trousers with ankara patterns
Classics never go out of fashion and does not lose its relevance. This trousers cannot but please the lean girls, for whom straight jeans (along with the entire length) are an excellent option. Because they are not tight, such pants help to hide the thin legs.
2. Flared trousers
Such trousers will make your hips and calves more voluminous.
3. Wide trousers
Due to the wide cut of such trousers of the latest ankara styles, excessive leanness will be hidden from prying eyes. With their help, an illusion of long and slender legs will be created.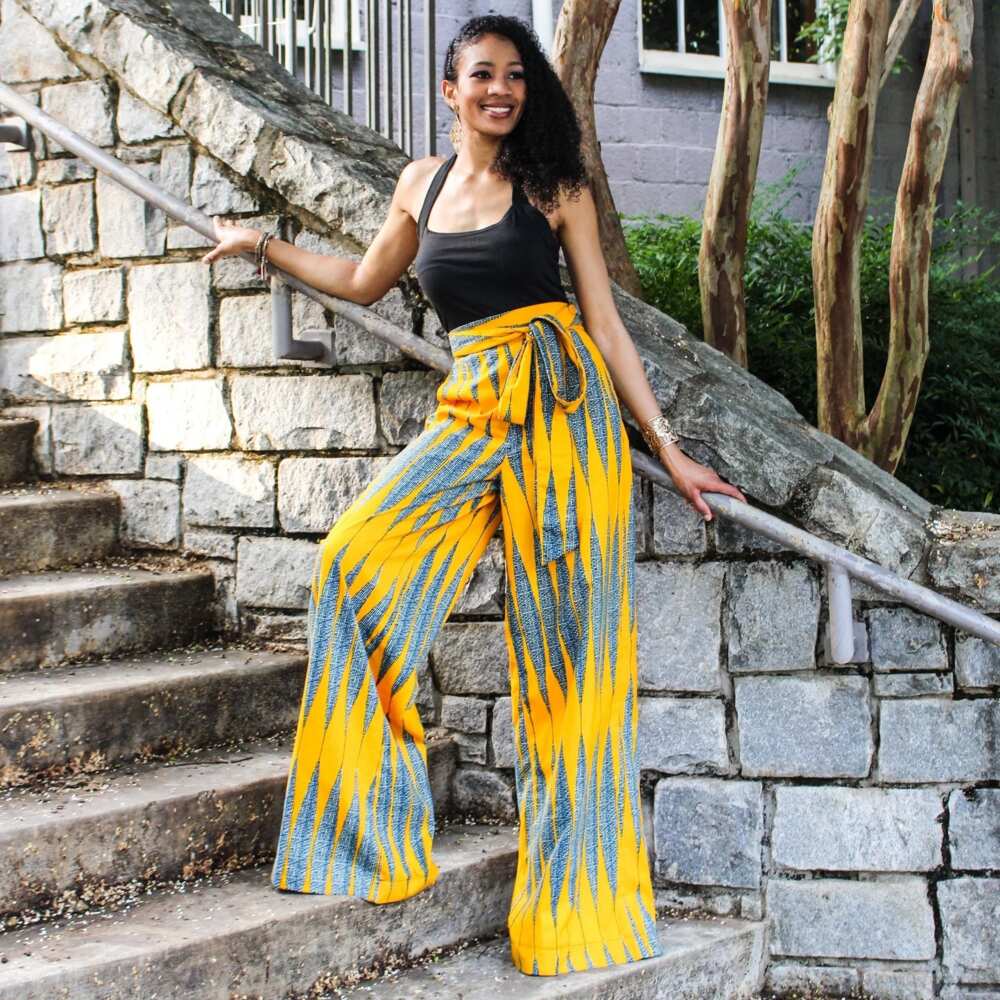 4. "Bananas" with high fit
To change the silhouette, be sure to look at the "banana" trousers with high waist. The combination of high fit and wide cut in the thigh area with ankara print, which narrows downwards, will give extra volume to the thighs.
5. Riding breeches
On the thin legs, the ankara riding breeches will look very gently, which will make the slim figure less noticeable. Fashion experts recommend using as a supplement to these pants a wide belt in tone, which will give you extra charm.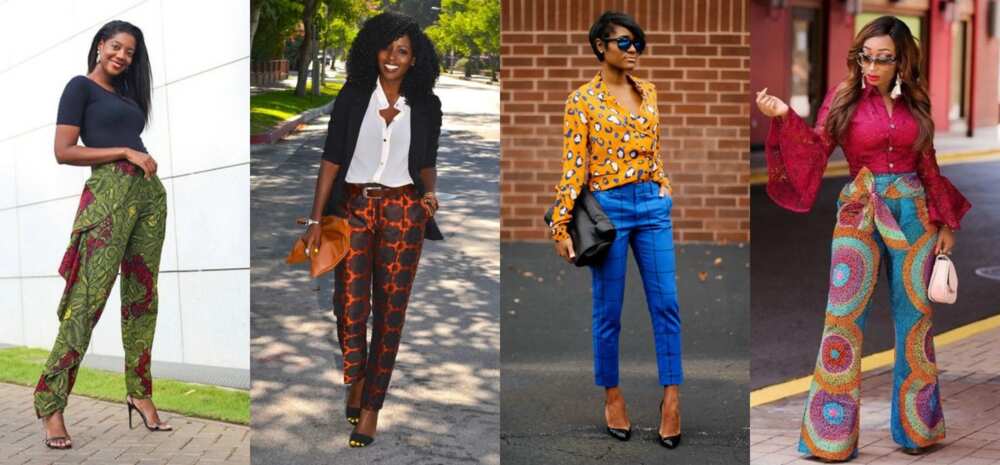 Ankara overalls
Do not confuse the overalls with a jumpsuit! Semi-overall is trousers with a breastplate and straps. Under such clothes, it is necessary to put on a blouse.
Overalls are appropriate everywhere. City streets, a resort, an office, a party, a date, a solemn reception - for every occasion you will choose a stylish overall. We represent the everyday image with a light colorful ankara overall and white shirt. Light shades are awesome for every day. Comfortable soft slips can be replaced with sandals.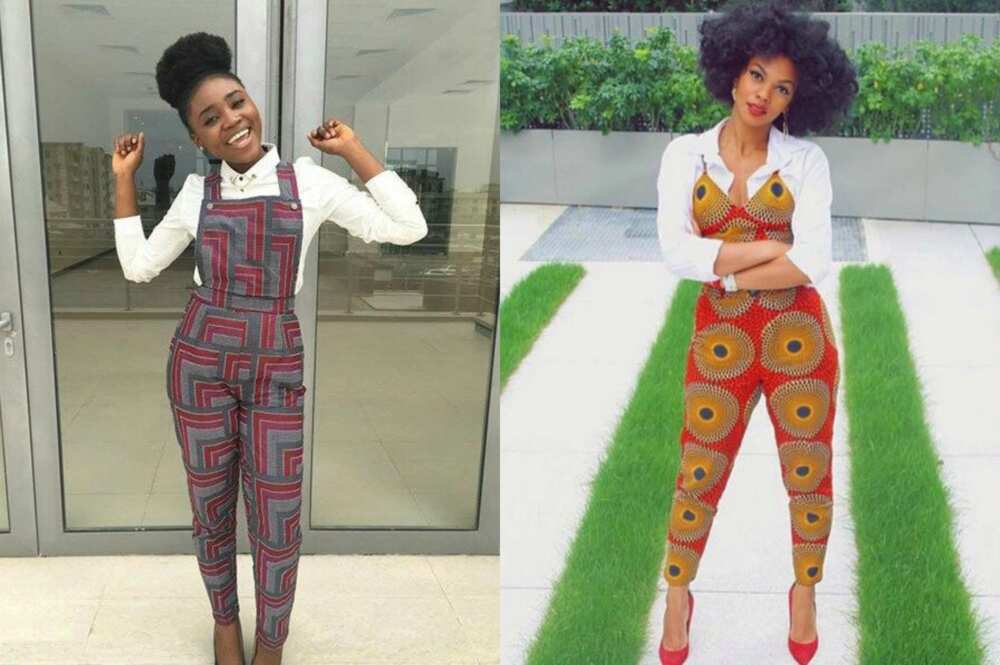 Red ankara overall with wide classic pants is suitable for an evening out. Shoes for an overall of this style should be neat and always on the heel. Add expensive jewelry, and be gorgeous!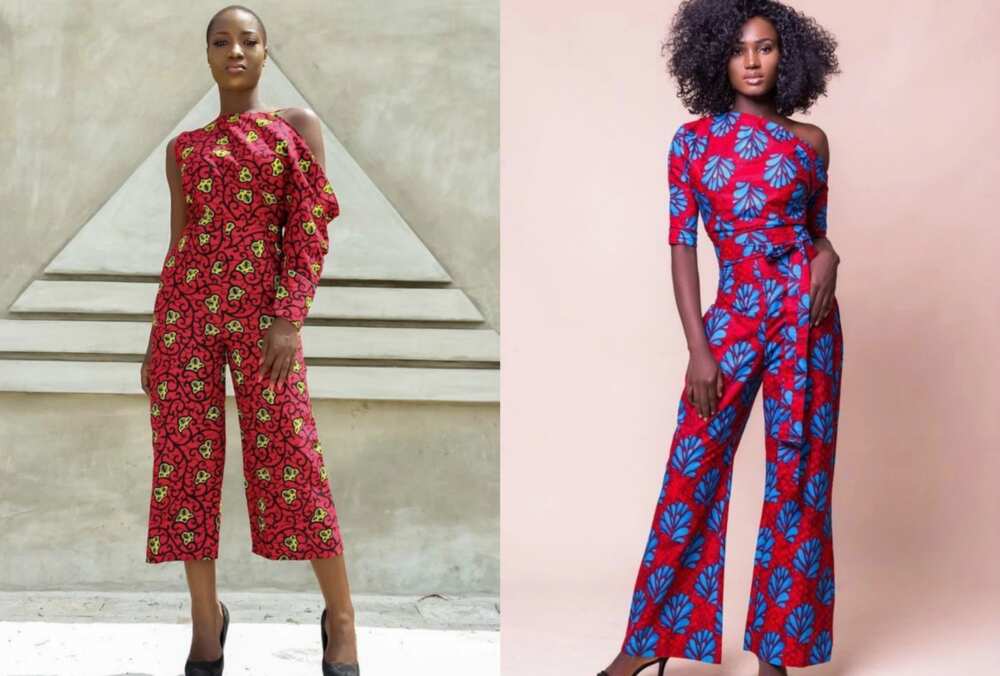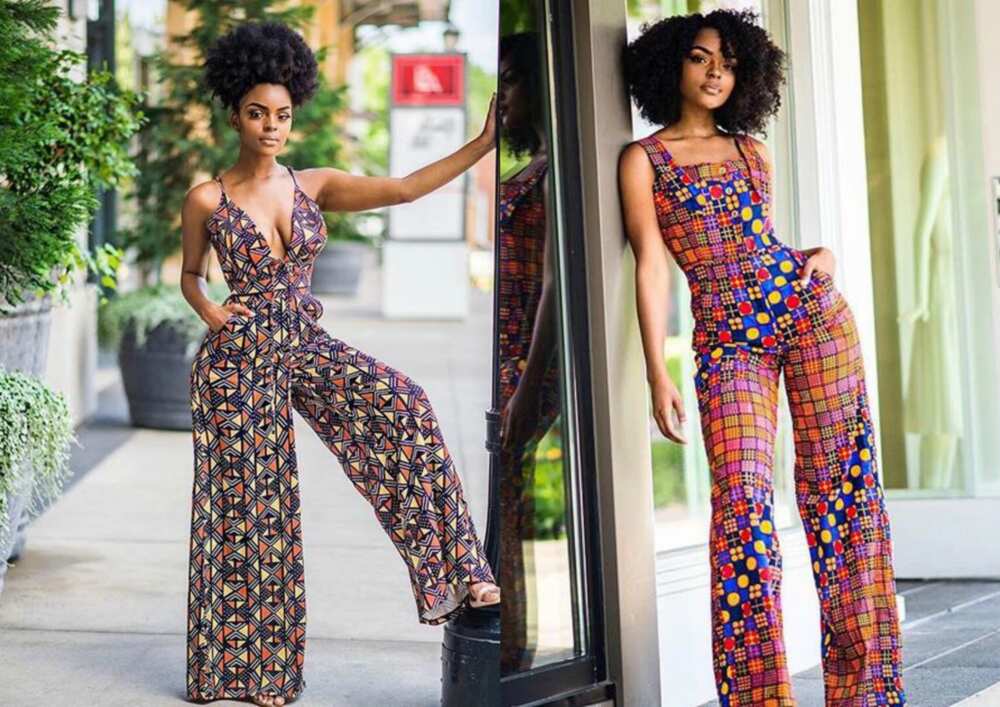 The most beautiful and elegant are overalls of simple cut. These overalls are perfectly suited to skinny ladies, because they emphasize every bend of a slim body.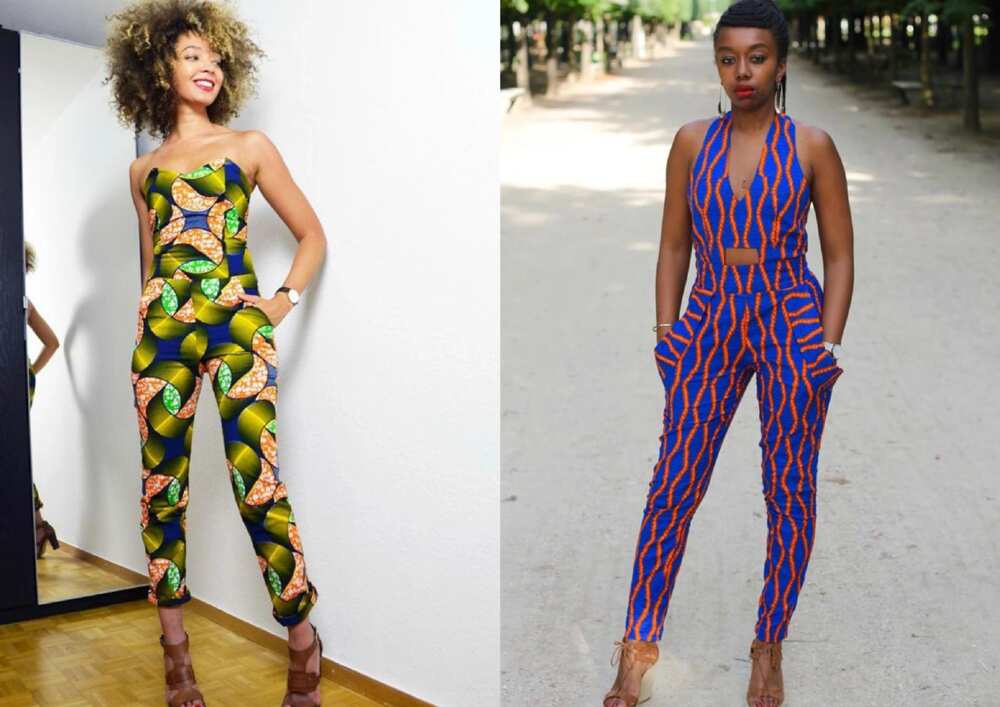 Ankara skirts for slim ladies
Ankara skirts for skinny ladies should be lush and decorated with ruffles and ruches. The wardrobe of the thin, fashionable woman will be incomplete without a pencil skirt, which sits perfectly on a slender figure.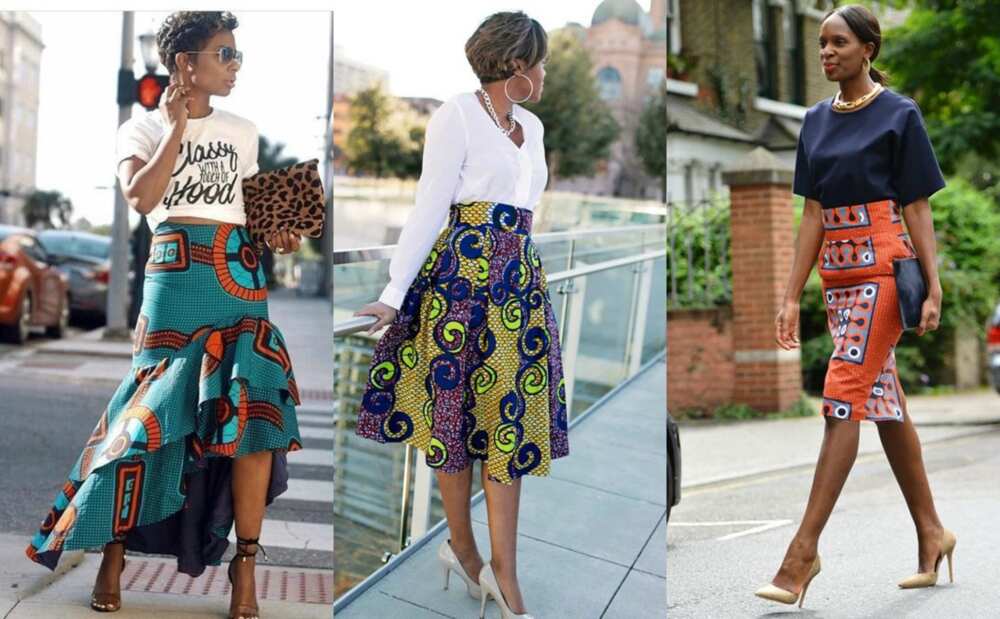 READ ALSO: Latest Ankara skirt and blouse styles in 2018
Recommendations for skinny ladies to create a spectacular image
Currently, we can find many articles and practical tips for other types of figures, but tips on how to dress thin women, it's hard to find.
Probably, each of us wants to look great, first of all for ourselves, and secondly, to attract the attention. We bring you useful tips for skinny women.
Not to attract attention to lean hands and make the top bulkier, choose things with a "bat" sleeve. It's best if it's light flowing blouses with a three-quarter sleeve or blazers.
In the creation of a harmonious balance between the waist, chest and hips will help ankara gowns and tops, decorated with three-dimensional elements in the area of ​​shoulders and hips.
The bright bottom will leave an imperfect upper part of the body in the shade. Feel free to choose colorful trousers, skirts, and shoes in ankara style.
Thin women should give up large shoes on a massive heel or platform. Not to look ridiculous in huge shoes or sneakers, preference should be given to more elegant footwear.
If you carefully tuck your shirt in pants or a skirt, you can visually make the hips wider.
As for jewelry, slim trendy women perfectly fit elegant chains with miniature pendants, pearl necklaces, and earrings-drops.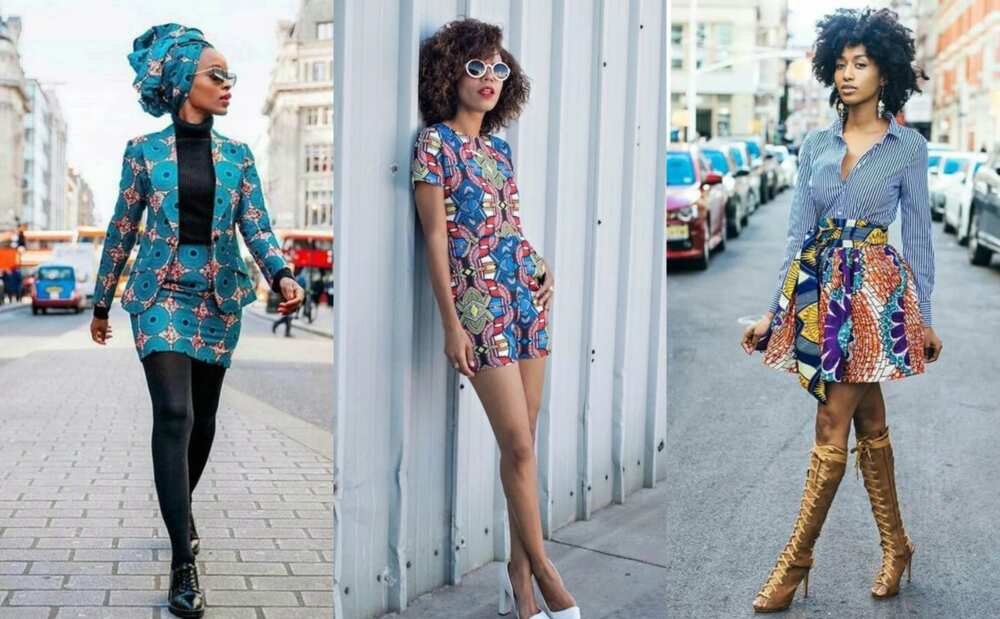 Keep in mind, no one is perfect, even supermodels and celebrities. Using some little tricks, you can feel more comfortable in your body, and also get a lot of admiring looks. Do not be afraid to experiment and play with texture, colors, and styles to find the perfect combination of ankara style for skinny ladies to rock in 2018.
READ ALSO: Latest Ankara styles in 2018
Source: Legit.ng